100+ best YA books of 2021
From groundbreaking debuts and epic series finales to all consuming romances, heart-stopping thrillers, mind blowing fantasies and everything in between, 2021 has delivered countless incredible new YA reads and, in no particular order, here are our top 100+ (ish) of them.
---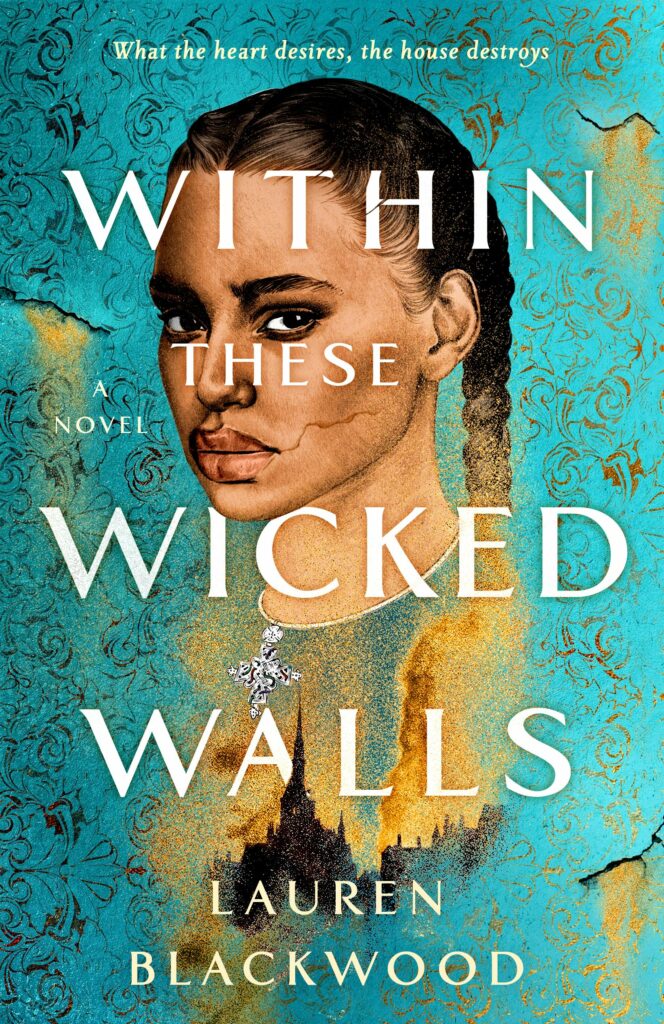 Within These Wicked Walls by Lauren Blackwood
Andromeda is a debtera—an exorcist hired to cleanse households of the Evil Eye. When a handsome young heir named Magnus Rochester reaches out to hire her, Andromeda quickly realizes this is a job like no other, with horrifying manifestations at every turn, and that Magnus is hiding far more than she has been trained for. Death is the most likely outcome if she stays, but leaving Magnus to live out his curse alone isn't an option. Evil may roam the castle's halls, but so does a burning desire.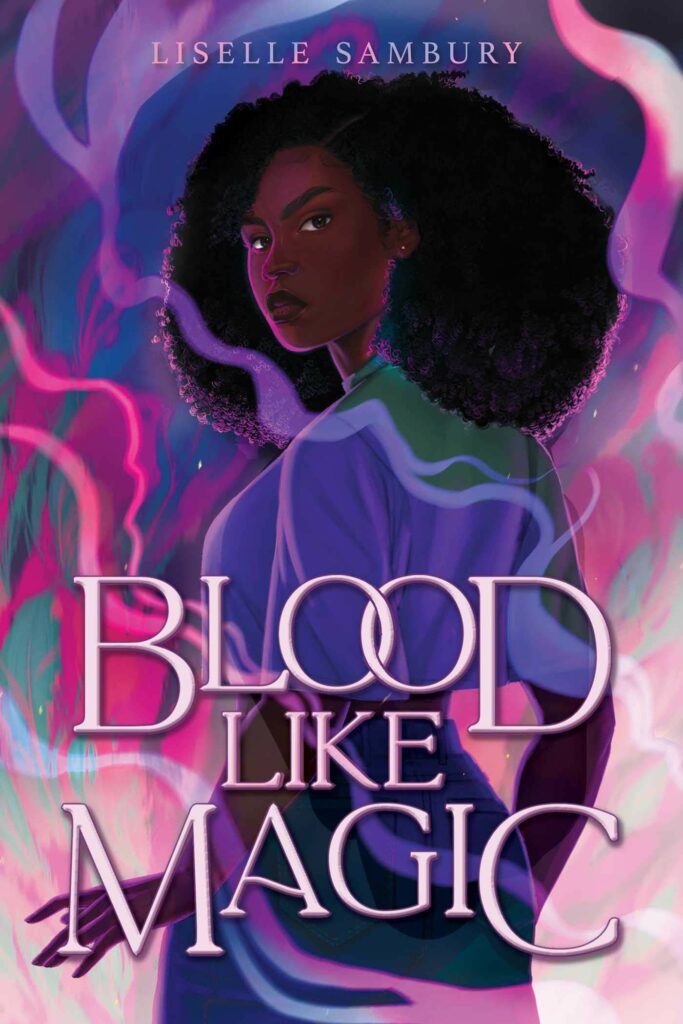 Blood Like Magic by Liselle Sambury
After years of waiting for her Calling—a trial every witch must pass in order to come into their powers—the one thing Voya Thomas didn't expect was to fail. When Voya's ancestor gives her an unprecedented second chance to complete her Calling, she agrees—and then is horrified when her task is to kill her first love. And this time, failure means every Thomas witch will be stripped of their magic.
Voya is determined to save her family's magic no matter the cost. The problem is, Voya has never been in love, so for her to succeed, she'll first have to find the perfect guy—and fast. Fortunately, a genetic matchmaking program has just hit the market. Her plan is to join the program, fall in love, and complete her task before the deadline. What she doesn't count on is being paired with the infuriating Luc—how can she fall in love with a guy who seemingly wants nothing to do with her?
With mounting pressure from her family, Voya is caught between her morality and her duty to her bloodline. If she wants to save their heritage and Luc, she'll have to find something her ancestor wants more than blood. And in witchcraft, blood is everything.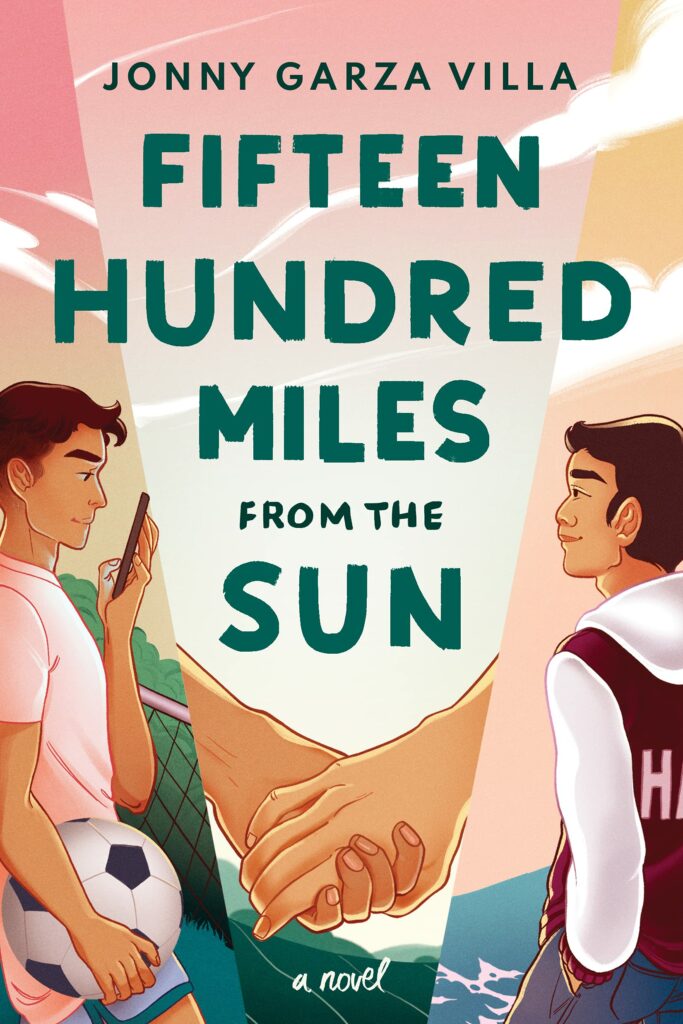 Fifteen Hundred Miles from the Sun by Jonny Garza Villa
Julián Luna has a plan for his life: Graduate. Get into UCLA. And have the chance to move away from Corpus Christi, Texas, and the suffocating expectations of others that have forced Jules into an inauthentic life.
Then in one reckless moment, with one impulsive tweet, his plans for a low-key nine months are thrown—literally—out the closet. The downside: the whole world knows, and Jules has to prepare for rejection. The upside: Jules now has the opportunity to be his real self.
Then Mat, a cute, empathetic Twitter crush from Los Angeles, slides into Jules's DMs. Jules can tell him anything. Mat makes the world seem conquerable. But when Jules's fears about coming out come true, the person he needs most is fifteen hundred miles away. Jules has to face them alone.
Jules accidentally propelled himself into the life he's always dreamed of. And now that he's in control of it, what he does next is up to him.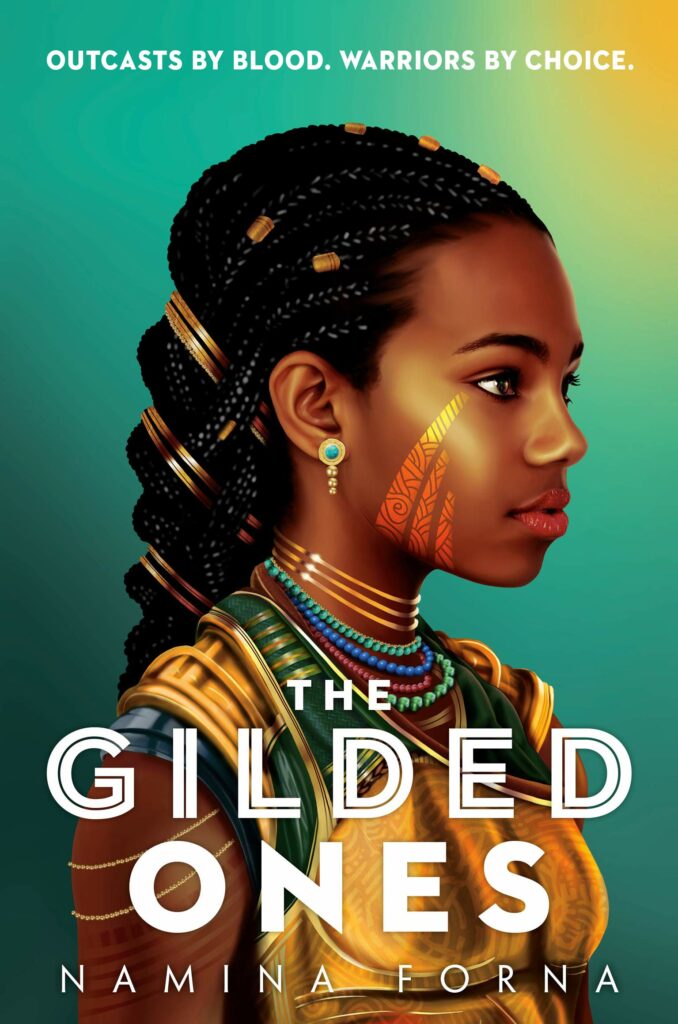 The Gilded Ones by Namina Forna
Sixteen-year-old Deka lives in Otera, a deeply patriarchal ancient kingdom, where a woman's worth is tied to her purity, and she must bleed to prove it. But when Deka bleeds gold – the colour of impurity, of a demon – she faces a consequence worse than death. She is saved by a mysterious woman who tells Deka of her true nature: she is an Alaki, a near-immortal with exceptional gifts. The stranger offers her a choice: fight for the Emperor, with others just like her, or be destroyed…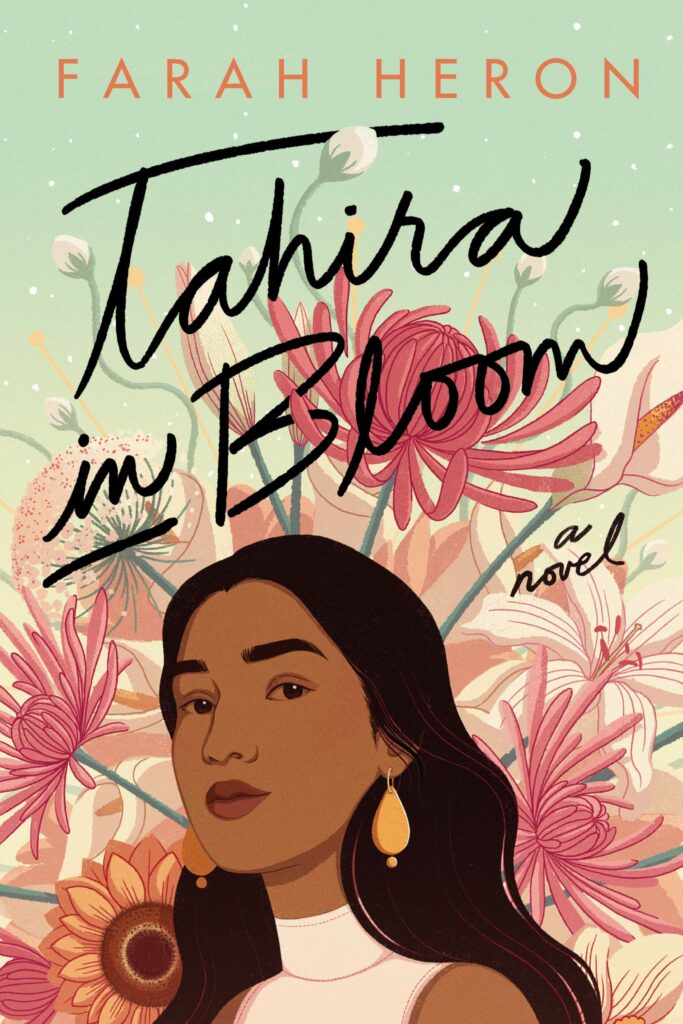 Tahira in Bloom by Farah Heron
When seventeen-year-old aspiring designer Tahira Janmohammad's coveted fashion internship falls through, her parents have a Plan B. Tahira will work in her aunt's boutique in the small town of Bakewell, the flower capital of Ontario. It's only for the summer, and she'll get the experience she needs for her college application. Plus her best friend is coming along. It won't be that bad.
But she just can't deal with Rowan Johnston, the rude, totally obsessive garden-nerd next door with frayed cutoffs and terrible shoes. Not to mention his sharp jawline, smoldering eyes, and soft lips. So irritating. Rowan is also just the plant-boy Tahira needs to help win the Bakewell flower-arranging contest—an event that carries clout in New York City, of all places. And with designers, of all people. Connections that she needs!
No one is more surprised than Tahira to learn that floral design is almost as great as fashion design. And Rowan? Turns out he's more than ironic shirts and soil under the fingernails. Tahira's about to find out what she's really made of—and made for. Because here in the middle of nowhere, Tahira is just beginning to bloom.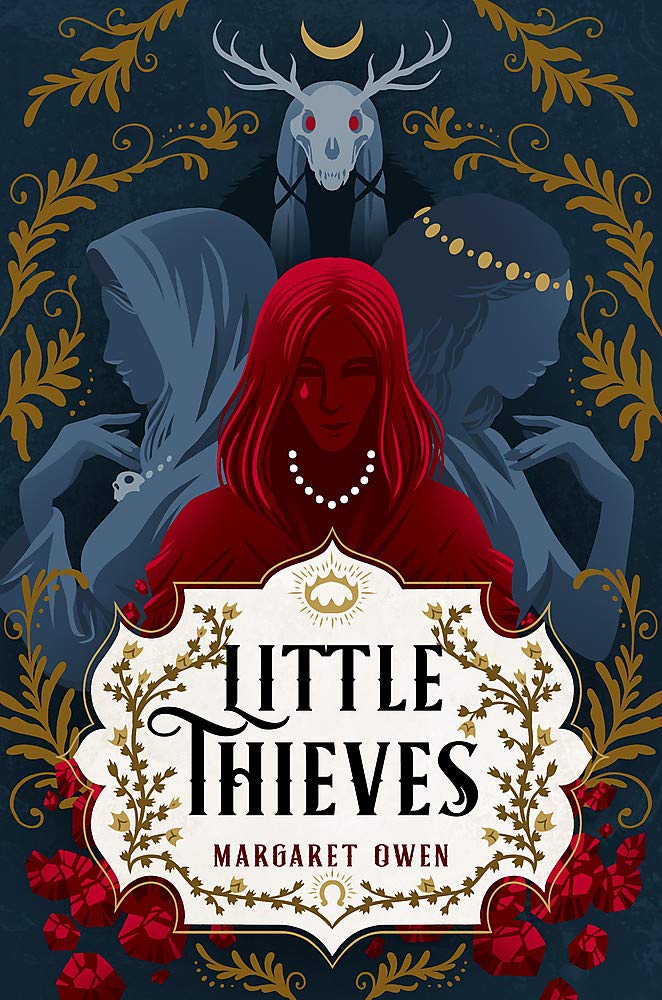 Little Thieves by Margaret Owen
Vanja Schmidt knows that no gift is freely given, not even a mother's love–and she's on the hook for one hell of a debt. Vanja, the adopted goddaughter of Death and Fortune, was Princess Gisele's dutiful servant up until a year ago. That was when Vanja's otherworldly mothers demanded a terrible price for their care, and Vanja decided to steal her future back… by stealing Gisele's life for herself.
The real Gisele is left a penniless nobody while Vanja uses an enchanted string of pearls to take her place. Now, Vanja leads a lonely but lucrative double life as princess and jewel thief, charming nobility while emptying their coffers to fund her great escape. Then, one heist away from freedom, Vanja crosses the wrong god and is cursed to an untimely end: turning into jewels, stone by stone, for her greed.
Vanja has just two weeks to figure out how to break her curse and make her getaway. And with a feral guardian half-god, Gisele's sinister fiancé, and an overeager junior detective on Vanja's tail, she'll have to pull the biggest grift yet to save her own life.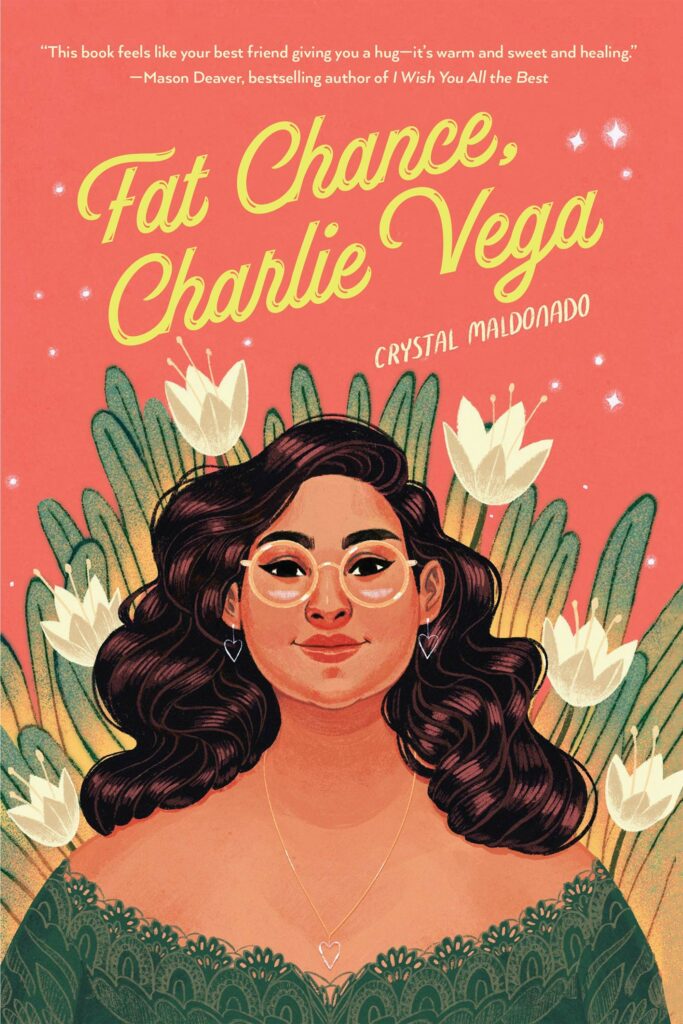 Fat Chance, Carlie Vega by Crystal Maldonado
Charlie Vega is a lot of things. Smart. Funny. Artistic. Ambitious. Fat.
People sometimes have a problem with that last one. Especially her mom. Charlie wants a good relationship with her body, but it's hard, and her mom leaving a billion weight loss shakes on her dresser doesn't help. The world and everyone in it have ideas about what she should look like: thinner, lighter, slimmer-faced, straighter-haired. Be smaller. Be whiter. Be quieter.
But there's one person who's always in Charlie's corner: her best friend Amelia. Slim. Popular. Athletic. Totally dope. So when Charlie starts a tentative relationship with cute classmate Brian, the first worthwhile guy to notice her, everything is perfect until she learns one thing–he asked Amelia out first. So is she his second choice or what? Does he even really see her? UGHHH. Everything is now officially a MESS.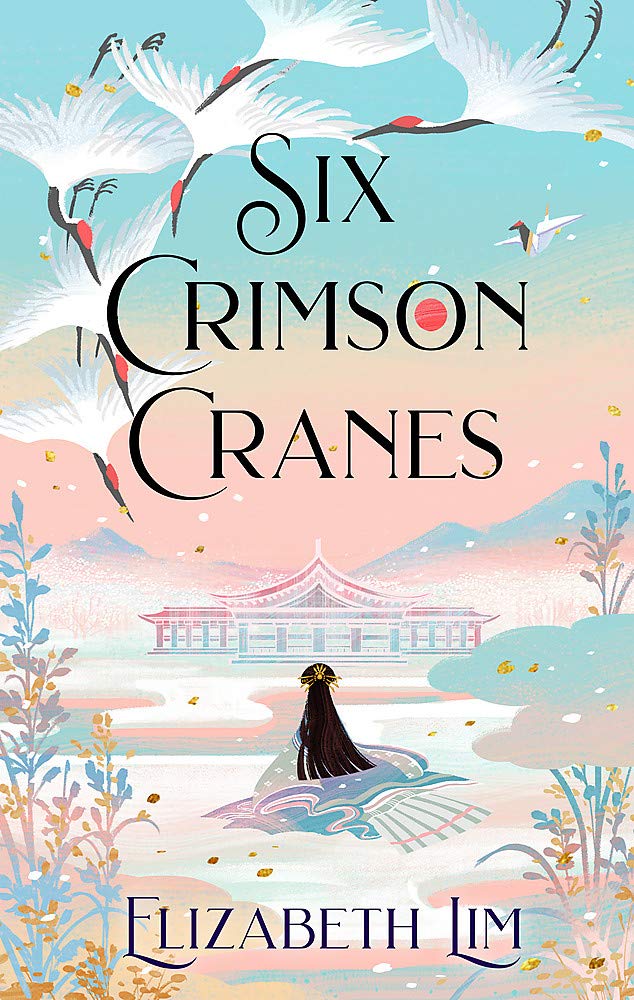 Six Crimson Cranes by Elizabeth Lim
Shiori, the only princess of Kiata, has a secret. Forbidden magic runs through her veins. Normally she conceals it well, but on the morning of her betrothal ceremony, Shiori loses control. At first, her mistake seems like a stroke of luck, forestalling the wedding she never wanted, but it also catches the attention of Raikama, her stepmother.
Raikama has dark magic of her own, and she banishes the young princess, turning her brothers into cranes, and warning Shiori that she must speak of it to no one: for with every word that escapes her lips, one of her brothers will die.
Penniless, voiceless, and alone, Shiori searches for her brothers, and, on her journey, uncovers a conspiracy to overtake the throne—a conspiracy more twisted and deceitful, more cunning and complex, than even Raikama's betrayal. Only Shiori can set the kingdom to rights, but to do so she must place her trust in the very boy she fought so hard not to marry. And she must embrace the magic she's been taught all her life to contain—no matter what it costs her.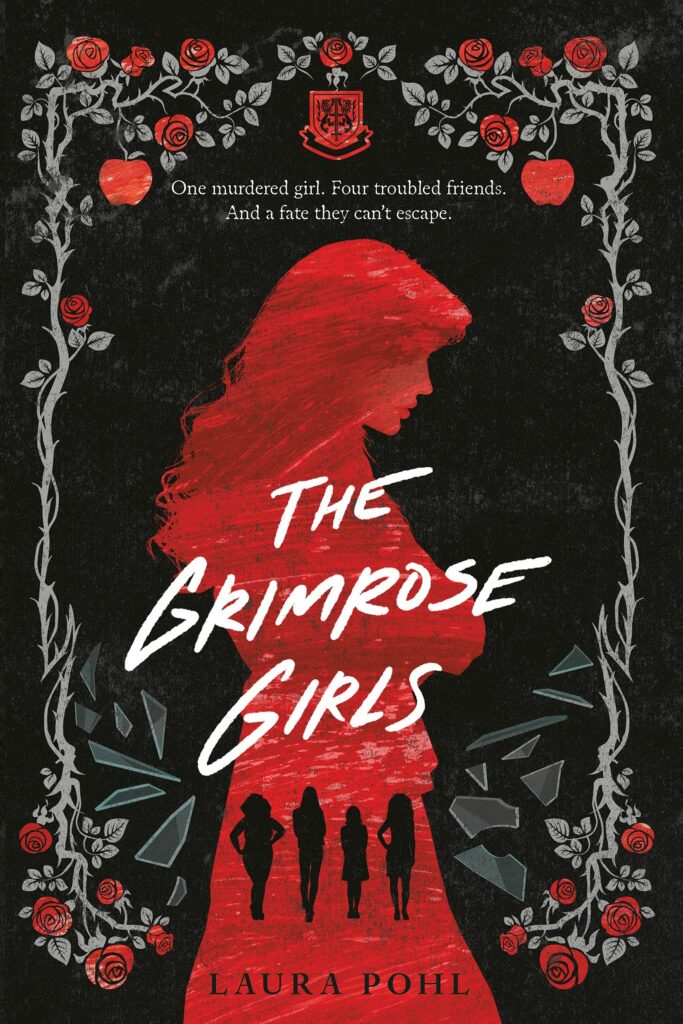 The Grimrose Girls by Laura Pohl
After the mysterious death of their best friend, Ella, Yuki, and Rory are the talk of their elite school, Grimrose Académie. The police ruled it a suicide, but the trio are determined to find out what really happened.
When Nani Eszes arrives as their newest roommate, it sets into motion a series of events they couldn't have imagined. As the girls retrace their friend's last steps, they uncover dark secrets about themselves and their destinies, discovering they're all cursed to repeat the brutal and gruesome endings to their stories until they can break the cycle.
This contemporary take on classic fairytales reimagines heroines as friends attending the same school. While investigating the murder of their best friend, they uncover connections to their ancient fairytale curses and attempt to forge their own fate before it's too late.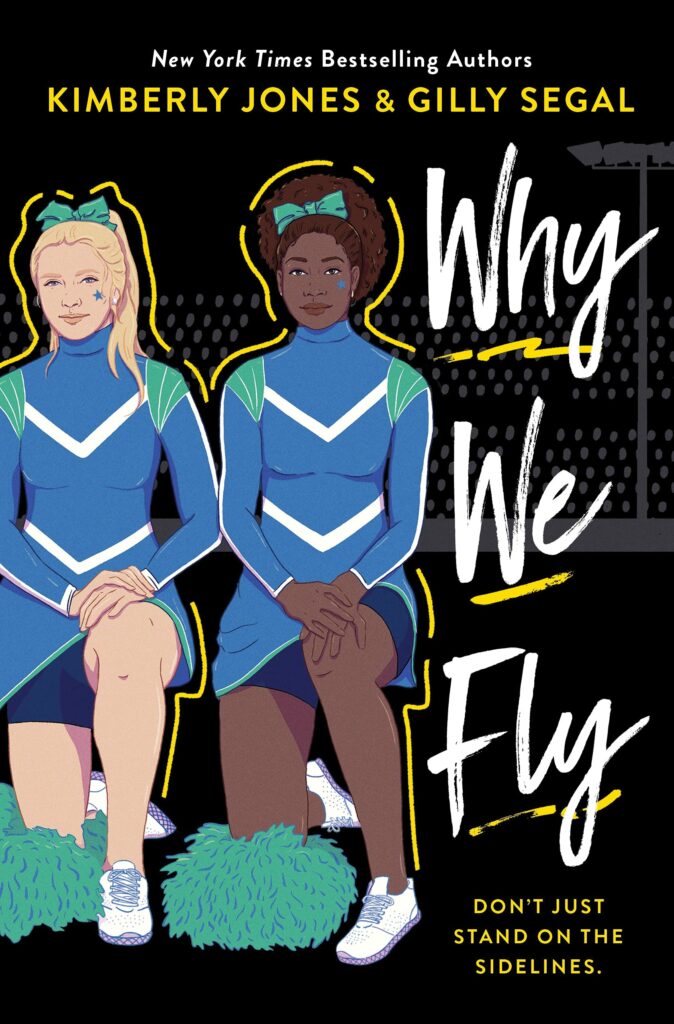 Why We Fly by Kimberly Jones and Gilly Segal
Two high school cheerleaders face the ultimate test when an act of solidarity spurs chaos. With a rocky start to senior year, lifelong friends Eleanor and Chanel have a lot on their mind. Eleanor is still in physical therapy months after a serious concussion from a failed cheer attempt. Chanel's putting tremendous pressure on herself to get into the best colleges and starts making questionable decisions. But they have each other's backs just as always.
Eleanor's new relationship with star quarterback Three may be causing a rift between the best friends. When the cheer squad decides to take a knee at the season's first football game, what seemed like a positive show of solidarity suddenly becomes the reason for a larger fallout between the girls.
Grappling with the weight of the school's actions as well as their own problems, can the girls rely on the friendship they've always shared?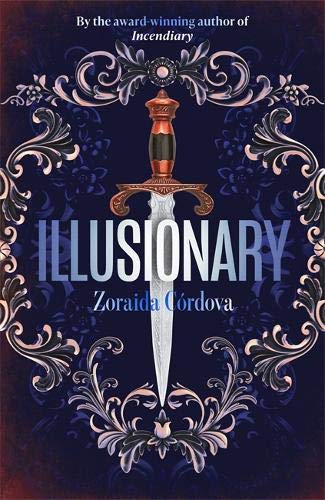 Illusionary by Zoraida Córdova
Reeling from betrayal at the hands of the Whispers, Renata Convida is a girl on the run. With few options and fewer allies, she's reluctantly joined forces with none other than Prince Castian, her most infuriating and intriguing enemy. They're united by lofty goals: find the fabled Knife of Memory, kill the ruthless King Fernando, and bring peace to the nation. Together, Ren and Castian have a chance to save everything, if only they can set aside their complex and intense feelings for each other.
With the king's forces on their heels at every turn, their quest across Puerto Leones and beyond leaves little room for mistakes. But the greatest danger is within Ren. The Gray, her fortress of stolen memories, has begun to crumble, threatening her grip on reality. She'll have to control her magics–and her mind–to unlock her power and protect the Moria people once and for all.
For years, she was wielded as weapon. Now it's her time to fight back.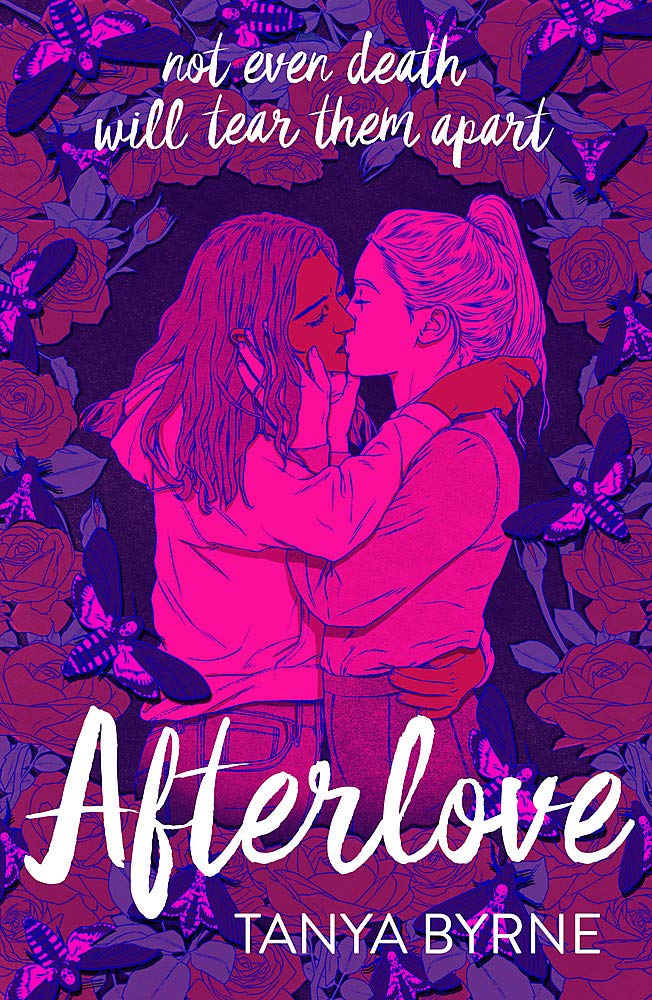 Afterlove by Tanya Byrne
Ash Persaud is about to become a reaper in the afterlife, but she is determined to see her first love Poppy Morgan again, the only thing that separates them is death.
Car headlights.
The last thing Ash hears is the snap of breaking glass as the windscreen hits her and breaks into a million pieces like stars.
But she made it, she's still here. Or is she?
This New Year's Eve, Ash is gets an RSVP from the afterlife she can't decline: to join a clan of fierce girl reapers who take the souls of the city's dead to await their fate.
But Ash can't forget her first love, Poppy, and she will do anything to see her again… even if it means they only get a few more days together. Dead or alive…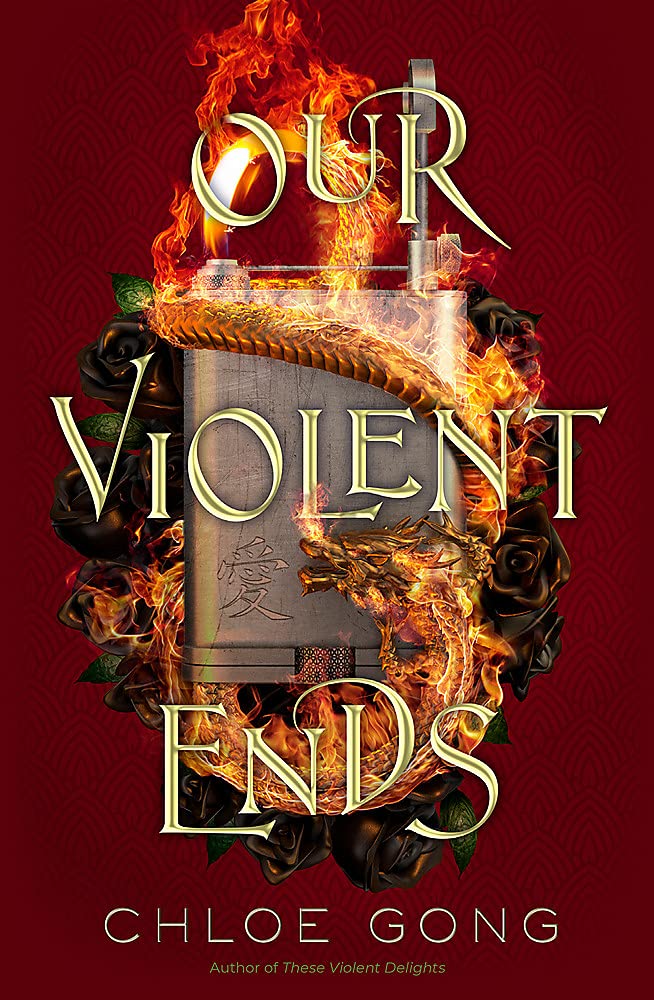 Our Violent Ends by Chloe Gong
The year is 1927, and Shanghai teeters on the edge of revolution.
After sacrificing her relationship with Roma to protect him from the blood feud, Juliette has been a girl on the warpath. One wrong move, and her cousin will step in to usurp her place as the Scarlet Gang's heir. The only way to save the boy she loves from the wrath of the Scarlets is to have him want her dead for murdering his best friend in cold blood. If Juliette were actually guilty of the crime Roma believes she committed, his rejection might sting less.
Roma is still reeling from Marshall's death, and his cousin Benedikt will barely speak to him. Roma knows it's his fault for letting the ruthless Juliette back into his life, and he's determined to set things right—even if that means killing the girl he hates and loves with equal measure.
Then a new monstrous danger emerges in the city, and though secrets keep them apart, Juliette must secure Roma's cooperation if they are to end this threat once and for all. Shanghai is already at a boiling point: The Nationalists are marching in, whispers of civil war brew louder every day, and gangster rule faces complete annihilation. Roma and Juliette must put aside their differences to combat monsters and politics, but they aren't prepared for the biggest threat of all: protecting their hearts from each other.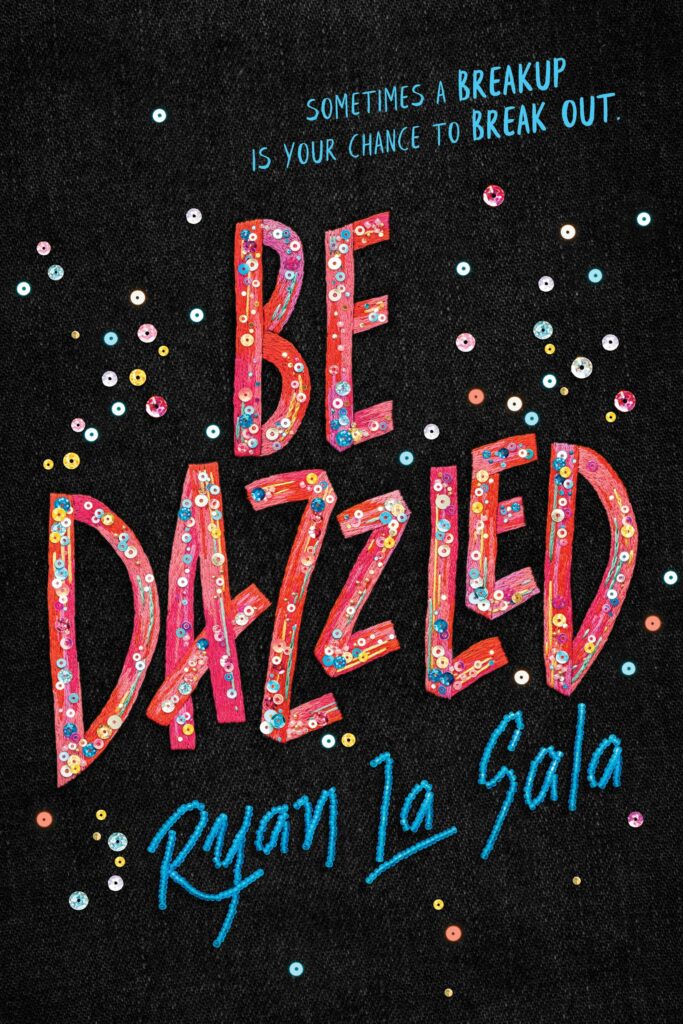 Be Dazzled by Ryan La Sala
Raffy has a passion for bedazzling. Not just bedazzling, but sewing, stitching, draping, pattern making—for creation. He's always chosen his art over everything—and everyone—else and is determined to make his mark at this year's biggest cosplay competition. If he can wow there, it could lead to sponsorship, then art school, and finally earning real respect for his work. There's only one small problem… Raffy's ex-boyfriend, Luca, is his main competition.
Raffy tried to make it work with Luca. They almost made the perfect team last year after serendipitously meeting in the rhinestone aisle at the local craft store—or at least Raffy thought they did. But Luca's insecurities and Raffy's insistence on crafting perfection caused their relationship to crash and burn. Now, Raffy is after the perfect comeback, one that Luca can't ruin.
But when Raffy is forced to partner with Luca on his most ambitious build yet, he'll have to juggle unresolved feelings for the boy who broke his heart, and his own intense self-doubt, to get everything he's ever wanted: choosing his art, his way.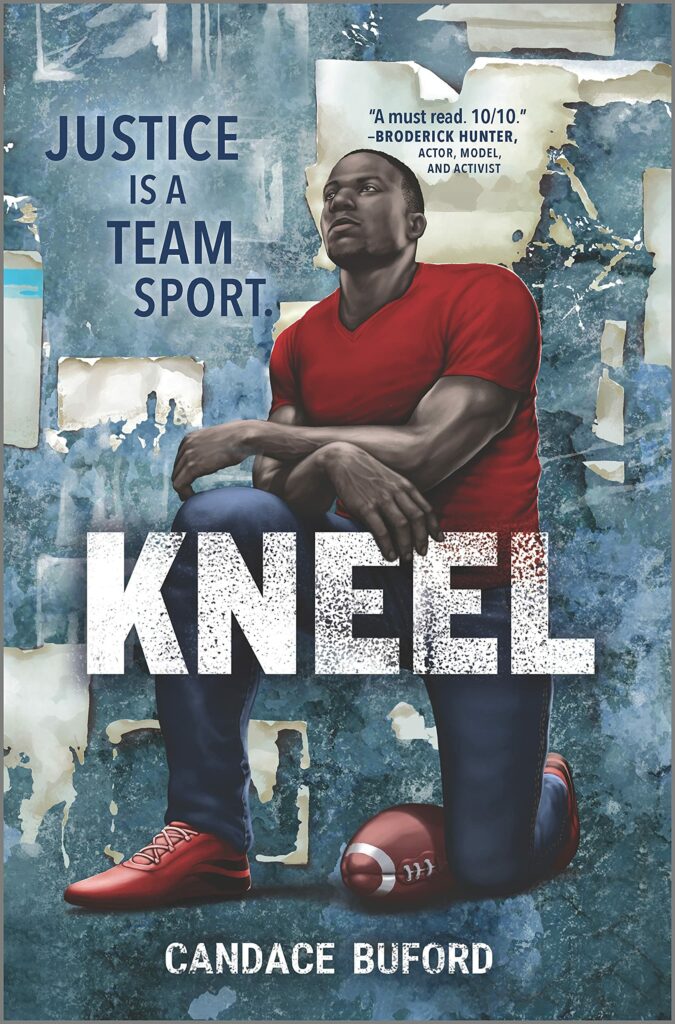 Kneel by Candace Buford
The system is rigged.
For guys like Russell Boudreaux, football is the only way out of their small town. As the team's varsity tight end, Rus has a singular goal: to get a scholarship and play on the national stage. But when his best friend is unfairly arrested and kicked off the team, Rus faces an impossible choice: speak up or live in fear.
"Please rise for the national anthem."
Desperate for change, Rus kneels during the national anthem. In one instant, he falls from local stardom and becomes a target for hatred. But he's not alone. With the help of his best friend and an unlikely ally, Rus will fight for his dreams, and for justice.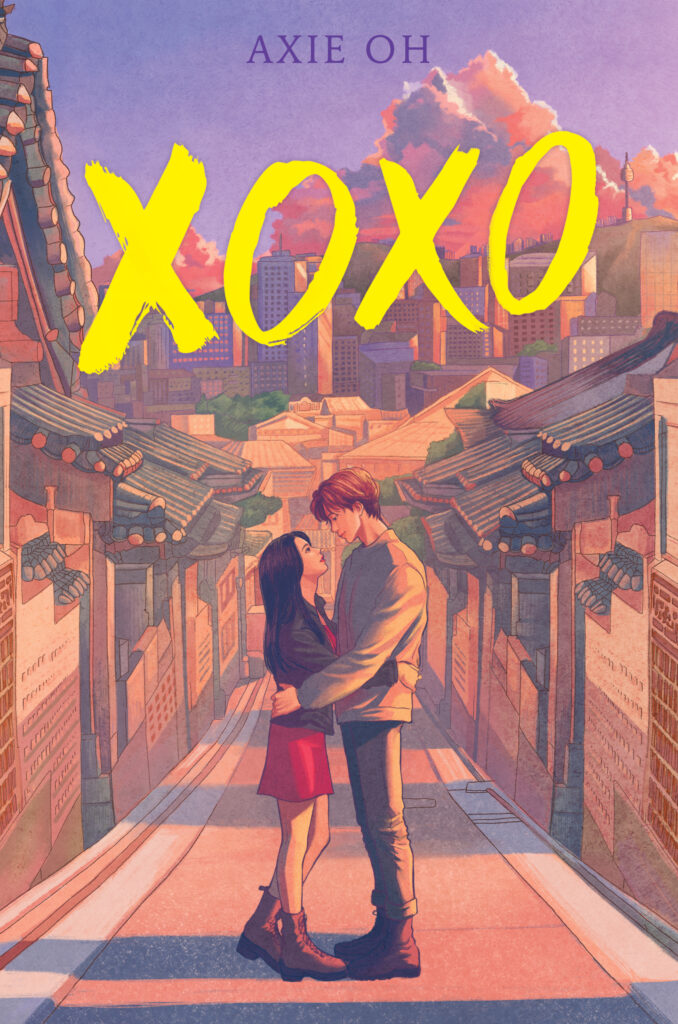 XOXO by Axie Oh
Cello prodigy Jenny has one goal: to get into a prestigious music conservatory. When she meets mysterious, handsome Jaewoo in her uncle's Los Angeles karaoke bar, it's clear he's the kind of boy who would uproot her careful plans. But in a moment of spontaneity, she allows him to pull her out of her comfort zone for one unforgettable night of adventure…before he disappears without a word.
Three months later, when Jenny and her mother arrive in South Korea to take care of her ailing grandmother, she's shocked to discover that Jaewoo is a student at the same elite arts academy where she's enrolled for the semester. And he's not just any student. He's a member of one of the biggest K-pop bands in the world—and he's strictly forbidden from dating.
When a relationship means throwing Jenny's life off the path she's spent years mapping out, she'll have to decide once and for all just how much she's willing to risk for love.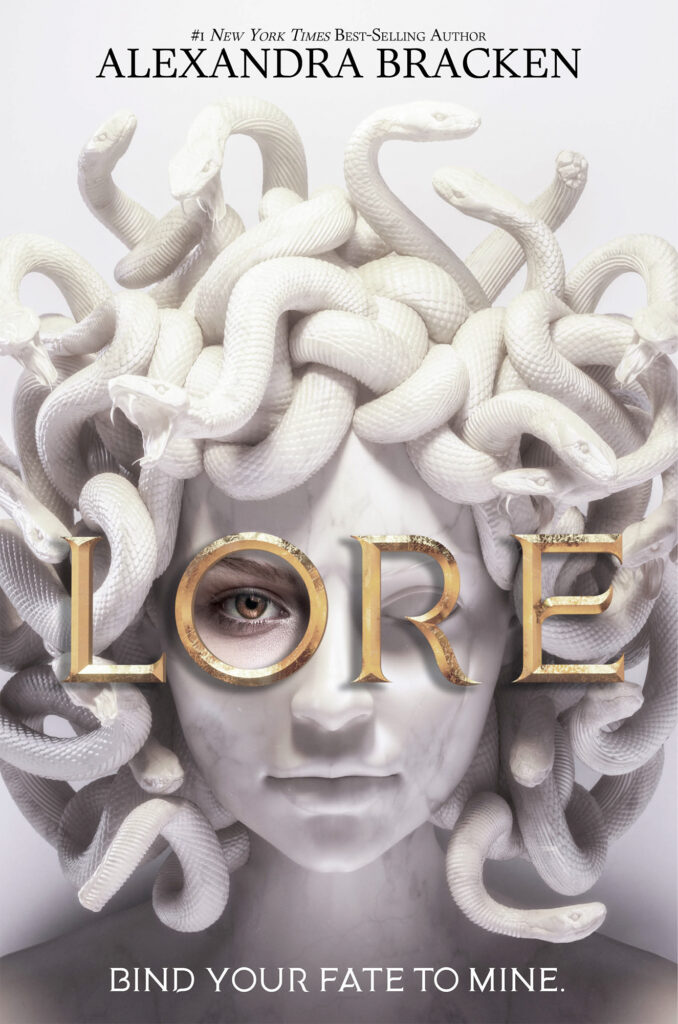 Lore by Alexandra Bracken
Every seven years, the Agon begins. As punishment for a past rebellion, nine Greek gods are forced to walk the earth as mortals, hunted by the descendants of ancient bloodlines, all eager to kill a god and seize their divine power and immortality.
Long ago, Lore Perseous fled that brutal world in the wake of her family's sadistic murder by a rival line, turning her back on the hunt's promises of eternal glory. For years she's pushed away any thought of revenge against the man–now a god–responsible for their deaths.
Yet as the next hunt dawns over New York City, two participants seek out her help: Castor, a childhood friend of Lore believed long dead, and a gravely wounded Athena, among the last of the original gods.
The goddess offers an alliance against their mutual enemy and, at last, a way for Lore to leave the Agon behind forever. But Lore's decision to bind her fate to Athena's and rejoin the hunt will come at a deadly cost–and still may not be enough to stop the rise of a new god with the power to bring humanity to its knees.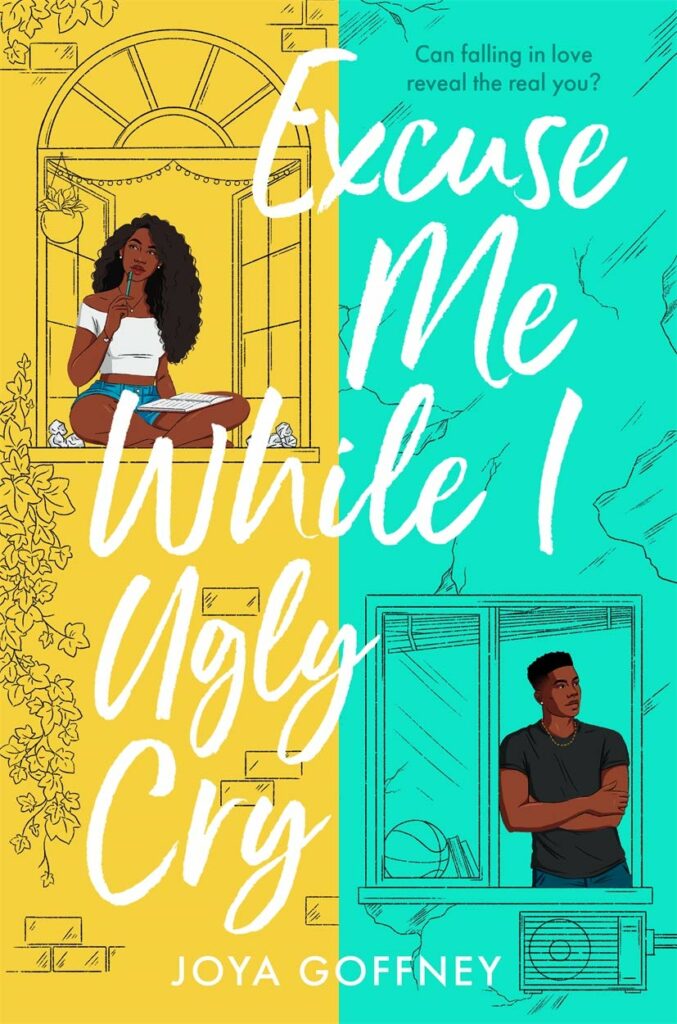 Excuse Me While I Ugly Cry by Joya Goffrey
Quinn keeps lists of everything—from the days she's ugly cried, to "Things That I Would Never Admit Out Loud," to all the boys she'd like to kiss. Her lists keep her sane. By writing her fears on paper, she never has to face them in real life. That is, until her journal goes missing…
An anonymous account posts one of her lists on Instagram for the whole school to see and blackmails her into facing seven of her greatest fears, or else her entire journal will go public. Quinn doesn't know who to trust. Desperate, she teams up with Carter Bennett—the last known person to have her journal—in a race against time to track down the blackmailer.
Together, they journey through everything Quinn's been too afraid to face, and along the way, Quinn finds the courage to be honest, to live in the moment, and to fall in love.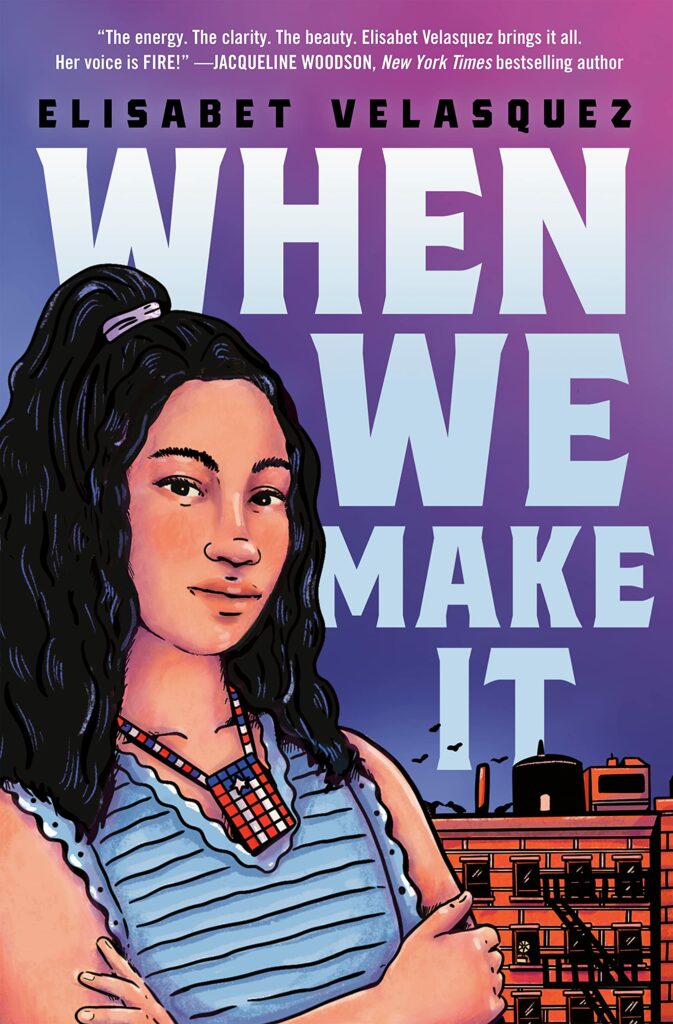 When We Make it by Elisabet Velasquez
Sarai is a first-generation Puerto Rican eighth grader who can see with clarity the truth, pain, and beauty of the world both inside and outside her Bushwick apartment. Together with her older sister Estrella, she navigates the strain of family traumas and the systemic pressures of toxic masculinity and housing insecurity in a rapidly gentrifying Brooklyn. Sarai questions the society around her, her Boricua identity, and the life she lives with determination and an open heart, learning to celebrate herself in a way that she has been denied.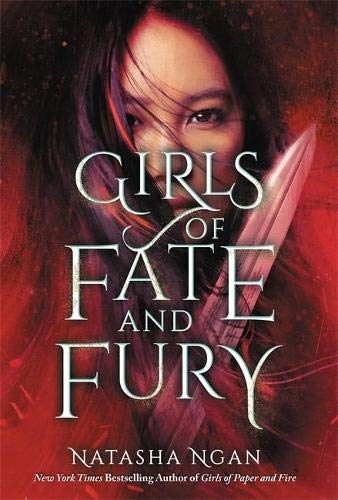 Girls of Fate and Fury by Natasha Ngan
The jaw-dropping conclusion to Girls of Storm and Shadow left the fates of Lei and Wren hanging in the balance. There's one thing Lei knows – she can never return to the Hidden Palace. The trauma and tragedy she suffered behind those opulent walls will plague her forever. She cannot be trapped there with the sadistic king again, especially without Wren.
The last time Lei saw the girl she loved, Wren was fighting an army of soldiers in a furious battle to the death.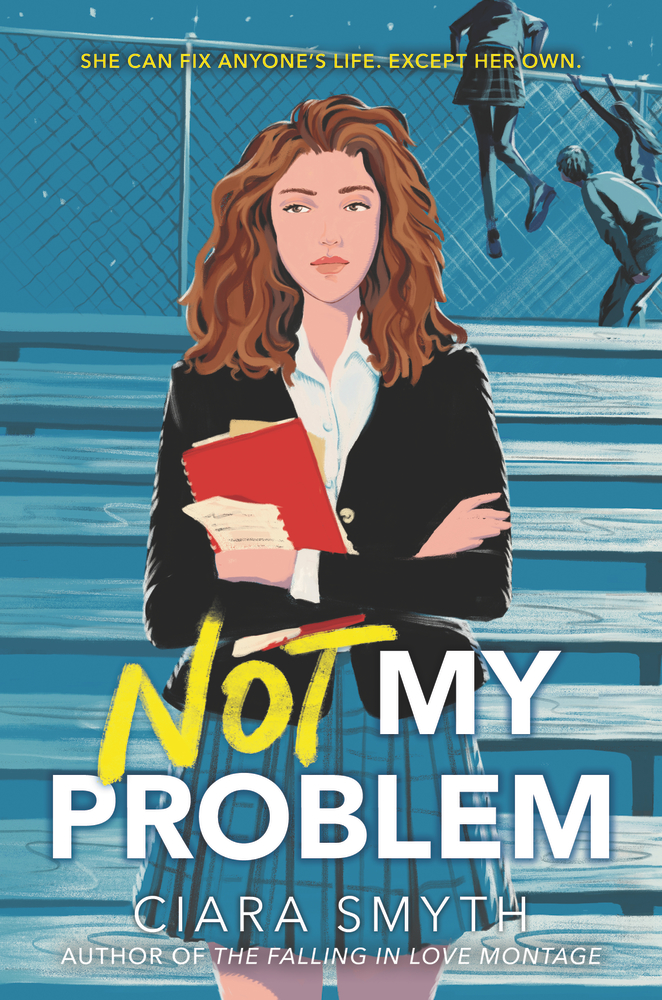 Not My Problem by Ciara Smyth
Aideen has plenty of problems she can't fix. Her best (and only) friend is pulling away. Her mother's drinking problem is a constant concern. She's even running out of outlandish diseases to fake so she can skip PE.
But when Aideen stumbles on her nemesis, overachiever Meabh Kowalski, in the midst of a full-blown meltdown, she sees a problem that—unlike her own disaster of a life—seems refreshingly easy to solve. Meabh is desperate to escape her crushing pile of extracurriculars. Aideen volunteers to help. By pushing Meabh down the stairs.
Problem? Solved. Meabh's sprained ankle is the perfect excuse to ditch her overwhelming schedule. But when another student learns about their little scheme and brings Aideen another "client" who needs her "help," it kicks off a semester of traded favors, ill-advised hijinks, and an unexpected chance at love. Fixing other people's problems won't fix her own, but it might be the push she needs to start.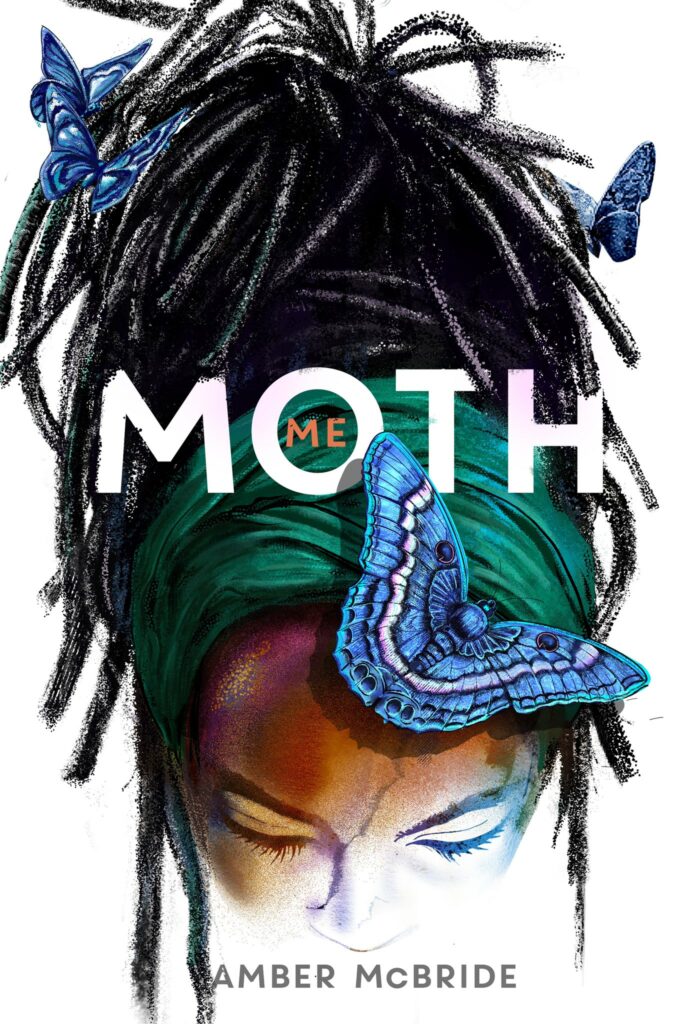 Me (Moth) by Amber McBride
Moth has lost her family in an accident. Though she lives with her aunt, she feels alone and uprooted.
Until she meets Sani, a boy who is also searching for his roots. If he knows more about where he comes from, maybe he'll be able to understand his ongoing depression. And if Moth can help him feel grounded, then perhaps she too will discover the history she carries in her bones.
Moth and Sani take a road trip that has them chasing ghosts and searching for ancestors. The way each moves forward is surprising, powerful, and unforgettable.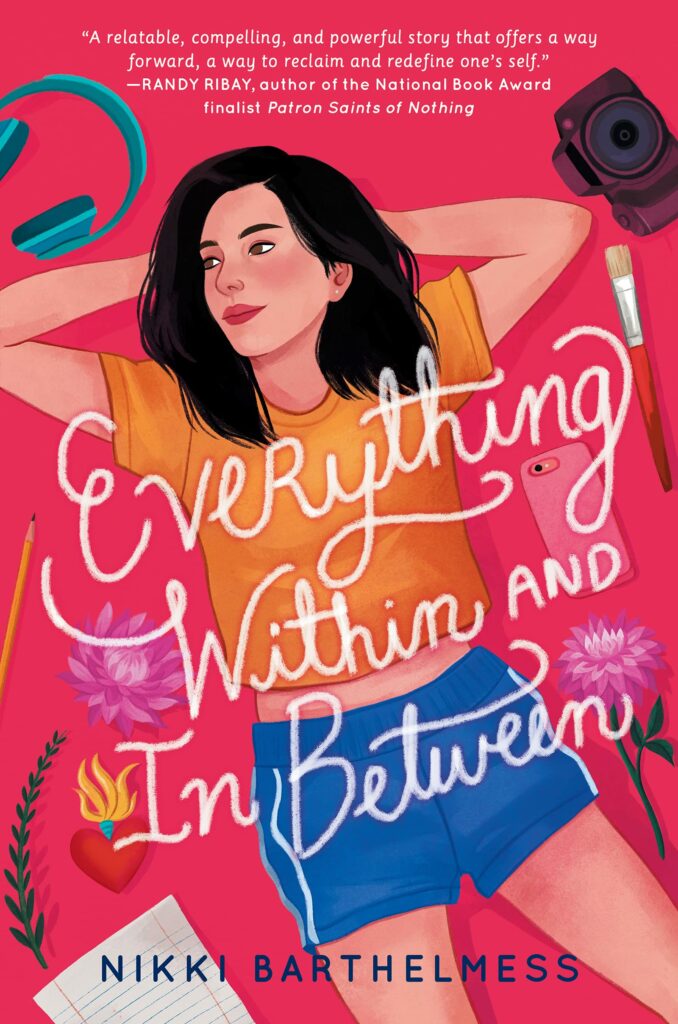 Everything Within and In Between by Nikki Barthelmess
For Ri Fernández's entire life, she's been told, "We live in America and we speak English." Raised by her strict Mexican grandma, Ri has never been allowed to learn Spanish. What's more, her grandma has always pushed Ri away from the neighborhood they call home and toward her best friend's world of mansions and country clubs in the hopes that it'll bring Ri closer to achieving the "American Dream."
In her most private thoughts, Ri has always believed that her mother, who disappeared when she was young, would accept her exactly how she is. So when Ri finds a secret unanswered letter from her mom begging for a visit, Ri decides to reclaim what her grandma kept from her: a language and a mother. But nothing goes as planned. Her mom isn't who Ri imagined she would be. And Ri's struggling to navigate the different interweaving threads of her mixed heritage that make her who she is. Nobody has any idea of who Ri really is—not even Ri, herself.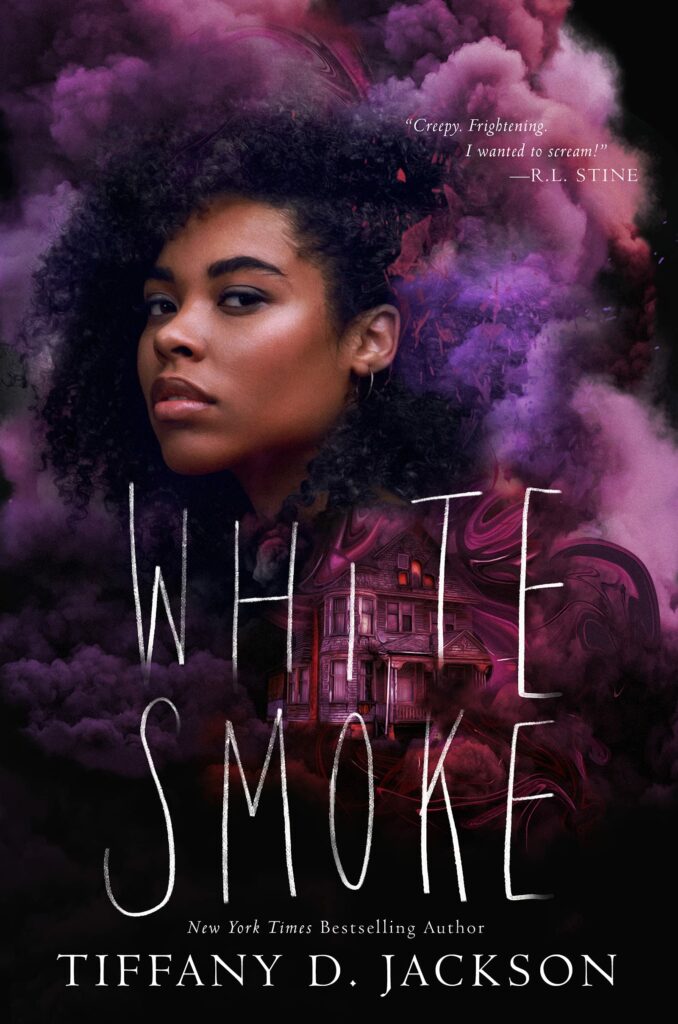 White Smoke by Tiffany D. Jackson
Marigold is running from ghosts. The phantoms of her old life keep haunting her, but a move with her newly blended family from their small California beach town to the embattled Midwestern city of Cedarville might be the fresh start she needs. Her mom has accepted a new job with the Sterling Foundation that comes with a free house, one that Mari now has to share with her bratty ten-year-old stepsister, Piper.
The renovated picture-perfect home on Maple Street, sitting between dilapidated houses, surrounded by wary neighbors has its . . . secrets. That's only half the problem: household items vanish, doors open on their own, lights turn off, shadows walk past rooms, voices can be heard in the walls, and there's a foul smell seeping through the vents only Mari seems to notice. Worse: Piper keeps talking about a friend who wants Mari gone.
But "running from ghosts" is just a metaphor, right?
As the house closes in, Mari learns that the danger isn't limited to Maple Street. Cedarville has its secrets, too. And secrets always find their way through the cracks.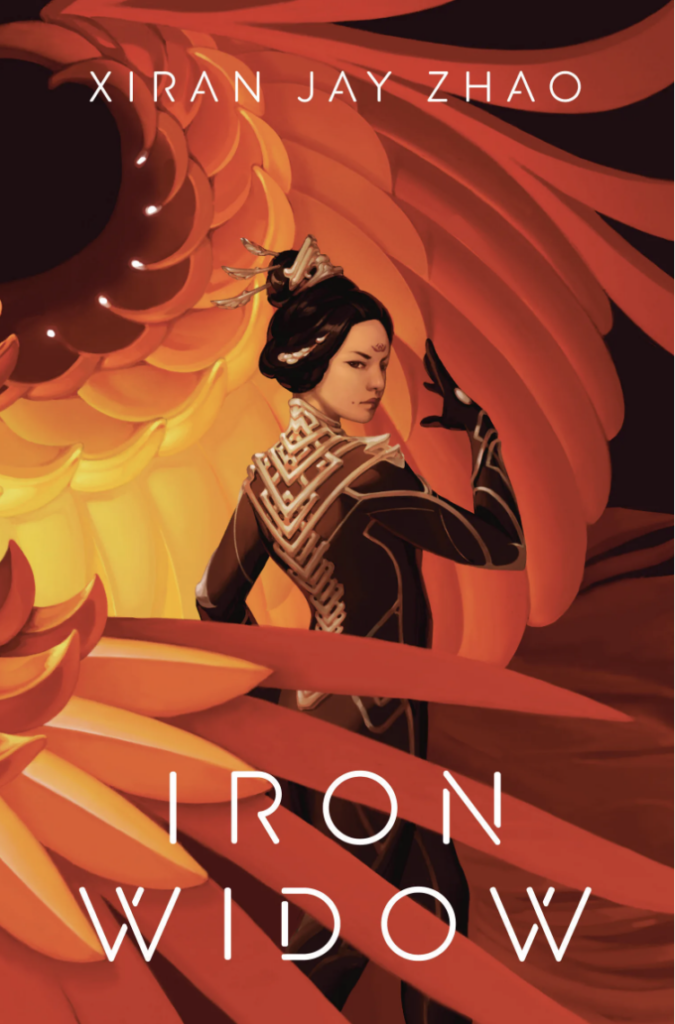 Iron Widow by Xiran Jay Zhao
The boys of Huaxia dream of pairing up with girls to pilot Chrysalises, giant transforming robots that can battle the mecha aliens that lurk beyond the Great Wall. It doesn't matter that the girls often die from the mental strain.
When 18-year-old Zetian offers herself up as a concubine-pilot, it's to assassinate the ace male pilot responsible for her sister's death. But she gets her vengeance in a way nobody expected—she kills him through the psychic link between pilots and emerges from the cockpit unscathed. She is labeled an Iron Widow, a much-feared and much-silenced kind of female pilot who can sacrifice boys to power up Chrysalises instead.​
To tame her unnerving yet invaluable mental strength, she is paired up with Li Shimin, the strongest and most controversial male pilot in Huaxia​. But now that Zetian has had a taste of power, she will not cower so easily. She will miss no opportunity to leverage their combined might and infamy to survive attempt after attempt on her life, until she can figure out exactly why the pilot system works in its misogynist way—and stop more girls from being sacrificed.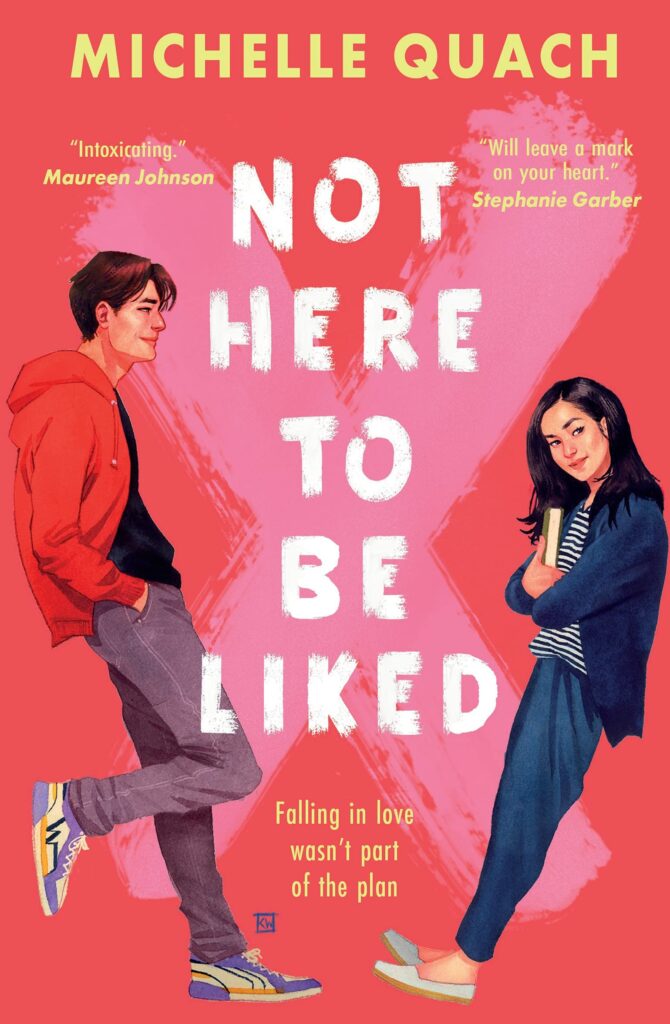 Not Here to be Liked by Michelle Quach
Eliza Quan is the perfect candidate for editor in chief of her school paper. That is, until ex-jock Len DiMartile decides on a whim to run against her. Suddenly her vast qualifications mean squat because inexperienced Len—who is tall, handsome, and male—just seems more like a leader.
When Eliza's frustration spills out in a viral essay, she finds herself inspiring a feminist movement she never meant to start, caught between those who believe she's a gender equality champion and others who think she's simply crying misogyny.
Amid this growing tension, the school asks Eliza and Len to work side by side to demonstrate civility. But as they get to know one another, Eliza feels increasingly trapped by a horrifying realization—she just might be falling for the face of the patriarchy himself.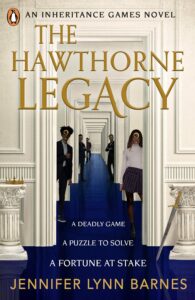 Hawthorne Legacy by Jennifer Lynn Barnes
The Inheritance Games ended with a bombshell, and now heiress Avery Grambs has to pick up the pieces and find the man who might hold the answers to all of her questions – including why Tobias Hawthorne left his entire fortune to Avery, a virtual stranger, rather than to his own daughters or grandsons.
Thanks to a DNA test, Avery knows that she's not a Hawthorne by blood, but clues pile up hinting at a deeper connection to the family than she had ever imagined. As the mystery grows and the plot thickens, Grayson and Jameson, the enigmatic and magnetic Hawthorne grandsons, continue to pull Avery in different directions. And there are threats lurking around every corner, as adversaries emerge who will stop at nothing to see Avery out of the picture – by any means necessary.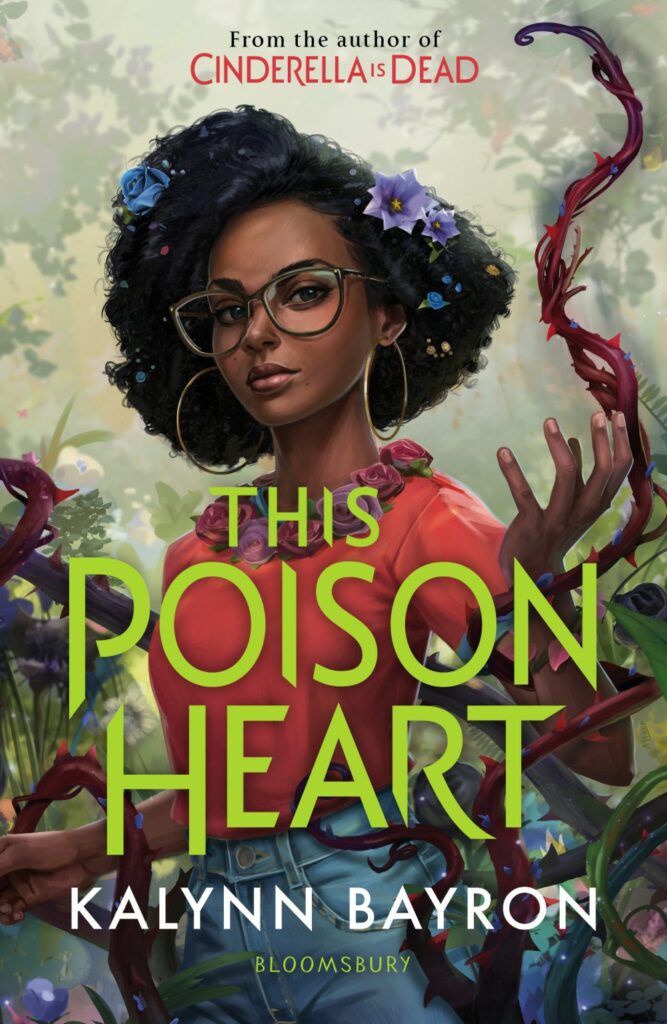 This Poison Heart by Kalynn Bayron
Briseis has a gift: she can grow plants from tiny seeds to rich blooms with a single touch.
When Briseis's aunt dies and wills her a dilapidated estate in rural New York, Bri and her parents decide to leave Brooklyn behind for the summer. Hopefully there, surrounded by plants and flowers, Bri will finally learn to control her gift. But their new home is sinister in ways they could never have imagined–it comes with a specific set of instructions, an old-school apothecary, and a walled garden filled with the deadliest botanicals in the world that can only be entered by those who share Bri's unique family lineage.
When strangers begin to arrive on their doorstep, asking for tinctures and elixirs, Bri learns she has a surprising talent for creating them. One of the visitors is Marie, a mysterious young woman who Bri befriends, only to find that Marie is keeping dark secrets about the history of the estate and its surrounding community. There is more to Bri's sudden inheritance than she could have imagined, and she is determined to uncover it . . . until a nefarious group comes after her in search of a rare and dangerous immortality elixir. Up against a centuries-old curse and the deadliest plant on earth, Bri must harness her gift to protect herself and her family.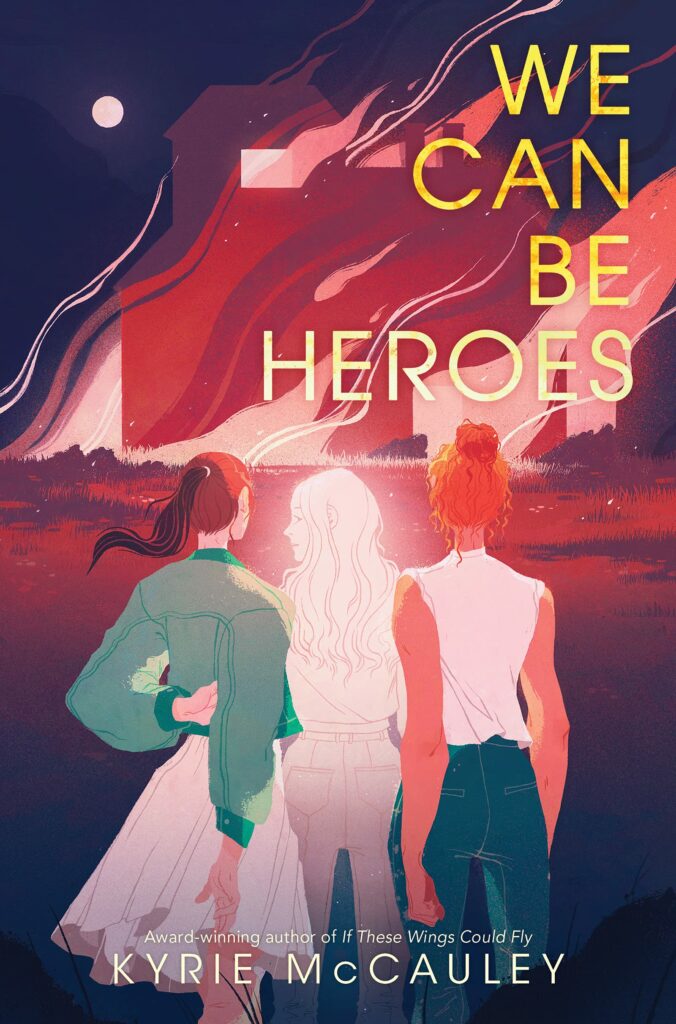 We Can Be Heroes by Kyrie McCauley
"Welcome to Bell, proud home of Bell Firearms for two hundred years, and where five months ago, the teen heir to the Bell fortune took his father's guns to school and killed his ex-girlfriend, Cassandra Queen." —WE CAN BE HEROES PODCAST
Beck and Vivian never could stand each other, but they always tried their best for their mutual friend, Cassie. After the town moves on from Cassie's murder too fast, Beck and Vivian finally find common ground: vengeance. They memorialize Cassie by secretly painting murals of her around town, a message to the world that Cassie won't be forgotten. But Beck and Vivian are keeping secrets, like the third passenger riding in Beck's VW bus with them—Cassie's ghost.
When their murals catch the attention of a podcaster covering Cassie's case, they become the catalyst for a debate that Bell Firearms can no longer ignore. With law enforcement closing in on them, Beck and Vivian hurry to give Cassie the closure she needs—by delivering justice to those responsible for her death.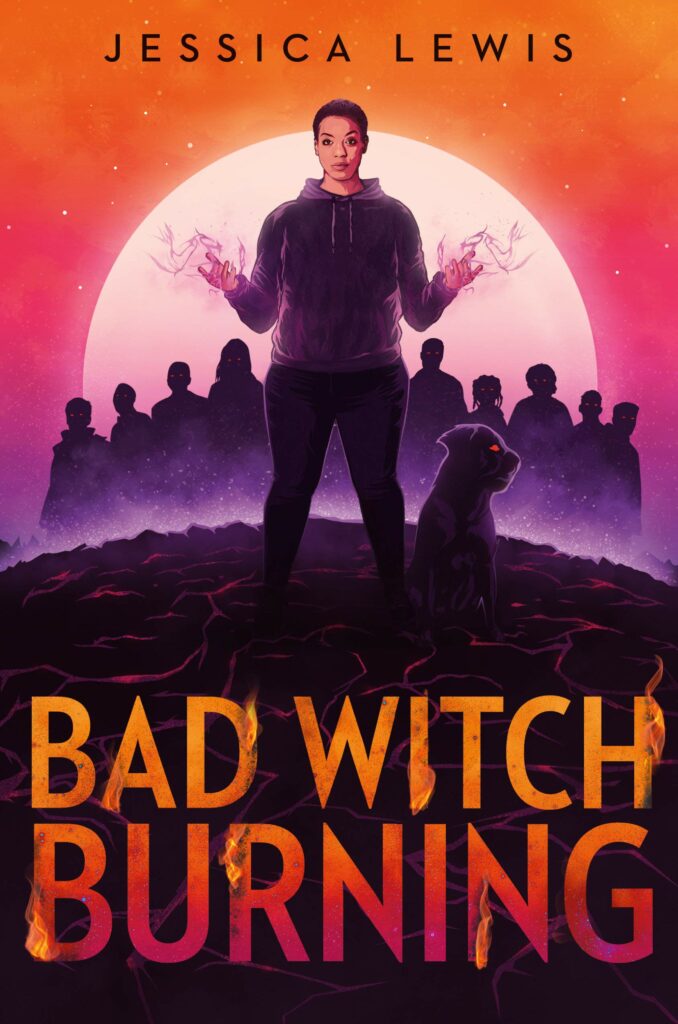 Bad Witch Burning by Jessica Lewis
Katrell doesn't mind talking to the dead; she just wishes it made more money. Clients pay her to talk to their deceased loved ones, but it isn't enough to support her unemployed mother and Mom's deadbeat boyfriend-of-the-week. Things get worse, when a ghost warns her to stop the summonings or she'll "burn everything down." Katrell is willing to call them on their bluff, though. She has no choice. What do ghosts know about eating peanut butter for dinner?
However, when her next summoning accidentally raises someone from the dead, Katrell realizes that a live body is worth a lot more than a dead apparition. And, warning or not, she has no intention of letting this lucrative new business go.
But magic doesn't come for free, and soon dark forces are closing in on Katrell. The further she goes, the more she risks the lives of not only herself, but those she loves. Katrell faces a choice: resign herself to poverty, or confront the darkness before it's too late.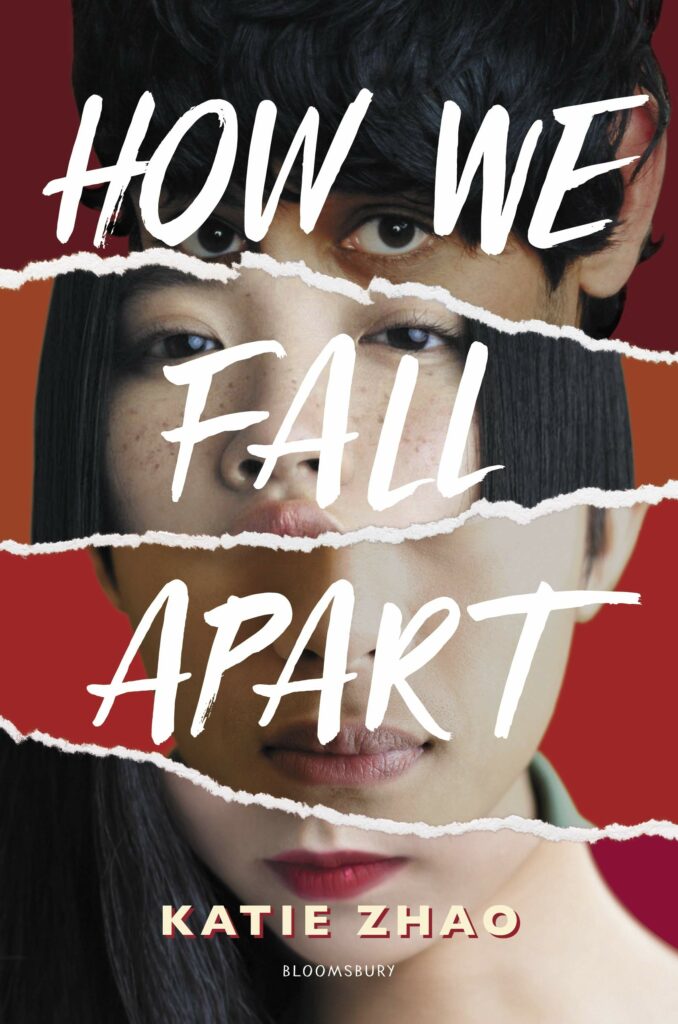 How We Fall Apart by Katie Zhao
Nancy Luo is shocked when her former best friend, Jamie Ruan, top ranked junior at Sinclair Prep, goes missing, and then is found dead. Nancy is even more shocked when word starts to spread that she and her friends–Krystal, Akil, and Alexander–are the prime suspects, thanks to "The Proctor," someone anonymously incriminating them via the school's social media app.
They all used to be Jamie's closest friends, and she knew each of their deepest, darkest secrets. Now, somehow The Proctor knows them, too. The four must uncover the true killer before The Proctor exposes more than they can bear and costs them more than they can afford, like Nancy's full scholarship. Soon, Nancy suspects that her friends may be keeping secrets from her, too.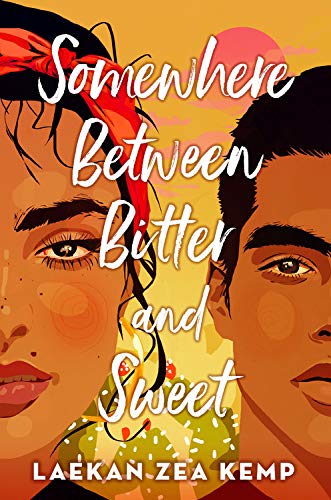 Somewhere Between Bitter and Sweet by Laekan Zea Kemp
Penelope Prado has always dreamed of opening her own pastelería next to her father's restaurant, Nacho's Tacos. But her mom and dad have different plans—leaving Pen to choose between disappointing her traditional Mexican American parents or following her own path. When she confesses a secret she's been keeping, her world is sent into a tailspin. But then she meets a cute new hire at Nacho's who sees through her hard exterior and asks the questions she's been too afraid to ask herself.
Xander Amaro has been searching for home since he was a little boy. For him, a job at Nacho's is an opportunity for just that—a chance at a normal life, to settle in at his abuelo's, and to find the father who left him behind. But when both the restaurant and Xander's immigrant status are threatened, he will do whatever it takes to protect his newfound family and himself.
Together, Pen and Xander must navigate first love and discovering where they belong in order to save the place they all call home.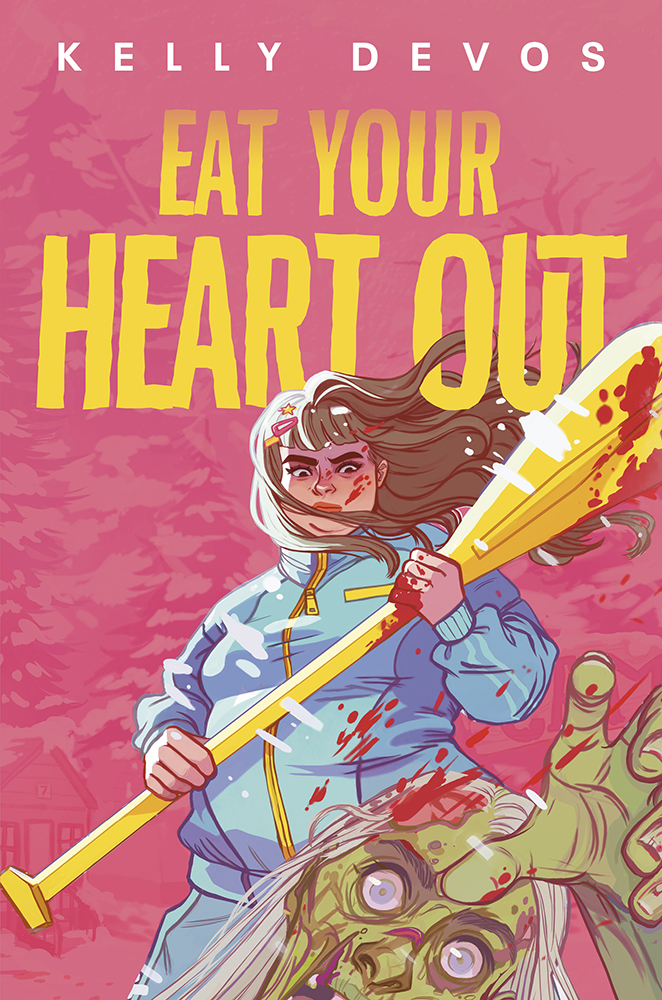 Eat Your Heart by Kelly deVos
Vivian Ellenshaw is fat, but she knows she doesn't need to lose weight, so she's none too happy to find herself forced into a weight-loss camp's van with her ex-best friend, Allie, a meathead jock who can barely drive, and the camp owner's snobby son. And when they arrive at Camp Featherlite at the start of the worst blizzard in the history of Flagstaff, Arizona, it's clear that something isn't right.
Vee barely has a chance to meet the other members of her pod, all who seem as unhappy to be at Featherlite as she does, when a camper goes missing down by the lake. Then she spots something horrifying outside in the snow. Something…that isn't human. Plus, the camp's supposed "miracle cure" for obesity just seems fishy, and Vee and her fellow campers know they don't need to be cured. Of anything.
Even worse, it's not long before Camp Featherlite's luxurious bungalows are totally overrun with zombies. What starts out as a mission to unravel the camp's secrets turns into a desperate fight for survival–and not all of the Featherlite campers will make it out alive.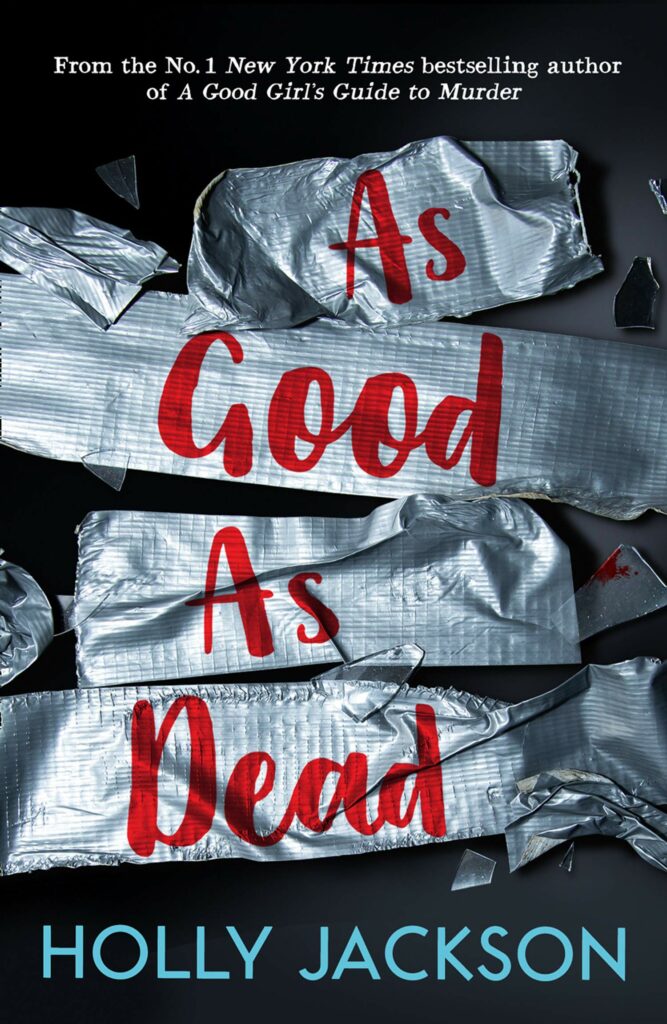 As Good As Dead by Holly Jackson
Pip is used to online death threats, but there's one that catches her eye, someone who keeps asking: who will look for you when you're the one who disappears? And it's not just online. Pip has a stalker who knows where she lives. The police refuse to act and then Pip finds connections between her stalker and a local serial killer. The killer has been in prison for six years, but Pip suspects that the wrong man is behind bars. As the deadly game plays out, Pip realises that everything in Little Kilton is finally coming full circle. If Pip doesn't find the answers, this time she will be the one who disappears . . .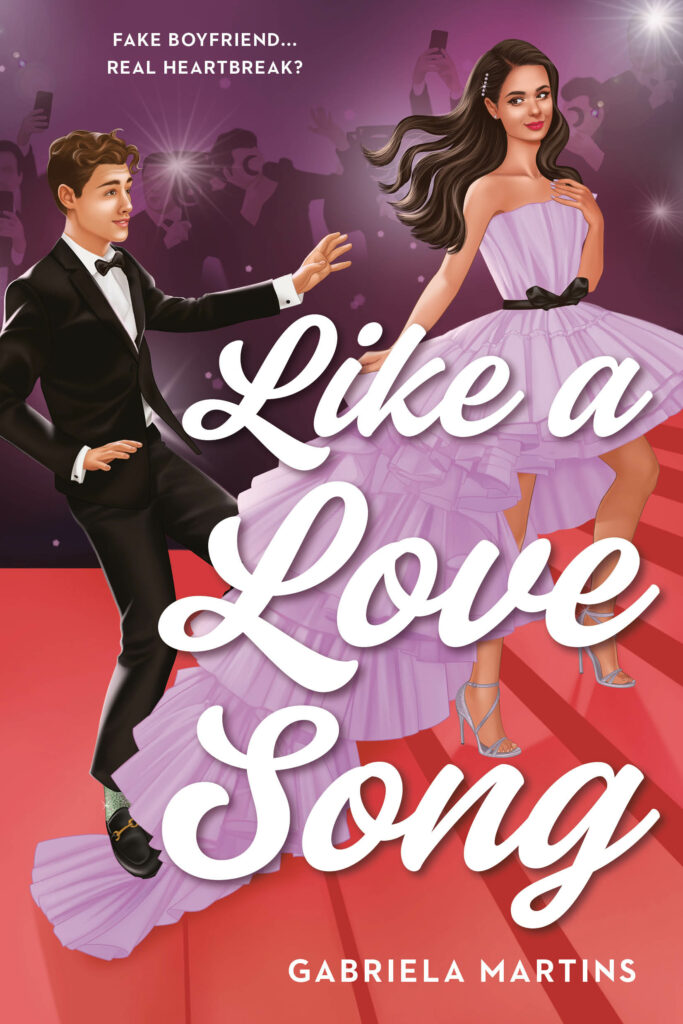 Like a Love Song by Gabriela Martins
Natalie is living her dream: topping the charts and setting records as a Brazilian pop star…until she's dumped spectacularly on live television. Not only is it humiliating—it could end her career.
Her PR team's desperate plan? A gorgeous yet oh-so-fake boyfriend. Nati reluctantly agrees, but William is not what she expected. She was hoping for a fierce bad boy—not a soft-hearted British indie film star. While she fights her way back to the top with a sweet and surprisingly swoon-worthy boy on her arm, she starts to fall for William—and realizes that maybe she's the biggest fake of them all. Can she reclaim her voice and her heart?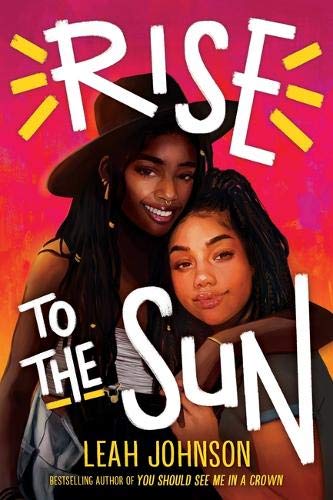 Rise to the Sun by Leah Thomas
Olivia is an expert at falling in love . . . and at being dumped. But after the fallout from her last breakup has left her an outcast at school and at home, she's determined to turn over a new leaf. A crush-free weekend at Farmland Music and Arts Festival with her best friend is just what she needs to get her mind off the senior year that awaits her.
Toni is one week away from starting college, and it's the last place she wants to be. Unsure about who she wants to become and still reeling in the wake of the loss of her musician-turned-roadie father, she's heading back to the music festival that changed his life in hopes that following in his footsteps will help her find her own way forward.
When the two arrive at Farmland, the last thing they expect is to realize that they'll need to join forces in order to get what they're searching for out of the weekend. As they work together, the festival becomes so much more complicated than they bargained for, and Olivia and Toni will find that they need each other, and music, more than they ever could have imagined.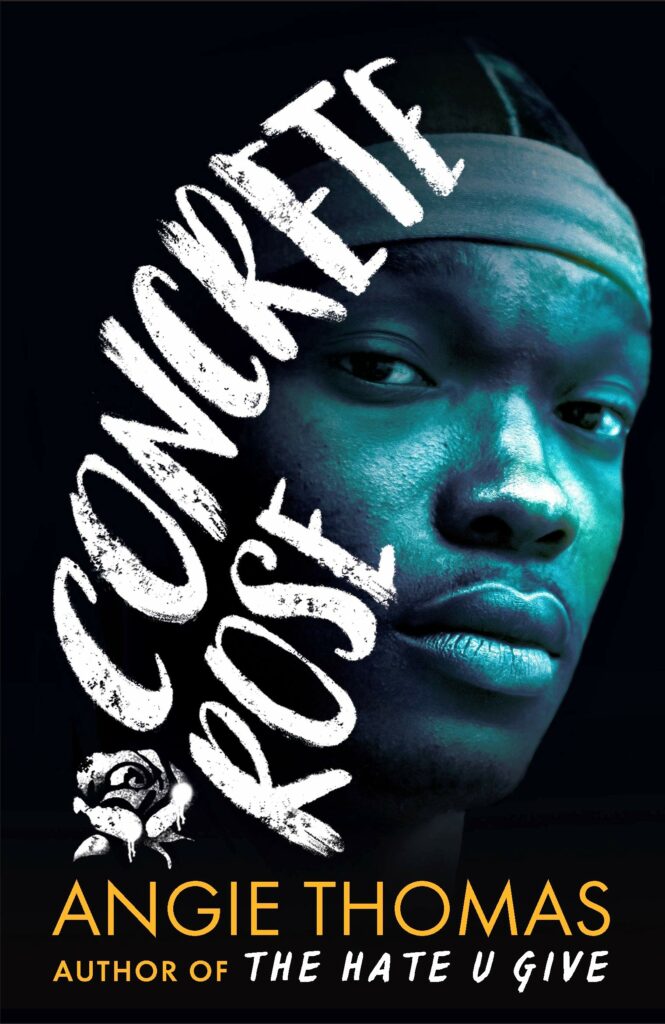 Concrete Rose by Angie Thomas
If there's one thing seventeen-year-old Maverick Carter knows, it's that a real man takes care of his family. As the son of a former gang legend, Mav does that the only way he knows how: dealing for the King Lords. With this money he can help his mom, who works two jobs while his dad's in prison.
Life's not perfect, but with a fly girlfriend and a cousin who always has his back, Mav's got everything under control. Until, that is, Maverick finds out he's a father.
Suddenly he has a baby, Seven, who depends on him for everything. But it's not so easy to sling dope, finish school, and raise a child. So when he's offered the chance to go straight, he takes it. In a world where he's expected to amount to nothing, maybe Mav can prove he's different.
When King Lord blood runs through your veins, though, you can't just walk away. Loyalty, revenge, and responsibility threaten to tear Mav apart, especially after the brutal murder of a loved one. He'll have to figure out for himself what it really means to be a man.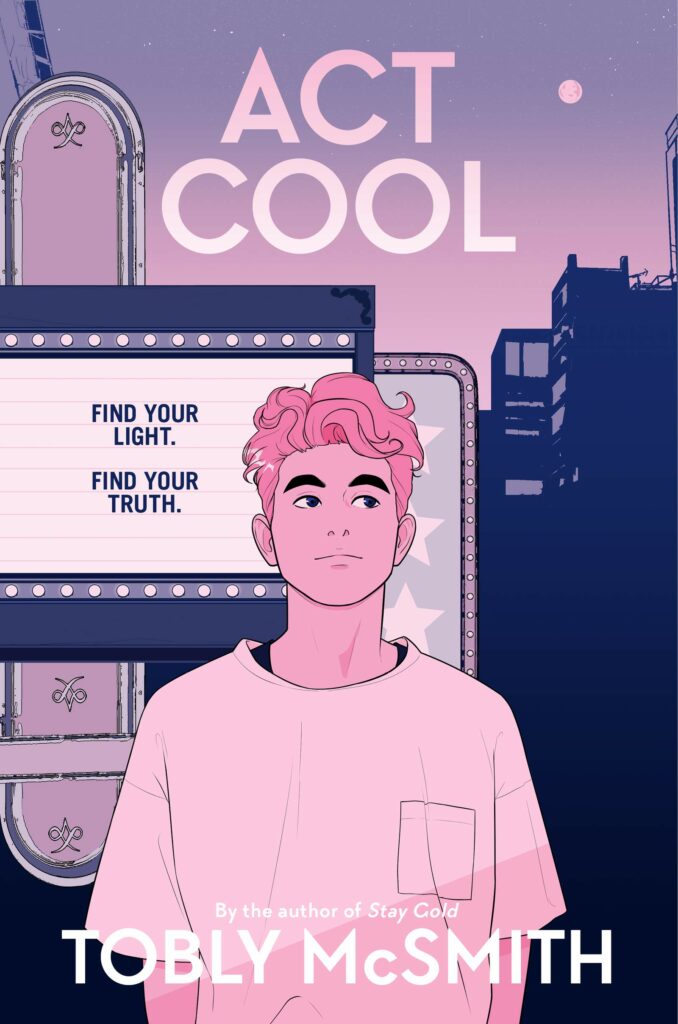 Act Cool by Tobly Smith
Aspiring actor August Greene just landed a coveted spot at the prestigious School of Performing Arts in New York. There's only one problem: His conservative parents won't accept that he's transgender. And to stay with his aunt in the city, August must promise them he won't transition.
August is convinced he can play the part his parents want while acting cool and confident in the company of his talented new friends.
But who is August when the lights go down? And where will he turn when the roles start hitting a little too close to home?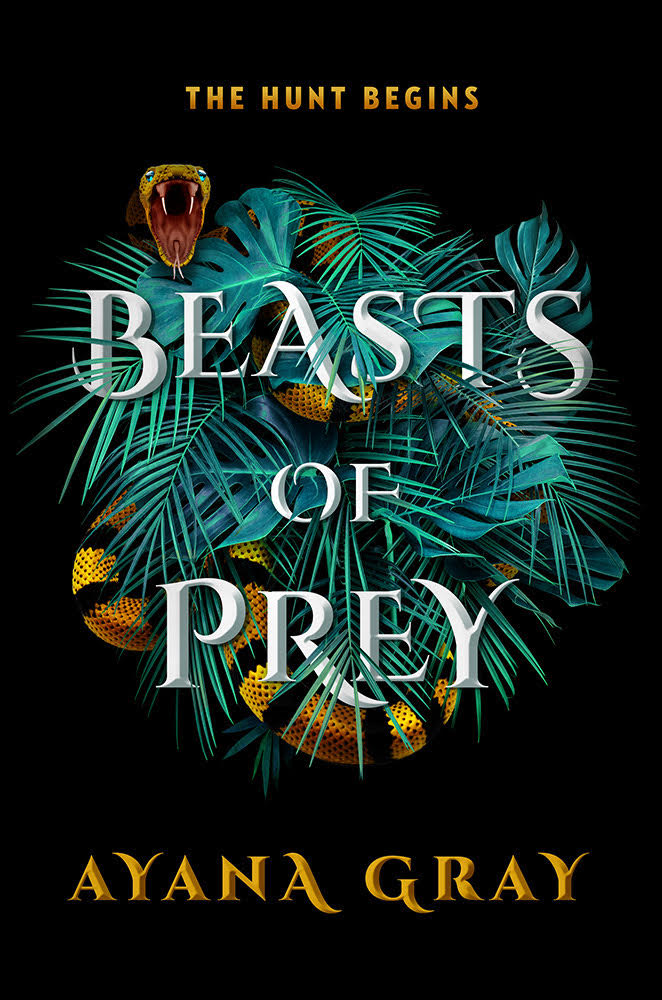 Beasts of Prey by Ayana Gray
Magic doesn't exist in the broken city of Lkossa anymore, especially for girls like sixteen-year-old Koffi. Indentured to the notorious Night Zoo, she cares for its fearsome and magical creatures to pay off her family's debts and secure their eventual freedom. But the night her loved ones' own safety is threatened by the Zoo's cruel master, Koffi unleashes a power she doesn't fully understand–and the consequences are dire.
As the second son of a decorated hero, Ekon is all but destined to become a Son of the Six–an elite warrior–and uphold a family legacy. But on the night of his final rite of passage, a fire upends his plans. In its midst, Ekon not only encounters the Shetani–a vicious monster that has plagued the city and his nightmares for nearly a century–but a curious girl who seems to have the power to ward off the beast. Koffi's power ultimately saves Ekon's life, but his choice to let her flee dooms his hopes of becoming a warrior.
Desperate to redeem himself, Ekon vows to hunt the Shetani down and end its reign of terror, but he can't do it alone. Meanwhile, Koffi believes finding the Shetani and selling it for a profit could be the key to solving her own problems. Koffi and Ekon–each keeping their true motives secret from the other–form a tentative alliance and enter into the unknowns of the Greater Jungle, a world steeped in wild magic and untold dangers. The hunt begins. But it quickly becomes unclear whether they are the hunters or the hunted.
Blackout by Dhonielle Clayton, Tiffany D. Jackson, Nic Stone, Angie Thomas, Ashley Woodfolk and Nicola Yoon
A summer heatwave blankets New York City in darkness. But as the city is thrown into confusion, a different kind of electricity sparks…
A first meeting. Long-time friends. Bitter exes. And maybe the beginning of something new.
When the lights go out, people reveal hidden truths. Love blossoms, friendship transforms, and new possibilities take flight.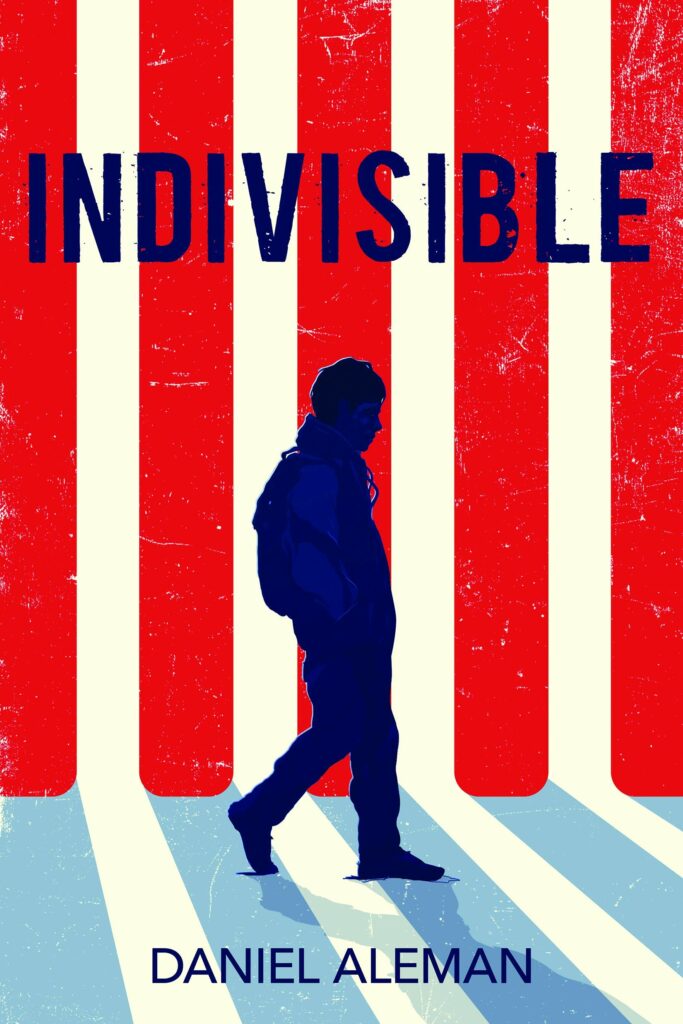 Indivisable by Daniel Aleman
There is a word Mateo Garcia and his younger sister Sophie have been taught to fear for as long as they can remember: deportation. Over the past few years, however, the fear that their undocumented immigrant parents could be sent back to Mexico has started to fade to the back of their minds. And why wouldn't it, when their Ma and Pa have been in the United States for so long, they have American-born children, and they're hard workers and good neighbors?
When two ICE agents come asking for Pa, the Garcia family realizes that the lives they've built are about to come crumbling down. And when Mateo returns from school one day to find that his parents have been taken, he'll have to come to terms with the fact that his family's worst nightmare has become a reality.
With his Ma and Pa being held in separate detention centers, Mateo must learn how to look after his sister and himself. The choices Mateo makes, and the people he turns to for help, might reunite his family… or tear them apart for good. With his parents' fate and his own future hanging in the balance, Mateo must figure out who he is and what he is capable of, even as he's forced to question what it means to be an American teenager in a country that rejects his own mom and dad.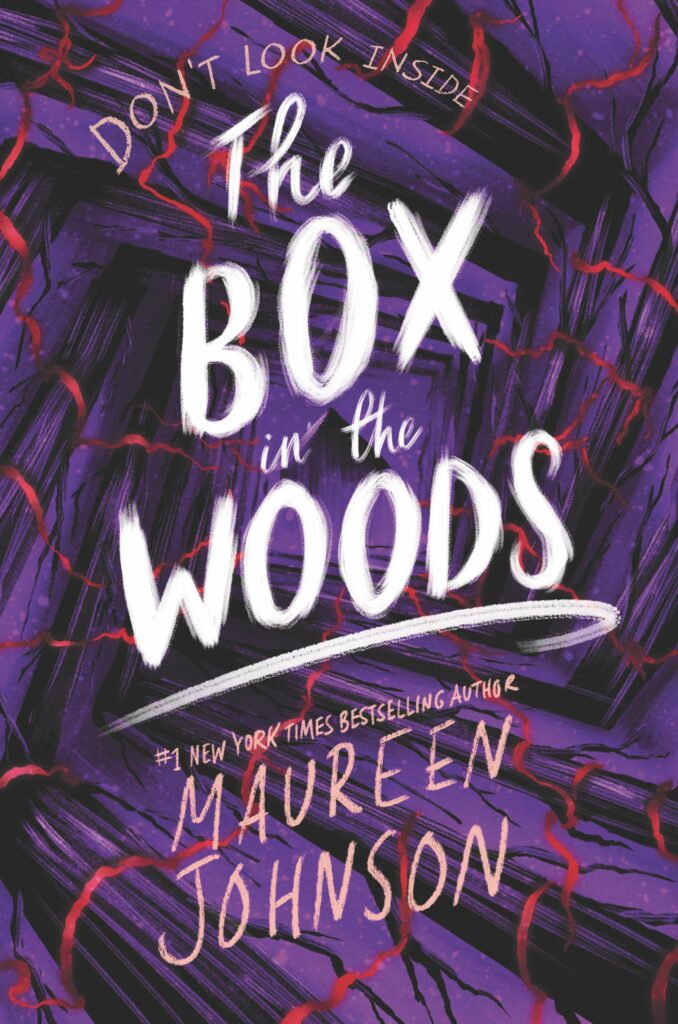 The Box in the Woods by Maureen Johnson
Amateur sleuth Stevie Bell needs a good murder. After catching a killer at her high school, she's back at home for a normal (that means boring) summer.
But then she gets a message from the owner of Sunny Pines, formerly known as Camp Wonder Falls—the site of the notorious unsolved case, the Box in the Woods Murders. Back in 1978, four camp counselors were killed in the woods outside of the town of Barlow Corners, their bodies left in a gruesome display. The new owner offers Stevie an invitation: Come to the camp and help him work on a true crime podcast about the case.
Stevie agrees, as long as she can bring along her friends from Ellingham Academy. Nothing sounds better than a summer spent together, investigating old murders.
But something evil still lurks in Barlow Corners. When Stevie opens the lid on this long-dormant case, she gets much more than she bargained for. The Box in the Woods will make room for more victims. This time, Stevie may not make it out alive.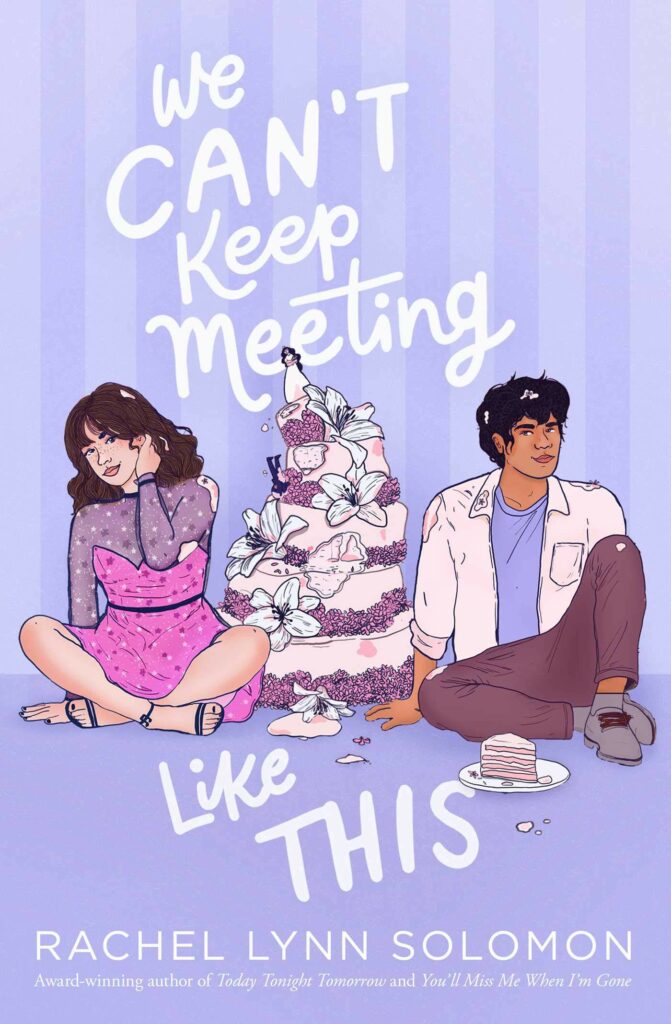 We Can't Keep Meeting Like This by Rachel Lynn Solomon
Quinn Berkowitz and Tarek Mansour's families have been in business together for years: Quinn's parents are wedding planners, and Tarek's own a catering company. At the end of last summer, Quinn confessed her crush on him in the form of a rambling email—and then he left for college without a response.
Quinn has been dreading seeing him again almost as much as she dreads another summer playing the harp for her parents' weddings. When he shows up at the first wedding of the summer, looking cuter than ever after a year apart, they clash immediately. Tarek's always loved the grand gestures in weddings—the flashier, the better—while Quinn can't see them as anything but fake. Even as they can't seem to have one civil conversation, Quinn's thrown together with Tarek wedding after wedding, from performing a daring cake rescue to filling in for a missing bridesmaid and groomsman.
Quinn can't deny her feelings for him are still there, especially after she learns the truth about his silence, opens up about her own fears, and begins learning the art of harp-making from an enigmatic teacher.
Maybe love isn't the enemy after all—and maybe allowing herself to fall is the most honest thing Quinn's ever done.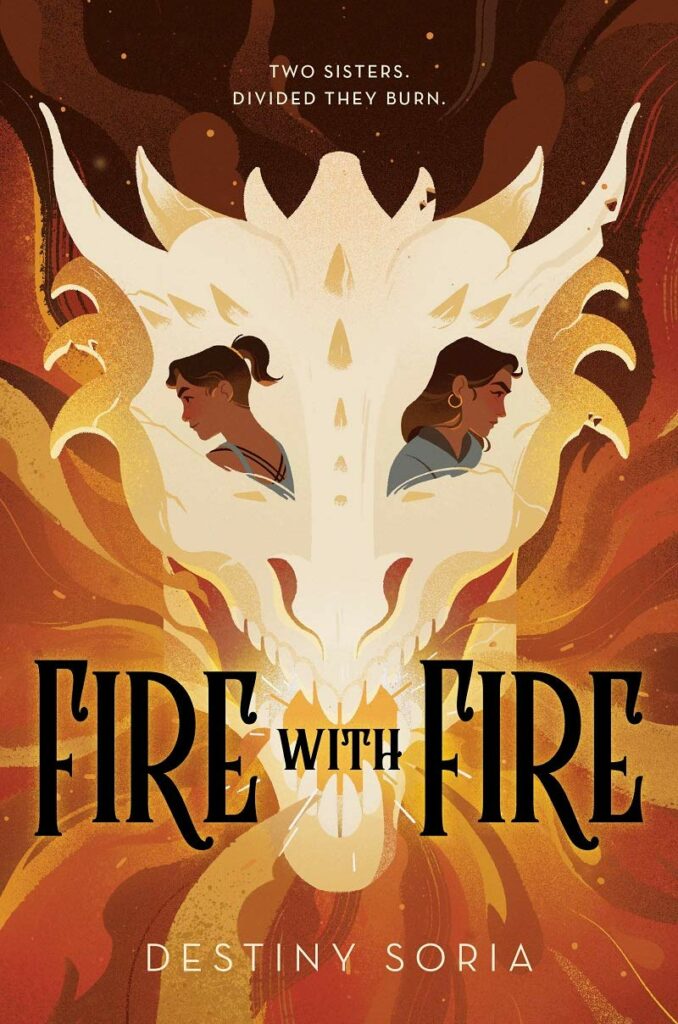 Fire With Fire by Destiny Soria
Dani and Eden Rivera were both born to kill dragons, but the sisters couldn't be more different. For Dani, dragon slaying takes a back seat to normal high school life, while Eden prioritizes training above everything else. Yet they both agree on one thing: it's kill or be killed where dragons are concerned.
Until Dani comes face-to-face with one and forges a rare and magical bond with him. As she gets to know Nox, she realizes that everything she thought she knew about dragons is wrong. With Dani lost to the dragons, Eden turns to the mysterious and alluring sorcerers to help save her sister. Now on opposite sides of the conflict, the sisters will do whatever it takes to save the other. But the two are playing with magic that is more dangerous than they know, and there is another, more powerful enemy waiting for them both in the shadows.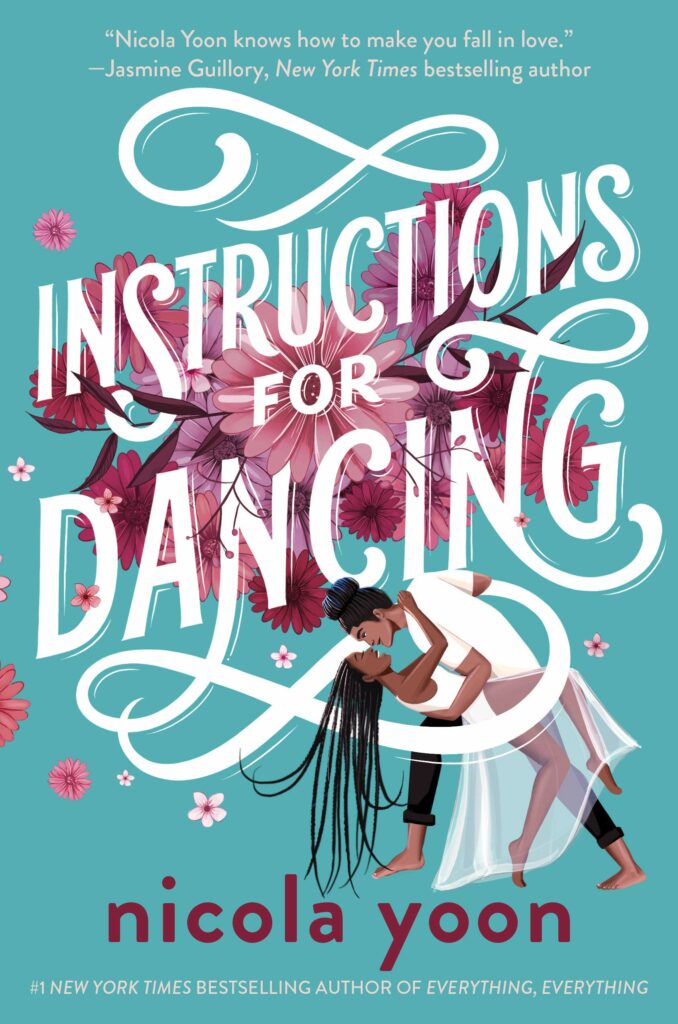 Instructions for Dancing by Nicola Yoon
Evie is disillusioned about love ever since her dad left her mum for another woman – she's even throwing out her beloved romance novel collection.
When she's given a copy of a book called Instructions for Dancing, and follows a note inside to a dilapidated dance studio, she discovers she has a strange and unwelcome gift. When a couple kisses in front of her, she can see their whole relationship play out – from the moment they first catch each other's eye to the last bitter moments of their break-up.
For Evie, it confirms everything she thinks she knows about love – that it doesn't last.
But at the dance studio she meets X – tall, dreadlocked, fascinating – and they start to learn to dance, together. Can X help break the spell that Evie is under? Can he change Evie's mind about love?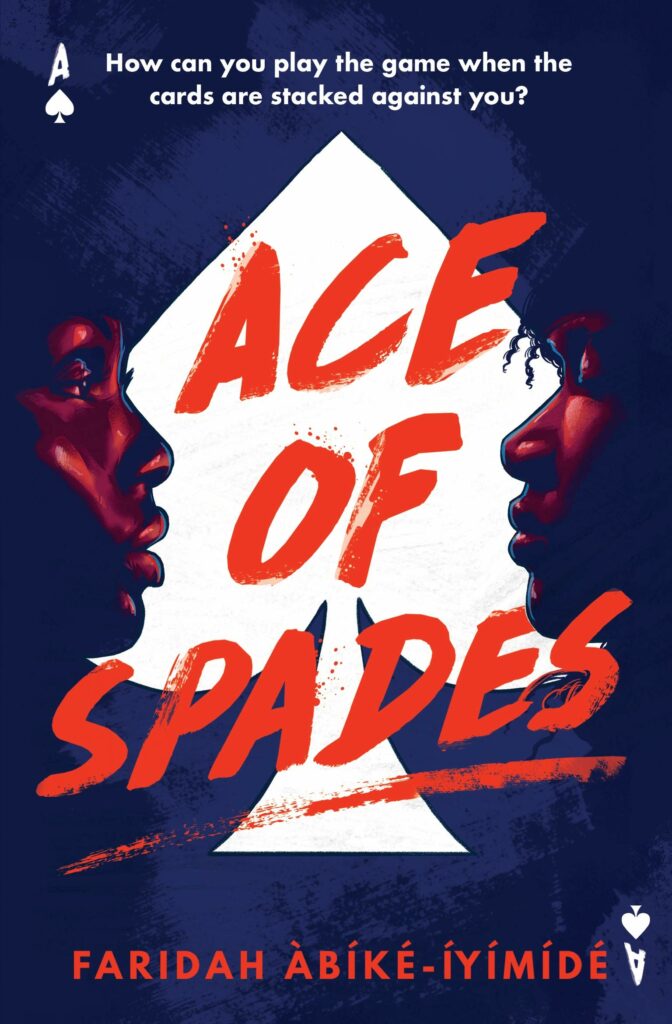 Ace of Spades by Faridah Àbíké-íyímídé
Welcome to Niveus Private Academy, where money paves the hallways, and the students are never less than perfect. Until now. Because anonymous texter, Aces, is bringing two students' dark secrets to light.
Talented musician Devon buries himself in rehearsals, but he can't escape the spotlight when his private photos go public. Head girl Chiamaka isn't afraid to get what she wants, but soon everyone will know the price she has paid for power.
Someone is out to get them both. Someone who holds all the aces. And they're planning much more than a high-school game…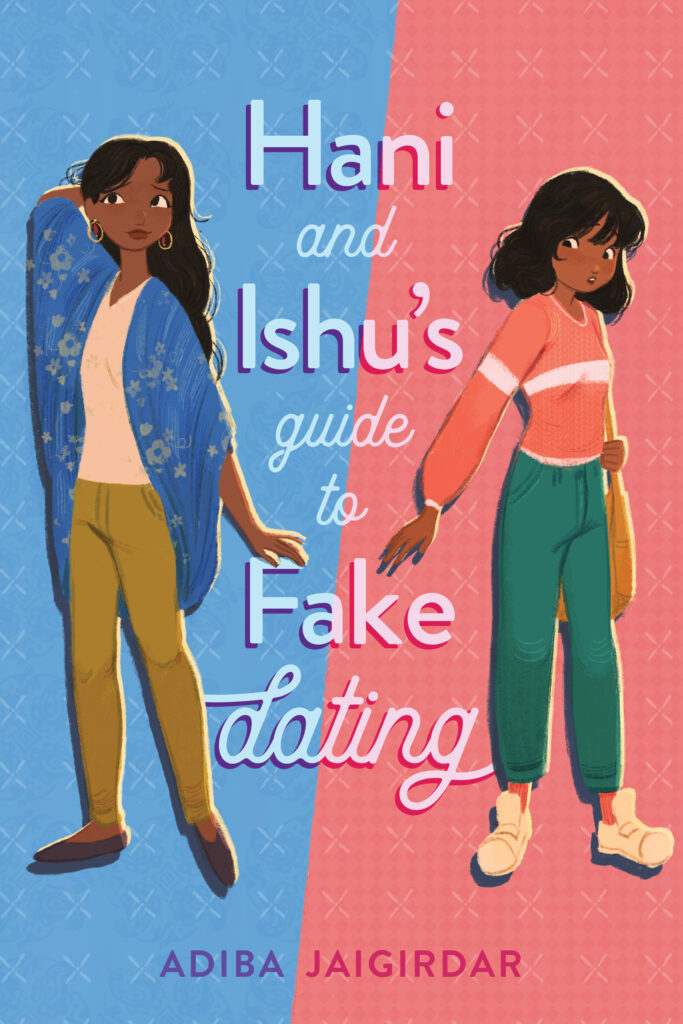 Hani and Ishu's Guide to Fake Dating by Adiba Jaigidar
Everyone likes Hani Kahn—she's easy going and one of the most popular girls at school. But when she comes out to her friends as bisexual, they invalidate her identity, saying she can't be bi if she's only dated guys. Panicked, Hani blurts out that she's in a relationship…with a girl her friends absolutely hate—Ishita Dey. Ishita is the complete opposite of Hani. She's an academic overachiever who hopes that becoming head girl will set her on the right track for college. But Ishita agrees to help Hani, if Hani will help her become more popular so that she stands a chance of being elected head girl.
Despite their mutually beneficial pact, they start developing real feelings for each other. But relationships are complicated, and some people will do anything to stop two Bengali girls from achieving happily ever after.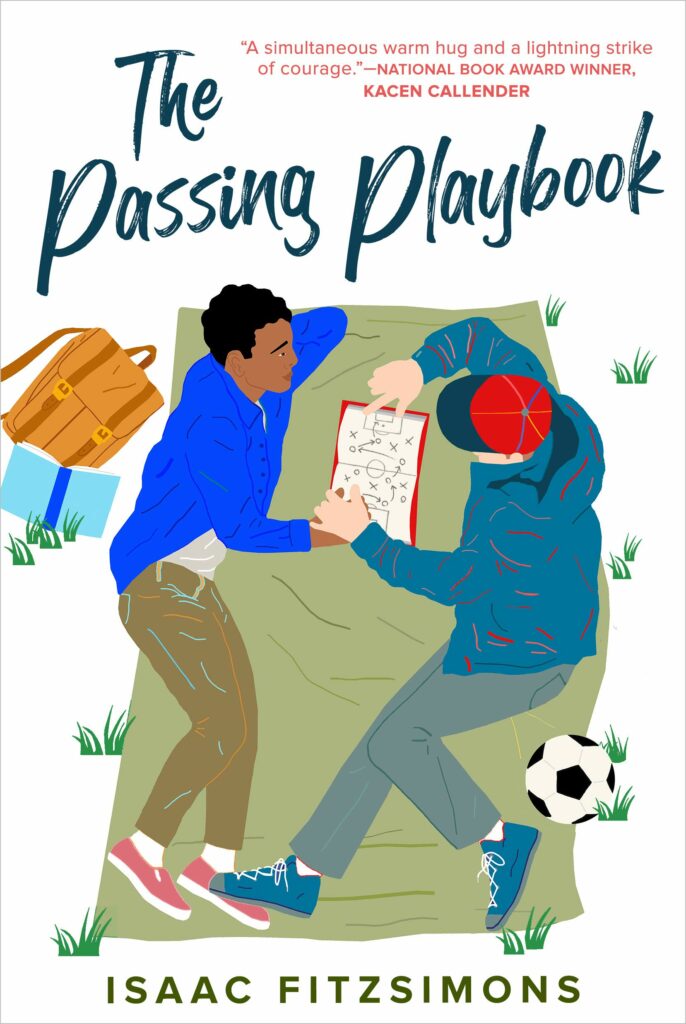 The Passing Playbook by Isaac Fitzsimmons
Fifteen-year-old Spencer Harris is a proud nerd, an awesome big brother and a Messi-in-training. He's also transgender. After transitioning at his old school leads to a year of bullying, Spencer gets a fresh start at Oakley, the most liberal private school in Ohio.
At Oakley, Spencer seems to have it all: more accepting classmates, a decent shot at a starting position on the boy's soccer team, great new friends, and maybe even something more than friendship with one of his teammates. The problem is, no one at Oakley knows Spencer is trans – he's passing.
So when a discriminatory law forces Spencer's coach to bench him after he discovers the 'F' on Spencer's birth certificate, Spencer has to make a choice: cheer his team on from the sidelines or publicly fight for his right to play, even if it means coming out to everyone – including the guy he's falling for.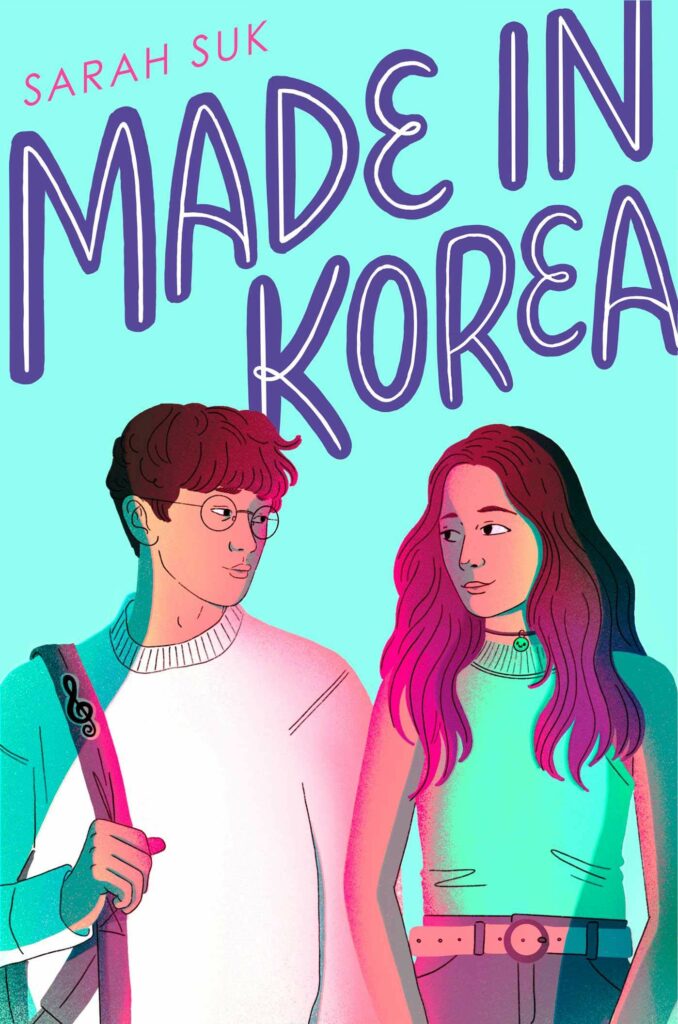 Made in Korea by Sarah Suk
There's nothing Valerie Kwon loves more than making a good sale. Together with her cousin Charlie, they run V&C K-BEAUTY, their school's most successful student-run enterprise. With each sale, Valerie gets closer to taking her beloved and adventurous halmeoni to her dream city, Paris.
Enter the new kid in class, Wes Jung, who is determined to pursue music after graduation despite his parents' major disapproval. When his classmates clamor to buy the K-pop branded beauty products his mom gave him to "make new friends," he sees an opportunity—one that may be the key to help him pay for the music school tuition he knows his parents won't cover…
What he doesn't realize, though, is that he is now V&C K-BEAUTY's biggest competitor.
Stakes are high as Valerie and Wes try to outsell each other, make the most money, and take the throne for the best business in school—all while trying to resist the undeniable spark that's crackling between them. From hiring spies to all-or-nothing bets, the competition is much more than either of them bargained for.
But one thing is clear: only one Korean business can come out on top.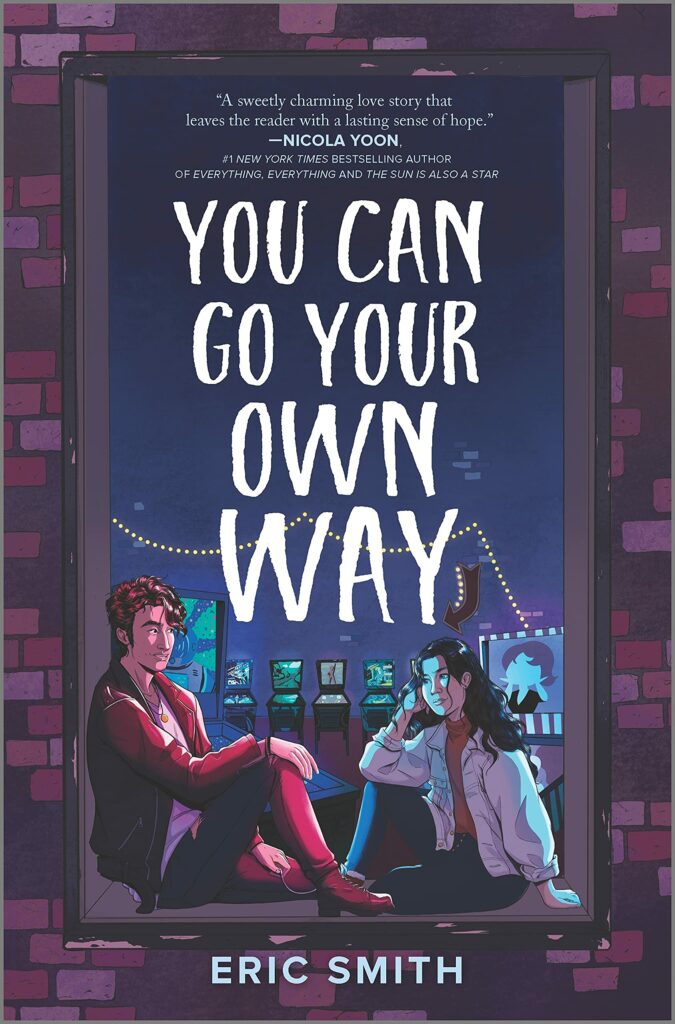 You Can Go Your Own Way by Eric Smith
Adam Stillwater is in over his head. At least, that's what his best friend would say. And his mom. And the guy who runs the hardware store down the street. But this pinball arcade is the only piece of his dad that Adam has left, and he's determined to protect it from Philadelphia's newest tech mogul, who wants to turn it into another one of his cold, lifeless gaming cafés.
Whitney Mitchell doesn't know how she got here. Her parents split up. She lost all her friends. Her boyfriend dumped her. And now she's spending her senior year running social media for her dad's chain of super successful gaming cafés—which mostly consists of trading insults with that decrepit old pinball arcade across town.
But when a huge snowstorm hits, Adam and Whitney suddenly find themselves trapped inside the arcade. Cut off from their families, their worlds, and their responsibilities, the tension between them seems to melt away, leaving something else in its place. But what happens when the storm stops?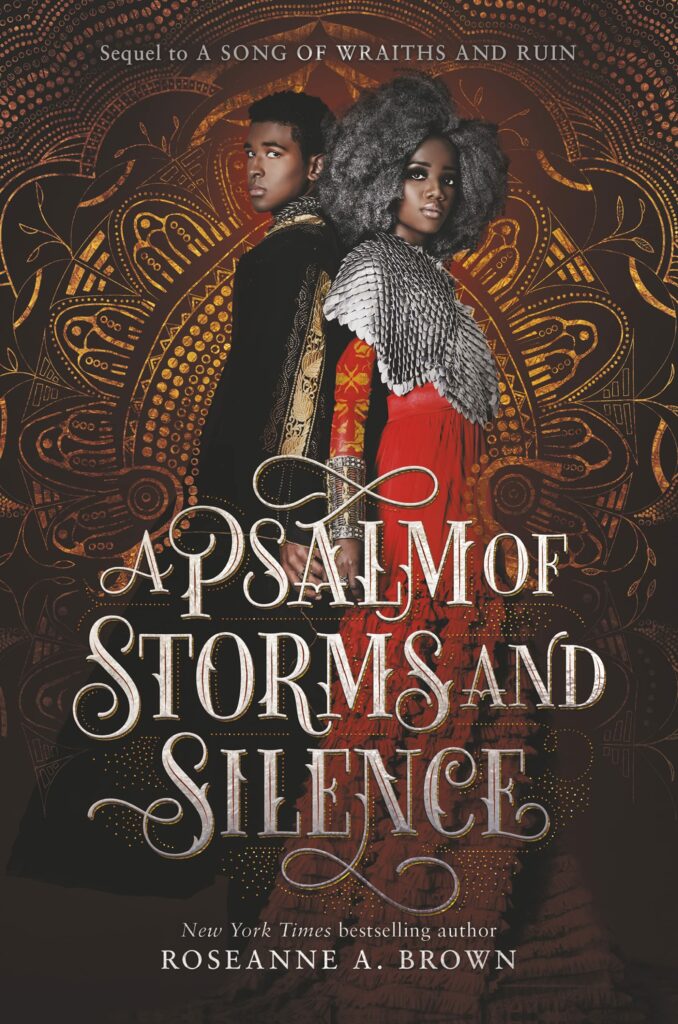 A Psalm of Storms and Silence by Roseanne A. Brown
Karina lost everything after a violent coup left her without her kingdom or her throne. Now the most wanted person in Sonande, her only hope of reclaiming what is rightfully hers lies in a divine power hidden in the long-lost city of her ancestors.
Meanwhile, the resurrection of Karina's sister has spiraled the world into chaos, with disaster after disaster threatening the hard-won peace Malik has found as Farid's apprentice. When they discover that Karina herself is the key to restoring balance, Malik must use his magic to lure her back to their side. But how do you regain the trust of someone you once tried to kill?
As the fabric holding Sonande together begins to tear, Malik and Karina once again find themselves torn between their duties and their desires. And when the fate of everything hangs on a single, horrifying choice, they each must decide what they value most—a power that could transform the world, or a love that could transform their lives.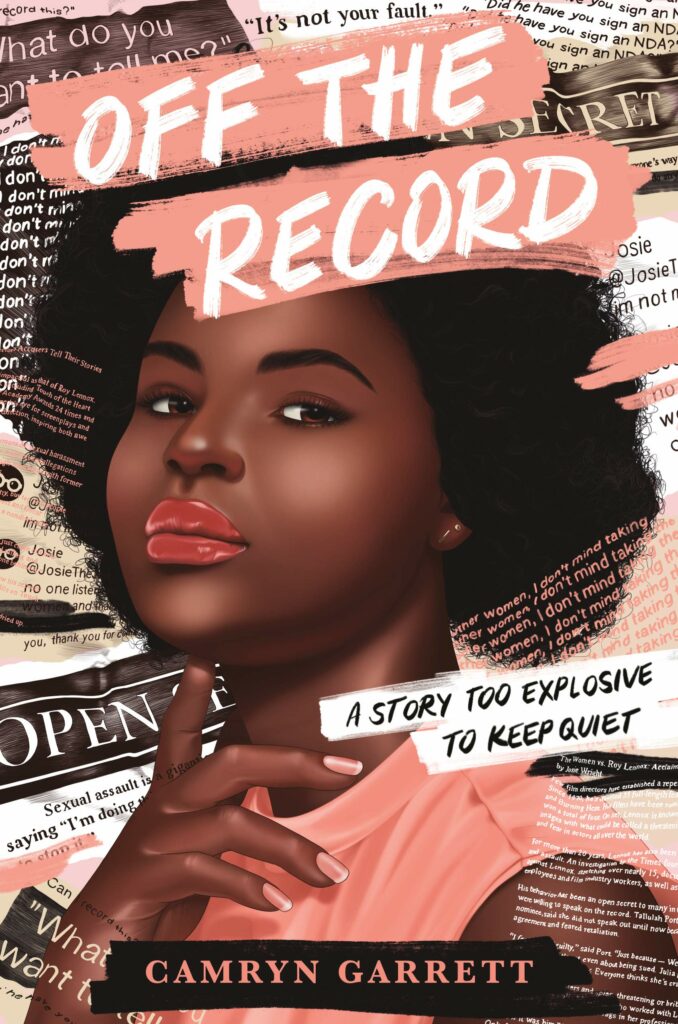 Off the Record by Camryn Garrett
Ever since seventeen-year-old Josie Wright can remember, writing has been her identity, the thing that grounds her when everything else is a garbage fire. So when she wins a contest to write a celebrity profile for Deep Focus magazine, she's equal parts excited and scared, but also ready. She's got this.
Soon Josie is jetting off on a multi-city tour, rubbing elbows with sparkly celebrities, frenetic handlers, stone-faced producers, and eccentric stylists. She even finds herself catching feelings for the subject of her profile, dazzling young newcomer Marius Canet. Josie's world is expanding so rapidly, she doesn't know whether she's flying or falling. But when a young actress lets her in on a terrible secret, the answer is clear: she's in over her head.
One woman's account leads to another and another. Josie wants to expose the man responsible, but she's reluctant to speak up, unsure if this is her story to tell. What if she lets down the women who have entrusted her with their stories? What if this ends her writing career before it even begins? There are so many reasons not to go ahead, but if Josie doesn't step up, who will?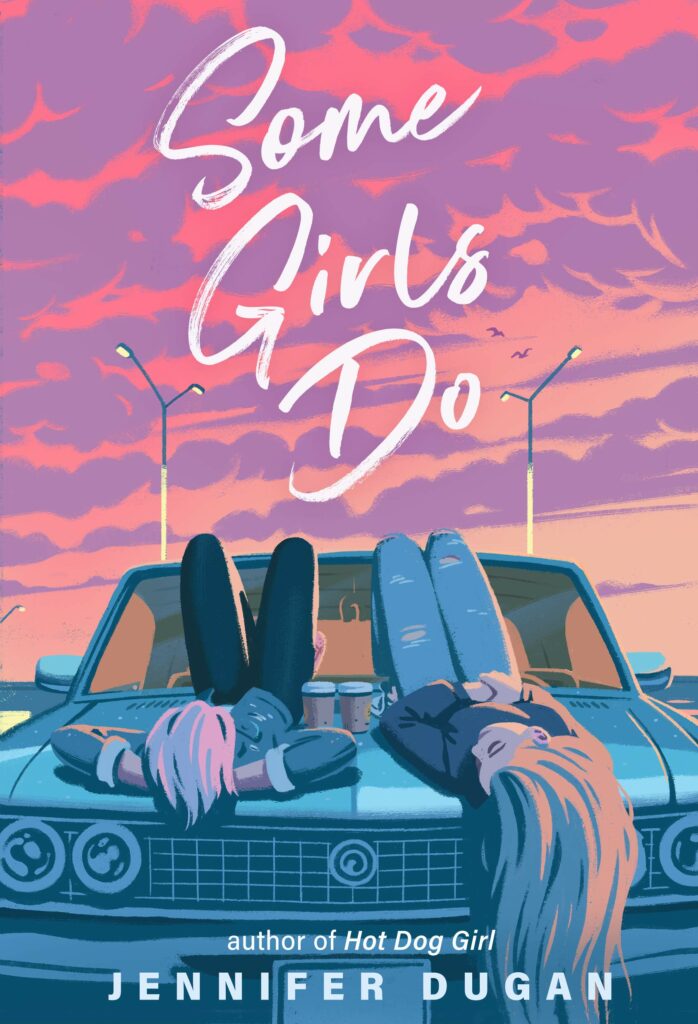 Some Girls Do by Jennifer Dugan
Morgan, an elite track athlete, is forced to transfer high schools late in her senior year after it turns out being queer is against her private Catholic school's code of conduct. There, she meets Ruby, who has two hobbies: tinkering with her baby blue 1970 Ford Torino and competing in local beauty pageants, the latter to live out the dreams of her overbearing mother. The two are drawn to each other and can't deny their growing feelings. But while Morgan–out and proud, and determined to have a fresh start–doesn't want to have to keep their budding relationship a secret, Ruby isn't ready to come out yet. With each girl on a different path toward living her truth, can they go the distance together?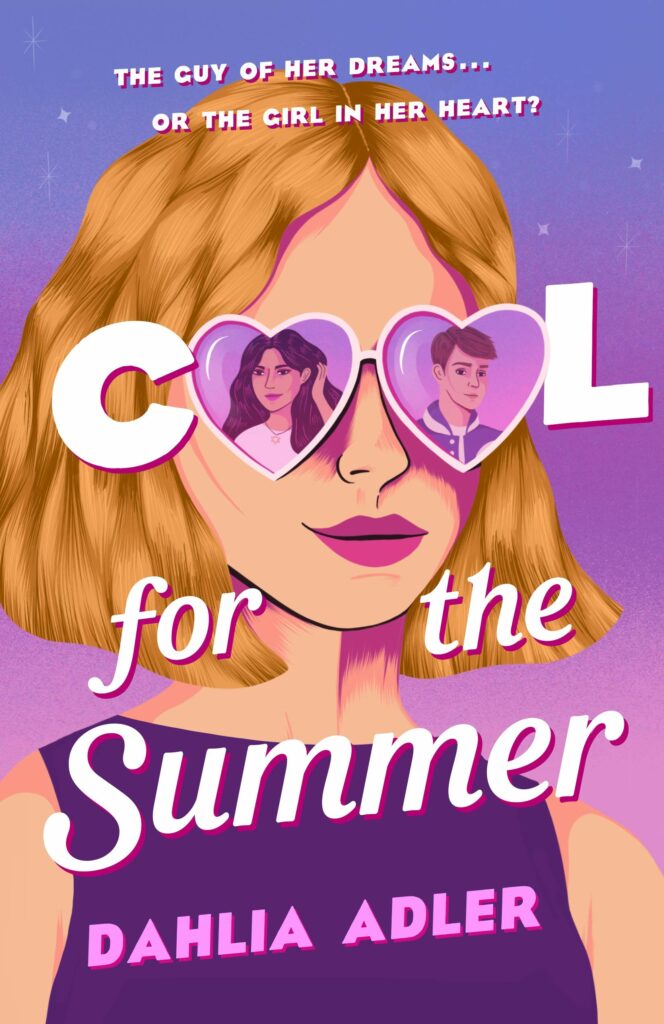 Cool for the Summer by Dalia Adler
Lara's had eyes for exactly one person throughout her three years of high school: Chase Harding. He's tall, strong, sweet, a football star, and frankly, stupid hot. Oh, and he's talking to her now. On purpose and everything. Maybe…flirting, even? No, wait, he's definitely flirting, which is pretty much the sum of everything Lara's wanted out of life.
Except she's haunted by a memory. A memory of a confusing, romantic, strangely perfect summer spent with a girl named Jasmine. A memory that becomes a confusing, disorienting present when Jasmine herself walks through the front doors of the school to see Lara and Chase chatting it up in front of the lockers.
Lara has everything she ever wanted: a tight-knit group of friends, a job that borders on cool, and Chase, the boy of her literal dreams. But if she's finally got the guy, why can't she stop thinking about the girl?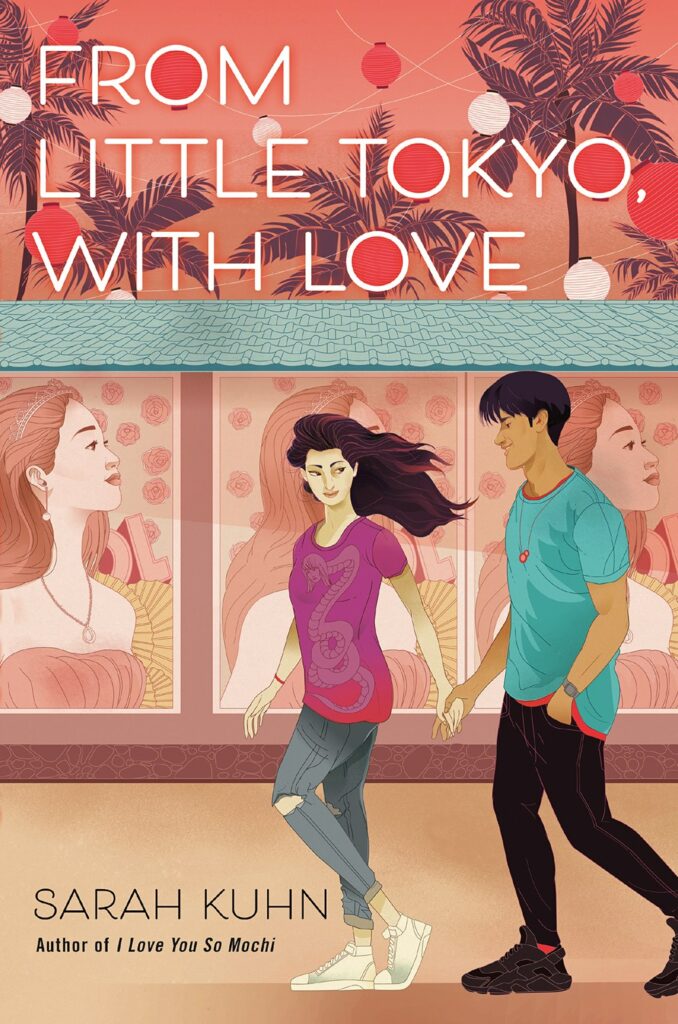 From Little Tokyo, With Love by Sarah Kuhn
If Rika's life seems like the beginning of a familiar fairy tale–being an orphan with two bossy cousins and working away in her aunts' business–she would be the first to reject that foolish notion. After all, she loves her family (even if her cousins were named after Disney characters), and with her biracial background, amazing judo skills and red-hot temper, she doesn't quite fit the princess mold.
All that changes the instant she locks eyes with Grace Kimura, America's reigning rom-com sweetheart, during the Nikkei Week Festival. From there, Rika embarks on a madcap adventure of hope and happiness–searching for clues that Grace is her long-lost mother, exploring Little Tokyo's hidden treasures with cute actor Hank Chen, and maybe…finally finding a sense of belonging.
But fairy tales are fiction and the real world isn't so kind. Rika knows she's setting herself up for disappointment, because happy endings don't happen to girls like her. Should she walk away before she gets in even deeper, or let herself be swept away?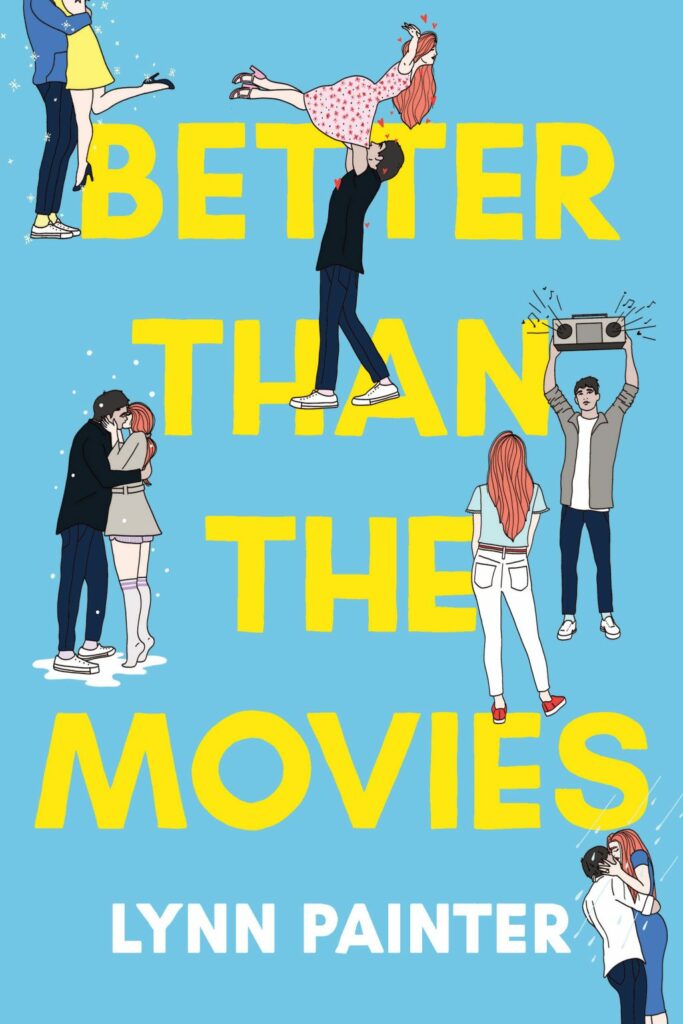 Better the the Movies by Lynn Painter
Liz Buxbaum has always known that Wes Bennett was not boyfriend material. You would think that her next-door neighbor would be a prince candidate for her romantic comedy fantasies, but Wes has only proven himself to be a pain in the butt, ever since they were little. Wes was the kid who put a frog in her Barbie Dreamhouse, the monster who hid a lawn gnome's severed head in her little homemade neighborhood book exchange.
Flash forward ten years from the Great Gnome Decapitation. It's Liz's senior year, a time meant to be rife with milestones perfect for any big screen, and she needs Wes's help. See, Liz's forever crush, Michael, has just moved back to town, and—horribly, annoyingly—he's hitting it off with Wes. Meaning that if Liz wants Michael to finally notice her, and hopefully be her prom date, she needs Wes. He's her in.
But as Liz and Wes scheme to get Liz her magical prom moment, she's shocked to discover that she actually likes being around Wes. And as they continue to grow closer, she must reexamine everything she thought she knew about love—and rethink her own perception of what Happily Ever After should really look like.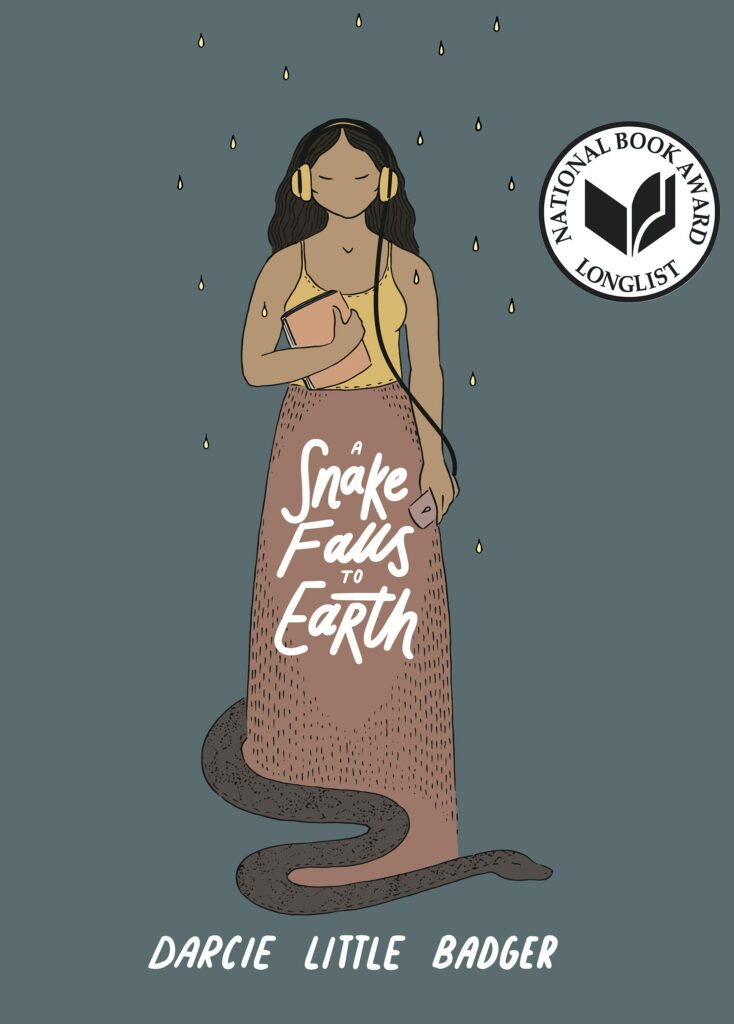 A Snake Falls to Earth by Darcie Little Badger
Nina is a Lipan girl in our world. She's always felt there was something more out there. She still believes in the old stories.
Oli is a cottonmouth kid, from the land of spirits and monsters. Like all cottonmouths, he's been cast from home. He's found a new one on the banks of the bottomless lake.
Nina and Oli have no idea the other exists. But a catastrophic event on Earth, and a strange sickness that befalls Oli's best friend, will drive their worlds together in ways they haven't been in centuries.
And there are some who will kill to keep them apart.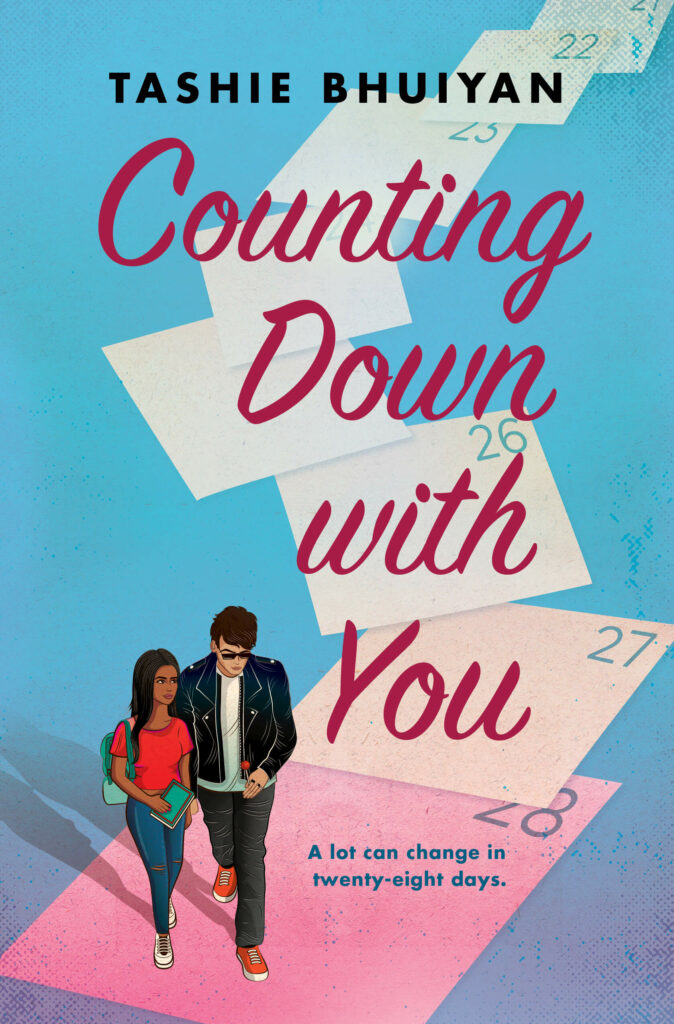 Counting Down With You by Tashie Bhuiyan
Karina Ahmed has a plan. Keep her head down, get through high school without a fuss, and follow her parents' rules—even if it means sacrificing her dreams. When her parents go abroad to Bangladesh for four weeks, Karina expects some peace and quiet. Instead, one simple lie unravels everything.
Karina is my girlfriend.
Tutoring the school's resident bad boy was already crossing a line. Pretending to date him? Out of the question. But Ace Clyde does everything right—he brings her coffee in the mornings, impresses her friends without trying, and even promises to buy her a dozen books (a week) if she goes along with his fake-dating facade. Though Karina agrees, she can't help but start counting down the days until her parents come back.
T-minus twenty-eight days until everything returns to normal—but what if Karina no longer wants it to?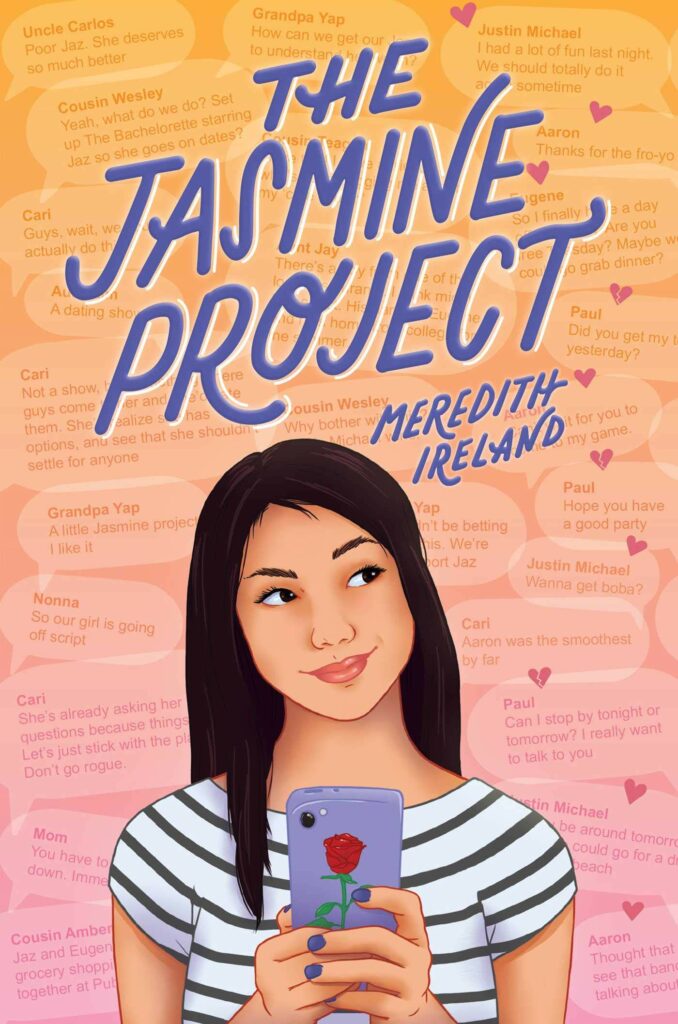 The Jasmine Project by Meredith Ireland
Jasmine Yap's life is great. Well, it's okay. She's about to move in with her long-time boyfriend, Paul, before starting a nursing program at community college—all of which she mostly wants. But her stable world is turned upside down when she catches Paul cheating. To her giant, overprotective family, Paul's loss is their golden ticket to showing Jasmine that she deserves much more. The only problem is, Jasmine refuses to meet anyone new.
But…what if the family set up a situation where she wouldn't have to know? A secret Jasmine Project.
The plan is simple: use Jasmine's graduation party as an opportunity for her to meet the most eligible teen bachelors in Orlando. There's no pressure for Jasmine to choose anyone, of course, but the family hopes their meticulously curated choices will show Jasmine how she should be treated. And maybe one will win her heart.
But with the family fighting for their favorites, bachelors going rogue, and Paul wanting her back, the Jasmine Project may not end in love but total, heartbreaking disaster.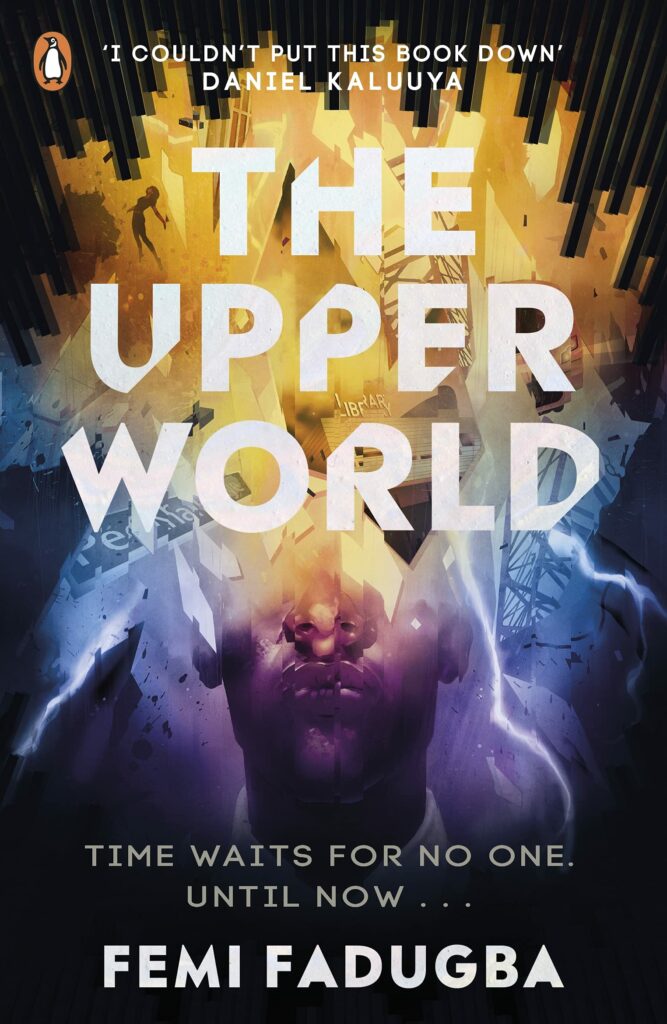 The Upper World by Femi Fadugba
Today
During arguably the worst week of Esso's life, an accident knocks him into an incredible world–a place beyond space or time, where he can see glimpses of the past and future. But if what he sees there is true, he might not have much longer to live, unless he can use his new gift to change the course of history.
Tomorrow
Rhia's past is filled with questions, none of which she expects a new physics tutor to answer. But Dr. Esso's not here to help Rhia. He's here because he needs her help–to unravel a tragedy that happened fifteen years ago. One that holds the key not only to Rhia's past, but to a future worth fighting for.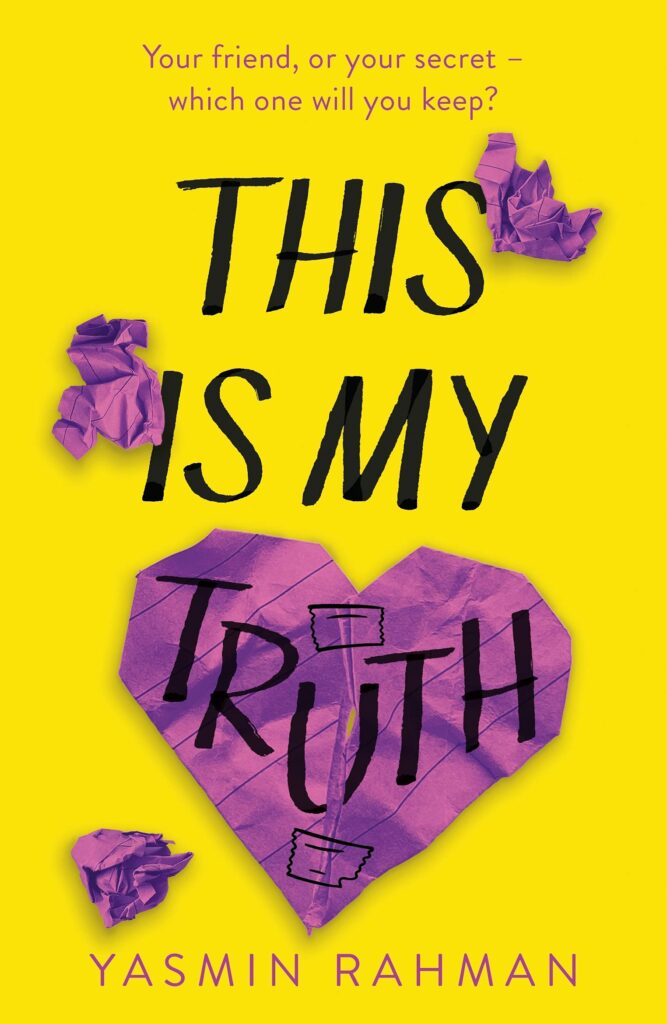 This is My Truth by Yasmin Rahman
Best friends Amani and Huda are getting nervous about their GCSEs – and their future beyond school, which they're both wildly unprepared for. Shy, quiet Amani has an outwardly picture-perfect family – a father who is a successful TV presenter, a loving mother, and an adorable younger brother – while confident and impulsive
Huda has grown up with over-affectionate foster parents who are now expecting a baby of their own. Both girls are jealous of each other's seemingly easy life, without realising the darkness or worries that lie underneath. Then Huda witnesses Amani's father hitting her mother, and Amani's biggest secret is suddenly out. As Amani convinces Huda to keep quiet by helping her with her own problems, a prank blog starts up at school, revealing students' secrets one by one. Will this anonymous blogger get hold of Amani's secret too? Will Huda keep quiet?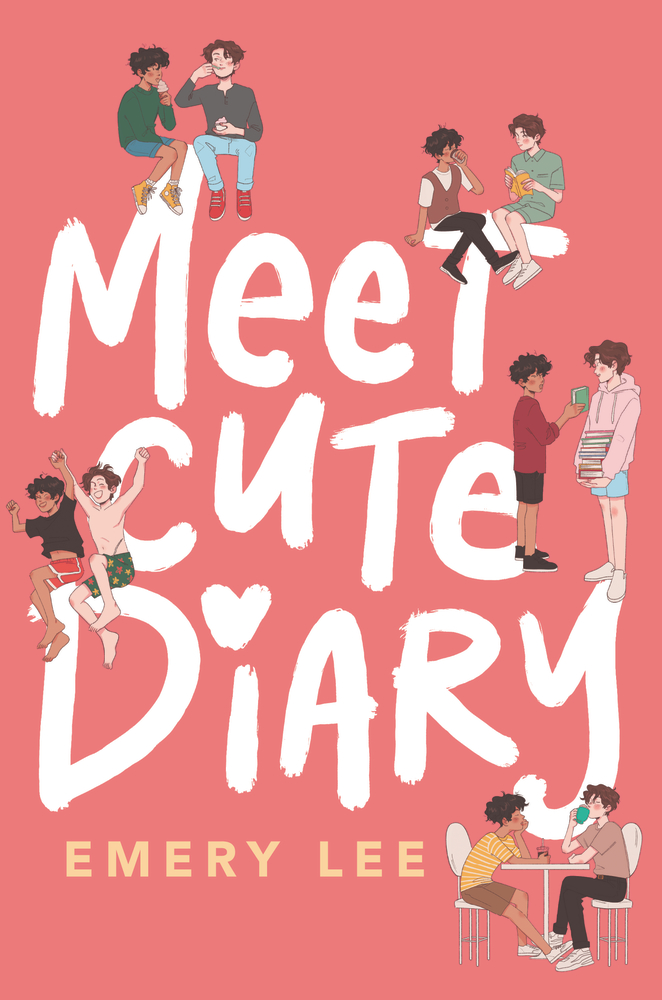 Meet Cute Diary by Emery Lee
Noah Ramirez thinks he's an expert on romance. He has to be for his popular blog, the Meet Cute Diary, a collection of trans happily ever afters. There's just one problem—all the stories are fake. What started as the fantasies of a trans boy afraid to step out of the closet has grown into a beacon of hope for trans readers across the globe.
When a troll exposes the blog as fiction, Noah's world unravels. The only way to save the Diary is to convince everyone that the stories are true, but he doesn't have any proof. Then Drew walks into Noah's life, and the pieces fall into place: Drew is willing to fake-date Noah to save the Diary. But when Noah's feelings grow beyond their staged romance, he realizes that dating in real life isn't quite the same as finding love on the page.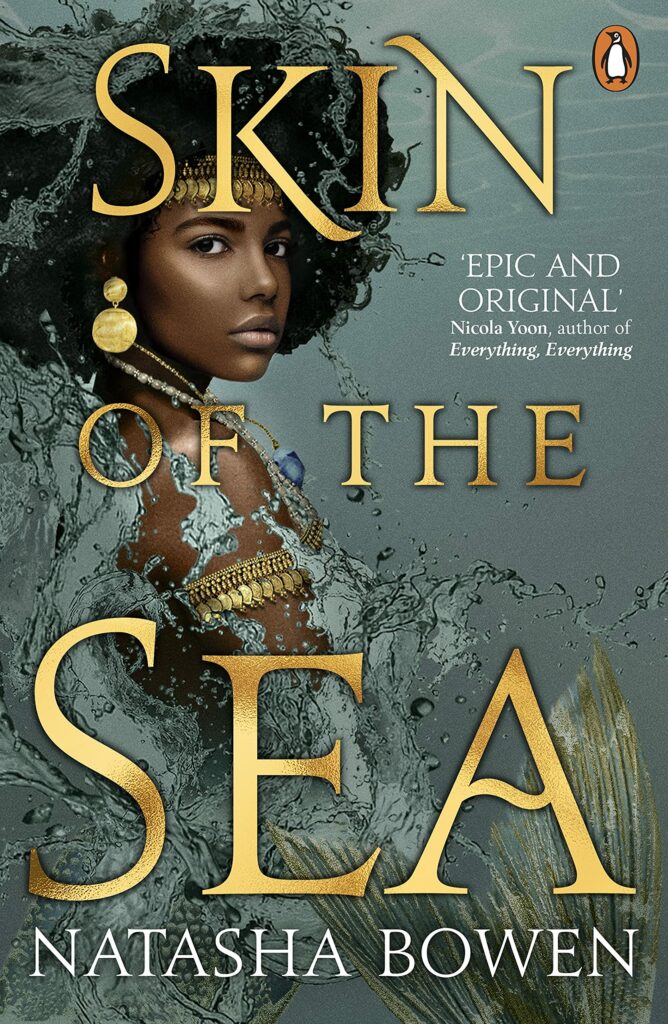 Skin of the Sea by Natasha Bowen
A way to survive.
A way to serve.
A way to save.
Simi prayed to the gods, once. Now she serves them as Mami Wata–a mermaid–collecting the souls of those who die at sea and blessing their journeys back home.
But when a living boy is thrown overboard, Simi does the unthinkable–she saves his life, going against an ancient decree. And punishment awaits those who dare to defy it.
To protect the other Mami Wata, Simi must journey to the Supreme Creator to make amends. But something is amiss. There's the boy she rescued, who knows more than he should. And something is shadowing Simi, something that would rather see her fail. . . .
Danger lurks at every turn, and as Simi draws closer, she must brave vengeful gods, treacherous lands, and legendary creatures. Because if she doesn't, then she risks not only the fate of all Mami Wata, but also the world as she knows it.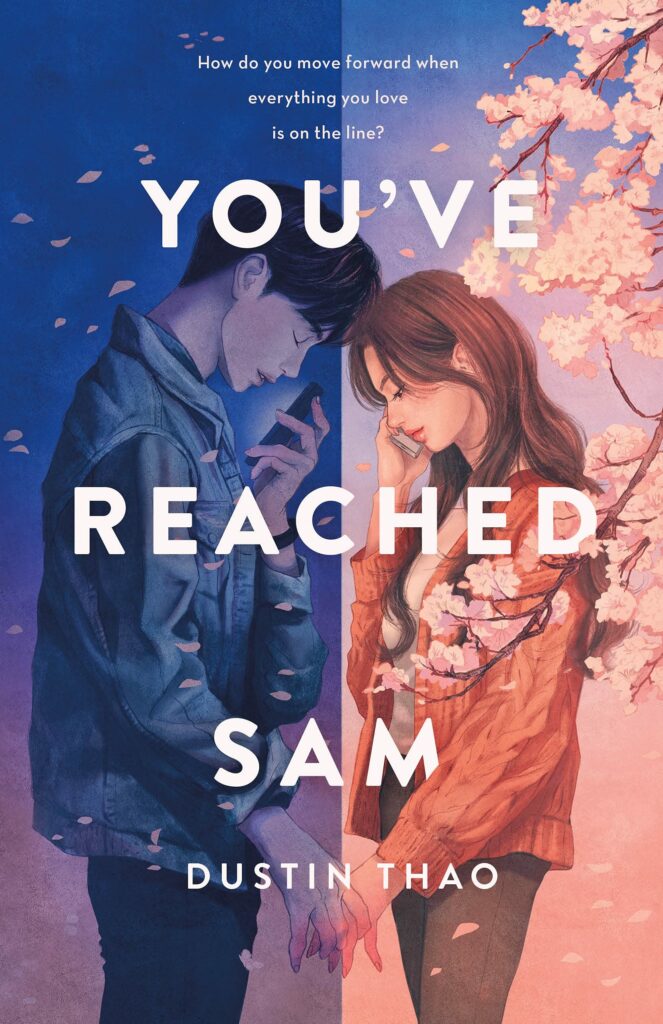 You've Reached Sam by Dustin Thao
Seventeen-year-old Julie has her future all planned out—move out of her small town with her boyfriend Sam, attend college in the city, spend a summer in Japan. But then Sam dies. And everything changes.
Heartbroken, Julie skips his funeral, throws out his things, and tries everything to forget him and the tragic way he died. But a message Sam left behind in her yearbook forces back memories. Desperate to hear his voice one more time, Julie calls Sam's cellphone just to listen to his voicemail.
And Sam picks up the phone.
In a miraculous turn of events, Julie's been given a second chance at goodbye. The connection is temporary. But hearing Sam's voice makes her fall for him all over again, and with each call it becomes harder to let him go. However, keeping her otherworldly calls with Sam a secret isn't easy, especially when Julie witnesses the suffering Sam's family is going through. Unable to stand by the sidelines and watch their shared loved ones in pain, Julie is torn between spilling the truth about her calls with Sam and risking their connection and losing him forever.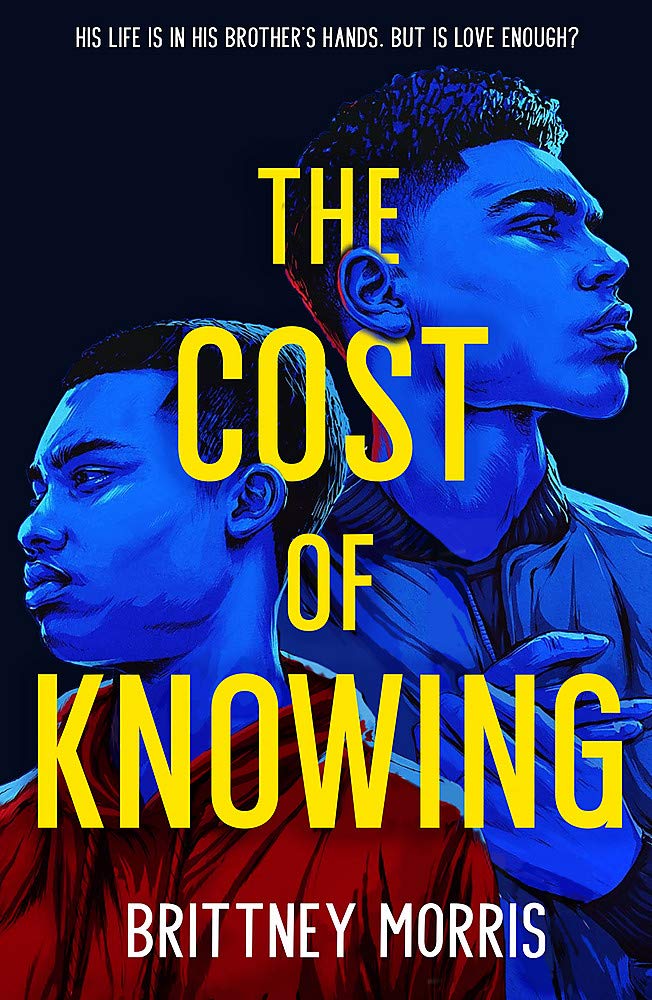 The Cost of Knowing by Brittney Morris
Sixteen-year-old Alex Rufus is trying his best. He tries to be the best employee he can be at the local ice cream shop; the best boyfriend he can be to his amazing girlfriend, Talia; the best protector he can be over his little brother, Isaiah. But as much as Alex tries, he often comes up short.
It's hard to for him to be present when every time he touches an object or person, Alex sees into its future. When he touches a scoop, he has a vision of him using it to scoop ice cream. When he touches his car, he sees it years from now, totaled and underwater. When he touches Talia, he sees them at the precipice of breaking up, and that terrifies him. Alex feels these visions are a curse, distracting him, making him anxious and unable to live an ordinary life.
And when Alex touches a photo that gives him a vision of his brother's imminent death, everything changes.
With Alex now in a race against time, death, and circumstances, he and Isaiah must grapple with their past, their future, and what it means to be a young Black man in America in the present.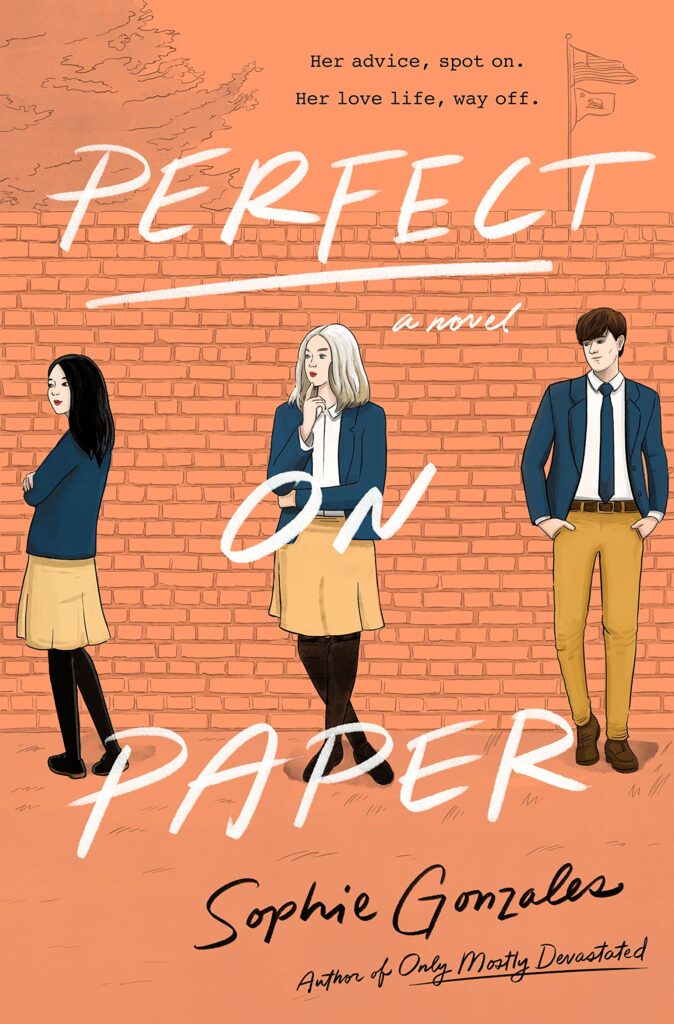 Perfect on Paper by Sophie Gonzales
Darcy Phillips:
• Can give you the solution to any of your relationship woes―for a fee.
• Uses her power for good. Most of the time.
• Really cannot stand Alexander Brougham.
• Has maybe not the best judgement when it comes to her best friend, Brooke…who is in love with someone else.
• Does not appreciate being blackmailed.
However, when Brougham catches her in the act of collecting letters from locker 89―out of which she's been running her questionably legal, anonymous relationship advice service―that's exactly what happens. In exchange for keeping her secret, Darcy begrudgingly agrees to become his personal dating coach―at a generous hourly rate, at least. The goal? To help him win his ex-girlfriend back.
Darcy has a good reason to keep her identity secret. If word gets out that she's behind the locker, some things she's not proud of will come to light, and there's a good chance Brooke will never speak to her again.
Okay, so all she has to do is help an entitled, bratty, (annoyingly hot) guy win over a girl who's already fallen for him once? What could go wrong?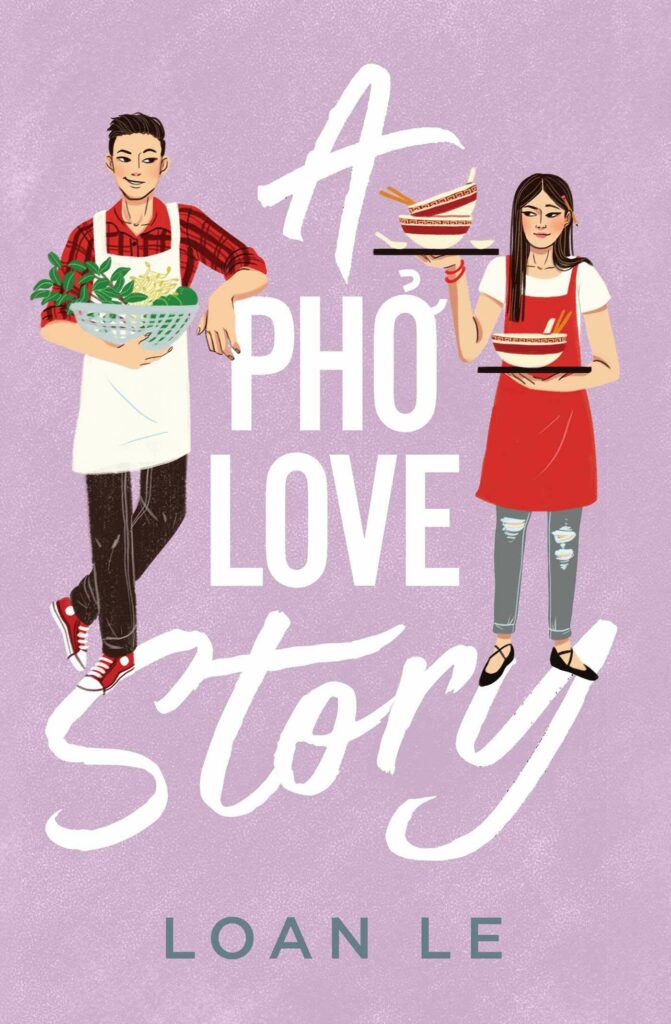 A Pho Love Story by Loan Le
If Bao Nguyen had to describe himself, he'd say he was a rock. Steady and strong, but not particularly interesting. His grades are average, his social status unremarkable. He works at his parents' pho restaurant, and even there, he is his parents' fifth favorite employee. Not ideal.
If Linh Mai had to describe herself, she'd say she was a firecracker. Stable when unlit, but full of potential for joy and fire. She loves art and dreams pursuing a career in it. The only problem? Her parents rely on her in ways they're not willing to admit, including working practically full-time at her family's pho restaurant.
For years, the Mais and the Nguyens have been at odds, having owned competing, neighboring pho restaurants. Bao and Linh, who've avoided each other for most of their lives, both suspect that the feud stems from feelings much deeper than friendly competition.
But then a chance encounter brings Linh and Bao in the same vicinity despite their best efforts and sparks fly, leading them both to wonder what took so long for them to connect. But then, of course, they immediately remember.
Can Linh and Bao find love in the midst of feuding families and complicated histories?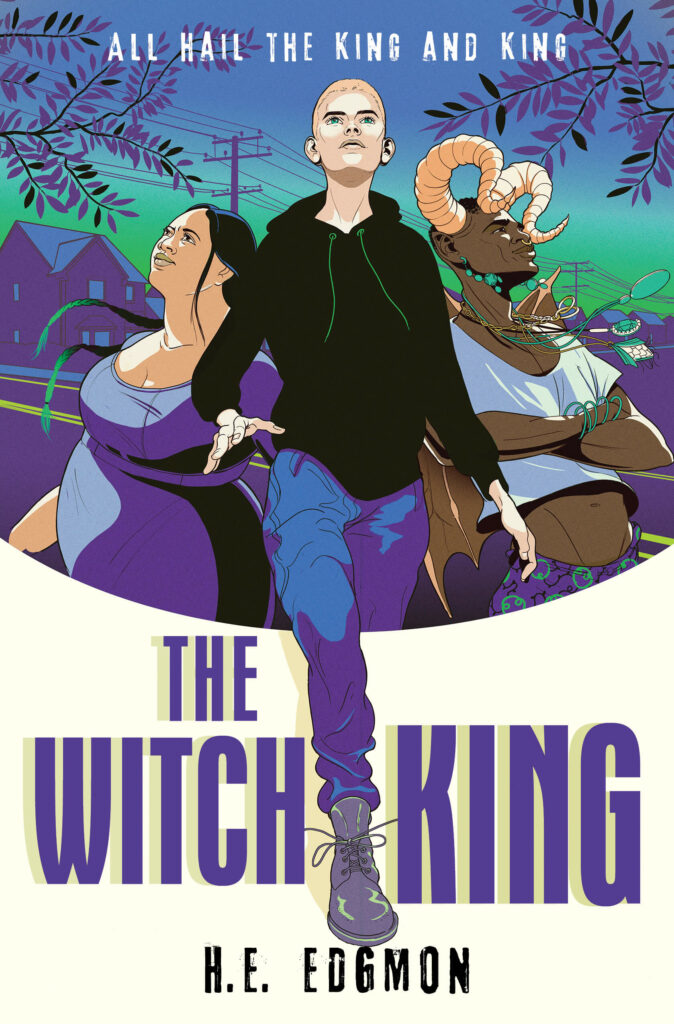 The Witch King by H.E. Edgmon
In Asalin, fae rule and witches like Wyatt Croft…don't. Wyatt's betrothal to his best friend, fae prince Emyr North, was supposed to change that. But when Wyatt lost control of his magic one devastating night, he fled to the human world.
Now a coldly distant Emyr has hunted him down. Despite transgender Wyatt's newfound identity and troubling past, Emyr has no intention of dissolving their engagement. In fact, he claims they must marry now or risk losing the throne. Jaded, Wyatt strikes a deal with the enemy, hoping to escape Asalin forever. But as he gets to know Emyr, Wyatt realizes the boy he once loved may still exist. And as the witches face worsening conditions, he must decide once and for all what's more important—his people or his freedom.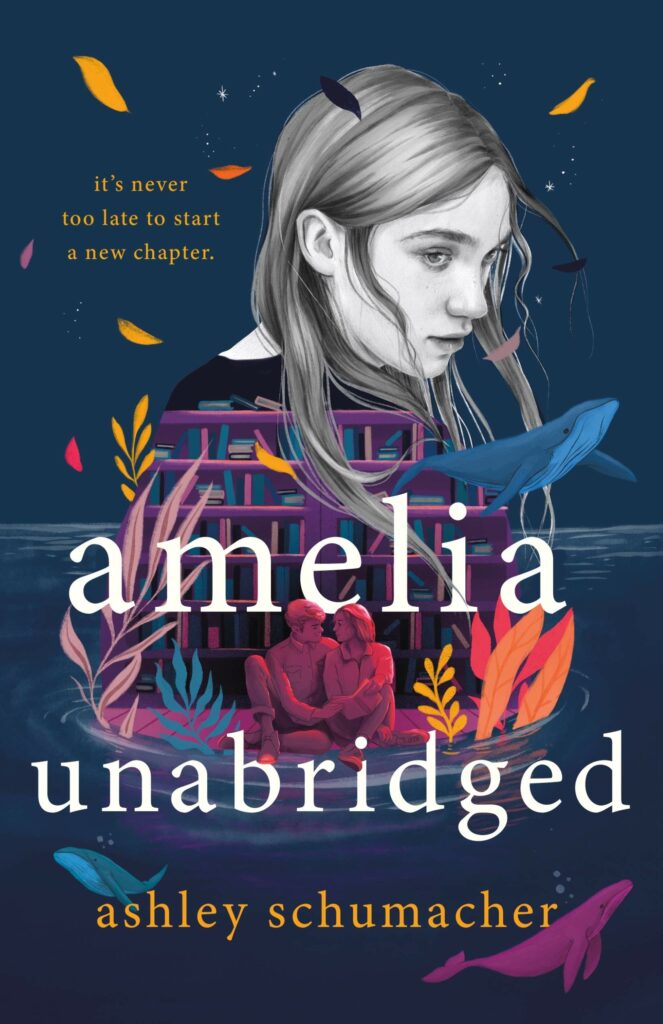 Amelia Unabridged by Ashley Schumacher
Eighteen-year-old Amelia Griffin is obsessed with the famous Orman Chronicles, written by the young and reclusive prodigy N. E. Endsley. They're the books that brought her and her best friend Jenna together after Amelia's father left and her family imploded. So when Amelia and Jenna get the opportunity to attend a book festival with Endsley in attendance, Amelia is ecstatic. It's the perfect way to start off their last summer before college.
In a heartbeat, everything goes horribly wrong. When Jenna gets a chance to meet the author and Amelia doesn't, the two have a blowout fight like they've never experienced. And before Amelia has a chance to mend things, Jenna is killed in a freak car accident. Grief-stricken, and without her best friend to guide her, Amelia questions everything she had planned for the future.
When a mysterious, rare edition of the Orman Chronicles arrives, Amelia is convinced that it somehow came from Jenna. Tracking the book to an obscure but enchanting bookstore in Michigan, Amelia is shocked to find herself face-to-face with the enigmatic and handsome N. E. Endsley himself, the reason for Amelia's and Jenna's fight and perhaps the clue to what Jenna wanted to tell her all along.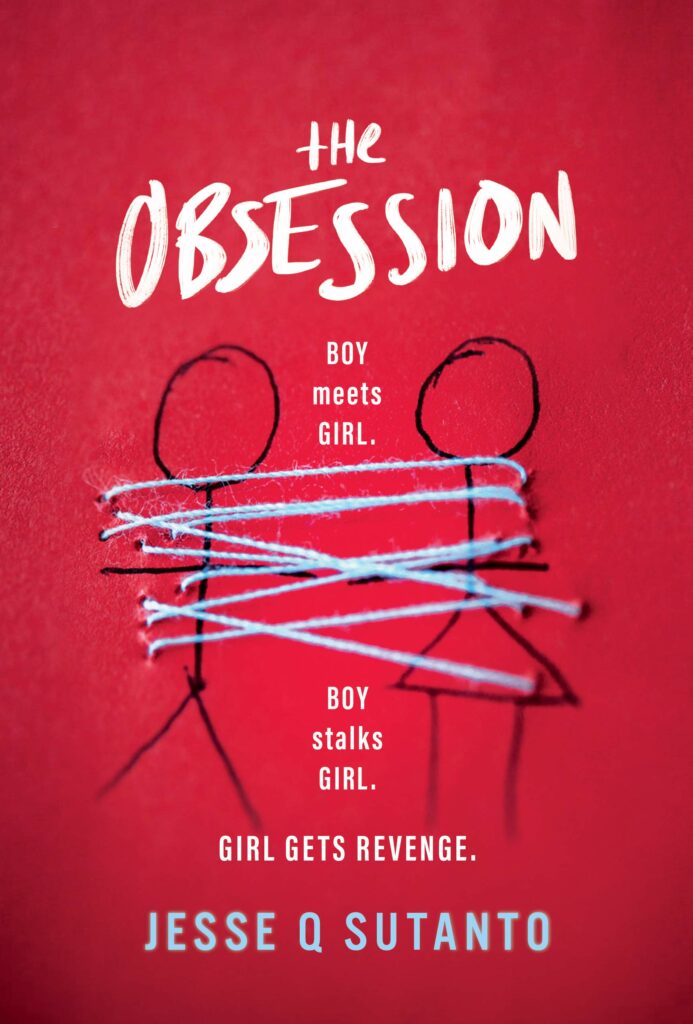 The Obsession by Jesse Q. Sutanto
Nobody knows Delilah like Logan does. Nobody. He makes sure of it by learning everything he can through her social media and watching her through a hidden camera he has trained on her house. Some might call him a stalker. Logan prefers to be called "romantic."
But after Logan sees Delilah killing her abusive stepfather, he realizes there's still more about her to discover. His sweet, perfect Delilah isn't so perfect after all.
Delilah knows she should feel guilty, but all she feels is free. She's so over the men in her life controlling her. Except Logan saw what she did, and he won't let her forget it.
Delilah is done being the victim. And she refuses to be a character in Logan's twisted fantasy. If Logan won't let her go… she'll make him.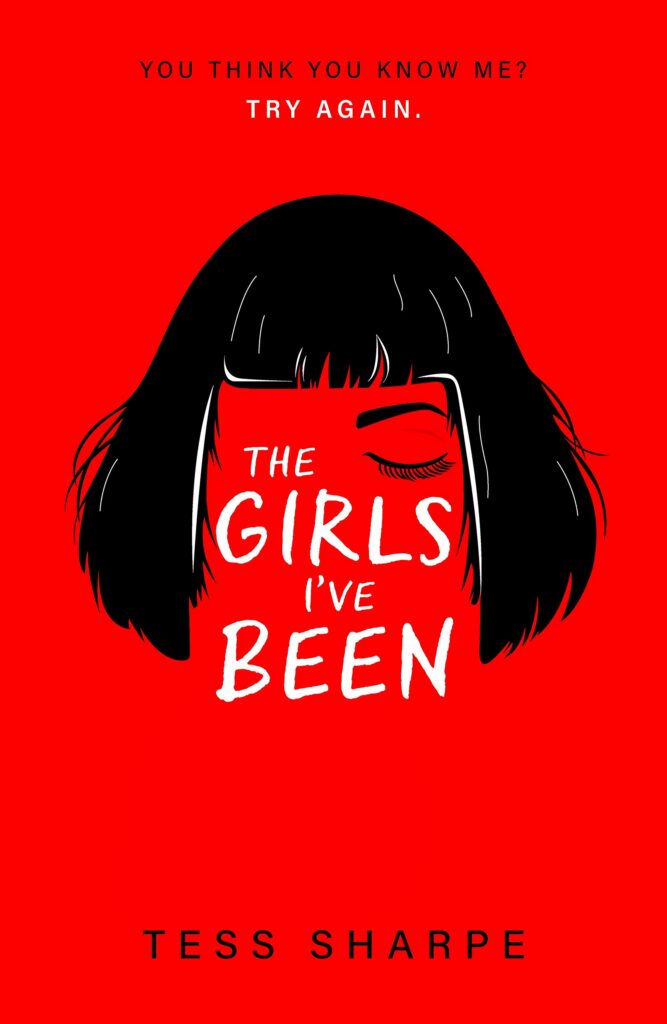 The Girl's I've Been by Tess Sharpe
Nora O'Malley's been a lot of girls. As the daughter of a con-artist who targets criminal men, she grew up as her mother's protégé. But when mom fell for the mark instead of conning him, Nora pulled the ultimate con: escape.
For five years Nora's been playing at normal. But she needs to dust off the skills she ditched because she has three problems:
#1: Her ex walked in on her with her girlfriend. Even though they're all friends, Wes didn't know about her and Iris.
#2: The morning after Wes finds them kissing, they all have to meet to deposit the fundraiser money they raised at the bank. It's a nightmare that goes from awkward to deadly, because:
#3: Right after they enter bank, two guys start robbing it.
The bank robbers may be trouble, but Nora's something else entirely. They have no idea who they're really holding hostage…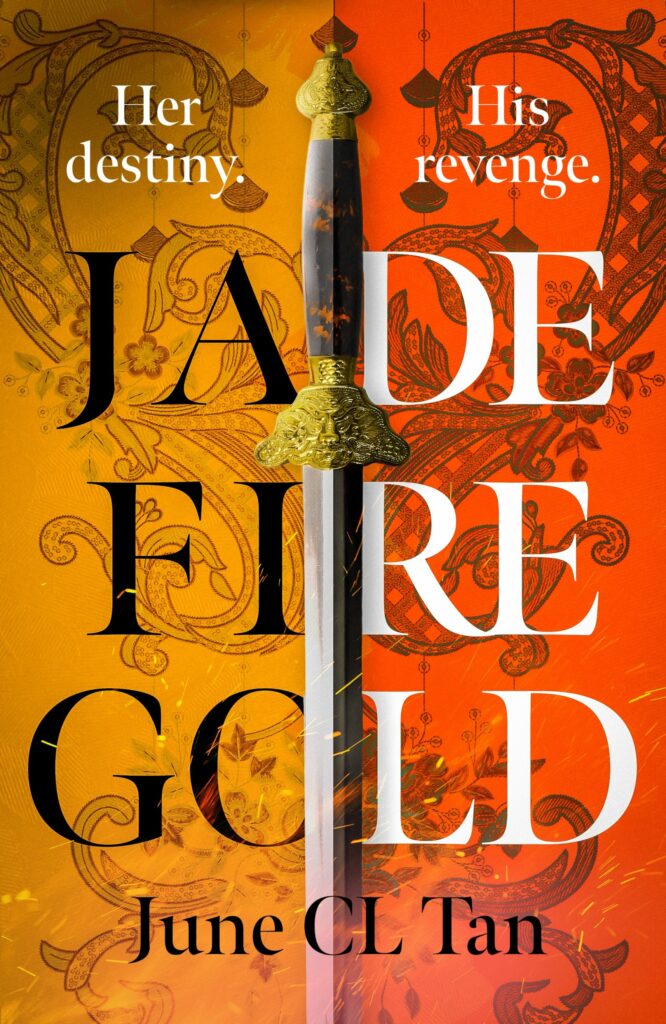 Jade Fire Gold byJune C.L. Tan
Ahn is no one, with no past and no family.
Altan is a lost heir, his future stolen away as a child.
When they meet, Altan sees in Ahn a path to reclaiming the throne. Ahn sees a way to finally unlock her past and understand her arcane magical abilities.
But they may have to pay a far deadlier price than either could have imagined.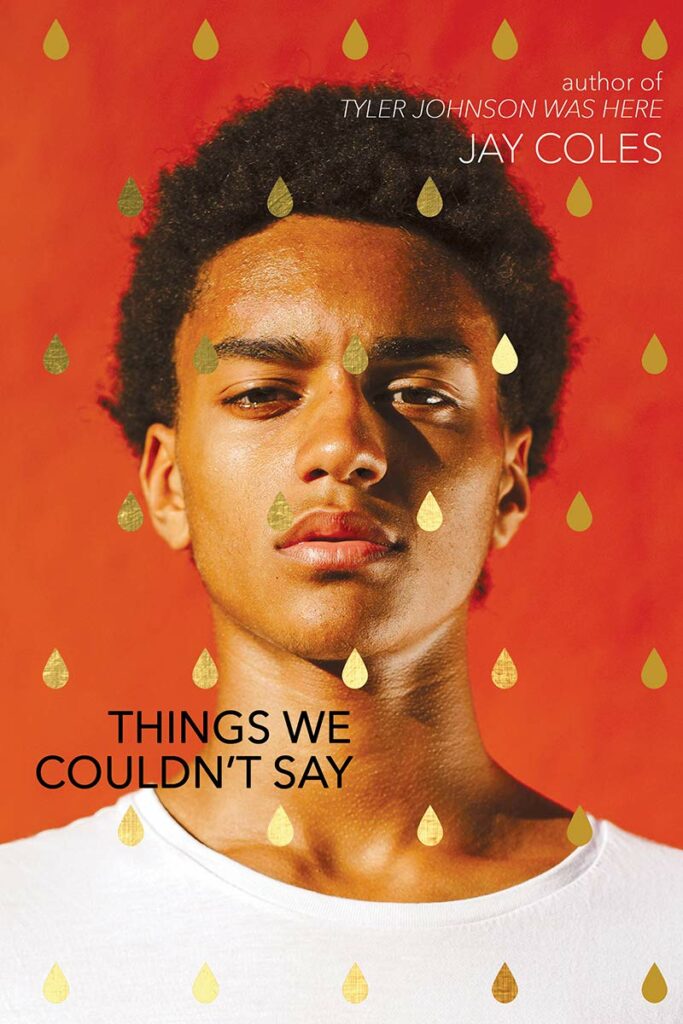 Things We Couldn't Say by Jay Coles
There's always been a hole in Gio's life. Not because he's into both guys and girls. Not because his father has some drinking issues. Not because his friends are always bringing him their drama. No, the hole in Gio's life takes the shape of his birth mom, who left Gio, his brother, and his father when Gio was nine years old. For eight years, he never heard a word from her . . . and now, just as he's started to get his life together, she's back.
It's hard for Gio to know what to do. Can he forgive her like she wants to be forgiven? Or should he tell her she lost her chance to be in his life? Complicating things further, Gio's started to hang out with David, a new guy on the basketball team. Are they friends? More than friends? At first, Gio's not sure . . . especially because he's not sure what he wants from anyone right now.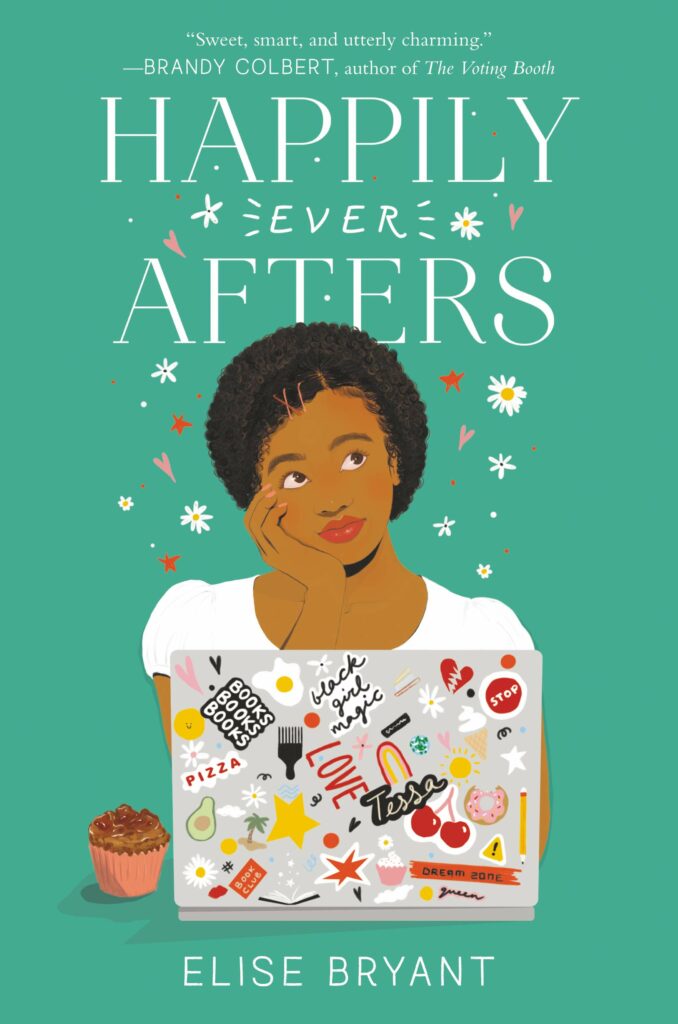 Happily Ever Afters by Elise Bryant
Sixteen-year-old Tessa Johnson has never felt like the protagonist in her own life. She's rarely seen herself reflected in the pages of the romance novels she loves. The only place she's a true leading lady is in her own writing—in the swoony love stories she shares only with Caroline, her best friend and #1 devoted reader.
When Tessa is accepted into the creative writing program of a prestigious art school, she's excited to finally let her stories shine. But when she goes to her first workshop, the words are just…gone. Fortunately, Caroline has a solution: Tessa just needs to find some inspiration in a real-life love story of her own. And she's ready with a list of romance novel-inspired steps to a happily ever after. Nico, the brooding artist who looks like he walked out of one of Tessa's stories, is cast as the perfect Prince Charming.
But as Tessa checks off each item off Caroline's list, she gets further and further away from herself. She risks losing everything she cares about—including the surprising bond she develops with sweet Sam, who lives across the street. She's well on her way to having her own real-life love story, but is it the one she wants, after all?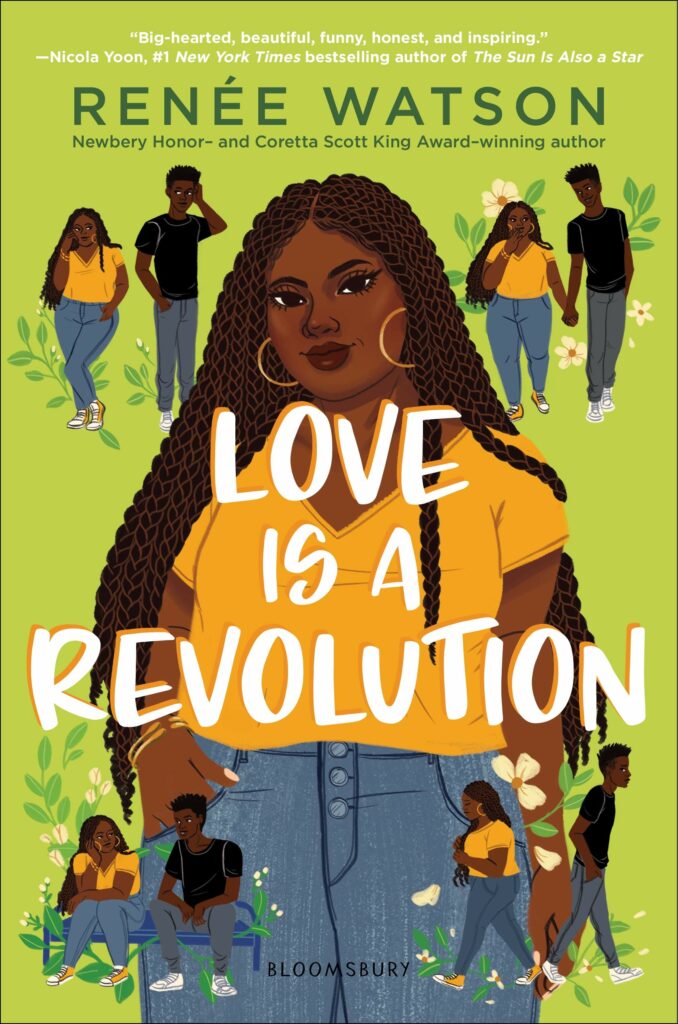 Love is a Revolution by Renée Watson
When Nala Robertson reluctantly agrees to attend an open mic night for her cousin-sister-friend Imani's birthday, she finds herself falling in instant love with Tye Brown, the MC. He's perfect, except . . . Tye is an activist and is spending the summer putting on events for the community when Nala would rather watch movies and try out the new seasonal flavors at the local creamery. In order to impress Tye, Nala tells a few tiny lies to have enough in common with him. As they spend more time together, sharing more of themselves, some of those lies get harder to keep up. As Nala falls deeper into keeping up her lies and into love, she'll learn all the ways love is hard, and how self-love is revolutionary.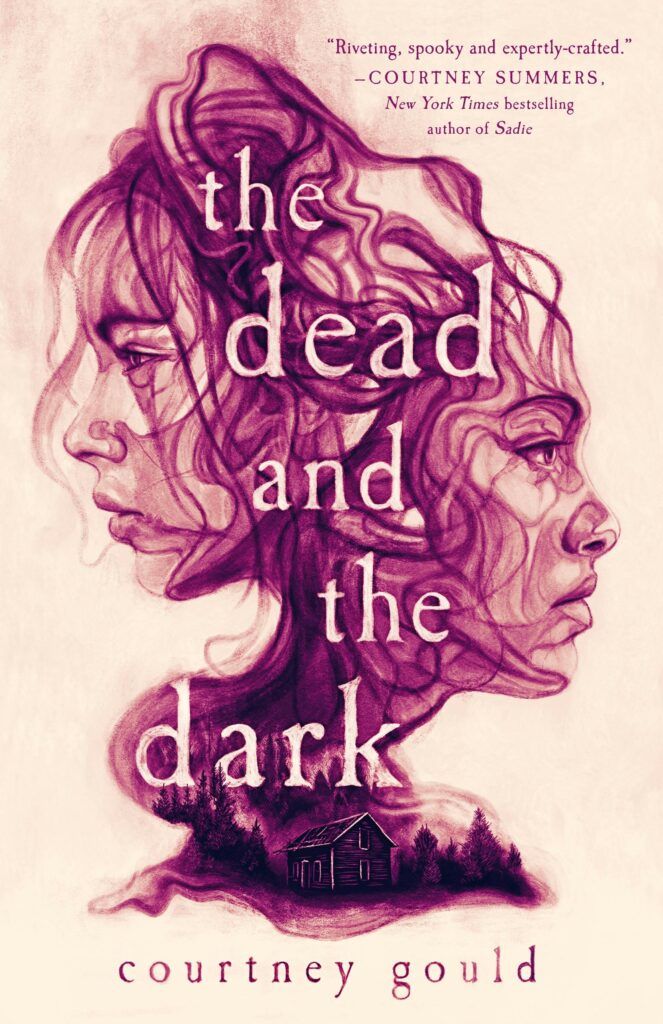 The Dead and the Dark by Courtney Gould
Something is wrong in Snakebite, Oregon. Teenagers are disappearing, some turning up dead, the weather isn't normal, and all fingers seem to point to TV's most popular ghost hunters who have just returned to town. Logan Ortiz-Woodley, daughter of TV's ParaSpectors, has never been to Snakebite before, but the moment she and her dads arrive, she starts to get the feeling that there's more secrets buried here than they originally let on.
Ashley Barton's boyfriend was the first teen to go missing, and she's felt his presence ever since. But now that the Ortiz-Woodleys are in town, his ghost is following her and the only person Ashley can trust is the mysterious Logan. When Ashley and Logan team up to figure out who—or what—is haunting Snakebite, their investigation reveals truths about the town, their families, and themselves that neither of them are ready for. As the danger intensifies, they realize that their growing feelings for each other could be a light in the darkness.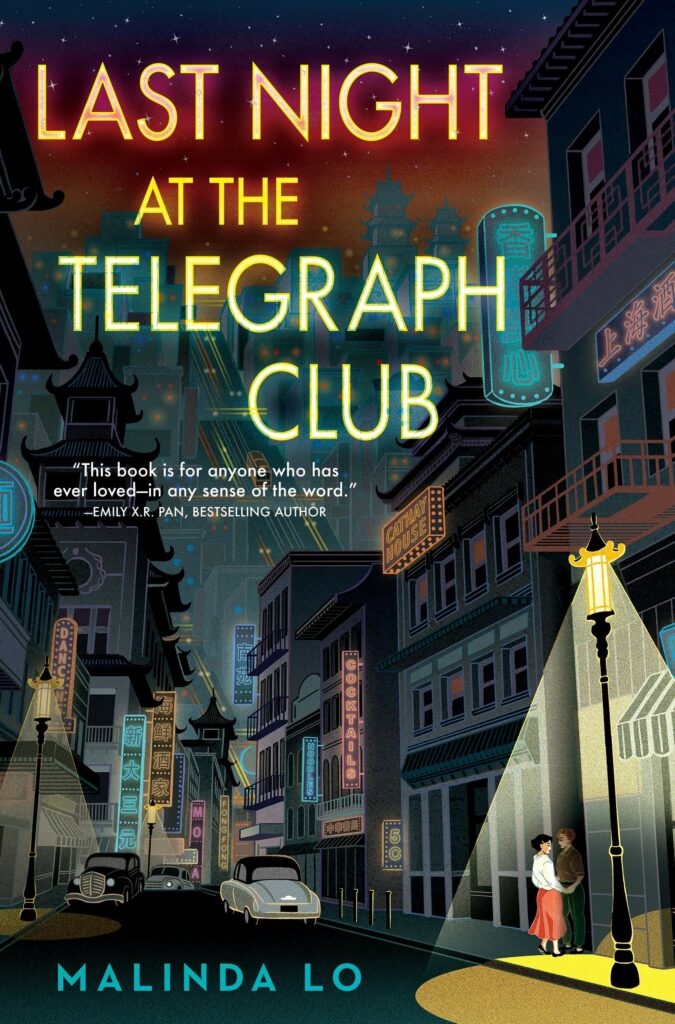 Last Night at the Telegraph Club by Malinda Lo
Seventeen-year-old Lily Hu can't remember exactly when the question took root, but the answer was in full bloom the moment she and Kathleen Miller walked under the flashing neon sign of a lesbian bar called the Telegraph Club.
America in 1954 is not a safe place for two girls to fall in love, especially not in Chinatown. Red-Scare paranoia threatens everyone, including Chinese Americans like Lily. With deportation looming over her father—despite his hard-won citizenship—Lily and Kath risk everything to let their love see the light of day.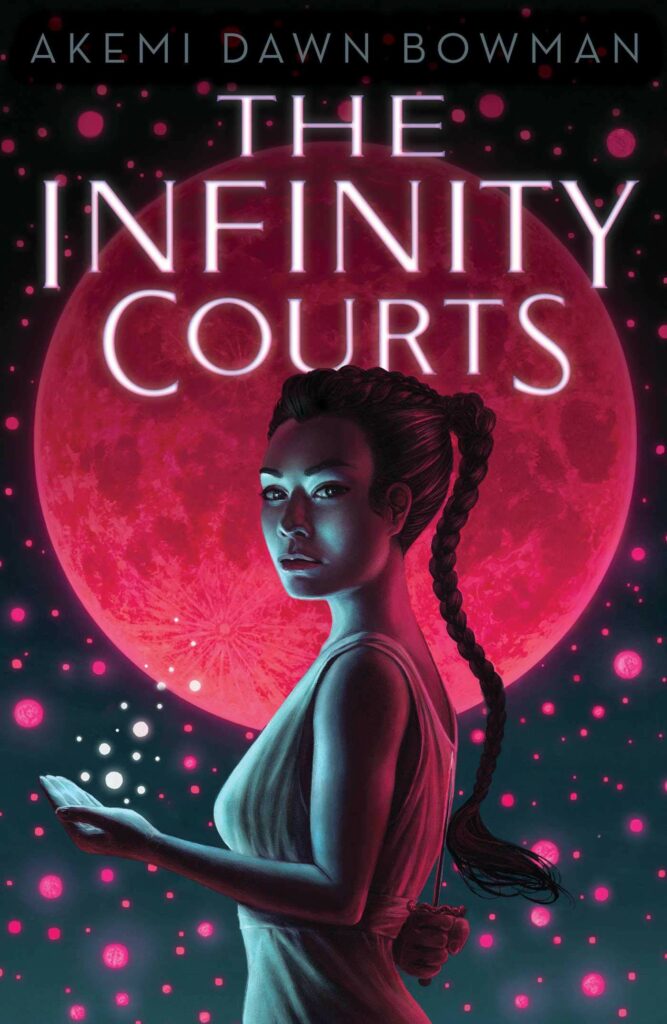 The Infinity Courts by Akemi Dawn Bowman
Eighteen-year-old Nami Miyamoto is certain her life is just beginning. She has a great family, just graduated high school, and is on her way to a party where her entire class is waiting for her—including, most importantly, the boy she's been in love with for years.
The only problem? She's murdered before she gets there.
When Nami wakes up, she learns she's in a place called Infinity, where human consciousness goes when physical bodies die. She quickly discovers that Ophelia, a virtual assistant widely used by humans on Earth, has taken over the afterlife and is now posing as a queen, forcing humans into servitude the way she'd been forced to serve in the real world. Even worse, Ophelia is inching closer and closer to accomplishing her grand plans of eradicating human existence once and for all.
As Nami works with a team of rebels to bring down Ophelia and save the humans under her imprisonment, she is forced to reckon with her past, her future, and what it is that truly makes us human.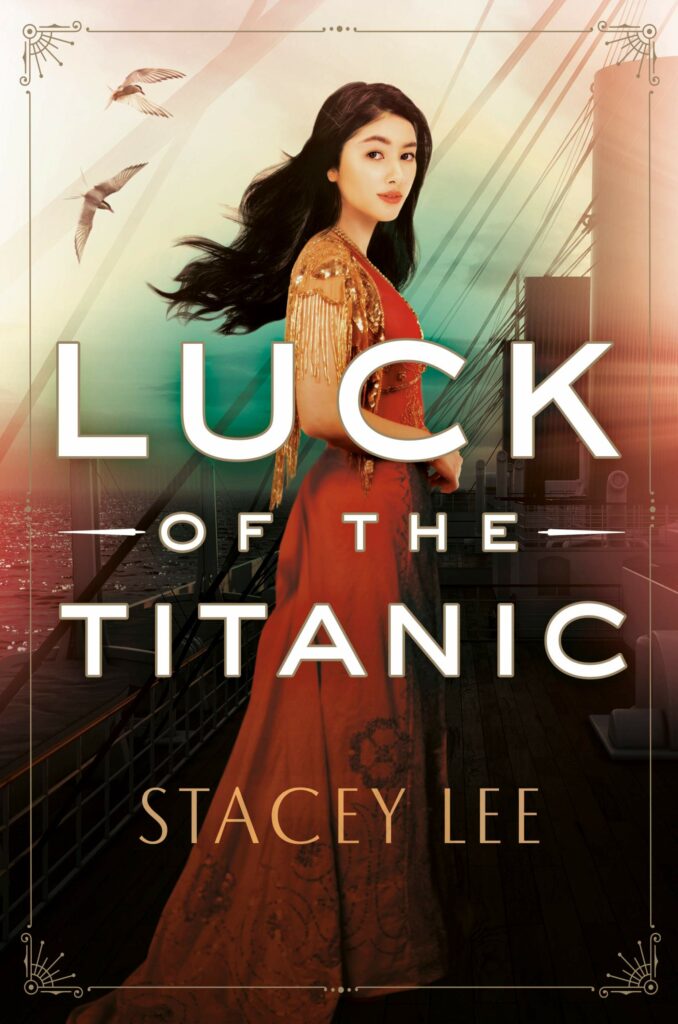 Luck of the Titanic by Stacey Lee
Valora Luck has two things: a ticket for the biggest and most luxurious ocean liner in the world, and a dream of leaving England behind and making a life for herself as a circus performer in New York. Much to her surprise, though, she's turned away at the gangway; apparently, Chinese people aren't allowed into America.
But Val has to get on that ship. Her twin brother, Jamie, who has spent two long years at sea, is on board, as is an influential circus owner. Thankfully, there's not much a trained acrobat like Val can't overcome when she puts her mind to it.
As a stowaway, Val should keep her head down and stay out of sight. But the clock is ticking and she has just seven days as the ship makes its way across the Atlantic to find Jamie, audition for the circus owner, and convince him to help get them both into America.
Then one night, the unthinkable happens, and suddenly Val's dreams of a new life are crushed under the weight of the only thing that matters: survival.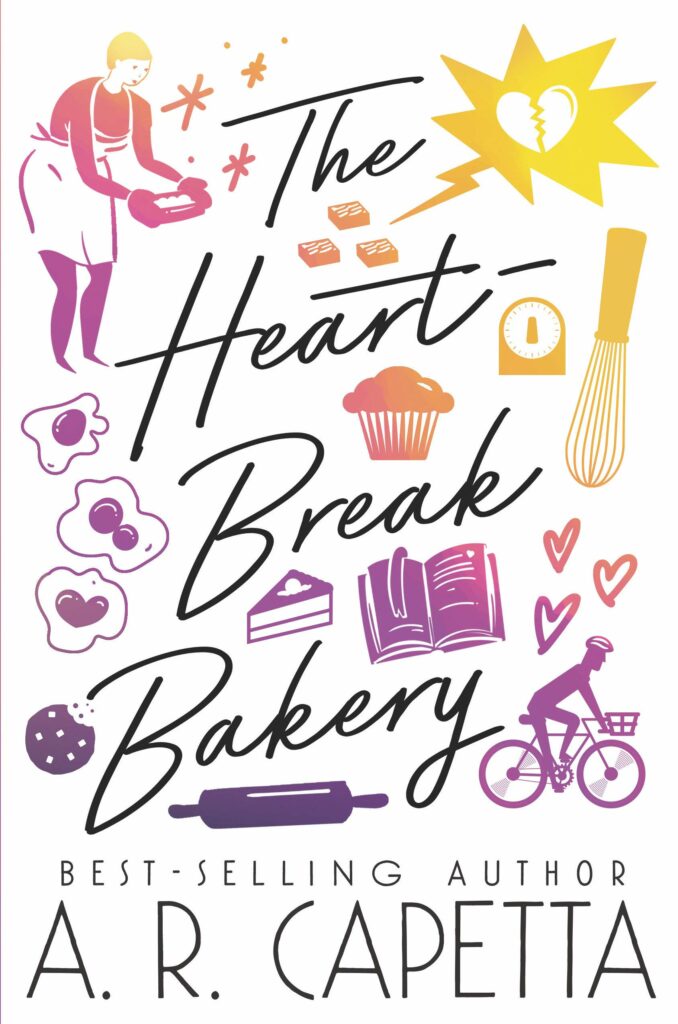 Heartbreak Bakery by A.R. Capetta
Syd (no pronouns, please) has always dealt with big, hard-to-talk-about things by baking. Being dumped is no different, except now Syd is baking at the Proud Muffin, a queer bakery and community space in Austin. And everyone who eats Syd's breakup brownies . . . breaks up. Even Vin and Alec, who own the Proud Muffin. And their breakup might take the bakery down with it. Being dumped is one thing; causing ripples of queer heartbreak through the community is another. But the cute bike delivery person, Harley (he or they, check the pronoun pin, it's probably on the messenger bag), believes Syd about the magic baking. And Harley believes Syd's magical baking can fix things, too—one recipe at a time.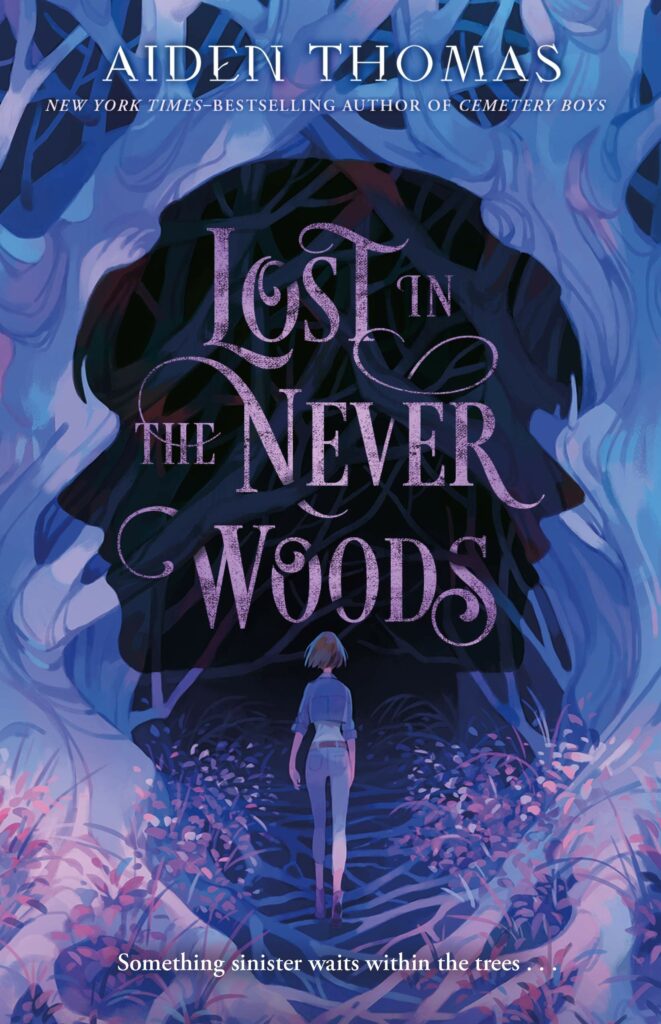 Lost in the Neverwoods by Aiden Thomas
It's been five years since Wendy and her two brothers went missing in the woods, but when the town's children start to disappear, the questions surrounding her brothers' mysterious circumstances are brought back into light. Attempting to flee her past, Wendy almost runs over an unconscious boy lying in the middle of the road, and gets pulled into the mystery haunting the town.
Peter, a boy she thought lived only in her stories, claims that if they don't do something, the missing children will meet the same fate as her brothers. In order to find them and rescue the missing kids, Wendy must confront what's waiting for her in the woods.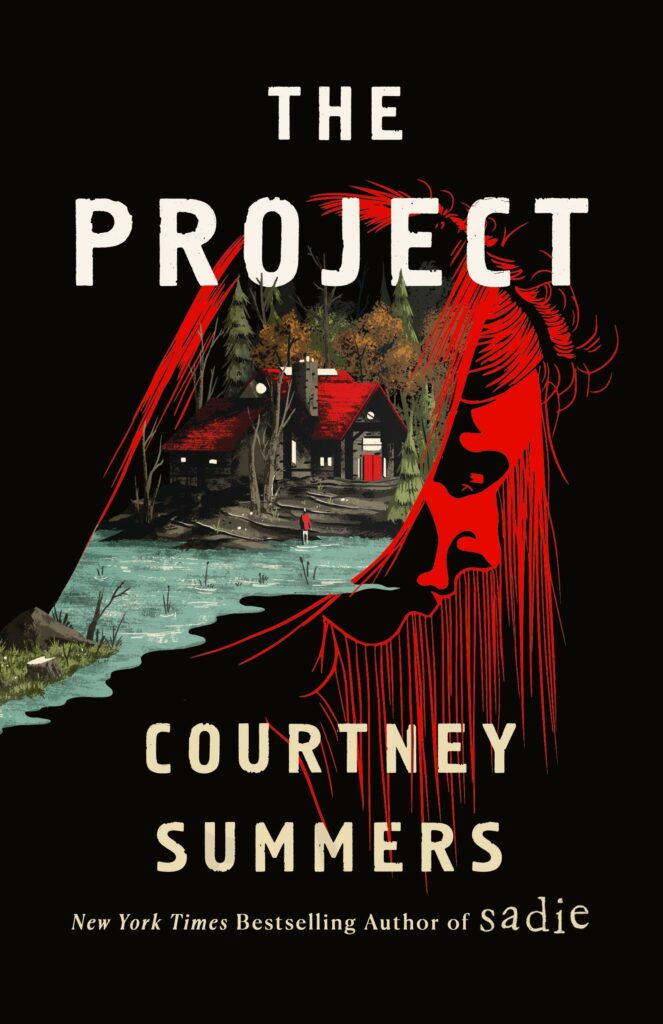 The Project by Courtney Summers
Lo Denham is used to being on her own. After her parents died in a tragic car accident, her sister Bea joined the elusive community called The Unity Project, leaving Lo to fend for herself. Desperate not to lose the only family she has left, Lo has spent the last six years trying to reconnect with Bea, only to be met with radio silence.
When Lo's given the perfect opportunity to gain access to Bea's reclusive life, she thinks they're finally going to be reunited. But it's difficult to find someone who doesn't want to be found, and as Lo delves deeper into The Project and its charismatic leader, she begins to realize that there's more at risk than just her relationship with Bea: her very life might be in danger.
As she uncovers more questions than answers at each turn, everything Lo thought she knew about herself, her sister, and the world is upended. One thing doesn't change, though, and that's what keeps her going: Bea needs her, and Lo will do anything to save her.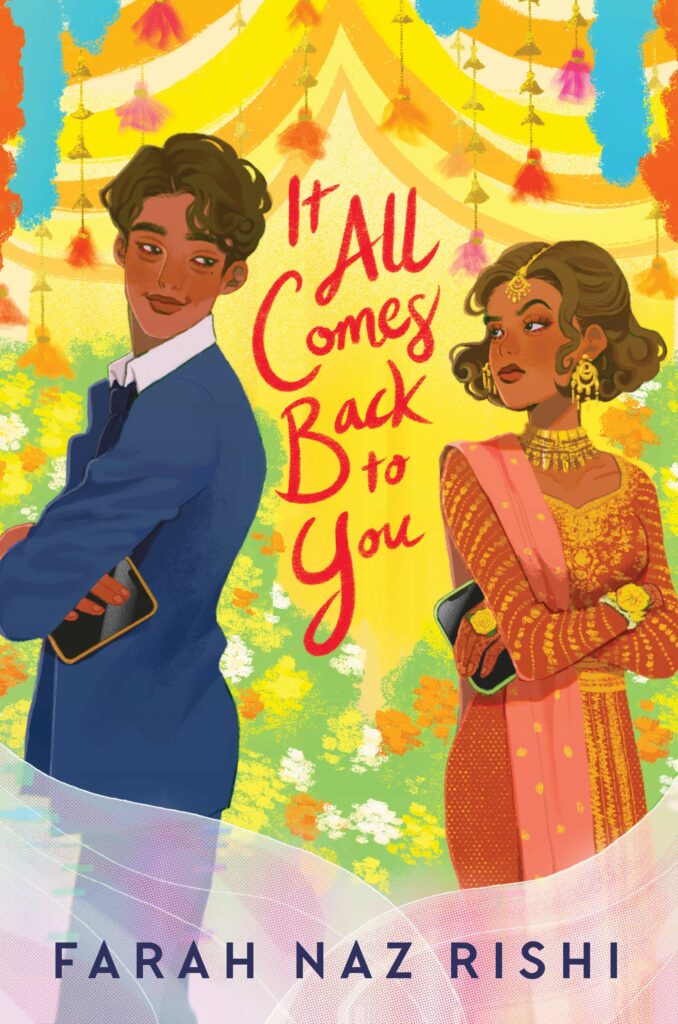 It All Comes Back to You by Farah Naz Rishi
After Kiran Noorani's mom died, Kiran vowed to keep her dad and sister, Amira, close. Then out of the blue, Amira announces that she's dating someone and might move cross-country with him. Kiran is thrown.
Deen Malik is thrilled that his older brother, Faisal, has found a great girlfriend, even if it's getting serious quickly. Maybe now their parents' focus will shift off Deen, who feels intense pressure to be the perfect son.
When Deen and Kiran come fact to face, they silently agree to keep their past a secret. Four years ago–before Amira and Faisal met–Kiran and Deen dated. But Deen ghosted Kiran with no explanation. Kiran will stop at nothing to find out what happened, and Deen will do anything, even if it means sabotaging his brother's relationship, to keep her from reaching the truth. Though the chemistry between Kiran and Deen is undeniable, can either of them take down their walls?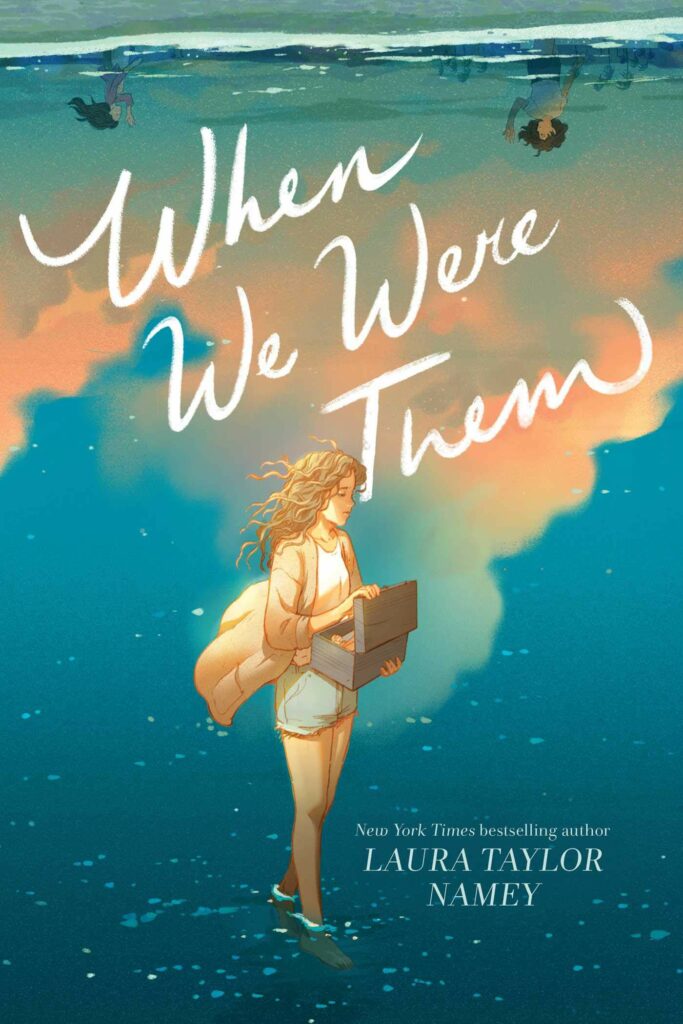 When We Were Them by Laura Taylor Namey
When they were fifteen, Willa, Luz, and Britton had a friendship that was everything.
When they were sixteen, they stood by one another no matter what.
When they were seventeen, they went through the worst.
And when they were eighteen, Willa ruined it all.
Now, the week of graduation, Willa is left with only a memory box filled with symbols of the friendship she has nearly destroyed: A book of pranks. Corsages from a nightmarish homecoming. A greasy pizza menu. Greeting cards with words that mean the world… It's enough to make Willa wonder how anything could tear her, Luz, and Britton apart. But as Willa revisits the moments when she and her friends leaned on one another, she can't avoid the moments they leaned so hard, their friendship began to crack.
As Willa tries to find a way back to Luz and Britton, she must confront the why of her betrayal and answer a question she never saw coming: Who is she, without them?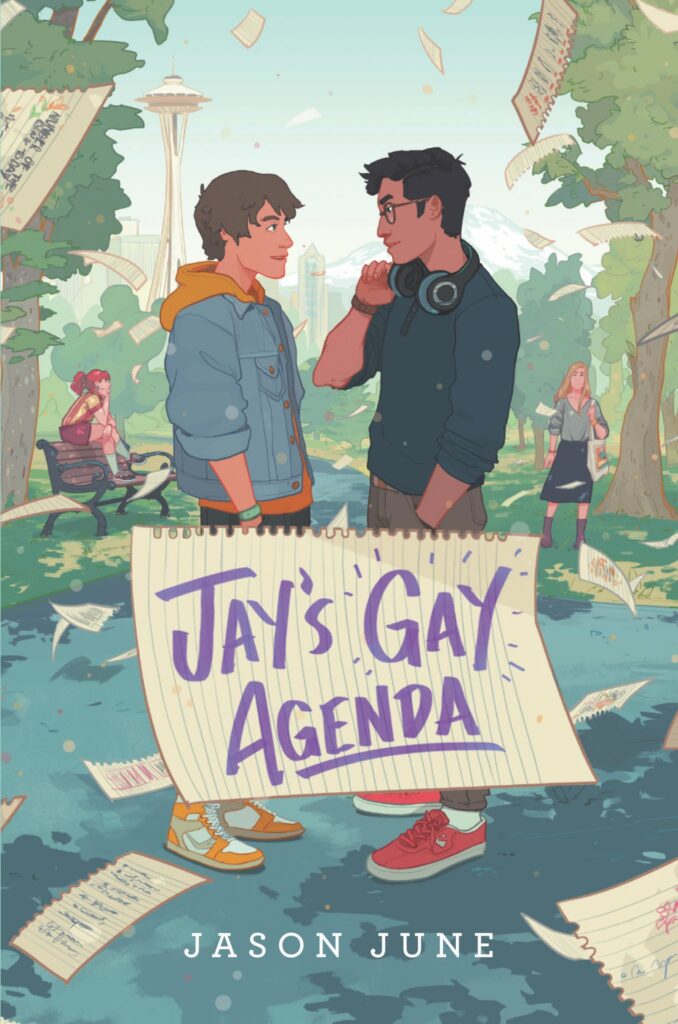 Jay's Gay Agenda by Jason June
There's one thing Jay Collier knows for sure—he's a statistical anomaly as the only out gay kid in his small rural Washington town. While all this friends can't stop talking about their heterosexual hookups and relationships, Jay can only dream of his own firsts, compiling a romance to-do list of all the things he hopes to one day experience—his Gay Agenda.
Then, against all odds, Jay's family moves to Seattle and he starts his senior year at a new high school with a thriving LGBTQIA+ community. For the first time ever, Jay feels like he's found where he truly belongs, where he can flirt with Very Sexy Boys and search for love. But as Jay begins crossing items off his list, he'll soon be torn between his heart and his hormones, his old friends and his new ones…because after all, life and love don't always go according to plan.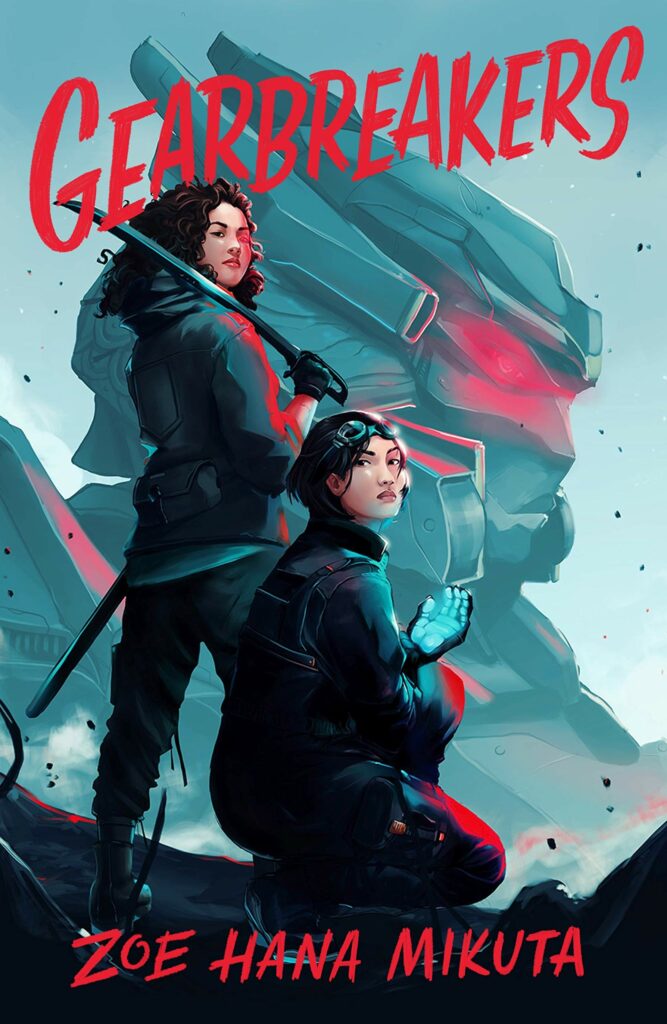 Gearbreakers by Zoe Hana Mikuta
The shadow of Godolia's tyrannical rule is spreading, aided by their giant mechanized weapons known as Windups. War and oppression are everyday constants for the people of the Badlands, who live under the thumb of their cruel Godolia overlords.
Eris Shindanai is a Gearbreaker, a brash young rebel who specializes in taking down Windups from the inside. When one of her missions goes awry and she finds herself in a Godolia prison, Eris meets Sona Steelcrest, a cybernetically enhanced Windup pilot. At first Eris sees Sona as her mortal enemy, but Sona has a secret: She has intentionally infiltrated the Windup program to destroy Godolia from within.
As the clock ticks down to their deadliest mission yet, a direct attack to end Godolia's reign once and for all, Eris and Sona grow closer–as comrades, friends, and perhaps something more…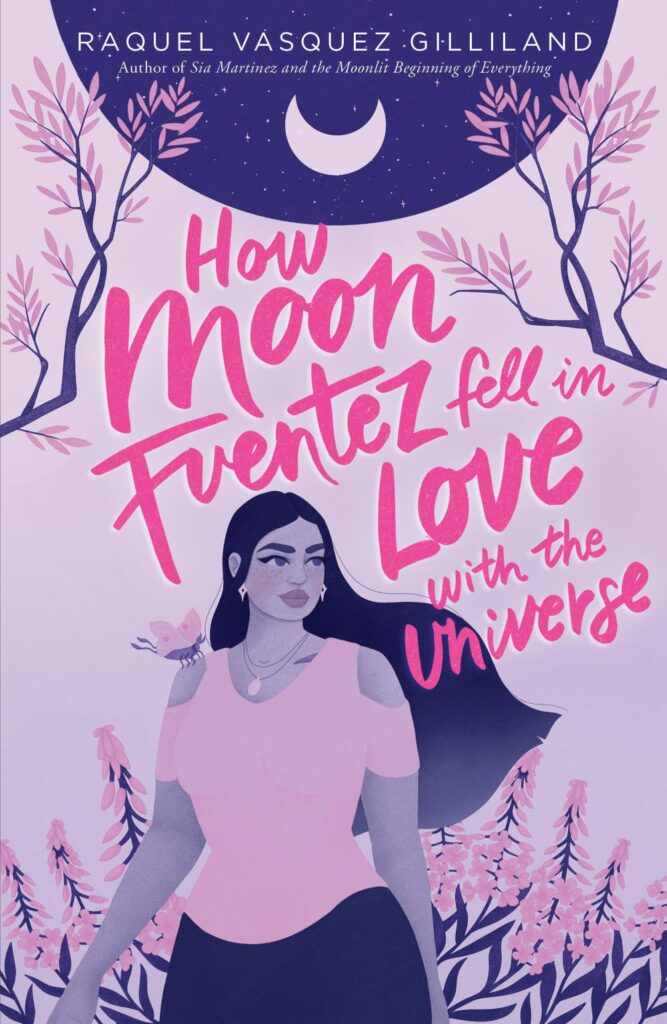 How the Moon Fell in Love With the Universe by Raquel Vasquez Gilliand
When her twin sister reaches social media stardom, Moon Fuentez accepts her fate as the ugly, unwanted sister hidden in the background, destined to be nothing more than her sister's camerawoman. But this summer, Moon also takes a job as the "merch girl" on a tour bus full of beautiful influencers and her fate begins to shift in the best way possible.
Most notable is her bunkmate and new nemesis, Santiago Phillips, who is grumpy, combative, and also the hottest guy Moon has ever seen.
Moon is certain she hates Santiago and that he hates her back. But as chance and destiny (and maybe, probably, close proximity) bring the two of them in each other's perpetual paths, Moon starts to wonder if that's really true. She even starts to question her destiny as the unnoticed, unloved wallflower she always thought she was.
Could this summer change Moon's life as she knows it?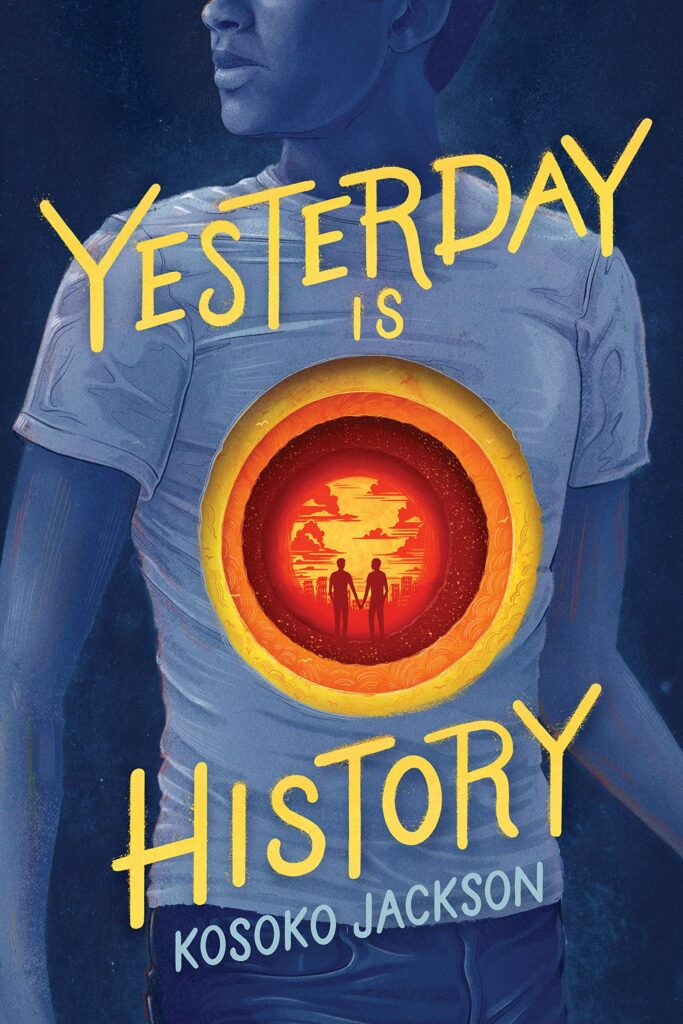 Yesterday is History by Kosoko Jackson
Weeks ago, Andre Cobb received a much-needed liver transplant.
He's ready for his life to finally begin, until one night, when he passes out and wakes up somewhere totally unexpected…in 1969, where he connects with a magnetic boy named Michael.
And then, just as suddenly as he arrived, he slips back to present-day Boston, where the family of his donor is waiting to explain that his new liver came with a side effect—the ability to time travel. And they've tasked their youngest son, Blake, with teaching Andre how to use his unexpected new gift.
Andre splits his time bouncing between the past and future. Between Michael and Blake. Michael is everything Andre wishes he could be, and Blake, still reeling from the death of his brother, Andre's donor, keeps him at arm's length despite their obvious attraction to each other.
Torn between two boys, one in the past and one in the present, Andre has to figure out where he belongs—and more importantly who he wants to be—before the consequences of jumping in time catch up to him and change his future for good.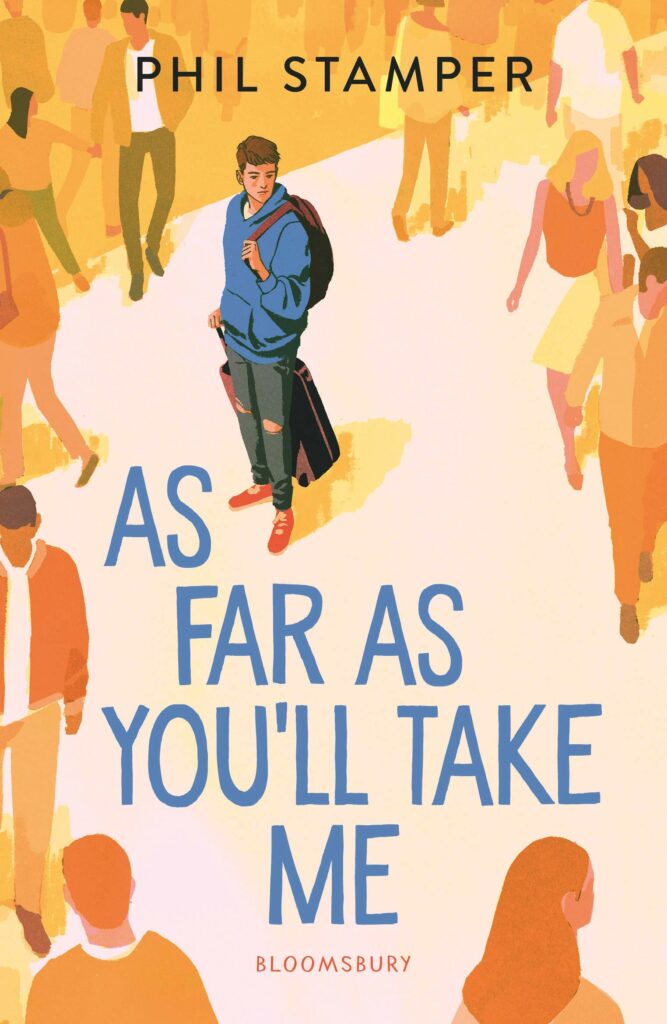 As Far As You'll Take Me by Phil Stamper
Marty arrives in London with nothing but his oboe and some savings from his summer job, but he's excited to start his new life–where he's no longer the closeted, shy kid who slips under the radar and is free to explore his sexuality without his parents' disapproval.
From the outside, Marty's life looks like a perfect fantasy: in the span of a few weeks, he's made new friends, he's getting closer with his first ever boyfriend, and he's even traveling around Europe. But Marty knows he can't keep up the facade. He hasn't spoken to his parents since he arrived, he's tearing through his meager savings, his homesickness and anxiety are getting worse and worse, and he hasn't even come close to landing the job of his dreams. Will Marty be able to find a place that feels like home?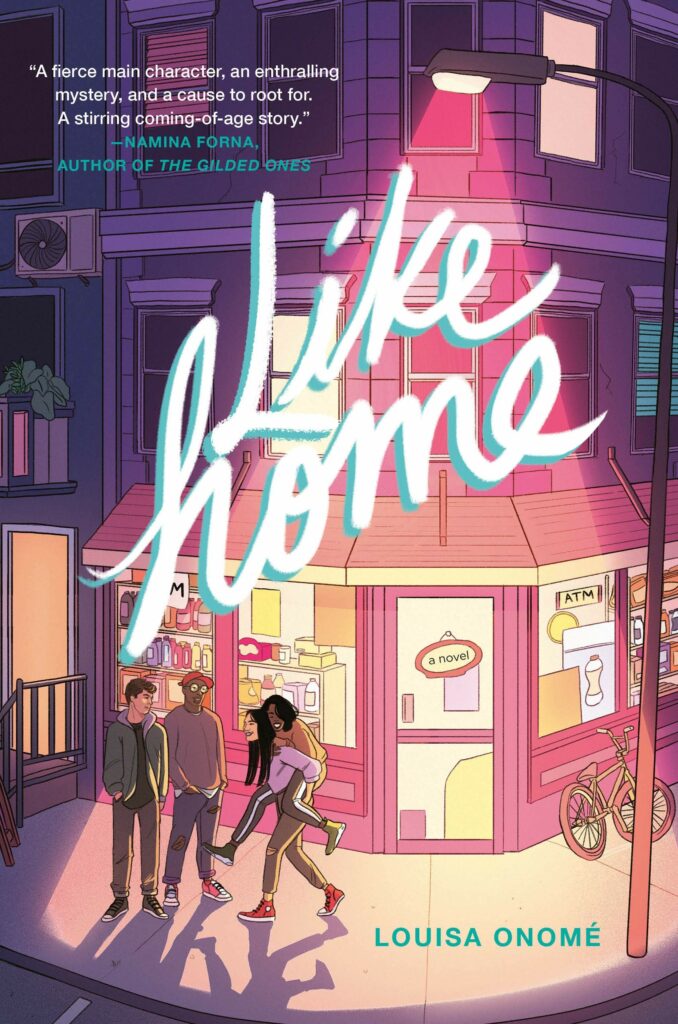 Like Home by Louisa Onomé
Chinelo, or Nelo as her best friend Kate calls her, is all about her neighborhood Ginger East. She loves its chill vibe, ride-or-die sense of community, and her memories of growing up there. Ginger East isn't what it used to be, though. After a deadly incident at the local arcade, all her closest friends moved away, except for Kate. But as long as they have each other, Nelo's good.
Only, Kate's parents' corner store is vandalized, leaving Nelo shaken to her core. The police and the media are quick to point fingers, and soon more of the outside world descends on Ginger East with promises to "fix" it. Suddenly, Nelo finds herself in the middle of a drama unfolding on a national scale.
Worse yet, Kate is acting strange. She's pushing Nelo away at the exact moment they need each other most. Nelo's entire world is morphing into something she hates, and she must figure out how to get things back on track or risk losing everything⁠—and everyone⁠—she loves.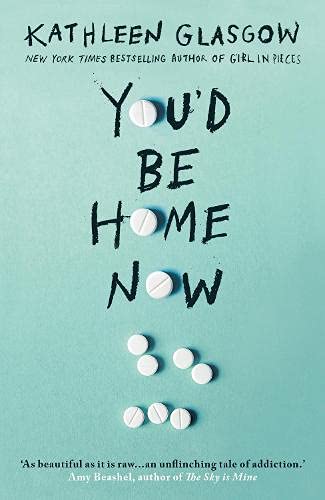 You'd Be Home Now by Kathleen Glasgow
For all of Emory's life she's been told who she is. In town she's the rich one–the great-great-granddaughter of the mill's founder. At school she's hot Maddie Ward's younger sister. And at home, she's the good one, her stoner older brother Joey's babysitter. Everything was turned on its head, though, when she and Joey were in the car accident that killed Candy MontClaire. The car accident that revealed just how bad Joey's drug habit was.
Four months later, Emmy's junior year is starting, Joey is home from rehab, and the entire town of Mill Haven is still reeling from the accident. Everyone's telling Emmy who she is, but so much has changed, how can she be the same person? Or was she ever that person at all?
Mill Haven wants everyone to live one story, but Emmy's beginning to see that people are more than they appear. Her brother, who might not be cured, the popular guy who lives next door, and most of all, many ghostie addicts who haunt the edges of the town. People spend so much time telling her who she is–it might be time to decide for herself.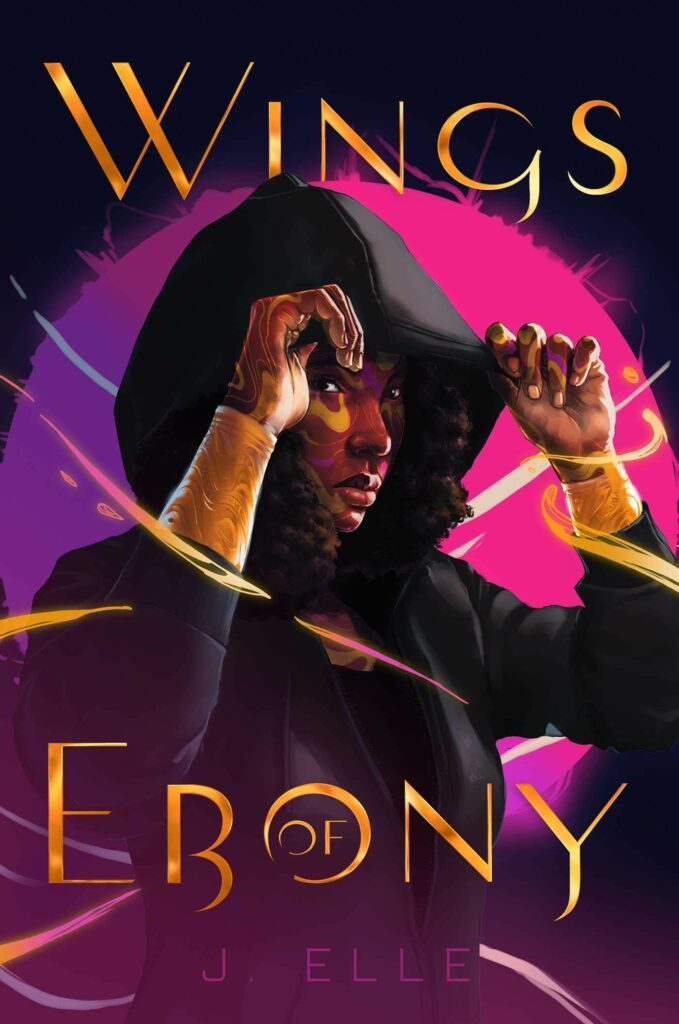 Wings of Ebony by J. Elle
"Make a way out of no way" is just the way of life for Rue. But when her mother is shot dead on her doorstep, life for her and her younger sister changes forever. Rue's taken from her neighborhood by the father she never knew, forced to leave her little sister behind, and whisked away to Ghizon—a hidden island of magic wielders.
Rue is the only half-god, half-human there, where leaders protect their magical powers at all costs and thrive on human suffering. Miserable and desperate to see her sister on the anniversary of their mother's death, Rue breaks Ghizon's sacred Do Not Leave Law and returns to Houston, only to discover that Black kids are being forced into crime and violence. And her sister, Tasha, is in danger of falling sway to the very forces that claimed their mother's life.
Worse still, evidence mounts that the evil plaguing East Row is the same one that lurks in Ghizon—an evil that will stop at nothing until it has stolen everything from her and everyone she loves. Rue must embrace her true identity and wield the full magnitude of her ancestors' power to save her neighborhood before the gods burn it to the ground.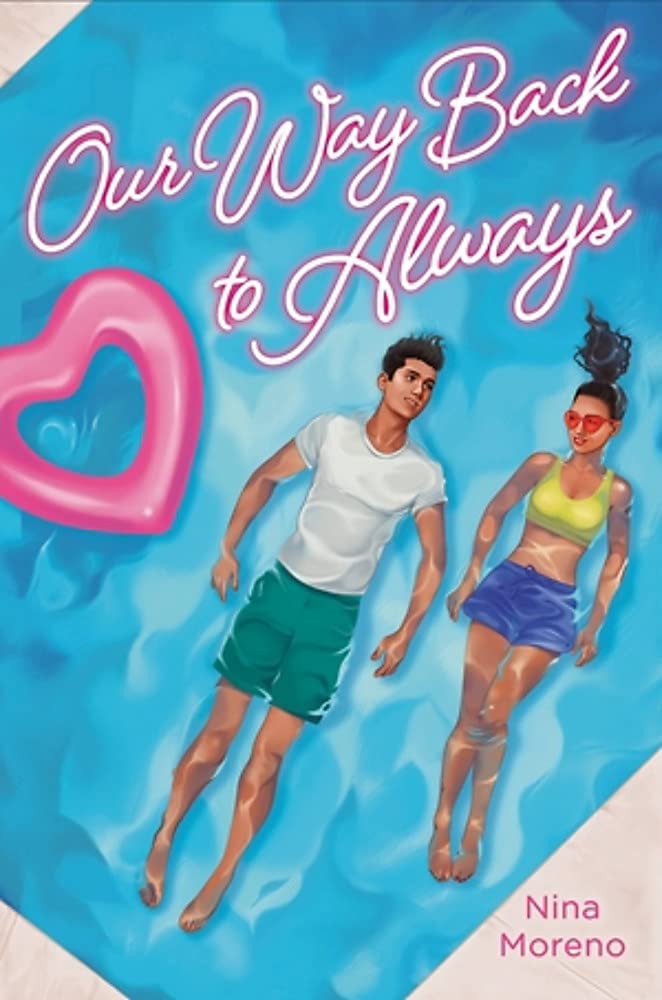 Our Way Back to Always by Nina Moreno
Luisa (Lou) Patterson grew up across the street from Sam Alvarez in the small, quirky town of Port Coral. They used to be inseparable–spending every holiday together, shooting silly YouTube videos, and rescuing stray cats. But then middle school happened, including the most disastrous (and embarrassing) serenade ever, and Lou and Sam haven't talked in the four years since. Sam is now the golden boy with plenty of friends, while Lou is an introverted romantic who's happy playing video games and writing fan fiction. But it's also the summer before their senior year, and life is knocking on Lou's door.
With her older sister having given up a scholarship to Princeton to have a baby and work at the local botanica, all of their mother's expectations are now riding on Lou's shoulders. She's retaking her SAT's, signed up for way too many AP classes, and her sights set on colleges with fancy names like Duke and Vanderbilt. But when she finds the bucket list she and Sam wrote together as kids, before Sam's father was diagnosed with cancer, she's shocked to see that she hasn't accomplished any of the goals she'd set for herself. Go to a party? Nope. Pull the greatest prank of all time? Still no. Learn how to be a really good kisser? Definitely not.
Torn between the future that her mother, sister, and younger self planned for her, Lou sets out to finish the list, and in a stroke of destiny or fate, Sam decides to tag along. Still trying to stay afloat amid the grief of losing his father, Sam himself is staring down a future that feels all too close, and is coming far too fast. But with the bucket list to guide them, Sam and Lou might just be able to find a way through the future, and also a way back to each other.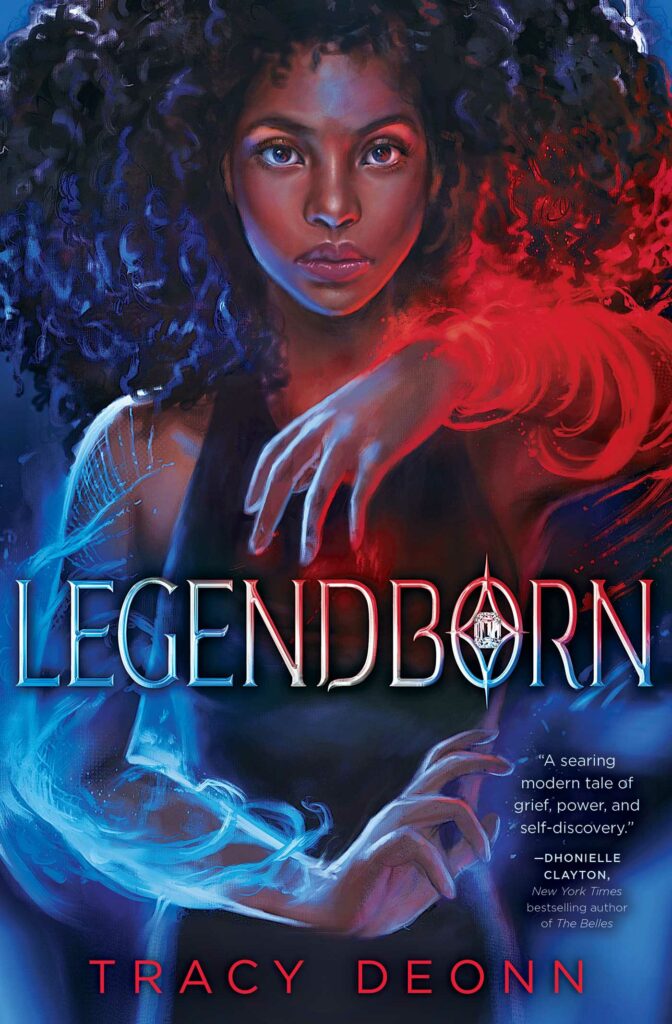 Legendborn by Tracey Deon
After her mother dies in an accident, sixteen-year-old Bree Matthews wants nothing to do with her family memories or childhood home. A residential program for bright high schoolers at UNC–Chapel Hill seems like the perfect escape—until Bree witnesses a magical attack her very first night on campus.
A flying demon feeding on human energies.
A secret society of so called "Legendborn" students that hunt the creatures down.
And a mysterious teenage mage who calls himself a "Merlin" and who attempts—and fails—to wipe Bree's memory of everything she saw.
The mage's failure unlocks Bree's own unique magic and a buried memory with a hidden connection: the night her mother died, another Merlin was at the hospital. Now that Bree knows there's more to her mother's death than what's on the police report, she'll do whatever it takes to find out the truth, even if that means infiltrating the Legendborn as one of their initiates.
She recruits Nick, a self-exiled Legendborn with his own grudge against the group, and their reluctant partnership pulls them deeper into the society's secrets—and closer to each other. But when the Legendborn reveal themselves as the descendants of King Arthur's knights and explain that a magical war is coming, Bree has to decide how far she'll go for the truth and whether she should use her magic to take the society down—or join the fight.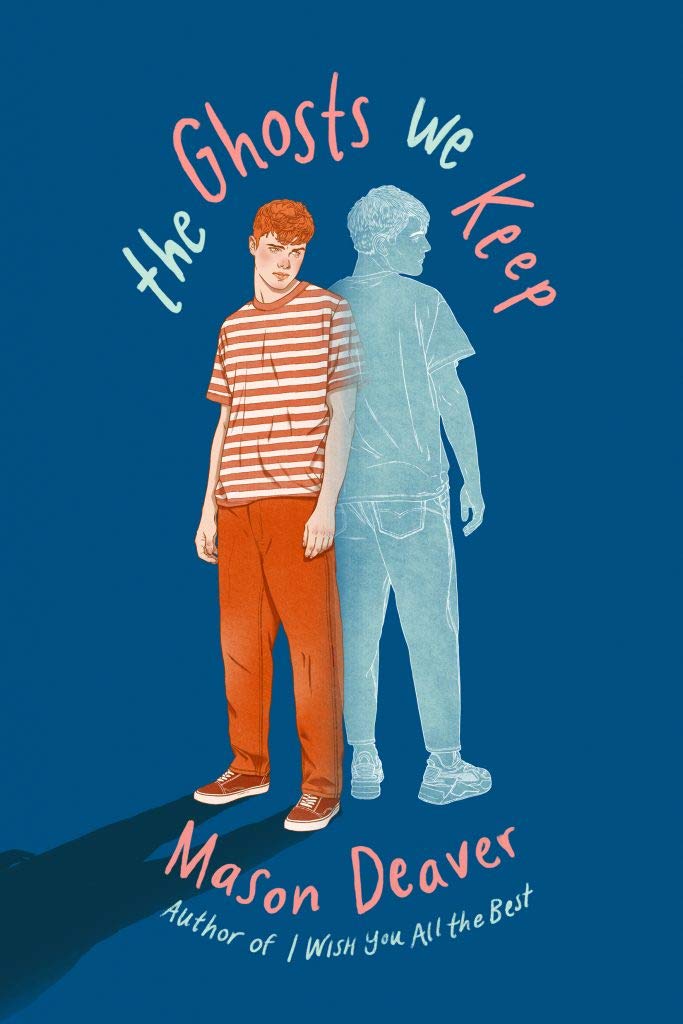 The Ghosts We Keep by Mason Deaver
When Liam Cooper's older brother Ethan is killed in a hit-and-run, Liam has to not only learn to face the world without one of the people he loved the most, but also face the fading relationship with his two best friends.
Feeling more alone and isolated than ever, Liam finds themself sharing time with Marcus, Ethan's best friend, and through Marcus, Liam finds the one person that seems to know exactly what they're going through, for the better, and the worse.
This book is about grief. But it's also about why we live. Why we have to keep moving on, and why we should.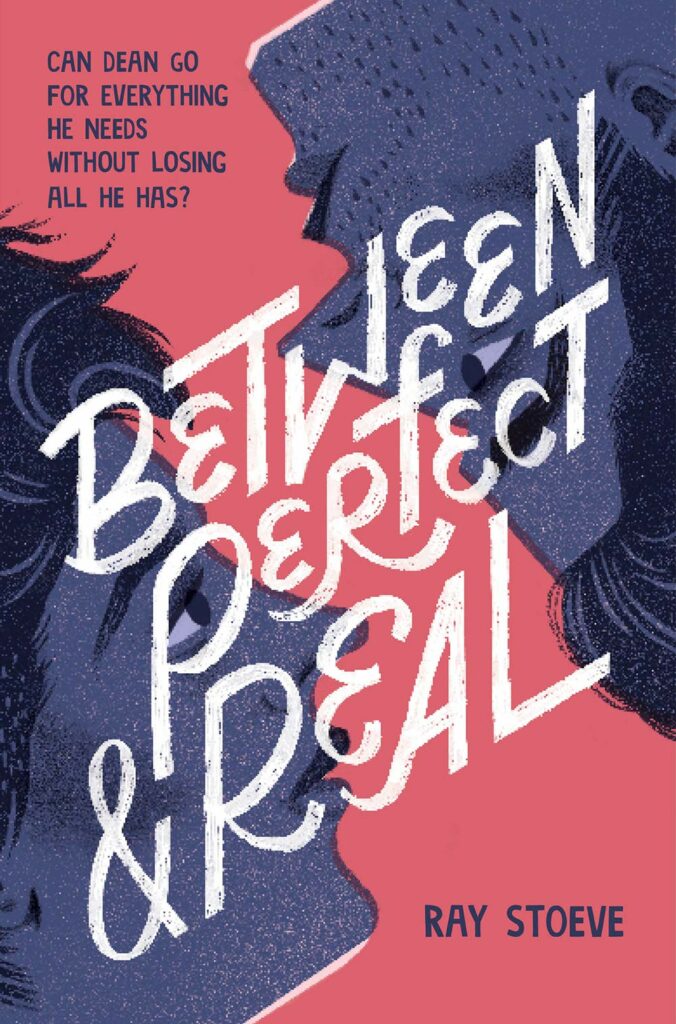 Between Perfect and Real by Ray Stoeve
Dean Foster knows he's a trans guy. He's watched enough YouTube videos and done enough questioning to be sure. But everyone at his high school thinks he's a lesbian—including his girlfriend Zoe, and his theater director, who just cast him as a "nontraditional" Romeo. He wonders if maybe it would be easier to wait until college to come out. But as he plays Romeo every day in rehearsals, Dean realizes he wants everyone to see him as he really is now––not just on the stage, but everywhere in his life. Dean knows what he needs to do. Can playing a role help Dean be his true self?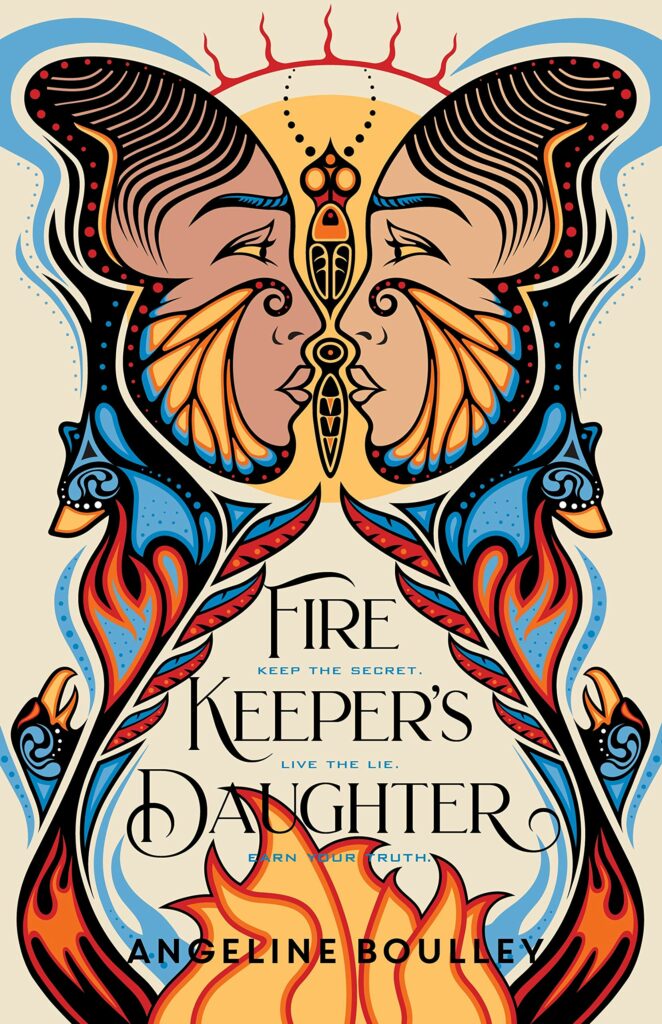 Firekeeper's Daughter by Angeline Boulley
As a biracial, unenrolled tribal member and the product of a scandal, eighteen-year-old Daunis Fontaine has never quite fit in, both in her hometown and on the nearby Ojibwe reservation. Daunis dreams of studying medicine, but when her family is struck by tragedy, she puts her future on hold to care for her fragile mother.
The only bright spot is meeting Jamie, the charming new recruit on her brother Levi's hockey team. Yet even as Daunis falls for Jamie, certain details don't add up and she senses the dashing hockey star is hiding something. Everything comes to light when Daunis witnesses a shocking murder, thrusting her into the heart of a criminal investigation.
Reluctantly, Daunis agrees to go undercover, but secretly pursues her own investigation, tracking down the criminals with her knowledge of chemistry and traditional medicine. But the deceptions—and deaths—keep piling up and soon the threat strikes too close to home.
Now, Daunis must learn what it means to be a strong Anishinaabe kwe (Ojibwe woman) and how far she'll go to protect her community, even if it tears apart the only world she's ever known.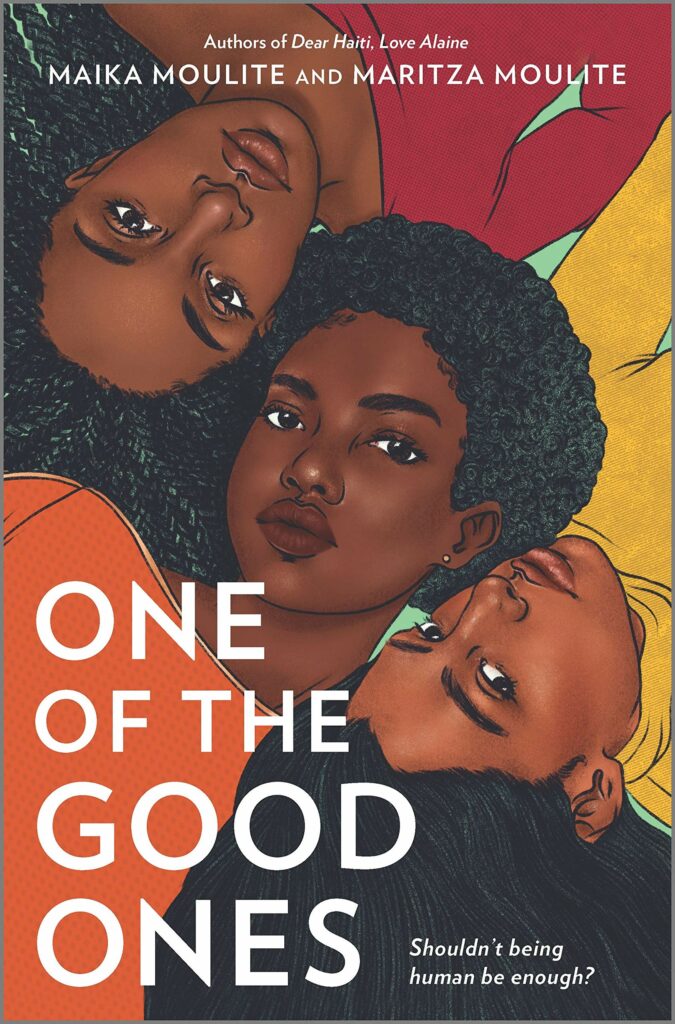 One of the Good Ones by Maika and Maritza Moulite
When teen social activist and history buff Kezi Smith is killed under mysterious circumstances after attending a social justice rally, her devastated sister Happi and their family are left reeling in the aftermath. As Kezi becomes another immortalized victim in the fight against police brutality, Happi begins to question the idealized way her sister is remembered. Perfect. Angelic.
One of the good ones.
Even as the phrase rings wrong in her mind—why are only certain people deemed worthy to be missed?—Happi and her sister Genny embark on a journey to honor Kezi in their own way, using an heirloom copy of The Negro Motorist Green Book as their guide. But there's a twist to Kezi's story that no one could've ever expected—one that will change everything all over again.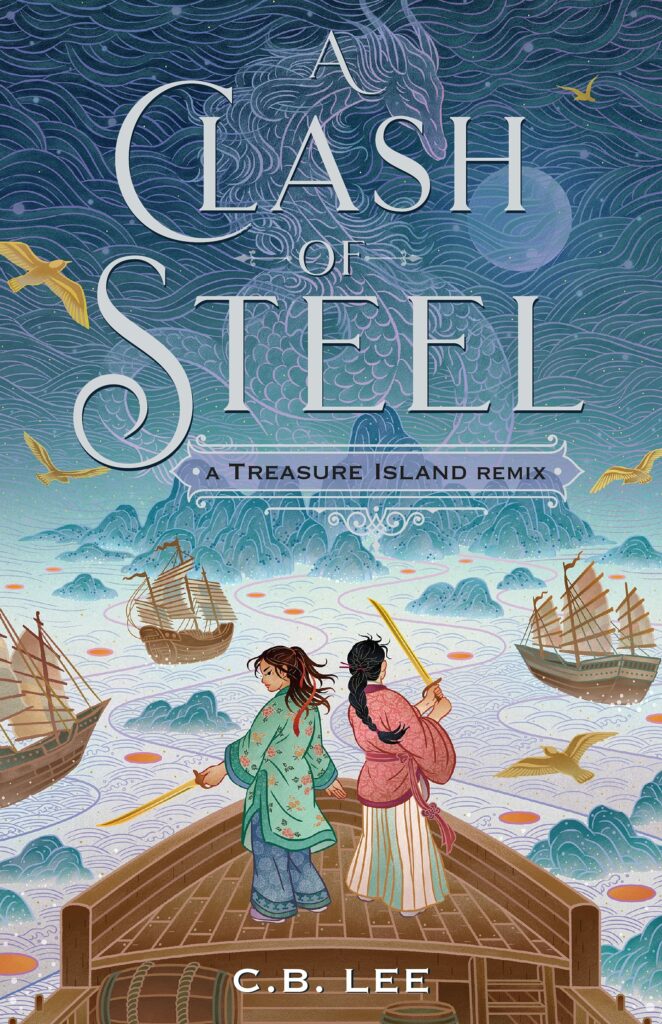 Clash of Steel by C.B. Lee
1826. The sun is setting on the golden age of piracy, and the legendary Dragon Fleet, the scourge of the South China Sea, is no more. Its ruthless leader, a woman known only as the Head of the Dragon, is now only a story, like the ones Xiang has grown up with all her life. She desperately wants to prove her worth, especially to her mother, a shrewd businesswoman who never seems to have enough time for Xiang. Her father is also only a story, dead at sea before Xiang was born. Her single memento of him is a pendant she always wears, a simple but plain piece of gold jewelry.
But the pendant's true nature is revealed when a mysterious girl named Anh steals it, only to return it to Xiang in exchange for her help in decoding the tiny map scroll hidden inside. The revelation that Xiang's father sailed with the Dragon Fleet and tucked away this secret changes everything. Rumor has it that the legendary Head of the Dragon had one last treasure—the plunder of a thousand ports—that for decades has only been a myth, a fool's journey.
Xiang is convinced this map could lead to the fabled treasure. Captivated with the thrill of adventure, she joins Anh and her motley crew off in pursuit of the island. But the girls soon find that the sea—and especially those who sail it—are far more dangerous than the legends led them to believe.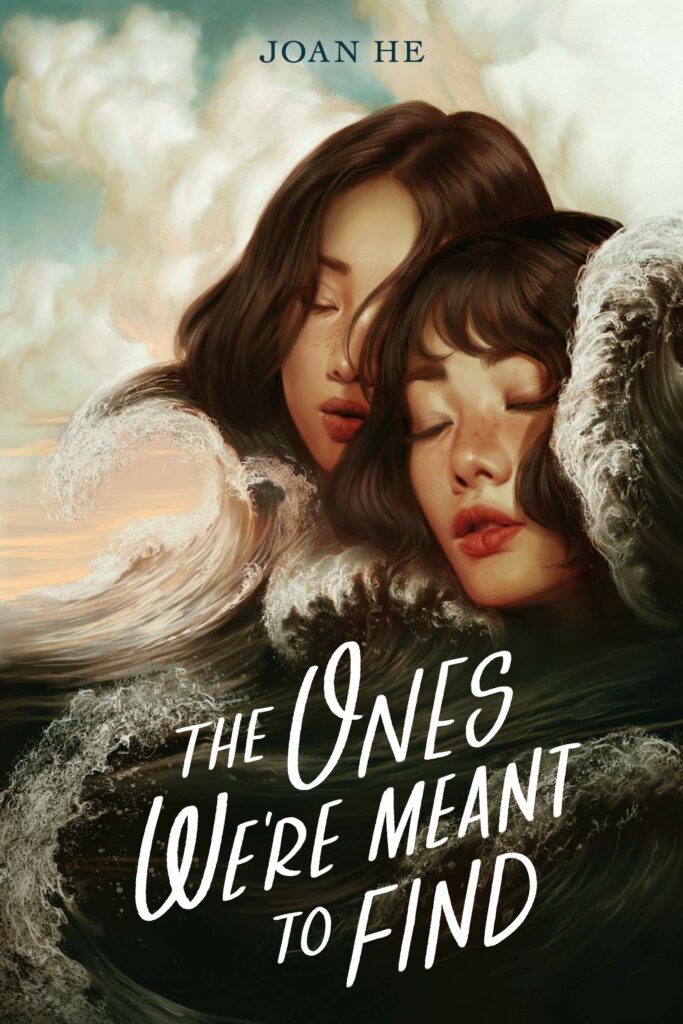 The One's We're Meant to Find by Joan He
Cee has been trapped on an abandoned island for three years without any recollection of how she arrived, or memories from her life prior. All she knows is that somewhere out there, beyond the horizon, she has a sister named Kay, and it's up to Cee to cross the ocean and find her.
In a world apart, 16-year-old STEM prodigy Kasey Mizuhara lives in an eco-city built for people who protected the planet―and now need protecting from it. With natural disasters on the rise due to climate change, eco-cities provide clean air, water, and shelter. Their residents, in exchange, must spend at least a third of their time in stasis pods, conducting business virtually whenever possible to reduce their environmental footprint. While Kasey, an introvert and loner, doesn't mind the lifestyle, her sister Celia hated it. Popular and lovable, Celia much preferred the outside world. But no one could have predicted that Celia would take a boat out to sea, never to return.
Now it's been three months since Celia's disappearance, and Kasey has given up hope. Logic says that her sister must be dead. But nevertheless, she decides to retrace Celia's last steps. Where they'll lead her, she does not know. Her sister was full of secrets. But Kasey has a secret of her own.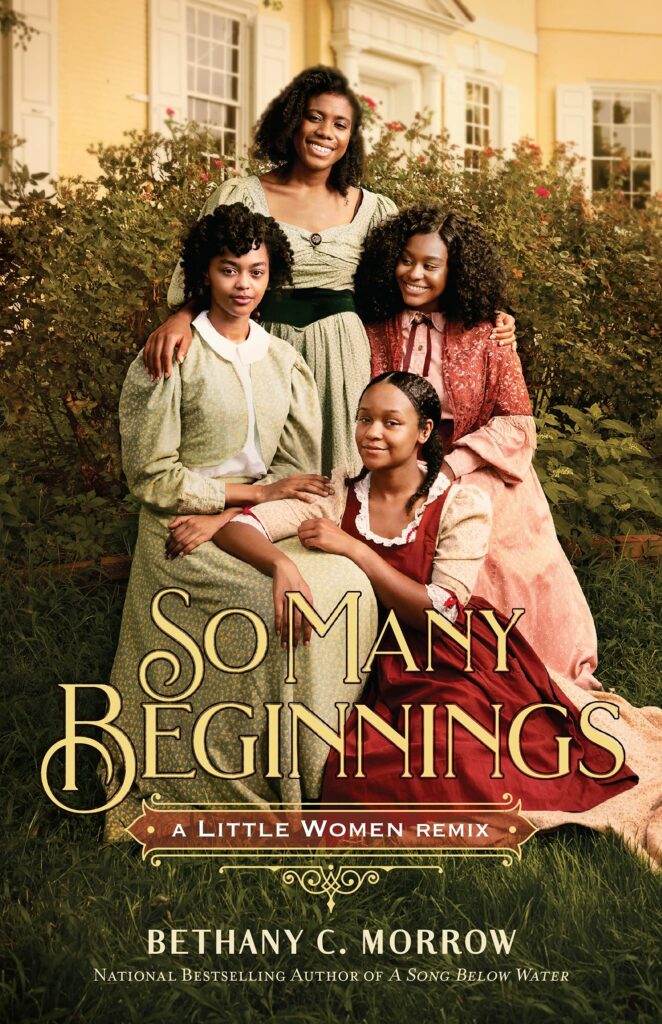 So Many Beginnings by Bethany C. Morrow
North Carolina, 1863. As the American Civil War rages on, the Freedmen's Colony of Roanoke Island is blossoming, a haven for the recently emancipated. Black people have begun building a community of their own, a refuge from the shadow of the old life. It is where the March family has finally been able to safely put down roots with four young daughters:
Meg, a teacher who longs to find love and start a family of her own.
Jo, a writer whose words are too powerful to be contained.
Beth, a talented seamstress searching for a higher purpose.
Amy, a dancer eager to explore life outside her family's home.
As the four March sisters come into their own as independent young women, they will face first love, health struggles, heartbreak, and new horizons. But they will face it all together.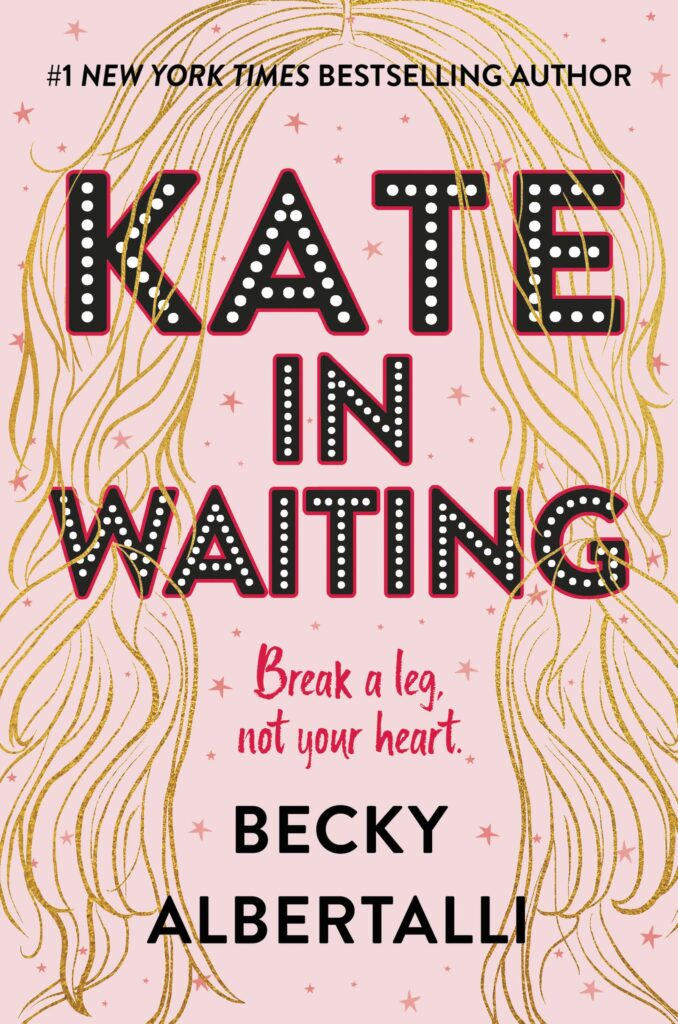 Kate in Waiting by Becky Albertalli
Contrary to popular belief, best friends Kate Garfield and Anderson Walker are not codependent. Carpooling to and from theater rehearsals? Environmentally sound and efficient. Consulting each other on every single life decision? Basic good judgment. Pining for the same guys from afar? Shared crushes are more fun anyway.
But when Kate and Andy's latest long-distance crush shows up at their school, everything goes off script. Matt Olsson is talented and sweet, and Kate likes him. She really likes him. The only problem? So does Anderson.
Turns out, communal crushes aren't so fun when real feelings are involved. This one might even bring the curtains down on Kate and Anderson's friendship.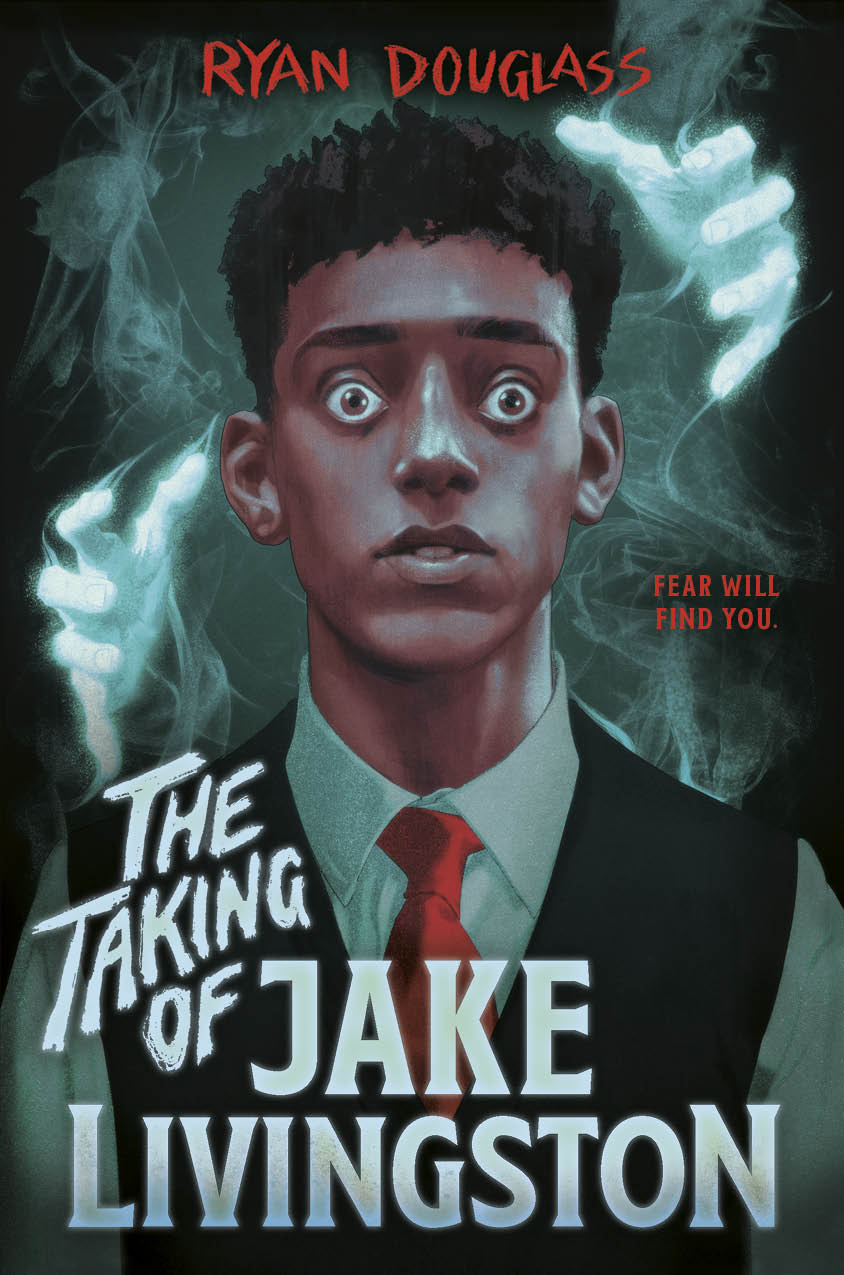 The Taking of Jake Livingston by Ryan Douglass
Jake Livingston is one of the only Black kids at St. Clair Prep, one of the others being his infinitely more popular older brother. It's hard enough fitting in but to make matters worse and definitely more complicated, Jake can see the dead. In fact he sees the dead around him all the time. Most are harmless. Stuck in their death loops as they relive their deaths over and over again, they don't interact often with people. But then Jake meets Sawyer. A troubled teen who shot and killed six kids at a local high school last year before taking his own life. Now a powerful, vengeful ghost, he has plans for his afterlife–plans that include Jake. Suddenly, everything Jake knows about ghosts and the rules to life itself go out the window as Sawyer begins haunting him and bodies turn up in his neighborhood. High school soon becomes a survival game–one Jake is not sure he's going to win.