Camryn Garrett on her powerful new YA novel, Off the Record
"I think I put so much of myself in the book that I was scared to be so vulnerable."
A bold and powerful story of taking a stand and fighting for what you believe in, Off the Record, is a poignant and empowering new YA novel by Camryn Garrett, that's truly impossible to put down.
We're so excited to have had the opportunity to chat with Camryn all about what inspired her phenomenal new book, how she went about exploring such complex themes and why doing so in YA is so important.
---
Hi Camryn, it's so lovely have you on the site today to celebrate the release of your new YA novel, Off the Record! For readers who may not know much about the book, do you have an elevator pitch of sorts you could share with us?
I do! Off the Record is about a teenage journalist named Josie who wins a contest and gets the chance to write a cover story for her favorite magazine. But while she's traveling and covering an up and coming star, she discovers a dark secret, and has to decide whether or not she's going to break the story.
Off the Record is both a powerful and incredibly addictive read. Could you tell us a little about what inspired you to write Josies story?
I usually write as a way to process ideas and feelings, and I started the first draft of this book when #MeToo was really breaking out in the United States about two years ago. Writing this story was a way for me to examine experiences and encounters I'd had in a new light.
How did the experience of writing Off the Record differ from that of writing your debut novel, Full Disclosure?
I wrote this first draft right after I sold my first book, actually! I was very euphoric and particularly confident in my abilities. I think I touched a lot more topics I would've been initially scared to talk about. It did make me more nervous during the editing phase, though. I wanted to make sure that I represented tough conversations as best as I could.
View this post on Instagram
Josie has such a strong voice and character throughout the book and I have no doubt readers will have fallen head over heels for her bold courage. Do you see any of yourself in Josie?
I think I'm a lot like Josie! I can be very shy and also have trouble with anxiety. I don't
know if I'd be as brave as her, though. A big part of this book is wish fulfillment; she gets to go on this tour, write for a big magazine, and have these magical adventures. But I think I wrote Josie to remind myself that even though I can be quiet and shy and scared, I can still use my voice to make a difference.
Off the Record tackles some pretty emotional topics such as sexual assault and fatphobia. I can imagine the experience of exploring these topics in your writing must have been pretty hard going at times?
I usually write my first drafts pretty quickly, so I honestly don't think I registered a lot of the hard topics until it was time to edit. I spent a lot of time agonizing over decisions and wondering what should stay in the story and what should leave. I think I put so much of myself in the book that I was scared to be so vulnerable.
Why do you think it's so important to explore these themes in YA?
I think adults are doing a better job of addressing issues like sexual harassment and assault with younger people, but it's still not something everyone is comfortable speaking about. There are some things that just feel like you're supposed to deal with. For example, I spoke to two people about how we all were forced to sit with or work with rowdy, misbehaving boys when we were younger in school because teachers thought we would be a good influence on them. It was so stressful for me because I was quiet, but also because these boys would often be rude or bully me. One actually said very inappropriate things to me. It bothered me, but I figured it was just part of going to school until I told my mom.
I really want young people to have the same sense of validation I had once my mom told me that the way I was treated wasn't okay. Sometimes, especially as young people, we don't have the language to articulate why something bothers us. I hope this book helps with that.
View this post on Instagram
Do you have any advice for aspiring YA authors wanting to explore topics deemed as 'tough' in their work?
I think there is a way to balance the tough with the sweet, if that makes sense. Life
isn't all bad or good. It's usually a bit of both. I would try to make your book as true to life as possible.
If you could put a copy of Off the Record into the hands of teen Camryn, what do you think her reaction would be?
I think she'd love it, but she'd also cry. The book has so many things teen Camryn
thought about all the time, but she thought no one else cared, or that she was being
too dramatic. I think she'd really see herself in the book and that it would make her
feel pretty raw, but that she'd love the ending. I think she'd have a big crush on Marius.
Finally, are you currently working on anything new and if so, is there anything you can tell us about it?
I'm working on a queer rom-com right now! But I'm also trying to take a break. I'm not the best at it!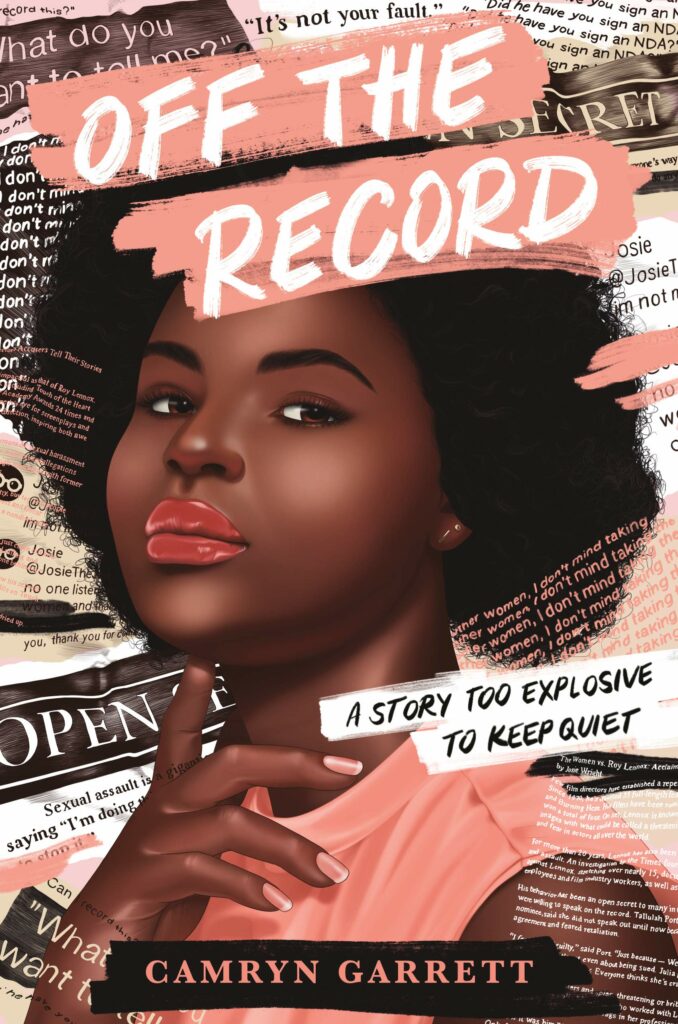 Get your copy of Off the Record by Camryn Garrett here.