About Us
Created by friends and former coworkers Verity Harris (U.K.) and Jackie Kolgraf (U.S.) in June 2016, United By Pop is an online community that aims to bring together everything trending in both the United Kingdom and the United States.
Unlike other pop culture websites that report on only one country or attempt to cover the entire world, United By Pop celebrates the differences and similarities of the pop cultures scenes in the United Kingdom and the United States. Because of its two-country audience, United By Pop is a great place to promote music, projects, launches, etc. that have growth potential in both locations.
The writers behind United By Pop infuse their personal love for everything pop culture in their pieces; rather than just breaking news, they passionately report on their favorite artists, actors, authors, etc. with the fervor of a true fan. Fans writing for fans, United By Pop's audience values its truthful, dedicated point-of-view.
United By Pop strives to give millennial fans a place where they can "fangirl" safely, without fear of being mocked or belittled. Whether its readers are still hanging onto the boybands of the 90's, deep in One Direction mania, or on the hunt for new artists to follow across the country (or across the pond!), United By Pop treats them like the passionate fans they are but also as adults.
---
Verity Harris
Co-owner/Editor, United Kingdom
Twitter | Instagram | Email
Coming soon!
Jackie Kolgraf
Co-owner/Editor, United States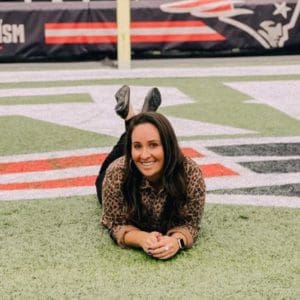 Born, raised, and still living in the Boston suburbs, Jackie is an expert in pop music fandom culture. She is deeply invested in understanding fans' power and influence as a group, especially as technology changes in both music distribution and social media. Her deep-dive into Twitter update accounts, the fans that run them, and how music marketers can better utilize them was published in Billboard magazine. Currently working in satellite radio, she has a BA in graphic design from Stonehill College and an MA in publishing and writing from Emerson College.
Please contact Jackie for interviews regarding digital fan/fandom culture.