Kathleen Glasgow on her emotional new YA novel, You'd Be Home Now
"A story can help you with the language you need to tell someone, "This character is me and I need help."
Kathleen Glasgows newest YA novel, You'd Be Home Now, is a beautifully honest exploration of mental health, addiction and the ups and downs of family life. To celebrate the release of this powerful story, we had the pleasure of asking Kathleen a few questions all about her writing inspirations, the importance of exploring mental illness in YA, upcoming projects and more.
---
Hi Kathleen, it's great to get to chat to you today about your emotional new YA novel, You'd Be Home Now! For those just hearing of it, do you have an elevator pitch of sorts you could share with us?
You'd Be Home Now is about a girl named Emory who is tasked with being her brother's caretaker after he returns from rehab for opioid addiction. Emmy tries to help her brother while also navigating the perils of growing up.
Could you tell us a little about the inspiration behind You'd Be Home Now and Emmy's story?
You'd Be Home Now is loosely inspired by Thornton Wilder's classic play Our Town. I wrote Emmy's character wanting to give voice to those who are addiction-adjacent. We mostly focus (rightly so) on stories about people who are struggling with addiction (and this is Joey's character), but rarely on those who surround them and what it does to their mental health. That's Emmy.
You'd Be Home Now and your previous two novels all beautifully explore themes of mental health. Why do you feel it's so important for you to include these topics in your work?
We need to talk more openly about mental health! Books are a perfect place to do that because they give readers, especially young readers, a safe place to explore issues that affect them on a personal level (like depression or anxiety). Sometimes you don't know how to articulate what's happening to you. A story can help you with the language you need to tell someone, "This character is me and I need help."
View this post on Instagram
Do you have any advice for aspiring YA authors wanting to explore and discuss mental illness in their writing?
I would say write from the heart and do your research so that you can accurately (according to your character's needs) portray mental illness. No story about mental illness will be a monolith, as everyone's experiences vary, but research is an important component.
Whilst incredibly important and crucial, I imagine exploring mental illness and tough topics like those included in You'd Be Home can become quite draining at times? Is there anything you love to do to take care and look after your own wellbeing whilst writing these narratives?
I do tend to write sad stories, it's true! And I feel quite sad writing them sometimes because often I know what's going to happen to a character and the character…doesn't! Which is painful. I take a lot of walks with my dogs, I listen to music (Phoebe Bridgers is a current favourite), and, big surprise, I read! Reading always recharges me.
Emmy, Charlotte and Tiger are equally strong but very different characters. Do you think they would get along in real life and who do you think you would personally get along with best?
I think Charlotte and Tiger would be suspicious of Emmy, but she would win them over with her honesty and openness. Charlotte and Tiger would get along right from the get-go. I don't know who I would get along with the best in real life because I think they're all impossibly cool and artistic and awesome and so I'd probably be too nervous to even talk to them. (Okay, maybe Charlotte because we both share an affinity for overalls.)
View this post on Instagram
Do you have any must read already released or upcoming YA books exploring mental health and/or addiction?
I absolutely loved Amy Beashel's The Sky is Mine and Joan F. Smith's The Half-Orphan's Handbook. Mindy McGinnis's book Heroine is a powerful story about addiction. Erin Stewart's upcoming The Words We Keep is beautifully told story about sisters, anxiety and depression.
For your next book, you're collaborating with the fabulous Liz Lawson on The Agathas, a YA mystery pitched as Big Little Lies meets Veronica Mars (aka a dream book written by a dream team) but is there anything else you can tell us about it?
This book was the most fun thing to write, ever! Alice and Iris are two very different teens thrown together by circumstance to solve the murder of a classmate. Roller skating, witty banter and plenty of references to Agatha Christie abound. I'd definitely read that book!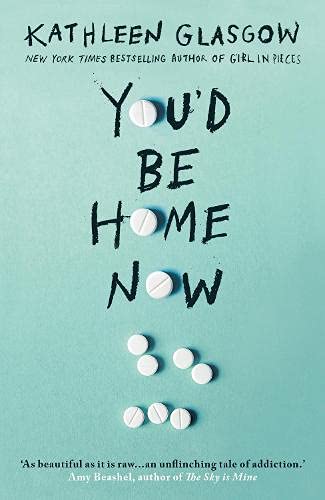 Get your copy of You'd Be Home Now by Kathleen Glasgow here.