Liz Lawson on The Lucky Ones, anger in YA and upcoming projects
"I truly believe that we need stories of hope in this world."
In her heart wrenching and poignant debut novel, The Lucky Ones, Liz Lawson expertly and sensitively explores the painful, life-altering consequences mass shootings have on the ones left behind aka: The Lucky Ones. It's a beautifully written story of love, loss, hope and strength and one that will stick with readers long after the final page.
We had the pleasure of asking Liz a few questions about The Lucky Ones, what it was like writing from the perspective of teens dealing with trauma and future projects.
---
Firstly, a huge congratulations is in order on your stunning debut, The Lucky Ones! Could you tell us a little about the premise for readers who may not be familiar with it?
Thank you so much! The Lucky Ones is the story of May and Zach, two LA teenagers who have both been affected in different ways by a school shooting that occurred a year prior. It's a book about finding hope through tragedy. It's dark and about a serious subject, but it's really about finding light on the other side of that darkness.
What was your biggest inspiration behind writing The Lucky Ones and when did that inspiration hit you?
I grew up and graduated from high school right when Columbine happened, and that changed the entire landscape of our country, forever. I started writing this book for all the kids who are faced with this reality, day in and out. I wrote it for the kids who have lived through the shootings that are mentioned above and the many other shootings that aren't, and for those who fear that they might endure a similar fate someday. For those who have made their way through painful, heartbreaking times and managed to find their way through to the other side. I wanted to show them that there is hope.
Oddly, inspiration for the book hit after I was given a writing prompt in a short story class! I started writing Zach's chapter first, and the rest is history.
View this post on Instagram
Anger in teens in YA is something not often seen in YA protagonists, so I loved that you allowed both May and Zach to be angry. Was this something you were conscious of whilst writing?
With May's character, it wasn't so much as conscious as it was just her voice. She's MAD. And with good reason! I think it's so unfortunate that we don't see more teenage protagonists who are angry. I've had readers reach out thanking me for allowing May (and Zach) be angry in the story—because like you said, it's not something we often see in YA. In terms of Zach, it's funny—I don't necessarily think he's angry so much as lonely and sad. He just wants a hug and some company!
The Lucky Ones is so beautiful but painfully raw in its exploration of grief and trauma. I can imagine writing about a topic such as a school shooting must have been incredibly emotional at times? What was it like getting into the head of a character who's been through such a traumatic experience?
It was definitely rough at times. A lot of the research was really involved and overwhelming. Truly, what helped the most was giving myself a break every once in a while to watch some silly TV (The Office, etc) or read something light hearted to break up the darkness of my research and writing.
Both May and Zach have such brilliantly unique voices! What was it like writing back and forth between them?
It was a hugely important to me to create these two characters with voices distinct enough that they really did seem like two individuals rather than one creation from my brain. When I started writing it, I read something that said that an author's goal with dual POV is to create voices distinct enough from each other that if a reader opens the book to any given page, they'll automatically know which head they're in. I kept that in mind while writing. Zach and May are so different from each other, that in the end, once I figured out who they were in their heart of hearts, their voices came pretty easily. May is so outwardly angry at the world and hides her broken insides, whereas Zach shows a lot more internal sadness, and is much more vulnerable.
View this post on Instagram
I adored the cast of characters in The Lucky Ones, did you have a favourite character to write or relationship to explore?
May and Lucy's friendship was really my absolutely favorite relationship in the book. Lucy is such a rock, in part because she's been through so much in her own life, struggling with addiction and her father's addiction, and she's definitely wise beyond her years because of that. I love that the reader can see May through Lucy's eyes at times, the person who she used to be, who Lucy loves. And how May softens around her. Lucy's pretty amazing.
As well as now being an author, you've also written for magazines and work as a music supervisor for film & television. Did working in these fields impact the way you write at all and if so, how?
As a music supervisor, I basically handle all the creative and business end of sourced (i.e. non-composed) music in the projects I'm working on. Everything from pitching ideas for scenes, to clearance in terms of making sure song rights and fees are all agreed upon with various parties, and licensing on the back end to make sure everyone gets paid. It's a nice balance for the creative and business sides of my brain. Working in music on multiple projects at once has definitely forced me to focus my brain, and that's really helped with writing! It's taught me how to use my time wisely.
What is one message you hope readers will be able to take away from reading The Lucky Ones?
The biggest thing I hope they'll take away is a feeling of hope. I truly believe that we need stories of hope in this world, stories where people go through some shit but manage to come out on the other side. Someone recently described reading The Lucky Ones as a cathartic experience, and that's exactly what I've always hoped that readers would get from the read.
Are you currently working on anything and if so, can you give us any hints as to what we can expect?
I just turned in my first draft of my second book to my editor! It's due out 2021 (although what with everything going on right now, I assume there's a chance that it might be delayed) and is entitled In Silent Seas We Drown (https://www.goodreads.com/book/show/48715987-in-silent-seas-we-drown) It's an emotional contemporary young adult novel that examines addiction.
I also recently started writing a comedic YA thriller, and I love it so much!! I really, really hope that it can be my third book – it's a little different from my first two, but still deals with mental health (just in a less heavy way).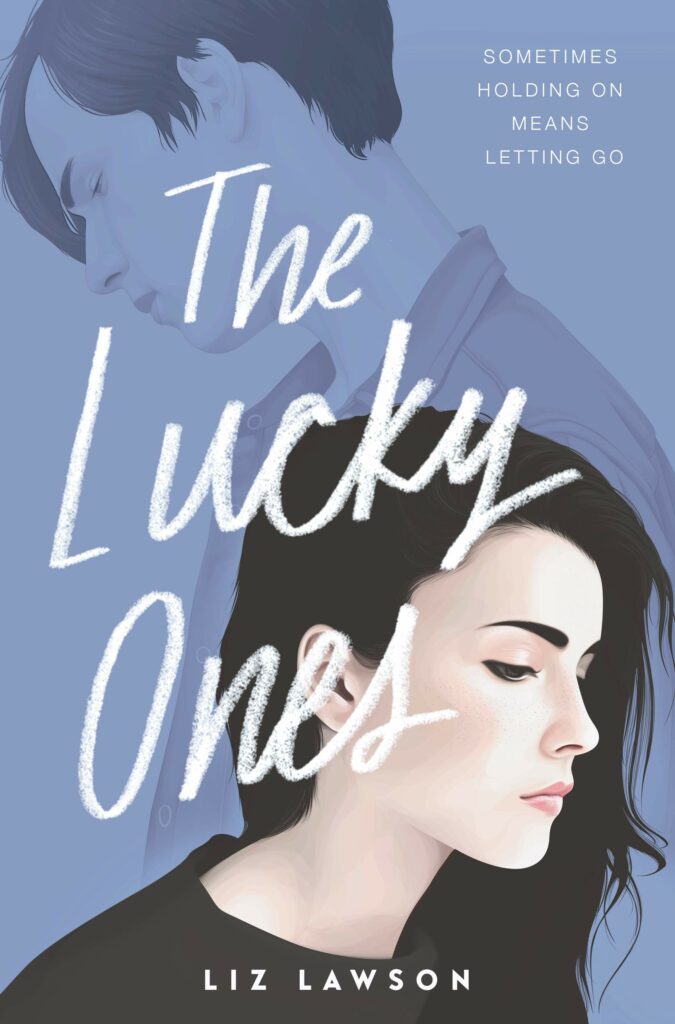 Get your copy of The Lucky Ones by Liz Lawson today in the UK & US.