Ciara Smyth on rivals to lovers, coming out and her new YA novel, Not My Problem
"I think if we only have coming out stories it makes it seem as though that's where our story ends"
If an f/f rivals-to-lovers romance sparked by a push down the stairs sounds like a story you need in your life, you'd be 100% correct and Not My Problem, the new laugh out loud YA contemporary by Ciara Smyth, is the book for you.
We're so excited to not only have had the chance to chat to Ciara all about her wonderful new book but to also have three copies to give away.
---
Hi Ciara! It's been a year since we spoke to celebrate the release of your debut YA novel, The Falling in Love Montage, and I'm so excited to get to chat to you again and ask you a few questions about your sensational new YA novel, Not My Problem. I can imagine this post-debut year must have been a bit of a whirlwind?
It's definitely been a strange one, having your debut come out in lockdown is odd because you have nothing to compare it to. It left me wondering what it would have been like if it was any other year. Restrictions are only just easing up where I live so I don't think I know what it's like to have a book come out in a normal time yet!
The idea of a book starting with a girl volunteering to push a classmate down the stairs was ingenious. Can you tell us a little about what inspired Not My Problem and Aideen's story?
The conversation that happens before Aideen pushes Meabh down the stairs just popped into my head. You have this high strung girl unravelling and revealing her insecurities to someone she doesn't particularly like. She had to be completely overwhelmed to do that. So it made sense to me that she would be willing to do something drastic. The PE hall I pictured in my head was one from my old school and it had this staircase leading up to a balcony. It seemed like a natural progression!
Both Aideen (Not My Problem) and Saoirse (The Falling in Love Montage) have such strong and unique character voices but was there one you see more of yourself in?
I think there's a part of me in both of them. I weaselled my way out of PE often, like Aideen and I share some of Saoirse's cynicism and her love of the movie Scream. But really the character I'm most like is Meabh. I think I've changed a lot in my adulthood but there's still an inner Meabh who needs to be managed regularly.
View this post on Instagram
How well do you think Saoirse, from your debut, The Falling in Love Montage, and Aideen from Not My Problem would get along?
I think Saoirse would appreciate Aideen's hijinks after planning all of the dates of Montage, but I'm not sure they'd be friends. Saoirse has a pretty hard shell and she can be a little acerbic. I think that would intimidate Aideen, who is a bit more vulnerable.
The slow burn rivals-to-lovers romance in Not My Problem was everything. Do you have any further YA recommendations for readers craving more of these tropes after loving Not My Problem?
I've been reading Forward March by Skye Quinlan, which I haven't finished just yet but Margot and Harper from that story definitely start off on the wrong foot and are constantly bickering. That's always a fun dynamic.
Despite both of your books featuring lesbian main characters, neither are coming out stories. Why do you think having LGBTQIA+ main characters who are secure in their sexuality is so important to represent in YA?
I love coming out stories. There are some really fantastic ones (The Miseducation of Cameron Post is a big favourite of mine) and it makes sense that they take up a big part in YA because often people are figuring themselves out at that age. However, a coming out story is just not something I want to write and I think if we only have coming out stories it makes it seem as though that's where our story ends. I like to write about the kind of internal and external difficulties young people are wrestling with. Coming out is one of them but after you come out there'll be a lot of other things you still have to deal with. That's what interests me. Plus I like the idea of showing these girls who are completely comfortable with being lesbians because that's what I hope for young people, that they can feel that way.
View this post on Instagram
There are countless wonderful scenes in Not My Problem but is there a particular scene that stands out as a favourite to write and were there any moments that didn't make the cut you could share with us?
One of my favourite scenes in the book is what I call the bathtub scene. It's the part of the story where you see these three characters Aideen, Meabh and Kavi, who have banded together in a strange sort of way, actually become comfortable with one another. There's something really gentle about the way they treat each other and I love it. People who have read the MS tend to point that one out to me as well!
I don't think there were any cut scenes. I don't usually write that way. But the chapter before the bathtub was one that went through at least three completely different iterations because I was struggling to see the purpose of it beyond getting from point A to point B. Thankfully editor Stephanie Stein was able to pinpoint exactly what emotional beat we needed to hit and then the who, what, when and where fell into place after that.
You studied social work during university. Did this affect how you wrote Aideen's story at all?
I work as a social worker as my 'day job' but I work in adult mental health, not in family and childcare which is the department Aideen is constantly worried about. I think my work has a big influence on how I write, in terms of understanding character, motivation, and empathy.
But in terms of the kind of social workers that Aideen talks about, I think she's really scared of what could happen if she looks for help. She fears that they might punish her Mum or remove her from her Mum's care. That's a fear a lot of young people have when they live in a home that isn't always safe, secure or nurturing. They see it as their job to keep the outside world from seeing the trouble they're in. Aideen's Mum has a problem with alcohol which she uses to cope with really difficult feelings. I think if she can be helped with that then she can be the loving Mum she tries to be all the time.
Finally, what's one YA book you've read so far this year you'd happily shout from the rooftops about?
Savage Her Reply by Deirdre Sullivan. It is a beautiful retelling of an Irish legend called the Children of Lir, told from the perspective of the 'villain'. But I'd read a shopping list if Deirdre wrote it!
Want to read Not Your Problem by Ciara Smyth asap? Simply follow the instructions in the tweet below to enter to win one of three copies:  
https://twitter.com/unitedbybks/status/1405479796323323904?s=20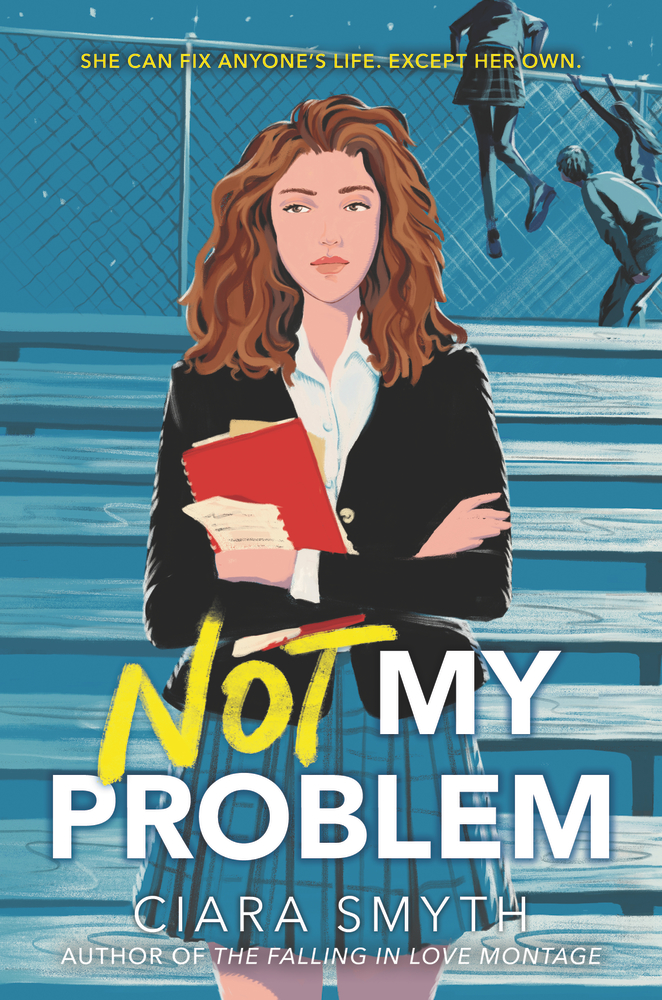 Get your copy of Not My Problem by Ciara Smyth here.
Terms and Conditions
1. No purchase necessary. A purchase of any kind will not increase your chances of winning.
2. This giveaway opens at 22:00 PM GMT on Wednesday, June 17, 2021 and close at 21:00 PM GMT on Wednesday, July 1st, 2021.
3. This giveaway is open to residents of the United Kingdom only.
4. Three (3) winners will be selected at random from all applicable entries. The prize consists of one (1) copy of Ciara Smyth's 'Not My Problem'
5. Winners will be contacted via Twitter direct message by @unitedbypop after the giveaway closes. Winners must provide United By Pop with their full name and mailing address to receive their prize. If a winner fails to do so within 24 hours of being contacted, the winner forfeits their prize and a new winner will be selected.
6. United By Pop are not responsible for prizes that are lost or damaged in the post. Prizes may take up to 6 weeks to arrive.
7. This giveaway is in no way affiliated with Twitter, Facebook, or Instagram.