Angeline Boulley on her sensational new YA thriller, Firekeeper's Daughter
"I wanted to convey that we (Native people) still exist today and are the heroes of our own stories." 
Following eighteen-year-old Daunis as she goes undercover on a mission for the FBI to discover the truth of who is trafficking drugs into the Ojibwe community, Angeline Boulley's new YA thriller, Firekeeper's Daughter, will have your heart pounding and your fingers frantically turning pages from chapter one.
We talked plot twists, the lack of representation for Native women in YA, cover art and more when were had the opportunity to chat with Angeline to celebrate the exciting release of Firekeeper's Daughter.
---
Congratulations on the release of your brilliantly page-turning new YA novel, Firekeeper's Daughter! For readers who may not yet be familiar with it, how would you entice them to pick up a copy?
Short answer: indigenous Nancy Drew.
Long answer: An 18-year-old Native American girl witnesses a murder and is thrust into an undercover investigation to discover who is distributing a deadly new drug on her Indian reservation.
Can you tell us a little bit about your inspirations behind the story?
The idea came to me when I was age 18. My friend at a different school told me about a new guy she thought I'd be interested in. I was intrigued, until a few weeks later when she told me he didn't play sports and hung out with the stoners. I played four different sports in high school, so he wasn't for me. At the end of the year, there was a huge drug bust and it turned out that the new guy had been an undercover officer! I remember thinking what might have happened if we'd met and liked each other? Or… what if it wasn't that he liked me, but that he needed my help? The story grew from the question: Why would an undercover investigation need the help of an ordinary Native American girl?
From the first page until the last, Firekeeper's Daughter sends readers on an emotional rollercoaster. Were all the twists and turns pre-planned or did any creep up on you during the writing process?
That's a great question! Some plot twists were pre-planned, but most revealed themselves while I was writing. After ten years of writing and revising, I went through many different scenarios. Basically, each character took a turn as a villain. In the end, it is similar to assembling a jigsaw puzzle and finding the right spot for each character and plot thread.
View this post on Instagram
The inclusion of the language of the Ojibwe tribe throughout the novel was wonderful to read. What was your process like in deciding how much to include and when to do so?
I wanted it to feel seamless and organic to the story. The book is told from Daunis's point of view, so the reader is inside her head. Anishinaabemowin (what the Ojibwe language is called) is connected to the Ojibwe teachings she was raised with, as well as to her very identity as a young Ojibwe woman. My biggest decision was not to include a glossary, but for the reader to glean meanings through context.
From FBI operations to drug chemistry, I can imagine the writing process included a lot of research? What was that like for you and were there any interesting facts you stumbled across that didn't make it into the novel you could share with us?
Yes! Research is an unending process. Even during the last round of copyedits on the final galleys, I'd need to research something in order to respond to a question. I wasn't able to include crime statistics on violence against Native American women and girls. On some Indian reservations, Native women are murdered at a rate that is ten times higher than that of non-Native women.
YA as a category is sadly painfully lacking in stories written by and about Native women. Did this impact the way you wrote it at all?
Yes, it did. The decision to write the story in first person point of view and in the present tense was a deliberate one. I wanted to convey that we (Native people) still exist today and are the heroes of our own stories.
Not only is the cover for Firekeeper's Daughter breathtakingly beautiful, it was also illustrated by Ojibwe artist, Moses Lunham. Do any of the illustrations have any significance to the Ojibwe tribe and if so, could you maybe tell us a little about that and how they connect to the book?
Thank you for highlighting Moses Lunham's incredible cover art! The butterfly represents metamorphosis, and the different shades of the faces symbolizes Daunis claiming her biracial identity. She is Bear Clan, so there are bears included. And the raven plays a part in the story, so he is there too. It is such a layered illustration – readers will spot different images as they progress through the story. I love that!
View this post on Instagram
You've mentioned how Firekeeper's Daughter is a story that's been with you since you were a teen. How does it feel knowing it's now in the hands of readers across the globe?
It feels surreal! Hearing from readers that they love Daunis (and the Elders) and now want to read more Native stories is profoundly satisfying to me.
Finally, if you could put a copy of Firekeeper's Daughter in teen Angeline's hands, how do you think she would react?
I'd wonder if someone had read my mind and put my innermost thoughts to paper! I would have felt "seen" in a book. There would have been many, many tears.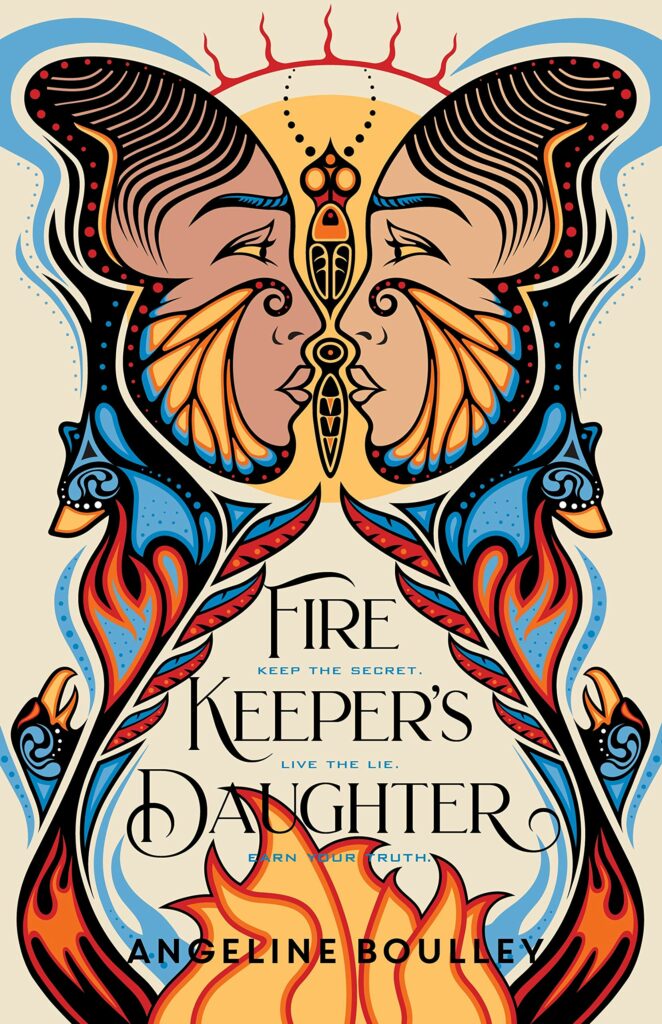 Get your copy of Firekeeper's Daughter by Angeline Boulley here.