Eric Smith on his snowy new YA rom-com, You Can Go Your Own Way
"while the heart of the story is a rom-com about two people finding each other again, it's also a story about choosing to live for yourself."
It's time to succumb to the chilly winter evenings, grab a hot chocolate and fall in love with You Can Go Your Own Way, the latest (and adorable) new YA contemporary from Eric Smith. Cute and cosy with wonderful explorations of grief and forging your own path, You Can Go Your Own Way is total rom-com movie material (we're looking at you Netflix) and we're so excited to have been able to chat to Eric all about it.
---
Hi Eric, it's so lovely to get to chat to you today to celebrate the release of your wonderful new YA novel, You Can Go Your Own Way. It's safe to say the world has gone through an… interesting time since we last spoke at the beginning of 2020 when your last novel, Don't Read the Comments was released. How have you been holding up this past year+?
Thank you for having me!
It has… been a time. I'm fortunate though. I have a job in publishing that has me mostly working at home. So, while I lost my coworking space for a while, I gained a tiny office in our upstairs hallway. A tiny bit of discomfort is a small price to pay while trying to keep my loved ones safe, you know? I spent more time with my kiddo, watched a wild amount of Disney movies, and read a lot of romantic comedies. And of course, had the joy of championing a lot of beautiful books in my life as a literary agent. I hope those books will work their way to you soon!
You Can Go Your Own Way is such a lovely and comforting read. Could you tell us a little about what inspired you to write Adam and Whitney's story?
Thank you so much! I'd been wanting to write a rom-com for a while, having been a huge fan of books by Lauren Morrill, Jennifer Dugan, Sandhya Menon… and has someone who lives in Philadelphia, a city that does not do well in snowstorms (particularly in the historic district with very tiny narrow streets!), something snowed-in felt inevitable.
A lot of Adam and Whitney's story reflects a significant piece of me growing up… the challenge to live up to something. Expectations, the hopes of other people. Adam's trying to keep the family dream alive at the expense of his own, Whitney is working tirelessly because she feels that's the only way anyone will really care about her. That was something of a common theme for me and my friends growing up.
And while the heart of the story is a rom-com about two people finding each other again, it's also a story about choosing to live for yourself.
View this post on Instagram
Arcades and pinball in particular has received a lot of love in your past two releases. I'm assuming this is a passion you share with your characters? What is it about them you love so much?
This is true! I do love video games, no doubt about that. I wanted to write about a pinball arcade because of how complicated those machines are. They require such a depth of knowledge to operate and maintain. And the nostalgia factor that they're wrapped in, from the pop culture themed ones that are attached to their time (like the wildly popular Star Trek: The Next Generation machine), made them the perfect setting to explore Adam's loss.
Plus, if this book can get teens excited about scoping out old pinball games, that'll be a fun bonus win. They are a blast, and can really feel like time capsules. Just you know, a time capsule with a lot lights and sound.
You Can Go Your Own Way highlights both the positive and negative sides of social media. As someone who has garnered quite the following online, do you think this affects the way you both write about and interact with social media?
It does! As someone who sees both the joy and negativity in that space nearly every day, I wanted to portray a bit of both of that. Adam's decision early on in the book have some pretty big consequences for Whitney. It doesn't ruin her life or anything, but heated exchanges in those spaces can be so wildly uncomfortable and traumatic.
I really do love social media, for all its occasional faults. But when you really love something, you shouldn't be afraid to comment on what's bad about it. That's how things get better.
Whitney and Adam both love gaming but in very different forms. For Whitney it's video games and Adam it's the classics he loves. If you had to choose just one gaming format to keep, which would you choose and why?
Oh no that's tough! Hahah. I suppose it would be modern games? I'm sorry! But as much as I do adore arcade cabinets and pinball machines, I can't really put them in my pocket, you know? I can carry my Nintendo Switch with me everywhere.
Although… if I could choose something in the MIDDLE of that… classic machines and modern video games… and maybe pick some older consoles, that could work. Give me a Super Nintendo with Final Fantasy III and Chrono Trigger on it any day.
View this post on Instagram
You have the chance to design your dream arcade game, what would it be, do and look like?
Oooh. You know, maybe I would make a Time Crisis-esque game? I love those games. You stand next to a friend, and shoot your way through outrageous settings, hopping up and down behind cover. They're a ton of fun.
BUT. The stories are always pretty terrible?
I'd love to get a shot at a game like that, with a deep story. Give me something complicated and intense. I know arcade games are meant to be played and finished then and there, so you can't do anything THAT wild, but… come on. Look at modern television these days, intense 30-minute episodes in mini anthologies. It can be done!
Finally, are you currently working on anything new and if so, is there anything about it you can share with us?
I have a very fun secret book being announced soon-ish, but for now… you can keep your eyes open for Freshman Orientation, the latest anthology I'm working on with Lauren Gibaldi. We did a fun book called Battle of the Bands this year that was full of interconnected stories at one school's battle of the bands night. This time around, it's at a college's first day of school.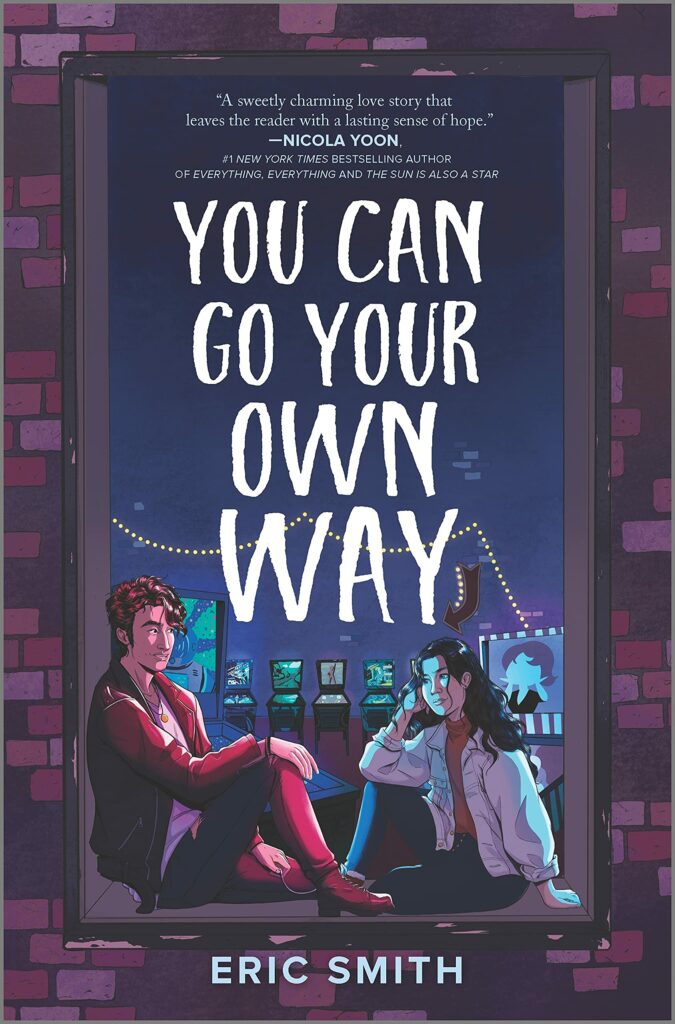 Get your copy of You Can Go Your Own Way by Eric Smith here.