Rachel Lynn Solomon on mental health, weddings and her new YA novel, We Can't Keep Meeting Like This
"I'd always wanted to write a character with OCD in a book that isn't about OCD."
Funny, honest and utterly swoon-worthy, We Can't Keep Meeting Like This, the new YA novel by Rachel Lynn Solomon, beautifully explores mental health, relationships and the uncertainty that is life after high school.
We absolutely adored this gorgeous story and couldn't have been more excited to have had the chance to ask Rachel a few questions all about it.
---
Hi Rachel, it's so lovely to chat to you again! I first want to say a huge congratulations on the release of your gorgeous new YA novel, We Can't Keep Meeting Like This. It's a truly fantastic read and one I can't wait to recommend to anyone who'll listen! Could you tell us a little about what inspired this wonderful story?
Thank you for having me back, and I'm so thrilled you enjoyed WCKMLT! Until I landed on a title, my Word document for this book was called "Summer of Weddings"—it's about a harpist and a cater-waiter who wind up working tons of the same events and are forced to reconcile their past and current feelings for each other over the course of the summer.
It was inspired by a series of books I read as part of my research for Today Tonight Tomorrow: Nora Roberts's Bride Quartet series, which I absolutely love! Rowan, my main character, was an aspiring romance author, and those were the books I decided were going to be her favorites. The Bride Quartet is about four best friends who run a wedding planning business together, and I thought it would be a lot of fun to write a YA centered on a family wedding planning business. That became my WCKMLT protagonist Quinn's family!
Despite the wildcard we've all been dealt during the year since we last spoke, you've not only released your debut adult romance novel but are now celebrating the release of your gorgeous new YA contemporary, We Can't Keep Meeting Like This. What has it been like writing and releasing new books during this time?
It's wild to be on the heels of my third pandemic book release. WCKMLT is my fifth book, which means I've now had more books released during the pandemic than before it, which is staggering to think about. I hadn't actually realized that until I typed it out just now!
Writing romance during a pandemic has been both an escape and a catharsis. It's no coincidence that there's a significant mental health element to WCKMLT and also my adult book coming out next year, which was the first book I wrote start to finish during the pandemic. One silver lining, though, is that book events have been made more accessible. While I miss in-person events, I love being able to connect with more readers virtually.
View this post on Instagram
Quinn's openness about her OCD, anxiety and experience with medication and therapy was one of my favourite parts of the book. It was incredibly refreshing to see a character discuss her mental health in a way void of any shame or stigma. Was representing Quinn and Tarek's mental health in this way a conscious decision you made or did it come naturally whilst writing?
That means so much me—thank you. It happened naturally, and I think it was in part because I was struggling, like so many of us, with my own mental health during the pandemic. My first two books dealt heavily with illness and are not romantic comedies, and I'd always wanted to write a character with OCD in a book that isn't about OCD.
Once those elements of Quinn and Tarek's characters revealed themselves, it was definitely a conscious decision to include what I hope are honest and open conversations about mental health. It was also important to me to show Quinn and Tarek on medication and in therapy and doing well, even if they occasionally have difficult days. I never want my characters' mental health to become a plot point—it's just a piece of what makes them who they are.
Just like Today Tonight Tomorrow, the love you have for Seattle shined from the pages of We Can't Keep Meeting Like This but what is it about this city you love so much and is there one place you'd class as a 'must go' for future visitors?
It's funny (and a little bittersweet) to answer this question right now because I just moved away from Seattle in April. Prior to that, I'd spent my whole life there, though I did end up in somewhere just as rainy—my husband and I relocated to Amsterdam for his job. I love it so far, but it still feels surreal!
There's so much I love about Seattle: the gloomy weather, the artistic energy, the food. I would recommend visitors spend a day exploring Ballard and Fremont, two of my favorite neighborhoods, shopping at the boutiques along Ballard Avenue, ordering a #1 and a side of roasted corn from Paseo, and taking it to Gas Works Park to eat while watching the boats in Lake Union.
Tarek is very much team grand gesture, whilst Quinn very much swings the opposite way, so I have to ask: are you team pro or anti grand gesture?
I'm somewhere in the middle! I love small, meaningful gestures, and when they come from the right person, they're everything.
View this post on Instagram
Speaking of grand gestures, do you have any favourite grand gestures from books, movies or TV shows?
So, pretty much everything Michael Vartan does in this movie is problematic when viewed through a 2021 lens, but I'll always love the grand gesture at the end of Never Been Kissed. That kiss on the baseball field—iconic.
I loved Quinn's journey with her passion for the harp. I don't think I've ever read a book with a harpist protagonist. What inspired you to give Quinn such a unique passion?
Quinn as a harpist grew out of a conversation with a friend of mine whose parents are harpists and harp-makers! My mom and grandpa played the harp as well, and I've always been awed by it. I visited that friend's parents' studio right before lockdown, and her parents helped a tremendous amount with the details in the book.
Weddings are obviously a huge theme throughout the book but if Quinn did eventually decide to get married, what do you think her wedding would look like?
This is such a fun question! I think it would be important to her that wedding be exactly what she wanted, not something she was doing just to appease someone else. Judaism would be an integral part of the ceremony, and the reception would be one big party with some kind of unconventional dessert, like a donut tower or candy bar.
I can't wait for the release of your 2022 adult romance release, Weather Girl but for our YA readers, are you currently working on anything new and if so, is there anything you can tell us about it?
I just wrapped up edits on Weather Girl, which I can't wait to people to read! It's about a TV meteorologist and a sports reporter scheming to reunite their divorced bosses. I'm currently working on my 2022 YA, See You Yesterday, about a girl trapped in a time loop on her first day of college. Aside from that, I'm brainstorming what I want to work on next—I have both a retelling and a slightly magical YA rom-com taking up pages in my notebook right now.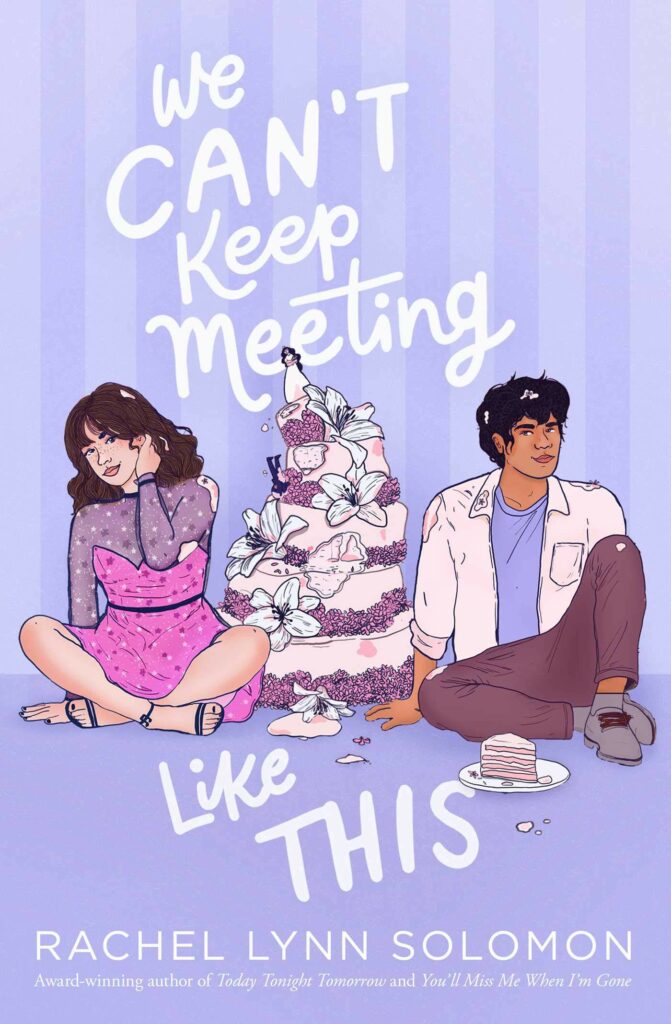 Get your copy of We Can't Keep Meeting Like This by Rachel Lynn Solomon here.