Dahlia Adler on bisexual rep in YA and her fabulous new novel, Cool for the Summer
"Do not throw away life for people who will never make it easier for you to live it."
If a fun, flirty rom-com featuring a queer love triangle, Demi Lovato appreciation and a whole lotta heart, sounds like the summer read of your dreams, firstly, you clearly have great taste and secondly, Cool for the Summer, the gorgeous new YA novel by Dahlia Adler is the perfect book for you.
Since Cool for the Summer totally stole our hearts, we couldn't be more excited about having had the honour of asking Dahlia a few questions about her fabulous new title.
---
Hi Dahlia, before we get into the questions, I wanted to say what a huge honour it is to be able to chat to you about the release of your newest YA contemporary, Cool for the Summer, which is already one of my favourite 2021 reads! You do so much for the book community and it's so exciting to be able to welcome you to the site.
Thank you! I'm always floored by the scope of the posts on United by Pop, and I'm very honored to be here!
For readers who aren't yet familiar with Cool for the Summer, how would you sell it to them in just one sentence?
Cool for the Summer is about a girl who's finally landed the guy of her dreams, only to have her unexpected(ly) female summer fling show up as a transfer student and throw it all into upheaval.
Did you always know how Lara's love triangle situation was going to play out/end or was that something that came to you as you wrote?
Oh, I always knew. Diving into compulsory heterosexuality and the way it confused Lara's feelings and made it particularly difficult to process her changing feelings was always the center of the book. But I still wanted both love interests to be people you root for, to be people who are worthy of her heart. I just knew who really had it.
View this post on Instagram
As a huge Demi Lovato fan myself, I loved the Demi love throughout the book, especially the way Lara uses her music as a confidence booster. Is there a specific song you blast when you're in the need of a confidence/mood booster?
Oh, this was absolutely ripped from me personally—"Confident" by Demi Lovato isn't just Lara's mood booster; it's mine!
There are countless swoon worthy, gut wrenching and smile inducing moments throughout Cool for the Summer. Were there any scenes that stand out to you as being particularly enjoyable or emotional to write?
Thank you! The most emotional was hands-down a specific coming out scene at the end; no spoilers beyond that, but I think any reader will know it when they see it. As for particularly enjoyable, I mean, I love all of the scenes where Lara is just…wanting. She's such a typically hormonal allosexual teen but there's so much confusion in it and writing her brain trying to catch up with her body and just not getting there was ridiculously fun for me.
As a bisexual woman yourself, how important was it to explore Lara and Jasmine's experience and questioning when it came to their own sexuality?
It was a thousand percent the center of the book for me. There's such a beautiful collection of bi rep in YA right now, but it's still pretty light on questioning, and especially the kind that doesn't come with a plethora of "hints" from throughout adolescence. Because sometimes those hints aren't there, and it doesn't make it any less legitimate when the feelings show up a little later.
As well as being an author of LGBTQIA+ novels, you also run the wonderful and highly successful website, LGBTQReads. It must feel amazing knowing so much of your work acts as a safe place for LGBTQIA+ readers to turn to?
I cannot even tell you how tightly I hold on to some of the things I've heard in response to LGBTQReads, from how much it's helped librarians assist patrons in very conservative areas to how it's brought people back to reading after they'd all but given up because they got tired of never seeing themselves. It's so much work but those messages really keep me going and remind me that there's a reason I dedicate so much time to it.
View this post on Instagram
With that being said, being a writer/anthology editor/blogger/Buzzfeed writer/A+ book recommender must take a huge amount of work. Do you have any advice for aspiring authors/bloggers in terms of balancing life/work/writing ambitions?
Heh, would you believe none of those are the most time-consuming things in my life? (Full-time job plus two young children on top of those things FTW.) The bigger you dream, the more organization and the bigger the support system you'll need in your life. I used to give as a point of advice to imagine how you want your Twitter bio to read in five years, and figure out what you need to do to get there.
But there are also only twenty-four hours in a day, and that's something I'm being very starkly reminded of these days. Be gentle with yourself, consider both what's most important and most sustainable from both mental health and financial perspectives, and limit how much work you do for free in an area you're actively looking to monetize; people will take a lot of advantage of that in this industry. Do not throw away life for people who will never make it easier for you to live it.
Cool for the Summer would make the most incredible movie. (Netflix, Disney, Universal *all other production companies* get on this now please.) If an adaptation were to be made, do you have a dream casting for any of the characters?
Agreed! Truthfully I'm so not up on young Hollywood these days, because I'm one of those pandemic "comfort watchers" who sticks to reruns of the same sitcoms over and over. If there are current teen actresses out there right now who look like teen Dianna Agron and teen Emanuelle Chriqui, please give them the parts!
Finally, do you have any upcoming projects in the works and if so, can you tell us anything about what we can look forward to seeing from you next?
I do! I'm currently revising my next Sapphic YA Romance, Home Field Advantage, which is about an aspiring cheer captain and her school's very unwelcome first female football player; hopefully, that'll be out in Summer 2022. And then my next anthology follows shortly after that, and it's a collection of fairytale reimaginings called At the Stroke of Midnight, coming Fall 2022. I do have one more thing officially in the works, but alas, can't talk about it quite yet!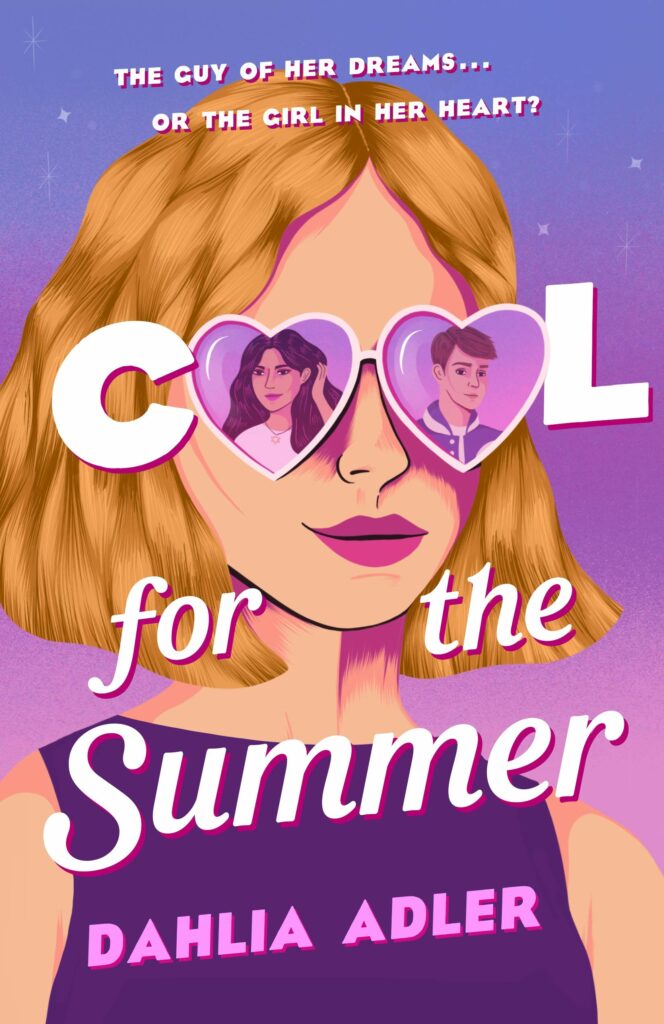 Get your copy of Cool for the Summer by Dahlia Adler here.