Sarah Kuhn on her gorgeous new YA novel, From Little Tokyo, With Love
"I was certainly writing a version of my teenage self, who felt so many things, who was angry all the time but thought she had to keep it bottled up inside."
If a modern day fairy tale featuring an adorable romance, family secrets, movie set break-ins, delicious food and a personal guided tour of the best parts of LA and Little Tokyo, From Little Tokyo, With Love, the new and gorgeous YA novel from Sarah Kuhn, is the book for you.
To celebrate the release of her gorgeous new YA contemporary, we're so excited to have had the chance to catch up with author Sarah Kuhn herself to talk all things angry girls, biracial representation in YA, upcoming projects and, of course, From Little Tokyo, With Love.
---
Hi Sarah, it's so lovely to get to chat with you today to celebrate the release of your newest YA novel, From Little Tokyo, With Love. I absolutely devoured and adored the book but for readers who are just hearing about it, what's one thing you'd like them to know about the book?
Thank you so much! I suppose I'd want people to know that it's a hopeful, joyful story about an Asian American girl who learns how to believe in happily ever after. Hope and joy can feel in short supply in this world, and "difficult" girls like Rika don't always believe they are worthy of fairy tale happy endings. I want those girls to know that you can make your happily ever after look however you want it to, in all its complexity and beauty and joy. I'll believe enough for all of us.
From Little Tokyo, With Love very much felt like a love letter to both LA and Little Tokyo at times. What is it about the area you love so much and what is one thing you'd class as a 'must experience' for people visiting?
It is exactly that, so I'm glad my love for my adopted hometown came through! I really wanted to show Los Angeles in all its beauty and magic—the general perception of the city, the area, tends to be pretty superficial and not very flattering, and LA doesn't tend to be portrayed in the same romantic light as, say, New York. But I've always found it magical—there are so many vibrant, beautiful neighborhoods brimming with history and culture, so many creative people pursuing their dreams with passion, and you don't have to go far to find pretty much any kind of nature or glorious food that your heart may desire. And Little Tokyo has always had an extra bit of magic for me—it's where so many of my intersecting communities come together, particularly the Asian American arts community, and it just feels so alive. I almost always run into someone I know as soon as I set foot on those streets. And it's impossible to choose just one thing to do there, it really depends on what you're into! There are endless delicious restaurants—like Suehiro, a chief purveyor of Japanese comfort food. There's Fugetsu-do, the legendary mochi shop that's over 100 years old. And of course wonderful cultural resources like the Japanese American National Museum and the Japanese American Cultural & Community Center, which has the garden Rika loves so much. Go there to feel instantly soothed.
View this post on Instagram
Rika's experience with her anger was so refreshing to read, as it's not a characteristic regularly seen in YA, especially in teen girls. Was there anything in particular that inspired you to write this part of her character?
I was certainly writing a version of my teenage self, who felt so many things, who was angry all the time but thought she had to keep it bottled up inside. It's interesting, because when I started writing this, I assumed the goal was for Rika to learn how to contain her anger, or to discover that she didn't need it anymore. But when I got to the end, I realized it was the opposite: she, like so many of us, needed to know that anger is not an inherently bad emotion. In fact, it can empower you. It's necessary. Perhaps that is something I needed to hear, too.
I loved the modern day fairy tale vibe From Little Tokyo, With Love had, especially with its fairy tale style mini chapters. Did you always envision taking this route with the story, or did it come to you as you wrote?
The idea to truly frame it as a modern fairy tale was definitely in my head from the start. I wanted readers to go into the story feeling like they were about to experience something truly epic. And I always love something a little unexpected, so I just thought it would be fun to frame this extremely non-princessy, non-fairy-tale type character in the most fairy tale way possible. I was hoping that by the end, Rika would realize she can have her fairy tale, she just has to be brave enough to write it herself. (I like how I say that as if I, the author, had no control over what she was doing. Sometimes I suppose it felt like I didn't. She's very bossy, and I mean that as a compliment.)
From Little Tokyo, With Love features some brilliantly honest and powerful conversations surrounding identity and more specifically, being biracial. Are these types of conversations you hope to see more of in YA and do you have any YA recommendations for readers wanting to read/support more books following biracial main characters?
Absolutely. I'm always eager for the full experiences of our very broad and sprawling Asian diaspora community to be represented in fiction—there's so much diversity under that large umbrella, and I hope for us to be seen in all our complexities and intersections. So I wanted to talk about that a little in this book, this idea that sometimes we don't feel like we belong in communities we're part of. That was honestly tough for me to express, because I love my communities so much and they have lifted me up so many times. But it does us no good to not have these tougher, more complicated conversations, and I hope we can all continue to push that forward. In terms of YA with wonderful biracial/multiracial characters, I am so in love with everything Akemi Dawn Bowman writes. Her novel, Starfish, is one of the first times I have seen myself in fiction so authentically and specifically, and she writes her characters with such nuance and empathy, it just destroys me. I also love Happily Ever Afters by Elise Bryant and Mad, Bad, & Dangerous to Know by Samira Ahmed—both beautiful and very different novels about biracial girls that crawled right into my heart.
View this post on Instagram
We've all found our lives changing in unexpected ways over the past year or so but how do you think Rika, Henry and the Rakuyama crew would be dealing with the current global pandemic?
Oh my goodness! Possible spoilers in this answer! Well, if Rika and Henry didn't end up quarantined together, Rika would probably be annoying everyone in the not-very-large Rakuyama apartment with her and Henry's constant FaceTimes and Zooms. Rory would have started a million different projects, both artsy and scientific. Belle would have finally achieved her goal of making her dog, Nak, a social media influencer. Auntie Och would be so restless, she'd kinda revert back to her teenage hellraiser years and try to convince Auntie Suzy to sneak off with her and go on joyrides in her cool convertible. When I think about this, perhaps my greatest wish is that Rika and Grace ended up quarantined together, so they could finally get to truly know each other.
Are you currently working on anything new and if so, can you give us any hints as to what we might see from you next?
Yes! I'm working on more books in my Heroine Complex series, which is all about Asian American superheroines saving the world, falling in love, and fighting ridiculous things like demonic cupcakes. And I have a super secret comics project that I'm very excited about—more on that soon, hopefully!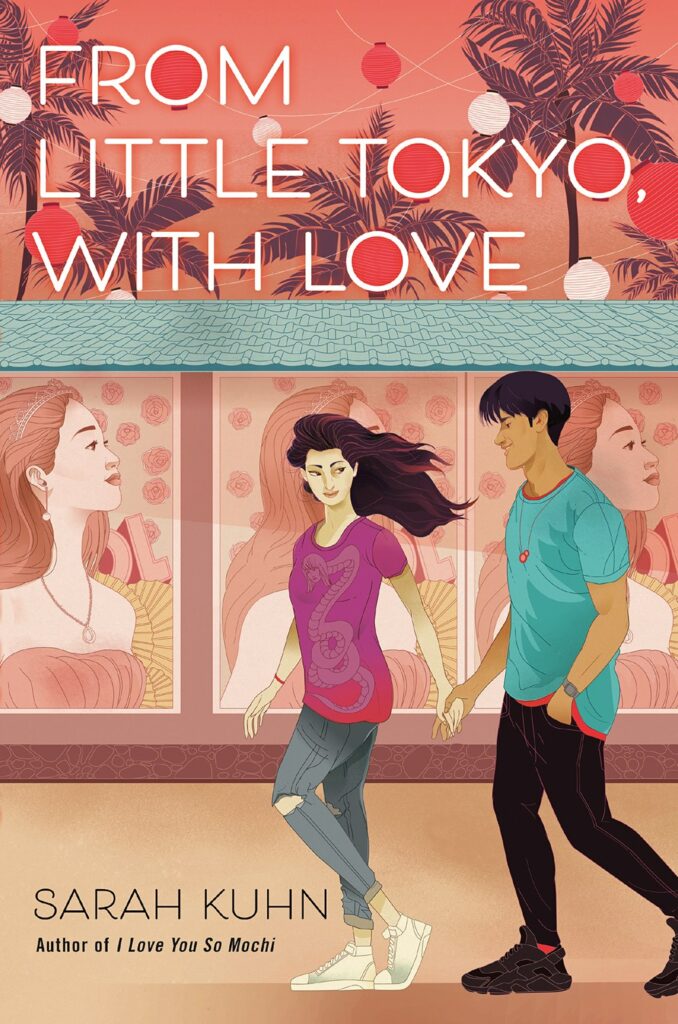 Get your copy of From Little Tokyo, With Love by Sarah Kuhn here.