Michelle Quach on her gloriously feminist YA debut, Not Here to be Liked
"I wanted to allow the characters to be flawed, and I wanted them to deal with these issues in a nuanced way."
Self aware, empowering and totally swoon-worthy, Michelle Quan's YA rom-com debut, Not Here to be Liked, brilliantly portrays the (often times confusing), journey of discovering and finding your place in feminism with nuance, fun and some A+ rivals-to-lovers tension. Perfect for fans of Moxie and Watch Us Rise, Not Here to be Liked is one of our top feminist reads of 2021 and we were lucky enough to get to ask Michelle a few questions all about it.
---
Hi Michelle, it's so great to be able to chat to you in celebration of the release your fabulous debut novel, Not Here to be Liked! How does it feel knowing this book and these characters that have been solely yours, are finally going to meet readers around the world?
Thanks so much for having me! It's definitely a surreal experience to have the book out there, and hearing from early readers has already been trippy in the most gratifying way. Sometimes I almost feel like I didn't write the book and am just a publicist for the characters.
Can you tell us a little about what inspired you to write Eliza's story?
I wrote this book for my younger self, so it's everything I ever wanted in a romance—including the things I could never quite find before, like the very specific Asian representation reflected in Eliza's background, or a 'happily ever after' for the kind of girl who's not afraid to be unlikeable. A lot was also inspired by what I remember observing as a teen (for instance, the way boys and girls were seen differently when it came to student leadership), though Eliza takes much bolder actions than I ever did!
View this post on Instagram
Eliza, Len and Winona all have very different personalities and attitudes towards life and work. Whilst writing, was there a particular character you found you saw the most of yourself in?
On the surface, I'm probably most like Eliza—when I was in high school, I was also a high-achiever who could be somewhat judgmental (though I think I did at least try harder to be nice!). But I also identify a lot with Len's philosophical grappling, as well as Winona's struggles as a POC creator.
Not Here to be Liked does such a wonderful job of discussing intersectional feminism and the pressure to be the 'model' feminist. I loved that you allowed the cast of Not Here to be Liked to be imperfect and messy as they navigated the, at times, confusing complexities of feminism. Whilst reading, I couldn't help but feel this was important for you to portray?
Yes, for sure—more than anything, I wanted to allow the characters to be flawed, and I wanted them to deal with these issues in a nuanced way. I see the book as less about dictating to readers what feminism is or isn't, and more about encouraging them to think critically and be open to growth.
It's so great that YA seems to be placing more and more stories with feminist undertones onto our shelves. It must be pretty exciting knowing that stories like Eliza's will be helping to open the eyes teen readers of all genders to intersectional feminism and the importance of equality?
Yes! I'm so thrilled to see that Eliza is in such great company, and I look forward to seeing even more underrepresented voices exploring these themes.
View this post on Instagram
The cast of Not Here to be Liked were so, well… likeable. I adored following their stories and getting to know them throughout the book! Do you ever think about them and if so, what do you they're up to right now?
Oh, totally. I bet they're all in college but stuck at home doing distance learning. (Though for their sake, I hope not.) As for Len and Eliza, I do think of them as an OTP, but I'm sure they've already run into relationship challenges that are forcing them both to grow. They seem like the type.
When it comes to feminism, is there a lesson or message you wish you'd been told at Eliza's age that you'd like to pass on to readers?
When I was Eliza's age, I was considerably less aware than she and young readers seem to be now, so they could probably teach me a thing or two! Maybe I would just say this: when it comes to sexism, sometimes neither the problems nor the solutions are as simple as they appear.
Are you currently working on anything new and if so, is there anything you could tell us about it?
I can't say too much yet, but I can share that it's another contemporary romance with characters that are very different from Len and Eliza!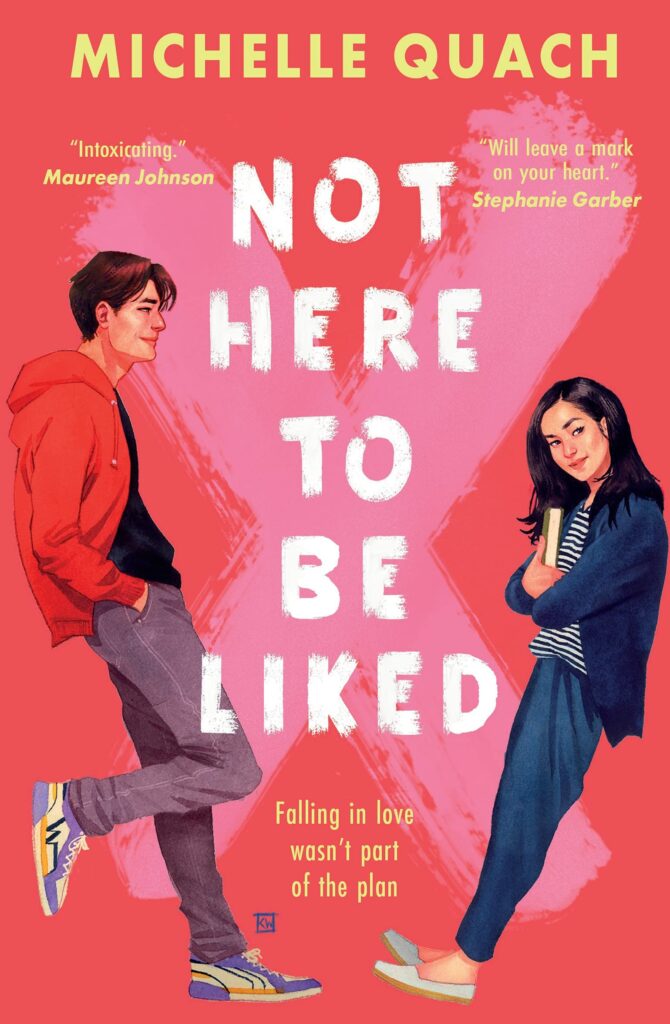 Get your copy of Not Here to be Liked by Michelle Quach here.