Nicola Yoon on her gorgeous new YA novel, Instructions for Dancing
"I gave Evie the ability to see the happy beginnings and the sad endings of other people's relationships so that she could wrestle with the question that had been haunting me."
If you love young adult literature, you're probably aware that author Nicola Yoon is one of the queens of YA contemporary. With both of her first two novels Everything, Everything and The Sun is Also a Star, becoming YA staples (and fabulous movies), we were beyond happy to hear that Nicola was releasing not one but two YA books in 2021. The first being her solo novel, Instructions for Dancing and the second, Blackout, a collaborative novel written with five other incredible best selling YA authors.
Being a huge fan of Nicola's work, we feel so honoured to have had the opportunity to talk with her all about her newest and truly wonderful solo novel, Instructions for Dancing, as well as Blackout, her new Publishing imprint and more.
---
Hi Nicola, it's such an honour to have you on the site today to chat about your gorgeous new YA novel, Instructions for Dancing. For readers who may not yet be familiar with its premise, how would you describe it to them?
Thanks so much for having me! The book is about a seventeen-year-old girl named Evie, who used to be a romantic, but has recently become quite cynical. The reason she's cynical is because her favourite couple – her parents – recently got divorced. One day, as she's giving away all her romance novels, she meets a mysterious woman who bestows her with a strange power. Whenever she sees a couple kiss for the first time, she sees the entire history of their relationship. She sees their happy beginning, the contented middle and their end. The lesson she takes from this power is that all relationships end, so why bother to fall in love in the first place? Of course, then she meets Xavier. He's handsome and a rock star and spontaneous and believes in love in the way Evie no longer does. They end up competing in a ballroom dance together and as they get closer and closer, Evie has to re-think her view of the world and decide whether or no love is worth the risk of heartbreak.
View this post on Instagram
Instructions for Dancing was such a moving and unique read. Could you tell us a little about what inspired you to write Evie's story?
I wrote Instructions for Dancing during a very hard time in my life. My mom was diagnosed with cancer. For a long time we weren't sure if she would make it. My father-in-law was also diagnosed with cancer and he died within a year. During that time I kept coming back to the question of why we allow ourselves to love other people when losing them will hurt so much? For the book, I decided to make that philosophical question more concrete. I gave Evie the ability to see the happy beginnings and the sad endings of other people's relationships so that she could wrestle with the question that had been haunting me.
As well as Instructions for Dancing, you've also recently released a sensational collaborative novel, Blackout. What was the process of writing that like for you, especially in comparison to writing a solo novel, and how did it come about?
Collaborating on Blackout was a wonderful experience! We wrote the novel during the horror of a year that was 2020 and writing provided us all with some much needed lightness. Writing a solo novel can sometimes be quite lonely. I was so grateful to be able to work with my truly wonderful and talented co-authors.
All three of your solo novels have featured brilliantly strong and endearing heroines but is there one you see the most of yourself in?
I think there's a little of me in all three characters. Funnily enough, Xavier from Instructions for Dancing is who I want to be when I grow up. He really believes in being spontaneous and living each moment in the here and now.
Your first two novels were adapted for screen, is this something you hope to see in Instructions for Dancing's future and if so, do you have a dream cast for Evie and Xavier?
Yes, I'd love to see it adapted. Honestly, I don't have a dream cast in mind. If your readers have any ideas, please tell them to let me know via social media!
Dancing plays a big part in Evie's story. Is this a passion of yours or was it something you found yourself having to research during the writing process?
My husband (fellow novelist David Yoon) and I first took ballroom dance lessons twenty years ago when we were getting married. When I decided to write this book, we took dance classes with a wonderful instructor and made each lesson into a date night. We had a great time but, let's just say, neither of us should give up our day jobs!
View this post on Instagram
You recently announced the incredibly exciting news that you and your husband, David Yoon, are starting a new imprint called Joy Revolution. Can you tell us a little more about that?
Joy Revolution is a Young Adult book imprint at Random House. It's dedicated to telling big, swoony love stories starring people of colour and written by people of colour. So often when we see people of colour in media, it's in stories about pain and struggle, racism and strife. We need those kinds of stories, but we also need happy, joyful, love stories with lots of kissing and happily-ever-afters. Pain is not all there is for people of colour.
Are you currently working on anything new and if so, can you tell us anything about it?
I'm working on quite a few new things! But! I can't tell you about any of them because my editor would kill me and I enjoy being alive 🙂
Finally, if you were given the choice to have Evie's power, do you think you'd want it?
Absolutely not! It's better to live in the here and now.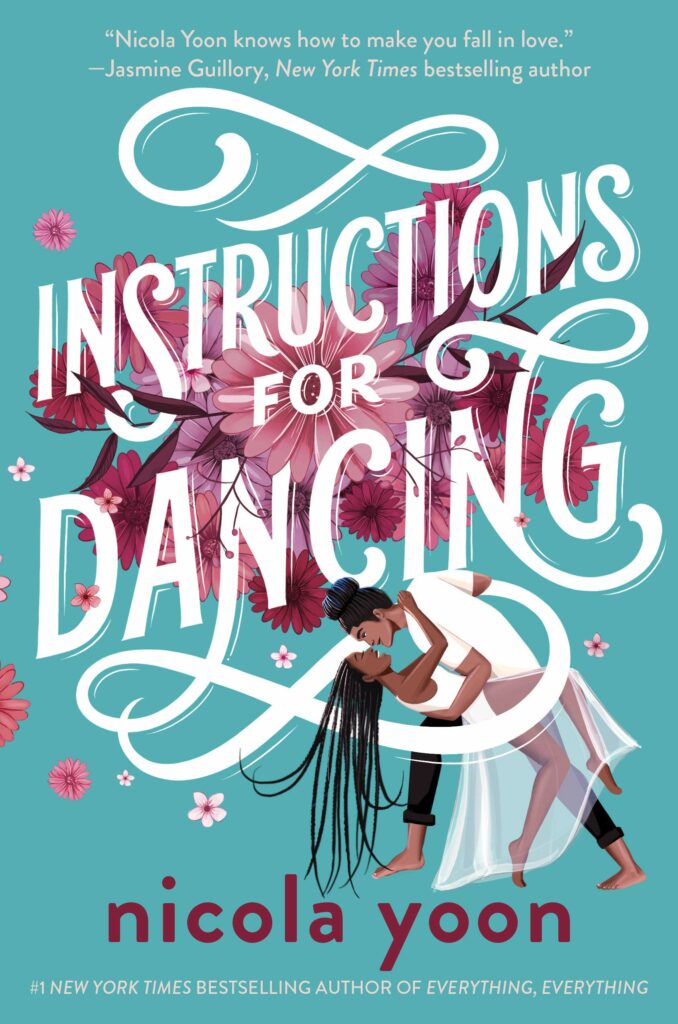 Get your copy go Instructions for Dancing by Nicola Yoon here.