Ryan La Sala on LGBTQIA+ representation in YA, cosplay and Be Dazzled
"Stories are powerful; they form the fabric of how humans think about ourselves."
Upon its January 2021 release, Be Dazzled by Ryan La Sala quickly became one of our favourite reads of the year. Fast forward to June 2021 and it's still sitting there amongst our favourites. Unabashedly queer, nerdy and honest, Be Dazzled is a breath of fresh air and we're so excited to have had the chance to chat to Ryan about all things cosplay, LGBTQIA+ representation in YA and Be Dazzled dream casting.
---
Congratulations on the release of your fabulous new book, Be Dazzled! Do you have an elevator pitch of sorts for intrigued readers who may not yet be familiar with its premise?
Okay, listen up readers. The quick pitch for Be Dazzled is: cosplaying ex-boyfriends competing against one another in a high-stakes arts and crafts competition at a comic book convention. Think Project Runway goes to Comic Con except right after a devastating breakup, and with a lot more giant fake swords and anime references. And lots of crafting puns.
The book really has a lot for everyone. It's about this amazing world of cosplay and crafts, but it's also about heartbreak, second chances, anxiety, artistry, and being brave enough to recognize an emotional tragedy as the pieces you've got to work with to create something even better.
Be Dazzled is your second published novel, with your debut, Reverie, having been released last year. How did your experience writing and publishing Be Dazzled differ from that of Reverie?
Reverie took me 10 years to finish. I mean really finish. It's this dreamy, elaborate, grand spectacle that I'm so proud of, but to me it doesn't feel like a book. I spent so long within it, it feels more like a companion. Publishing it so that others could venture inside made me a little jealous, I'll admit. But Be Dazzled is the opposite! I wrote it in one summer, in one try, and it's remarkably unchanged from the first draft I banged out between craft projects. I think it's because it's heavily inspired by my own life and my own heartbreak. Sharing it feels so good and cathartic, because I'm sharing all the things I love and want to be loved for.
View this post on Instagram
How, when and what was your biggest inspiration behind the story of Be Dazzled?
I am forever inspired by the nuclear-level creativity of fandoms. Seriously, there is nothing more powerful on this earth than the passion of total nerds, dorks, and weebs. I'm proudly part of these communities, and badly wanted to write about two queer figuring out who they are within the banana-land chaos that is a comicbook convention.
It's a personal story, too! I was once a queer kid trying to figure out how to become the person I wanted to be. I learned that we must make our selves, ourselves. Costumes are paradoxically powerful like that! Just ask a drag queen, or a renaissance faire wench. When we dress up, we become new people–a braver person, a more confident person, a funnier person–and that shows us our own potential for those things. And that's why I love cosplay so much! Cosplay is this amazing combination of self-expression and creative joy, and so it was the perfect passion to give to this book's main character, Raffy.
What made you decide to make the switch from writing fantasy to contemporary YA?
All the death threats. Kidding! I wouldn't even call it a conscious switch. I simply have so many stories I want to tell that I can't spend time paying attention to the caution tape of genre. My third book, for instance, is horror. I think this'll just be the way it is for me and my writing. I will continue popping out of different sections of the bookstore, like a gay whack-a-mole, or that very persistent pink stain from The Cat in the Hat Comes Back.
Be Dazzled is filled with vibrance, pride and creativity, I can imagine it was a lot of fun to write? Was there a specific scene, moment or character you found the most enjoyment in creating?
Oh this book was pure joy to put down on paper. I actually do love making costumes, just like in the book! As a writer, there's something so incredibly special about articulating your own, personal happiness for others, and that's what it felt like writing about the elbarotate, gorgeous costumes in Be Dazzled (and the absolutely wild process of creating each one). It's all real stuff, and it's specifically real to me. Writing through Raffy's hands felt like working with my own, and I'm glad so many readers felt the joy on the page.
The importance of LGBTQIA+ representation in fiction is indisputable and watching it become a larger fixture in YA over the past few years has been wonderful to watch. How does it feel knowing your books have added to the pool of stories that are helping change the world in its acceptance and perception of queer individuals and allowing those same individuals to see themselves and their love stories reflected back at them?
The great fortune of my life, and my art, is that I've gotten to see firsthand the positive impact it's had on the world around me, for the people I love. Stories are powerful; they form the fabric of how humans think about ourselves. Watching Reverie and Be Dazzled used as a proof-of-concept for even more uncompromisingly queer stories feels incredible, and emotional. And very powerful. If my work can open up space for more voices, with even more diversity, I will have done my job and our reality will have been better for it. I consider that a great honor.
View this post on Instagram
If there's one thing that's very clear, it's that Be Dazzled would make the BEST rom-com movie or TV series. If this were to happen (fingers crossed) do you have a dream casting for any of the characters?
Well clearly I'm playing Evie–Raffy's eccentric, bitchtastic mother–in drag. We're all clear on this, right? Me, or Catherine O'Hara reprising her role as Lydia's mother from Beetlejuice, if she's not busy. As for the main characters, I would love to cast some unknown teen talents and help create new careers, especially if they're queer and playing my queer characters. I also have this vision of doing an elaborate casting call for all the extras in the big con scenes. Imagine all those cosplayers! Imagine giving them a chance to show off the way they deserve!
For all the current and future Ryan La Sala mega fans out there desperate for more, is there anything you're currently working on that you can tell us about?
We're going to horror next, kiddos! Next summer, I'm coming out with a hyper-queer, super-scary horror called The Honeys about a genderfluid teen named Mars infiltrating a group of pretty, popular girls he thinks were involved in the death of his sister. It all takes place at a bucolic, picturesque summer camp. Think Heathers, but Cottagecore. Midsommar but the Catskills. And, yes, the book has quite a bit to do with the strange, seemingly sweet beehives the girls maintain behind their cabin. I cannot wait for people to read it and weep. Weep sweet, golden tears of honey. Hehe.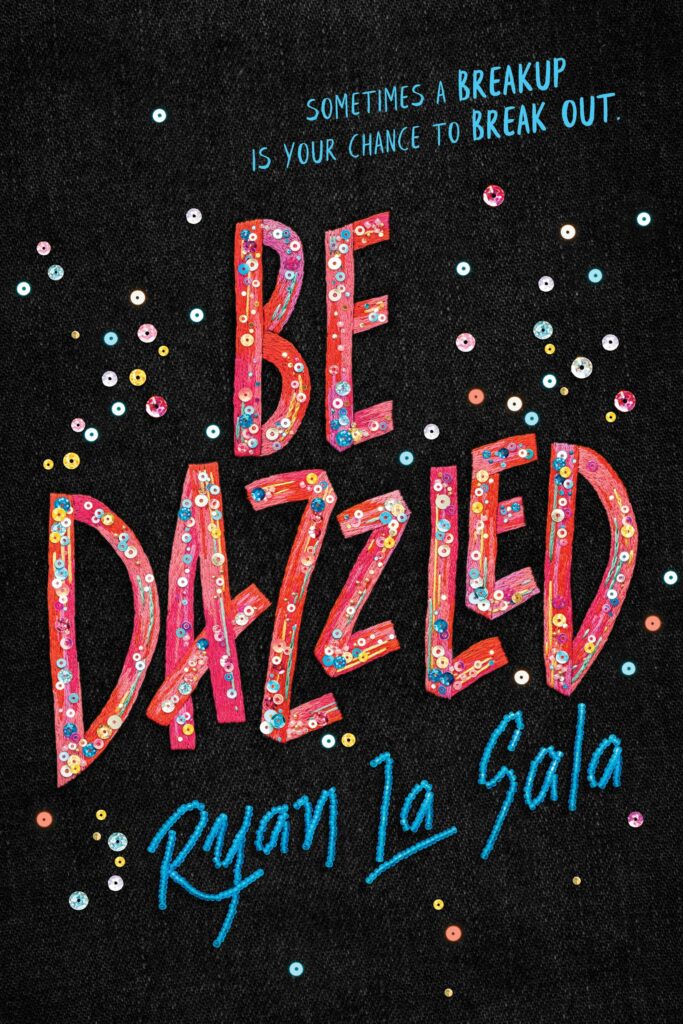 Get your copy of Be Dazzled by Ryan La Sala here.