Jason June on the personal inspiration behind his YA debut, Jay's Gay Agenda
"That's what I was trying to pull on the whole time writing this book, that magic of being seen as a romantic and sexual being for the first time."
If you're in the market for a laugh out loud, sex positive, pretty darn adorable queer rom-com, Jason June's YA debut, Jay's Gay Agenda is the book for you and we're so excited to have been able to chat to Jason June all about it.
---
Hi Jason June, it's so lovely to have you on the site to celebrate the release of your debut YA novel, Jay's Gay Agenda. How has post release life been treating you, now that your debut is out in the world and in the hands of readers?
Thank you so much for having me here and for all your support of Jay's Gay Agenda! It's been so wild to have JGA out in the world! The best part has been hearing directly from readers who relate to Jay, or tell me how these characters have brought new perspective into their lives, or who write how they're going to share this with others in their life, or seeing gorgeous bookstagram posts. It's just so much fun!
Could you tell us a little about what inspired you to write Jay's story?
JGA is very loosely based on my experiences as the only out queer kid at my rural eastern Washington high school. I didn't get to jump into a queer community until college, but I couldn't stop thinking about what that would have been like if I got to have gay relationship milestones in high school, so I used that as the seed for the book along with my Type-A Virgo tendencies of list-making, which led to the creation of the titular Gay Agenda.
Jay's Gay Agenda is filled with funny, heart-warming, heart breaking, wild and dramatic scenes but did you have a favourite to write or any that didn't make the cut?
I really really really love the ending. It's stayed the same from first draft to publication, and without giving too much away, I think it's such a tender moment of vulnerability for all parties involved, acknowledging that they've done wrong or acknowledging that they've been hurt. That sounds really vague, but I think it's such a special thing about humanity how sometimes our bonds can become stronger when we take true accountability for our mistakes.
View this post on Instagram
What was your journey like writing and eventually publishing Jay's Gay Agenda like?
The writing journey was so fun and refreshing. I started writing Jay when I was in this slump of selling any books. It had been three years since I had a book sale, and I had yet to sell a novel (I also write picture books and chapter books). I had tried to write middle grade fantasy and after my third manuscript hadn't been picked up, I needed a palate cleanser. So I started reading a ton of YA contemporary, and in reading these books, I realized there was a magic to real-life. So instead of focusing on literal magic like fairies and witches and wizards, I wanted to write a story about the magic of being a gay teen, and JGA was born. It was the first time where the characters were just there in my head, and the story just seemed to flow naturally. And it was such a happy process for me, because I wanted this book to be all about queer joy. I think I had a smile on my face the whole time, going for the tone of a sex-positive Disney Channel Original Movie. And the publishing part of this has been just as joyful, especially getting reviews from queer folks who say that this story meant something to them.
You've mentioned that Jay's Gay Agenda was, in part, inspired by your life growing up. Could you tell us a little more about that?
The main similarity Jay and I have is that we were both the only out queer person at our rural high schools. Being the only one creates this weird conundrum of feeling like you're on a lonely island while also feeling like you stick out like a rainbow-colored sore thumb. But ultimately for me and Jay, the loneliness was felt the heaviest because we both wanted a relationship that we couldn't have simply because there was literally no one around who was interested in us. But one of the most magical times of my life was when I was finally able to be gay, and I wanted to capture that feeling of magic instead of sorrow in JGA. All the magic from first dates and kisses and hook-ups, from learning what I wanted and needed in a relationship through mistakes I made that hurt others and mistakes others made that hurt me, from feeling with certainty for the first time that there's someone who I wanted to be my boyfriend and who wanted me back. That's what I was trying to pull on the whole time writing this book, that magic of being seen as a romantic and sexual being for the first time.
2021 has already gifted us with countless wonderful LGBTQIA+ reads but are there any you've read and love that you'd like to point fans of Jay's Gay Agenda towards?
Ohmigawd YES! Here are three that I read recently that I can't stop thinking about:
Jonny Garza Villa's FIFTEEN HUNDRED MILES FROM THE SUN. It follows Julián, a Latinx gay senior, as he gets drunk and accidentally comes out online, unleashing a whole storm of excitement (a Cutie McCuterson DMs him after coming out) and anxiety (having to still stay in the closet when it comes to his dad). Jonny has so perfectly found that balance of jubilation at being yourself after you come out that can come hand in hand with fear when we're still in an environment that's not safe. It's so beautifully done, with both laugh-out-loud and heart-clutching moments.
Ashley Shuttleworth's A DARK AND HOLLOW STAR. This is an epic high fantasy told from four POVs, and they're all queer! It was so amazing to get all this magical action and high stakes and be surrounded by queerness!
Emery Lee's MEET CUTE DIARY. In this we follow Noah, a transgender teen, who runs a blog full of trans happily ever afters. But, all the stories are fiction. And when a troll calls Noah out for making up stories, Noah starts a whole fake-dating escapade to get real-life material that teaches him so much about relationships and what makes a good partner. I especially loved how Emery explores pronouns and gender here, and everyone should read it!
View this post on Instagram
What is one message you'd like readers to take away upon reading Jay's Gay Agenda?
I hope readers understand that it's okay to make mistakes in relationships. I think for so many queer people we feel like we have to make up for lost time when we finally get to an area with an LGBTQIA+ community or when we are able to safely come out, and we can rush into experiences we've been longing to have. That is so natural, but when you rush, it's common to mess up and unintentionally hurt people. You can absolutely come back from that, and hurting someone doesn't automatically make you a bad person or unworthy of love. What's important is that you own up to your mistakes, and show through your actions that you are going to do better in the future. So many times, messing up and showing your weaknesses, then making up for those mistakes, can make a relationship stronger than if the mistake had never been made in the first place.
I absolutely loved the chapter titles you came up with. Did you have a process for creating these and do you have an all time favourite?
Thank you so much! I wanted the chapter titles to mimic the Gay Agenda, but also sort of be their opposite. So while the Gay Agenda is full of experiences Jay absolutely wants to have and makes plans to make them happen, the chapter titles are supposed to be events (sometimes good, sometimes bad) that Jay never saw coming and no amount of planning could have changed. They act as a sort of reminder to Jay and to all Type-A people like him that sometimes you just have to go with what life throws at you. I think my favorite is the title of Chapter 4: Humiliate Yourself in Front of a VSB. I just love that it sums up this meet cute not going anything like how Jay imagined it, and that we get a peek into Jay and Lu's friendship with the acronym VSB (Very Sexy Boy).
Are you currently working on anything new and if so, is there anything you can tell us about it?
Yes! I'm currently working on my second novel with HarperTeen called Out of the Blue. It's a contemporary YA with light magical elements featuring queer merpeople! It's dual POV between a merperson (Ross) who has to come on land for a month to help a human and the recently dumped lifeguard (Sean) that Ross fake dates to help Sean save face in front of his ex. And we all know what happens when fake dating ensues! This is about romance helping us discover parts of ourselves we hadn't yet realized, and it also explores the whole emotional journey of having to choose between love for a person and love for your home when you literally have to choose one over the other. I'm so excited for it!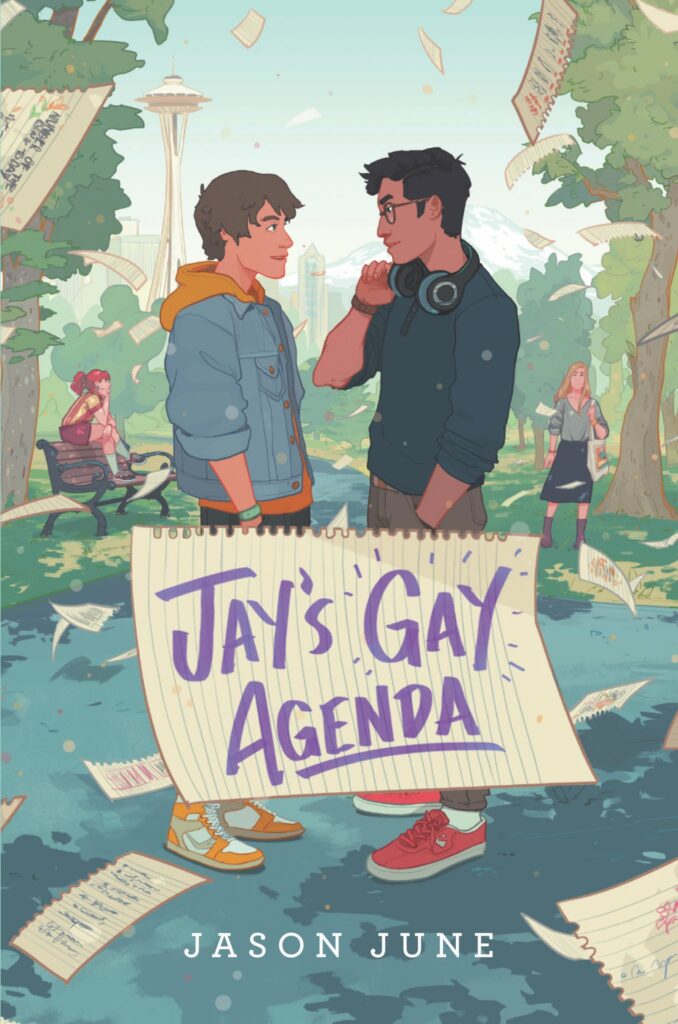 Get your copy of Jay's Gay Agenda by Jason June here.