Ashley Shuttleworth on what writing LGBTQIA+ rep in YA means to them
"it was my aim and hope in writing this book to be the change I want to see in the world"
This guest post was kindly written by Ashley Shuttleworth, author of A Dark and Hollow Star
ME, FOR THE VERY FIRST TIME
By Ashley Shuttleworth
Books have always meant a great deal to me. They've been some of my best friends; a reprieve from my troubles whenever they became too overwhelming; the experience of magic and adventure so many of us wish we could experience in reality, to some extent. Reading is an act of speaking directly with one's soul, I often feel—the voices we encounter that strike us most profoundly are usually the ones that reflect our own thoughts and emotions, that put to words something we're passionate about, but perhaps have no words ourselves yet to lend our own voice to.
Books are one of the best tools we have for self-discovery and learning to accept ourselves for who we are. But as incredible as they've been and continue to be, growing up, the ones I pulled off the shelves in bookstores were incredibly lacking in several areas, one of which being: queer representation.
View this post on Instagram
That isn't to say there weren't books out there! In 2009, for example, Malinda Lo published a beautiful YA Fantasy with main character bisexual representation titled ASH, and even though I didn't discover it until a few years back, it's one of my favourite reads. But before that, when I was a teen, when I went into a bookstore and selected a book at random, the likelihood of that book having any LGBTQ+ representation was pretty well zero. If I wanted to read a YA with any queer characters, I would have had to research it deeply before my trip, and even then, it would have been an incredibly small-to-nonexistent market to choose from, for what I was interested in reading at the time—and teenage Ashley never thought to do that.
It was through reading and writing fanfiction that I began to learn a language that would eventually help me sort out both my sexuality and gender. It wasn't, however, until my mid 20s that I encountered the term "pansexual"—through a Spock/Kirk fanfic, I'll have it known, so cheers to that—and immediately felt a "click" in me, an oh, this is who I am. This is me. It was this nonchalant encounter, a seemingly insignificant thing, one written sentence—and all of a sudden I was seeing me for the very first time, wonderful and on the road to whole; a me I could have met and had all that much longer to get to know, if the early 2000s had more diversity in their traditionally published books. If the YA fantasies I gravitated to in my youth depicted queer main characters in any significant, relatable way.
And so, I found my drive. I'd always wanted to be an author—have been writing stories for such a long time—but armed now with the knowledge and experience of this key moment in my life, I became even more determined to see this dream a reality.
View this post on Instagram
A DARK AND HOLLOW STAR is the book I wish I'd had as a teen. With a main and supporting cast that's almost entirely queer; with a variety of sexual identities and genders; with a world that's just as beautifully diverse as the one in which we live, it was my aim and hope in writing this book to be the change I want to see in the world, the increase of the likelihood I needed once upon a time, of a teen stumbling across themselves in the pages of a traditionally published book, pulled off the shelf at random in a library, a school, a bookstore, with no more thought than "hey, this sounds like an exciting read".
A DARK AND HOLLOW STAR is the book I spent my whole life learning how to tell, and it certainly isn't perfect, but with it I'm adding a tool to the box for the teens to come—a tool they can pick up and examine and use if they like, to build themselves, to add to their collection and make their own and one day lend their voice to the world as well, in an even better way than I managed, so that the conversation continues to evolve. So that the queer content continues to grow. So that more and more people feel heard the way they deserve to be, and seen, and discover them for the very first time too, and if I accomplish nothing else in this life, the chance I've been given to make someone else's even just a little better will always be one of the things I'm most proud of doing.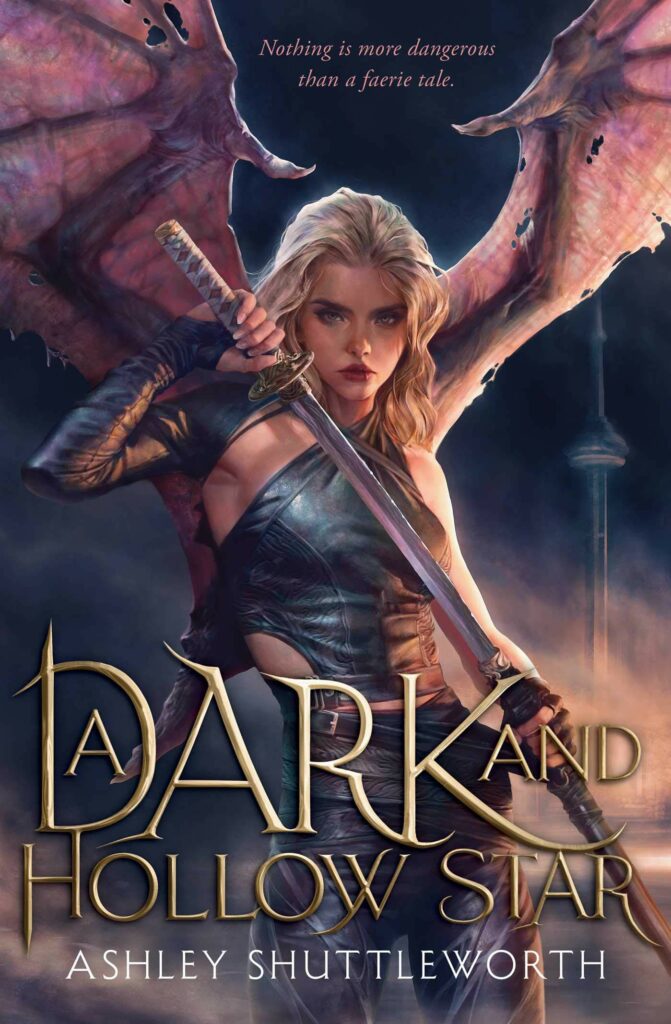 Get your copy of A Dark and Hollow Star by Ashley Shuttleworth here