Back in May, the Italian band Måneskin won the Eurovision Song Contest 2021. Little did they know how big they would get after winning this enormous competition.
Måneskin is for sure not just a Eurovision winner. Having reached the No. 1 spot in the Global Chart with their cover on "Beggin"' and having more than 50 million monthly listeners(!) on Spotify, could you say that this group is quickly becoming one of the biggest bands EVER.
While fan accounts from all over the world are popping up on social media, we need to know from their fanbase: Why is this band so special to them?
Most of the fans started to recognize Måneskin because of their participation in the Eurovision Song Contest. "The moment when Måneskin's video for their song 'Zitti E Buoni' started, I was hooked. After that, I immediately listened to their entire discography and looked up interviews to get to know the band. The rest is history," says @escjuliaa, who has a fan account on Twitter.
"The first thing I noticed about them was their styling. I have recently become very interested in fashion and styling, so they caught my eye. Although they wear everything so well, the real credit has to go to their stylist Nick Cerioni, whom I adore. Secondly their music is really good. They write, compose and arrange everything themselves," she tells us.
She adds, "But what I love about them even more is that they have quite controversial opinions, compared to the generally conservative, Catholic Italy where they're from. However, they are not afraid to speak their minds and do what they love and makes them happy. Which is their message, and a very important one I think. To me, they are a daily reminder to be yourself unapologetically. The complete freedom of being myself. They voice my thoughts and concerns through their music and they show me through their day-to-day behavior, that in the end, nobody's opinion matters, except for your own."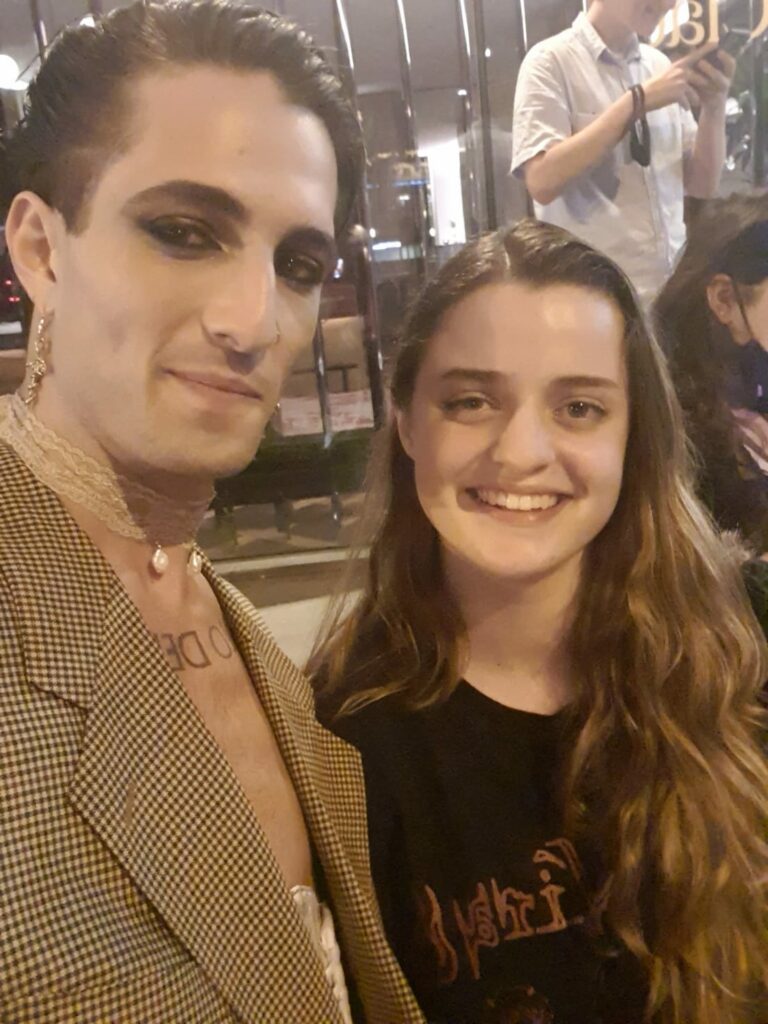 Someone who also has a fan account that is dedicated to this band is Twitter user @TEATRODIRAI. She decided to make a fan account for the band because she felt really connected with them after listening to some of their music and watching them in interviews. "They symbolize that it's okay to be yourself even if that is very unconventional in this society. Their music, their style, and how they express themselves really spoke to me because it's kind of like how I always wanted to express myself," she says.
"To say what my favorite song is of them is really hard to say. But I think I will go with 'VENT'ANNI' at the moment, because the more I've thought about it, the more I find myself in the lyrics," she continues. "I've always felt a need to be different. 'VENT'ANNI' really symbolizes me that conflict I feel inside me, of wanting to be different, wanting to be someone in this world but being so young."
Someone who definitely can relate to this is @minsehunie, who started to notice the band because of a friend. "Måneskin holds a special place in my heart (and my music playlist). I can feel the authenticity through the music. It just sounds very cliche but they mean freedom to me. I'm free to express myself: I'm free to feel sad, to feel happy, but I'm also free to act a little crazy. A lot of their songs encourage me to be myself," she says.
She also had the honor of meeting them. "I met them outside of the studio from a Dutch TV show," she explains. "The whole day was confusing and not planned at all. Unexpectedly, they showed up and the moment I saw them, my whole body was shaking. I totally forgot how to speak English for a minute. When I met Victoria [the bassist], I asked if she was okay and if this wasn't too overwhelming, since it was really crowded outside. Thankfully, she said she was fine. Later on I also met the singer, Damiano. Unfortunately, I didn't have the chance to meet Ethan [the drummer] and Thomas [the guitarist], but I'd love to meet them next time."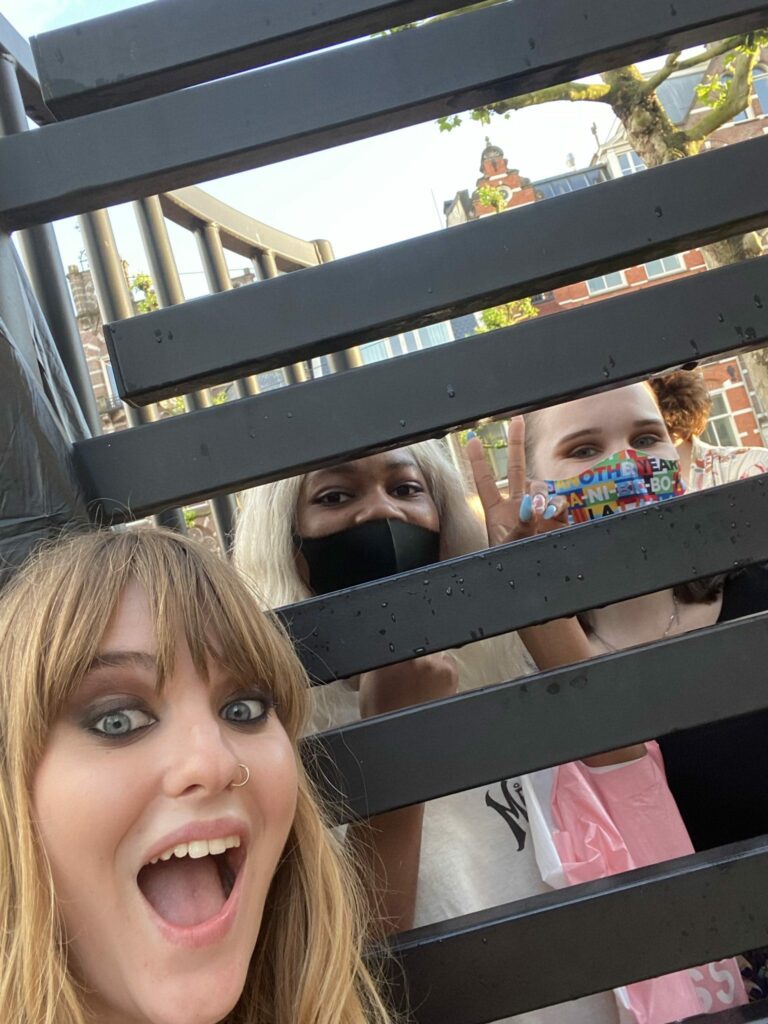 Another lucky fan is @hk1ttybrat. "I saw them twice, and I was lucky to get an autograph from Ethan," she says. "It's a piece of paper which says: 'For Naomi. Måneskin <3.' He was super sweet and when he wanted to give me the piece of paper back he didn't saw me anymore, so he was calling my name. It was such a relief for him when he found me again in the crowd."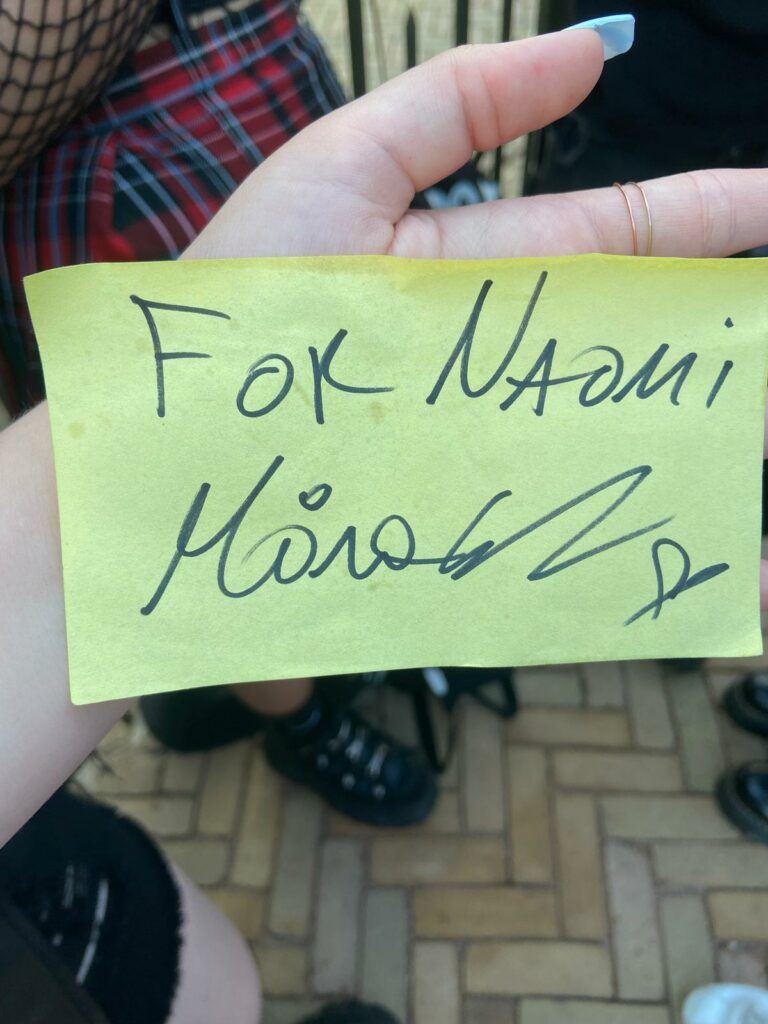 "Måneskin is really unique to me. They bring rock music back to the youth. One of my favorite songs is 'LA PAURA DEL BUIO'; you can hear the emotions in Damiano's voice, which is really beautiful. For me, the band is a reminder that I can be myself and that I don't have to worry about what someone thinks of me."
Honestly? Because of these beautiful fan stories, we love Måneskin even more!