Farah Heron on her gorgeously floral YA debut, Tahira in Bloom
"I wanted to create my own diverse, accepting small town."
Filled with flowers, romance and cosy small town hijinks, Farah Heron's YA debut, Tahira in Bloom, is one of the loveliest YA rom-com reads of 2021 and ideal for anyone looking to add a touch of summer and colour into their winter reading. To celebrate its release, we couldn't have been more excited to chat to Farah all about her gorgeous new title, its inspirations and more.
---
Hi Farah! It's wonderful to get to chat to you today about your gorgeous YA debut, Tahira in Bloom. For readers just hearing about it, do you have an elevator pitch you could share with us?
Tahira in Bloom is about Tahira, a teen fashion designer who's coveted fashion internship falls through, who is forced to work in her aunt's tiny boutique in a small town all summer. While there she immediately butts heads with Rowan, the cute, but grumpy plant-nerd next door. When she learns a local floral competition can get her credibility in the style world, she convinces Rowan to teach her everything she needs to know about flowers. As they get to know each other, she discovers that Rowan isn't that different from her at all.
Can you tell us a little about the inspirations behind Tahira in Bloom?
My main inspiration for this book were the teen romances I used to read as a kid. My favourites were always low angst, and first summer love and fish out of water themes were common. This book was conceived of, and written after the pandemic started, so I drew upon my favourite comfort TV shows at the time—Netflix's Big Flower Fight for the over the top floral aesthetics, and Schitt's Creek for the urban people stuck in a rural community. One of the things I really loved about Schitt's Creek specifically, was that it was set in this tiny, but diverse small town. I loved that the show portrayed diversity in rural settings without the story, or the main conflict being about diversity. I wanted to create my own diverse, accepting small town.
Do you ever catch yourself thinking about Tahira, Rowan, Juniper, Leanne and the rest of the cast at all and if so, what do you think they're up to now?
Actually, yes! I'm currently working on my next YA book, and it's set in the same universe as Tahira in Bloom, so I am revisiting these favourite characters! I love figuring out how Tahira and Rowan are doing a year later. Tahira is still learning about flowers and floriculture and is exploring adding more botanical prints in her fashion designs. And Rowan has settled perfectly in the big city and has become a style icon with barely any effort. They are still together and very happy. And most importantly, Tahira, Rowan, Juniper, and Leanne are still as close as ever as they transition from their teenage years to adulthood.
View this post on Instagram
What inspired you to take the leap from writing adult romance to YA?
I never intended to write YA when I started writing, but I decided to give the new age category a try in early 2020, mostly because of my kids. I have a 14-year-old daughter and an 18-year-old son, so I have been surrounded by teenagers and teenage issues, desires, and concerns for a while now. I also used to be a youth counsellor in a high school, so I understand teen thought processes pretty well. My son just started university, and helping him decide where to go and what to study made me think about how unique this time in a young person's life is—they have to figure out who they are and what they value, while also making choices that will affect the rest of their lives. Both of my kids are very artistic and chose to attend art high school, like Tahira does. Between my kids and their friends, I have been so impressed at the drive, determination, and ambition arts-focused kids can be.
I also wanted to write a book about kids like them—teenagers of colour from Toronto who grew up with diversity. Kids who are the grandchildren of immigrants. South Asian Muslim teens who don't struggle with that identity, who have supportive, liberal parents, and who live all parts of their identity with harmony.
If you were to enter The Bloom (the flower arranging contest featured in the book) what would your sculpture design be and do you have a favourite flower you'd have to include?
What an amazing question! I honestly am not sure I would even enter the Bloom, because I am terrible at keeping plants alive! But I think if I did, I would want to do something that incorporates water lilies and lotus flowers, as they are my favourite flowers. I also love the idea of a sculpture based on a dress. I can imagine recreating a classic Dior ballgown out of lotus flowers would be spectacular.
There's a lot of flower knowledge throughout the book. Is this something you knew about before writing or did it take a lot of research? If so, what was the most interesting flower fact you stumbled across?
Although I love flowers and could spend hours happily touring gardens and greenhouses of any kind, I myself am terrible at gardening. I have failed every time I have tried. I can't even keep my houseplants alive! So I needed to do a lot of research for this book. A lot came from watching The Big Flower Fight and taking notes about which flowers each of the sculptors used on their projects. I also watched floral design videos on YouTube and watched a video tour of a large commercial greenhouse. I think learning about the scale and size of these commercial operations was the thing I found the most fascinating. I would love to see one of those massive greenhouses in person one day. I think not knowing much about the industry helped me, because I could learn about flowers along with Tahira.
The story is set in a fictional town near Niagara, Ontario, and that's just a few hours from where I live, so I could have visited commercial greenhouses in the area for research. But thanks to the pandemic, I was not able to get there while I was researching and writing the book. Hopefully I'll be able to go for a celebration getaway after release!
View this post on Instagram
Having now written both adult and YA, what did you find to be the biggest difference between writing the two and did you find yourself preferencing the experience of one over the other at all?
For me the biggest difference between YA and Adult is the characters voice. I write my YAs in first person point of view, while my adult books are all in third. I feel the first person POV allows me to go even deeper into the thoughts and experiences of the character, and it better suits the self-discovery in coming-of-age stories. My favourite thing about writing teenage characters is that almost all their experiencers are brand new, to they can feel so much more intense and important in their lives. Feelings are big, and everything that happens feels monumental. In my adult books I have the opportunity to bring more comedy to my stories. The characters can be more jaded and sarcastic since they have seen enough of the world to recognise the absurdities. I really enjoy writing both age categories, and I don't have a definite preference for one over the other, but I will say that it's certainly a challenge to move between them when moving from one project to another!
Are you currently working on anything new and if so, is there anything you can tell us about it?
After Tahira in Bloom is released, my next release is Kamila Knows Best, which is an adult rom-com out in March 2022. This book is a retelling of Jane Austen's Emma, and it's full of Bollywood, vibrant parties, and lots and lots of dogs. Kamila is full of life, and fiercely loves her friends and family. Falling in love with her corporate CEO best friend takes her by complete surprise.
After Kamila Knows Best, I'll have another YA book out next fall. This book takes place in Tahira's world but follows another young couple falling in love. I don't want to give away too much now, but where Tahira was about flowers and art, this book is about STEM pursuits, video games, with a touch of baking. I can't wait to talk more about it!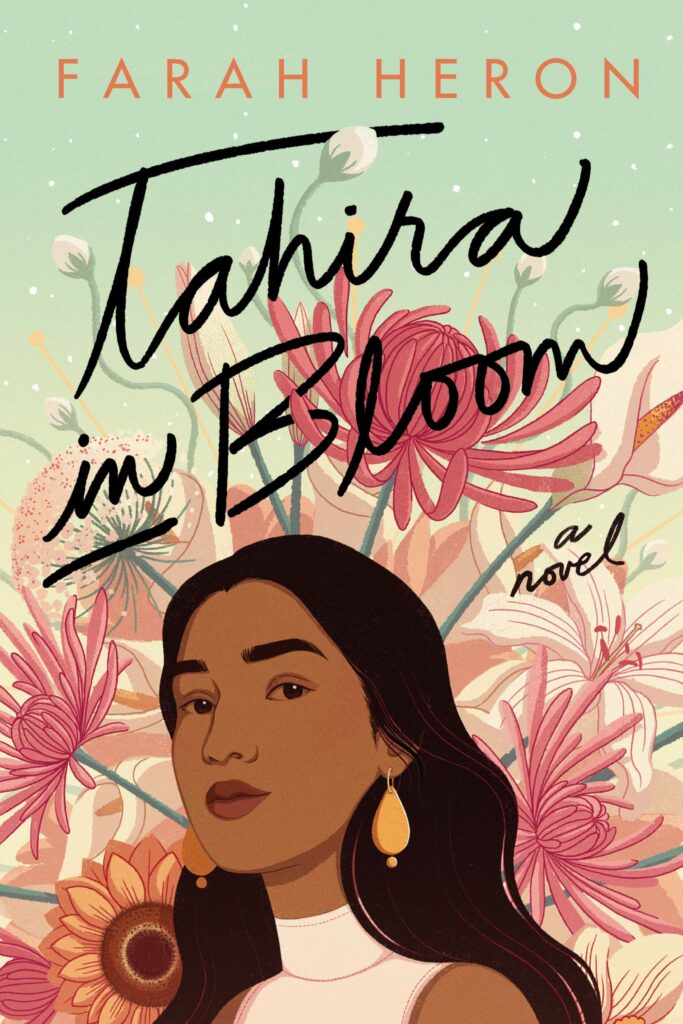 Get your copy of Tahira in Bloom by Farah Heron here.