Kalynn Bayron on killer plants, homophobia in YA and her magical new book, This Poison Heart
"As a creator, I can imagine a world where queer people aren't harmed by the hatred of homophobes."
The Secret Garden meets Little Shop of Horrors in Kalynn Bayron's twisty and wonderfully magical new YA contemporary fantasy, This Poison Heart.
"When Briseis's aunt dies and wills her a dilapidated estate in rural New York, Bri and her parents decide to leave Brooklyn behind for the summer. Hopefully there, surrounded by plants and flowers, Bri will finally learn to control her gift. But their new home is sinister in ways they could never have imagined–it comes with a specific set of instructions, an old-school apothecary, and a walled garden filled with the deadliest botanicals in the world that can only be entered by those who share Bri's unique family lineage.
When strangers begin to arrive on their doorstep, asking for tinctures and elixirs, Bri learns she has a surprising talent for creating them. One of the visitors is Marie, a mysterious young woman who Bri befriends, only to find that Marie is keeping dark secrets about the history of the estate and its surrounding community. There is more to Bri's sudden inheritance than she could have imagined, and she is determined to uncover it . . . until a nefarious group comes after her in search of a rare and dangerous immortality elixir. Up against a centuries-old curse and the deadliest plant on earth, Bri must harness her gift to protect herself and her family."
This Poison Heart is a beautifully unique and captivating story of magic, family, love and secrets and we're so excited to have had the chance to chat to Kalynn all about it.
---
Hi Kalynn, it's so great to have you on the site again. It's been a pretty wild year+ since we last spoke to celebrate the release of your Cinderella is Dead. How have things been for you since its release?
Things have been wonderful! I'm now endlessly busy and I have more deadlines than I can count but I'm so grateful to the readers, booksellers, librarians, educators, and publishing professionals who have helped me realize this dream. It's been completely surreal and so incredibly gratifying. I'm excited to, hopefully, get to go out and get some face-to-face time with the bookish community.
This Poison Heart is one of the most original fantasies I've read in a long time. What inspired you to write Briseis's story?
I wanted to write something gothic inspired, but I wanted to do it against a contemporary backdrop and I wanted to center characters who have rarely had a chance to see themselves in a story like this.
View this post on Instagram
This Poison Heart blew my mind with its intricacies and unique plot points. How on earth did you come up with all these brilliant ideas?
I am the type of person who holds on to the most random information and somehow finds a way to weave it together into these weird and wonderful stories. The Poison Garden in This Poison Heart is a combination of the 1993 film version of The Secret Garden and the Alnwick Garden in Northumberland. I was also obsessed with Little Shop of Horrors as a kid and, being the person I am, I always wondered what might have happened to Mary if she'd gone into the garden and discovered something like the Audrey II. And then of course there's the Greek mythology piece. I've always been fascinated by Greek myths but I'm drawn to the more obscure characters who've clearly been shoehorned into the narrative at later dates. All of these things were in my head and I decided to attempt to weave them together.
I absolutely adored Briseis and her mums with their back and forth banter but did you have a favourite character or relationship to write?
I loved writing Thandie (Mom). She and I have very similar personalities and it was really fun to put so much of myself into a character. I hadn't done that before. Her relationship with Mo and their subsequent relationship with Briseis is my favourite part of this story. I love the way they love each other.
If you were to create your dream garden, what would it look like and/or what is one thing it would have to include?
I am a huge fan of dark creepy gardens so I'd have lots of Black Hellbore, Black velvet petunias, Calla Lilies, Black Bat flowers, and tons of vining plants preferably Dutchman's Pipe. I've never seen a black peony in real life but if that's a thing that exists as it does in my book, I'd want those in there too.
I loved your casual and accepting approach queer representation in the book. What inspired you to take this approach, rather than a coming out story or have Briseis face any homophobia (both of which are valid and important narratives but more common in YA.)
I tackled a lot of homophobia and misogyny in my first novel, Cinderella is Dead, so this time around I wanted to tackle this very queer story in a different way. I agree, those narratives about coming out, an act that we as Queer people have to do over and over again, and confronting homophobia are important. But they are not the only way in which we exist. I think it's incredibly important to show queer characters at the center of stories in which we get to go on adventures, solve mysteries, uncover a locked garden full of deadly plants and find out your secret family lineage! We deserve stories that celebrate our joys, our love for our family and friends. As a creator, I can imagine a world where queer people aren't harmed by the hatred of homophobes. I wanted to give Briseis, her moms, and all the other queer people in this book that grace.
If you found yourself in Briseis position, e.g inheriting a big ol' spooky house with a garden full of killer plants, how do you think you'd react?
Listen. I would've moved to Rhinebeck, NY so fast. I'm actually hoping some long-lost relative will leave me a creepy Victorian mansion one day. My goal is for people to truly believe my house is haunted and to cross the street when they pass it.
View this post on Instagram
Since we're now at the halfway point of 2021, could you share a book you've read and loved so far this year?
I've read so many amazing books this year but the standouts so far have been We Light Up the Sky by Lilliam Rivera, Lost in the Never Woods by Aiden Thomas, Ace of Spades by Faridah Àbíké-Íyímídé, and Jays Gay Agenda by Jason June. My most anticipated reads of the year are White Smoke by Tiffany Jackson and Nothing But Blackened Teeth by Cassandra Khaw.
Finally, are you currently working on anything new and if so, can you tell us anything about it?
I'm finishing up This Poison Heart 2 and I my debut middle grade comes out next year! It's called The Vanquishers and it's the story of 12 year old Malika "Boog" Wilson. She and her friends live in an alternative San Antonio where vampires are known to have existed but were wiped out during an event known as the Reaping by a group of masked vampire slayers—the Vanquishers. When Boog's new classmate goes missing the local community begins to suspect that a vampire is responsible and this puts Boog and her friends on a collision course with the undead. I'm also working on my YA reimagining of the classic gothic horror novel, The Strange Case of Dr. Jekyll and Mr. Hyde and another fairy tale retelling. I'm booked and busy! I couldn't be more excited to get these stories into the hands of readers.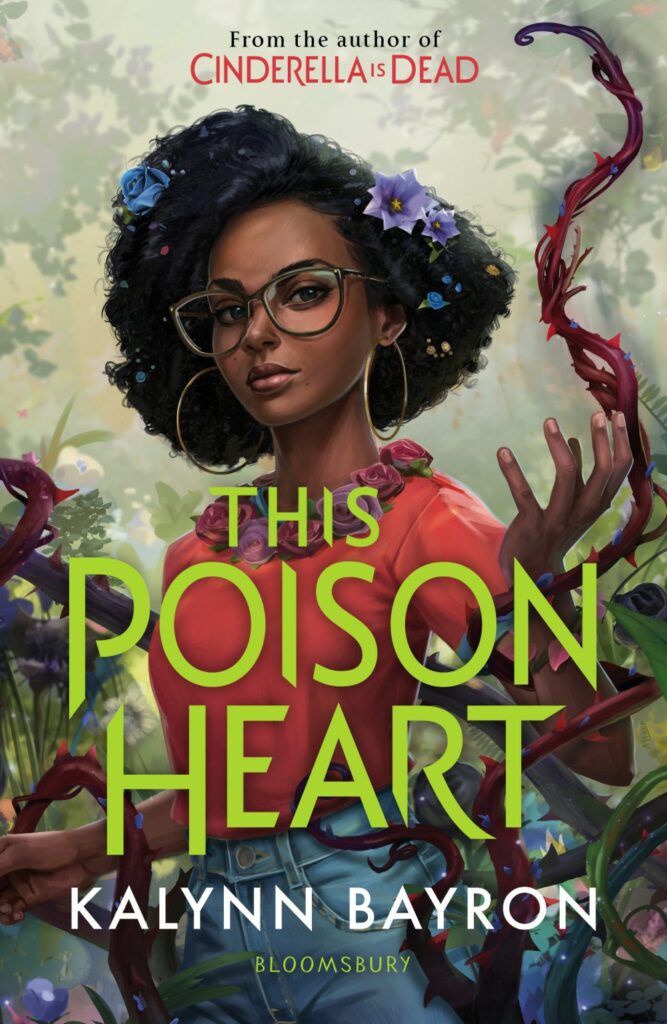 Get your copy of This Poison Heart by Kalynn Bayron here.