Kalynn Bayron on fairy tale retellings and her new YA fantasy, Cinderella is Dead
"You deserve respect and you don't have to do anything other than exist to earn that."
If a fantasy about Cinderella taking down the government and defying the patriarchy and heteronormativity, look no further than Cinderella is Dead, the incredible new YA standalone from Kalynn Bayron. With a wonderful, classic fairy-tale feel, kickass characters, an adorable f/f romance and an addictive and empowering plot, Cinderella is Dead will make you look at the classic Cinderella tale in a whole new light.
Having adored her newest release, we were so excited to chat with Kalynn all about Cinderella is Dead, fairy tale retellings and what inspired her to retell such a well known tale.
---
Firstly, we want to say a mega congratulations for the release of your incredible new YA novel, Cinderella is Dead! For readers who may not be familiar with the story, can you tell us a little about it?
Thank you so much! Cinderella is Dead is a YA fantasy about 16-year-old Sophia Grimmins, a young girl living in the Kingdom of Mersailles which happens to be the place where Cinderella lived and died 200 years before. Cinderella's story has become the backbone of this kingdom and all women are expected to model their lives after the fabled princess. Sophia is preparing to attend the annual ball, which is now a mandatory event, and is grappling with having to exist in a society that is violently oppressive for women. Her decisions during the night of the ball put her in direct opposition to Mersailles's ruler, King Manford, and she goes on the run to uncover the truth about Cinderella's story.
What inspired you to retell Cinderella?
I've always loved fairy tales but I didn't have an opportunity to see Black girls in fairy tales for the entirety of my childhood. I didn't get to see Black Disney princess until Princess Tiana and she's a frog for most of the movie! I was 26 when that came out.
Because we are exposed to fairy tales from the time we're young, they absolutely have the potential to affect how we see the world and our place in it. What does it say to us when there is no representation? It tells us that we don't belong, that there isn't room for us, that our existence is an afterthought. So, I took this well known, hugely popular fairy tale, Cinderella, and I used it to explore the ways stories affect us, while also allowing my main character Sophia to uncover a truth that sheds new light on the Cinderella story itself.
View this post on Instagram
Which element of the original Cinderella story did you have the most fun making your own?
I loved exploring the back story of the fairy godmother. She's was such a fun character to explore and because there is so little about her in earlier versions of Cinderella (in some versions there is no fairy godmother at all) I was able to create an entirely new mythos for her.
Although set in a fantasy world, Cinderella is Dead brilliantly tackles and exposes the patriarchy and heteronormativity within our own society. What's one message you hope readers, especially young girls, will take away upon reading it?
Question everything, especially any sort of rule or tradition that asks or requires you to make yourself small. You deserve respect and you don't have to do anything other than exist to earn that. I hope all readers will be inspired to question the systems of oppression that we encounter every single day.
I loved the references to other classic fairy tales throughout the book! If you could retell another classic fairy tale, which would you choose and why?
I love old creepy stories and there is fairy tale called The Juniper Tree that I'd like to redo but possibly in a contemporary setting. I'd, of course, love to retell the stories of Snow White, Sleeping Beauty, but the more obscure tales are the ones I'm most drawn to right now.
Do you have any advice for aspiring authors wanting to write their own retelling of an already beloved tale?
I'd say that in order to make a retelling feel new and fresh, you have to find a way into the story that is unexpected. Read the original story and ask yourself which parts of the tale are a little less clear. For Cinderella is Dead, I knew the Cinderella story, I knew Cinderella was at the center but there were so many characters who were more intriguing. The step-family, the fairy godmother, the people who lived in Cinderella's kingdom, the silence after the "happily ever after". Go to the more obscure parts of the fairytale and start there.
What was your favourite part of the experience of writing Cinderella is Dead?
It has, by far, been the interactions I've had with readers. They are so passionate, so much fun to talk to. I've been so moved by their support.
View this post on Instagram
Are there any YA retellings you'd like to recommend for readers wanting more after loving Cinderella is Dead?
A Blade So Black by LL McKinney (Alice and Wonderland reimagining) , A Curse So Dark and Lonely by Brigid Kemmerer (Beauty and the Beast), Ash by Malinda Lo (Cinderella), and a book that'll be out soon called Never Look Back by Lilliam Rivera which is an Orpheus and Eurydice retelling.
What has been your favourite reaction to Cinderella is Dead so far?
I love how many people have reached out and said, "I will never look at Cinderella the same way again." That is my favorite reaction because that's exactly what I set out to do! I want readers to question every fairy tale and wonder about the hidden truths it may be hiding.
Are you currently working on anything and if so, can you give us any hints as to what that is?
Right now, I'm finishing up edits on my second YA novel. It will be out next year! It's a contemporary Fantasy set in upstate New York, and I like to tell people it is a combination of Little Shop of Horrors meets The Secret Garden with a dash of Hadestown. It's a creepy, atmospheric, magical story and I'm very excited to announce a title and cover soon!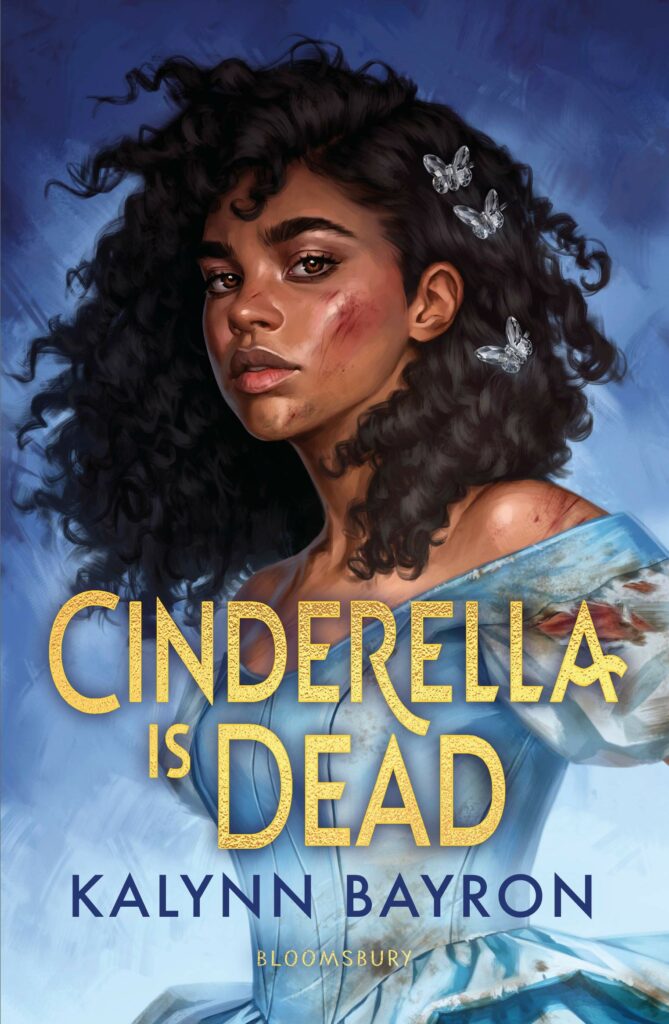 Get your copy of Cinderella is Dead by Kalynn Bayron in the UK & US.