Loan Le on being a child of immigrants and her debut YA novel, A Pho Love Story
"it's been inside of me for so long and I treasure the characters and their experiences"
To celebrate the release of her delicious new YA contemporary debut novel, A Pho Love Story, we had the pleasure of talking with author, Loan Le, about everything from writing to food to families in YA to being a child of immigrants.
---
Congratulations on the release of your wonderful debut novel, A Pho Love Story! How does it feel knowing a book you've written is out in the world and in the hands of readers for the first time?
Thank you so much! It's a bit terrifying. I'm most afraid of letting down readers who've been eyeing this since my book deal was announced. I'm incredibly happy because it's been inside of me for so long and I treasure the characters and their experiences. I'm also thankful because I've felt support from all parts of my life—from my family to my friends to my colleagues in publishing.
For readers just hearing about A Pho Love Story, how would you entice them to pick up a copy?
If you love funny, life-affirming novels about young adults trying to figure out what they truly want, this is for you. If you want cute (awkward, flirty, uncertain) romance, this is for you. If you like characters who are firecrackers yearning to break out or characters who feel average but want to be MORE, this is for you. If you love delicious food, this is for you. If you're a child of immigrants, or have felt stuck between two cultures, this is for you. If you love your families but don't always totally understand them and want to, this is for you.
What was your biggest inspiration when writing A Pho Love Story?
I can't name one! It was a mix of things…My love of food, my love for my family. I sort of remembered who I was as a teen; I was a combination of Linh and Bao—I felt strongly and had an active imagination, but I didn't know how to channel it at first. Then I found my way.
View this post on Instagram
The emphasis on family and familial relationships throughout the novel is wonderful and strangely something you don't often see in YA. Was there anything specific that inspired you to explore familial relationships in particular (as well as the beyond adorable romance, of course)?
Thank you! I agree that family isn't always emphasized in YA Lit. In college I took YA lit class and noticed that the characters' families were either demonized or absent.
For me, I can't separate myself from my family. This is true on a linguistic level: when I'm talking to my relatives, I'm always aware of our relationship. For example, my family calls me Bé Loan, which literally means Baby Loan, because I was the youngest in my family. When I address my cousins who are all older than me, I call them Anh or Chị. On an emotional level, I was always surrounded by family growing up and I've witnessed just how hard they've worked to get to where they are. My mom, aunt, uncle, and two cousins escaped Vietnam by boat. Some cousins later made the journey by foot when they were way too young, so they were forced to grow up too quickly. Now these cousins have successful jobs and have amazing families. It's quite inspiring and I'm grateful for their sacrifices, so I wanted that to be in the parents' backstory—and further explain Linh and Bao's dilemmas.
But I also wanted to show how messy families can be, too! Families aren't perfect, but you can learn to accept that if you're willing to be communicative with your family.
Can you tell us a little about your journey to become a published author?
It's a hate-to-love story! English is technically my second language even though I was born in America. I wasn't great with grammar and spelling and I felt embarrassed. But I always had an imagination, and even though I couldn't write it out, I was seeing things play out in scenes. With the help of a kind high school teacher, I fell in love with writing and expressing myself on page. I wrote throughout college, then pursued an MFA degree, focusing on adult short stories that always had the potential to be novels. (This is a kind way to say that my short stories were always too long, so I felt bad for my writing partners!). Short stories were great because they were mini-novels and mini studies on character, plot, etc. I felt like I understood the foundation of writing, so switching to writing for young adults felt seamless. Eventually I was able to find a wonderful agent and a wonderful editor who helped bring this book to life!
If you could recommend your readers just one of the meals/foods/pho recipes featured in the book (or one you wish you'd included) what would it be and why?
I'm now wishing I included thịt kho, or caramelized pork belly. I've been thinking about it more because the Lunar New Year is nearing and this dish is often served around this time. If I could have it all the time without risking my health 🤣, I would. It's the ultimate comfort food: tender pork belly that's equal parts salty from fish sauce and sweet from the coconut soda used to braise the meats. It's best paired with rice and a few pickled vegetables if you have them handy.
View this post on Instagram
Do you have any book recommendations for readers left wanting more foodie reads after devouring A Pho Love Story?
I'm going to go in a different direction: Salt, Fat, Acid, Heat is a nonfiction book, but Samin Nosrat writes with the flair of a fiction writer. She brilliantly captures the pleasures of food, and you learn so much from her.
Bao and Linh are both brilliant characters in their own right but did you have a particular favourite to create or one you found more challenging?
Thanks again! I loved both of them, but maybe I liked Linh a bit more, just because it was fun to talk about her love for art. I'm not a painter, but I enjoyed describing how much her creative work means to her. In one scene, I mentioned that art gives her the silence that she needs, or something like that. That's how I feel about writing.
As well as being an author, you're also an editor! Do you have any advice for aspiring authors trying to balance everyday life and work with writing?
Don't feel guilty if you're not writing every day. Try not to focus too much on the time spent (or not spent) on your writing and ignore the word count. Look at quality over quantity. Take notes whenever an idea comes along; pocket it until you have the mind space to play with it.
Before we go, I have to ask for all the readers who have been left wanting more Loan Le after finishing A Pho Love Story; are you currently working on anything new and if so, can you give us any hints as to what we can expect?
Yes, I hope readers love APLS! I'm thinking about something else in the APLS world, and I might be branching into adult fiction! Nothing concrete, just hopes and dreams!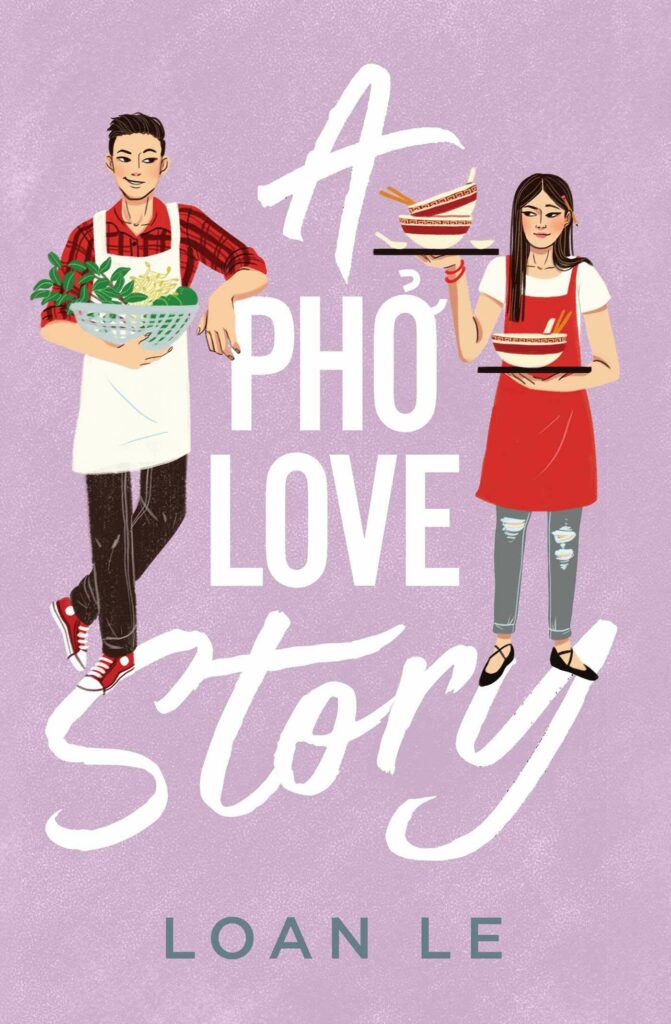 Get your copy of A Pho Love Story by Loan Le here