Erik J. Brown on his delicious new YA rom-com, Lose You to Find Me
"Lose You to Find Me is about the things we want and how that may not always work out the way we imagined regardless of how hard we work to get them."
Funny, adorable and incredibly readable, Lose You to Find Me, the new YA novel from Erik J. Brown, is a rom-com with a twist that oozes classic 'coming-of-age movie' vibes. Starring a cast of characters you'll fall head over heels in love with, whilst exploring topics such as grief, career goals and what it means to have a healthy relationship, Lose You to Find Me beautifully highlights Erik's talent for creating characters and stories that instantly capture your heart.
To celebrate its release, we're thrilled to have had the chance to chat to Erik all about Lose You to Find Me, its inspirations, future projects and more.
---
Hi Erik! We're so happy to have you on the site today to talk all about your wonderful new YA novel, Lose You to Find Me. For readers just hearing about it, how would you sell them a copy in just one sentence?
They're banning queer books in America; be an ally, buy my book! (Half kidding.) Lose You to Find Me is a hilarious coming-of-age workplace romcom about a teen who works at a retirement community and has to train the first boy he ever crushed on six years after they lost touch, all the while trying to figure out his future.
Can you tell us a little about how the story of Lose You to Find Me came about?
It was actually an odd coming together of a few different ideas that had been floating around in my head. When I was in high school, I worked as a server in a retirement home, and it was such a strange place to work. All the servers were students and I always thought that setting lends itself well to a young adult novel. But it wasn't until 2020 after I sold my debut All That's Left in the World that all the pieces came together. Lose You to Find Me is about the things we want and how that may not always work out the way we imagined regardless of how hard we work to get them. With the pandemic hitting just as I sold my first book—something that took ten years, five other books, and hundreds of rejections—everything was so up in the air. It felt very much like a student in their last year of school. They're trying to figure out what they want to do with their lives and hoping to get it, but sometimes things don't work out. And Lose You to Find Me is about figuring out how to move on and find what really matters.
What was it like jumping from the post-apocalyptic setting of your debut, All That's Left in the World to writing a book predominantly set at the retirement community, Sunset Estates?
In some ways it was easier and some it was harder, but surprisingly not the ways I imagined. Having the story contained in one location instead of the entire eastern seaboard of the United States made for a lot less frustration! But the biggest challenge coming from genre fiction is making sure the book isn't boring. The stakes in a post-apocalyptic book are life and death, while the stakes in a romcom are very much not that—though it may feel that way to the characters experiencing them. I had to make sure the readers understood those stakes as if they were life and death, while still making sure they wanted to read on and find out what happens next. Creating realistic, lovable characters is the best way to keep people reading and get them invested in the stakes.
View this post on Instagram
Lose You to Find Me superbly explores everything from career goals and grief to coming out and toxic relationships. How did you go about tackling these somewhat tougher discussions within the lighter tone of a rom-com?
It's life. We deal with these things every day and it's so much easier to write about them than to live it. It also helps that I'm pulling from experiences in my own life and it's easier to look back with wiser and kinder eyes. I make the red flags more obvious for the characters and I also made them much more adaptable and braver than I was! Humour is my coping mechanism—I mean, see above with my one-sentence pitch—and I think the best way to get people's attention is to have a balance of tough issues with a little humour. I did the same thing with All That's Left in the World, where these two kids are grieving the loss of everyone they ever loved, but still manage to find levity in their situations. It helps us remember life isn't meant to be taken that seriously. We're supposed to enjoy our time here and when things get dark, it can be helpful to turn to humour.
Do you have any recommendations for readers craving another queer rom-com read after finishing and loving Lose You to Find Me?
SO MANY! A Little Bit Country by Brian D. Kennedy, 99 Boyfriends of Micah Summers by Adam Sass (another rom-com pivot from a dark debut like me!), The Love Curse of Melody McIntyre by Robin Talley, Going Bicoastal by Dahlia Adler, How to Excavate a Heart by Jake Maia Arlow, and everything by my some of my favourite auto-buys: Julian Winters, Jason June, Sophie Gonzales, and Jennifer Dugan!
If the cast of Lose You to Find Me found themselves taken from Sunset Estates and dropped into the post-apocalyptic world of All That's Left in the World, how do you think they would cope?
Oh wow that's so mean! I like to think they would all do well and survive, but I do think Tommy would struggle the most. I mean you can only do so much to make canned food a bit more elevated and while he's not the biggest food snob, he would very much miss baking and cooking with fresh ingredients. I'm gonna be honest, Ava would thrive. If I had to do a post-apocalyptic fantasy league, Ava would be my first pick in the draft. She'd have a shelter that has electricity, a plumbing and filtration system, and she's also smart enough to become a doctor. And then Gabe would end up causing a love-triangle drama when he met Andrew and the two of them start talking movies! But don't worry, Andrew still chooses Jamie…I think.
Equally, how do you think the cast of All That's Left in the World would handle working at Sunset Estates?
Jamie would be such a wonderful Sunset Estates server! Just a sweet, kind young man who knows all the residents by name and they probably all try to set him up with their grandkids. And he and Andrew would be rivals, but they would secretly like each other. Another super slow burn that would probably last over a year before they started dating and then it would become Sunset Estates's worst kept secret.
Finally, do you currently have any projects in the works and if so, is there anything you can share with us?
I'm currently editing the—much requested—sequel to All That's Left in the World! I guess I can tell you it gets pretty scary and oh no! Our post-apocalyptic boyfriends are fighting!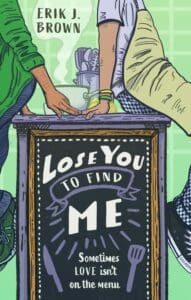 Get your copy of Lose You to Find Me by Erik J. Brown here.