7 free mobile games that will keep you entertained during lockdown
Family game night: social distancing edition.
As the UK enters its sixth week of lockdown, the boredom has truly set in and many of us are searching for new ways to keep ourselves entertained. I don't know about you guys, but my screen time stats have absolutely rocketed and I've found myself glued to my phone much more than normal. Like seriously, I've had to charge it twice already today.
Instead of mindlessly scrolling and constantly refreshing the same apps ('cause let's be real, no good comes out of that), I've turned to playing games which not only keep my brain active but also help me to stay connected with friends and family. Plus they're addictively fun.
1. Fight List
Play against your friends (or strangers!) in this Family Fortunes style categories game. You get given a topic, e.g. girls names beginning with A, and have 30 seconds to list as many as you can think of. You get bonus points for obscure answers and the winner is whoever has the highest score.
You can view your game stats, win percentage and there's even a ranking board so you can compare your performance with friends'. My family now hate me 'cause I keep beating them.
Download now: Google Play / App Store
2. QuizUp
I've been playing this trivia game for years, but it's really come in handy these last few weeks. There are quiz categories for literally anything and everything, which you can play either against friends or a random opponent. I recently used it to revise The Beatles which helped me smash that round when it came to our weekly virtual pub quiz.
You can also earn national titles which I think is pretty cool. I don't mean to brag, but in January 2016 I was actually the best in England at Keeping Up with the Kardashians.
Download now: Google Play / App Store
3. Wordscapes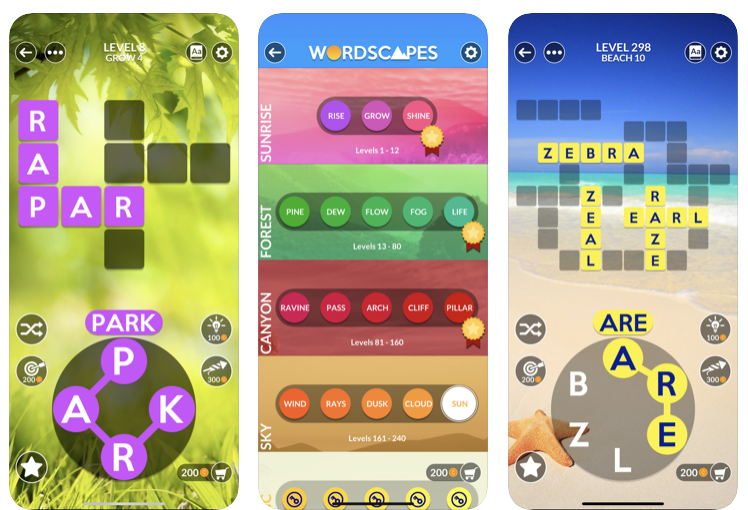 If you love crosswords like me, you're gonna be obsessed with this word puzzle game. You basically get given an anagram which you have to find words out of; each correct answer is arranged onto a grid to help you. It starts off easy and gets more challenging as  you progress through the levels.
Download now: Google Play / App Store
4. UNO!
This one doesn't need much explaining. It's like the card game, except virtual which is perfect for a time like this. There are several new features including 2v2 mode which lets you team up with a friend.  Demi Lovato recently revealed she's been playing the game during quarantine so who knows, you could be playing against a pop star.
Download now: Google Play / App Store
5. SongPop 2
I have fond memories of playing the original version years ago, so I've being having a great time playing this one. You hear clips of songs and have to guess either the artist or song title as fast as you can. It's multiple choice so it's a lot easier than you think.
As you earn coins whilst playing, you can then use them to purchase playlists. I'm a pro at Taylor Swift FYI. And again, you can challenge friends or play with random strangers.
Download now: Google Play / App Store
6. Go Knots 3D
I stumbled upon this app at the top of the game charts and it's surprisingly satisfying. You have to unravel and sort out coloured chains on poles which get increasingly difficult. I'm one of those weirdos who loves untangling earphones, so I'm really in my element when playing this.
Download now: Google Play / App Store
7. 2048
Anyone else remember this craze from back in the day? It's a challenging puzzle game where you have to move around tiles with the aim of getting to the number 2048. When two tiles with the same number touch, they merge into one. 2, 4, 8, 16, 32, 64… etc. It's so frustratingly fun, you can't help but go back and try to beat your high score.
Download now: Google Play / App Store