30+ must read YA books still to come in 2023: July – December
Bring on the books!
2023 has already blessed our bookshelves with countless incredible new YA books and it's not stopping any time soon. From deadly games and murderous monsters, to blossoming romances and cosy tea shops, the second half of the year is promising to topple our TBR's once and for all and these 30+ titles releasing between July and December will be sitting right at the top.
---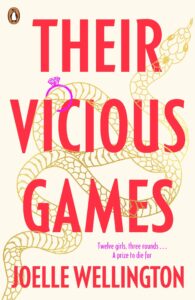 Their Vicious Games by Joelle Wellington (July)
Edgewater Academy is a school for the very rich and very powerful.
Adina Walker is neither of those things. Alone and outcast, when she gets into a fight with a fellow student (and former friend), her scholarship to a top college is revoked, and her world falls apart. Until she's invited to The Finish.
Annual games for the brightest and the best, hosted by power-family The Remingtons, the winning prize for The Finish is everything Adina wants. This is her chance at the life she's dreamed of. Then the contestants start to die. Love, revenge, pride – all are on the line. This isn't a game any more . . .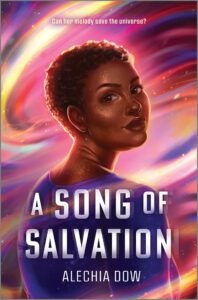 A Song of Salvation by Alechia Dow (July)
Zaira Citlali is supposed to die. After all, she's the god Indigo reborn. Indigo, whose song created the universe and unified people across galaxies to banish Ozvios, the god of destruction. Although Zaira has never been able to harness Indigo's powers, the Ilori Emperor wants to sacrifice her in Ozvios's honor. Unless she escapes and finds Wesley, the boy prophesized to help her defeat Ozvios and the Ilori, once and for all.
Wesley Daniels didn't ask for this. He just wants to work as a smuggler so he can save enough money to explore the stars. Once he completes his biggest job yet–bringing wanted celebrity Rubin Rima to a strange planet called Earth–he'll be set for life. But when his path crosses with Zaira, he soon finds himself in the middle of an intergalactic war with more responsibility than he bargained for.
Together, Zaira, Wesley, and Rubin must find their way to Earth and unlock Zaira's powers if they're going to have any hope of saving the universe from total destruction.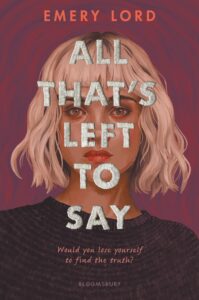 All That's Left to Say by Emery Lord (July)
On prom night, Hannah MacLaren sits in the headmaster's office in her fanciest dress, soaked to the bone. She is in huge trouble after pulling the fire alarm right as the prom was about to be crowned. But Hannah had her reasons . . .
One year ago, her cousin Sophie, who was also her best friend and the person she loved most in the world, died of an overdose. Drowning in grief, Hannah became obsessed with one Who gave Sophie those pills? Who is refusing to give her family the closure they deserve?
Then she concocted a enroll at her cousin's fancy private school with a new look and a mouthful of lies, and finally uncover the truth.
But Hannah didn't expect all the lines to blur. She didn't expect Sophie's friends to be so complicated. She didn't expect to fall for her longtime enemy. Now, she must choose to either let herself really mourn Sophie and move on, or see her search through to its explosive end–even if it means destroying herself.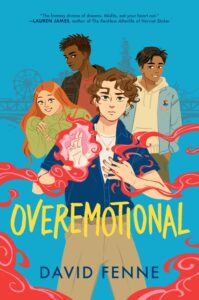 Overemotional by David Fenne (July)
Seventeen-year-old Steven has a big problem . . . Whenever he feels intense emotions, weird things happen.
Like when he kissed a boy for the first time, and the boy's head literally exploded.
Fleeing to the miserable town of Grunsby-on-Sea, Steven is determined to not hurt anyone else – but he doesn't count on his best friend Freya, her boyfriend Marcus and American friend Troy following him. And when agents from the mysterious DEMA organisation show up talking about "neutralisation", Steven realises that Grunsby-on-Sea might not be the safe haven he'd hoped for . .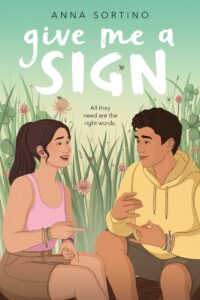 Give Me a Sign by Anna Sortino (July)
Lilah is stuck in the middle. At least, that's what having a hearing loss seems like sometimes–when you don't feel "deaf enough" to identify as Deaf or hearing enough to meet the world's expectations. But this summer, Lilah is ready for a change. When Lilah becomes a counsellor at a summer camp for the deaf and blind, her plan is to brush up on her ASL. Once there, she also finds a community. There are cute British lifeguards who break hearts but not rules, a YouTuber who's just a bit desperate for clout, the campers Lilah's responsible for (and overwhelmed by)–and then there's Isaac, the dreamy Deaf counsellor who volunteers to help Lilah with her signing. Romance was never on the agenda, and Lilah's not positive Isaac likes her that way. But all signs seem to point to love. Unless she's reading them wrong? One thing's for sure: Lilah wanted change, and things here . . . they're certainly different than what she's used to.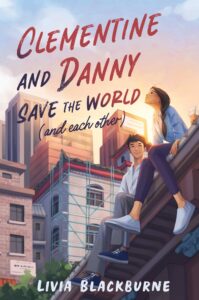 Clementine and Danny Save the World by Livia Blackburne (July)
Clementine Chan believes in the power of the written word. Under the pseudonym Hibiscus, she runs a popular blog reviewing tea shops and discussing larger issues within her Chinatown community. She has a loyal, kind following, save for this one sour grape named BobaBoy888.
Danny Mok is allergic to change, and the gentrification seeping into Chinatown breaks his heart. He channels his frustration into his internet alter ego, BobaBoy888, bickering with local blogger Hibiscus over all things Chinatown and tea.
When a major corporation reveals plans that threaten to shut down the Mok's beloved tea shop, Clementine and Danny find themselves working together in real life to save this community they both love. But as they fall hard for this cause—and each other—they have no clue that their online personas have been fighting for years. When the truth comes to light, can Danny and Clementine still find their happily-ever-after?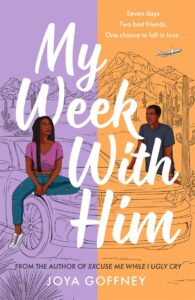 My Week With Him by Joya Goffney (July)
Nikki's always had a difficult relationship with her mum. So when she finds herself homeless at the start of spring break, she decides to rage-quit Texas and give California a shot, to pursue her dream music career.
Until her best friend and long-time crush, Malachai, discovers her plan, and convinces her to spend spring break with him, so he can show her all the reasons she should stay in Texas.
But when Nikki's little sister goes missing their plans are interrupted, and Nikki is forced to face her feelings about both her mum and Mal. Can Nikki find the love she's always been missing? And will it be enough to convince her to stay in Texas?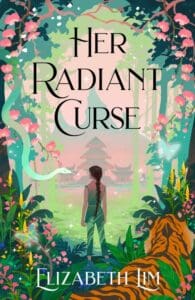 Her Radiant Curse by Elizabeth Lim (August)
Channi was not born a monster. But when her own father offered her in sacrifice to the tiger witch, she was forever changed. Cursed with a serpent's face, Channi is the exact opposite of her beautiful sister Vanna—the only person in the village who looks at Channi and doesn't see a monster. The only person she trusts.
Now seventeen, Vanna is to be auctioned off in a vulgar betrothal contest that will enrich the coffers of the village leaders. Only Channi, who's had to rely on her strength and cunning all these years, can defend her sister against the cruelest of the suitors. But in doing so, she becomes the target of his wrath—launching a series of vicious gladiatorial fights, a quest over land and sea, romance between sworn enemies, and a choice that will strain Channi's heart to its breaking point.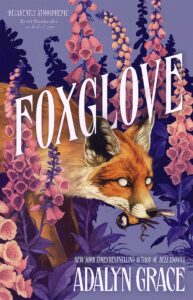 Foxglove by Adalyn Grace (August)
A duke has been murdered. The lord of Thorn Grove has been framed. And Fate, the elusive brother of Death, has taken up residence in a sumptuous estate nearby. He's hellbent on revenge after Death took the life of the woman he loved many years ago…and now he's determined to have Signa for himself, no matter the cost.
Signa and her cousin Blythe are certain that Fate can save Elijah Hawthorne from prison if they will entertain his presence. But the more time the girls spend with Fate, the more frightening their reality becomes as Signa exhibits dramatic new powers that link her to Fate's past. With mysteries and danger around every corner, the cousins must decide if they can trust one another as they navigate their futures in high society, unravel the murders that haunt their family, and play Fate's unexpected games-all with their destinies hanging in the balance.
The Brothers Hawthorne by Jennifer Lynn Barnes (August)
Grayson Hawthorne was raised as the heir apparent to his billionaire grandfather, taught from the cradle to put family first. Now the great Tobias Hawthorne is dead and his family disinherited, but some lessons linger. When Grayson's half-sisters find themselves in trouble, he swoops in to do what he does best: take care of the problem—efficiently, effectively, mercilessly. And without getting bogged down in emotional entanglements.
Jameson Hawthorne is a risk-taker, a sensation-seeker, a player of games. When his mysterious father appears and asks for a favor, Jameson can't resist the challenge. Now he must infiltrate London's most exclusive underground gambling club, which caters to the rich, the powerful, and the aristocratic, and win an impossible game of greatest stakes. Luckily, Jameson Hawthorne lives for impossible.
Drawn into twisted games on opposite sides of the globe, Grayson and Jameson—with the help of their brothers and the girl who inherited their grandfather's fortune—must dig deep to decide who they want to be and what each of them will sacrifice to win.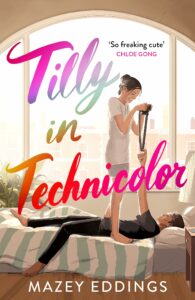 Tilly in Technicolor by Mazey Eddings (August)
Tilly Twomley is desperate for change. White-knuckling her way through high school with flawed executive functioning has left her burnt out and ready to start fresh. Working as an intern for her perfect older sister's start up isn't exactly how Tilly wants to spend her summer, but the required travel around Europe promises a much-needed change of scenery as she plans for her future. The problem is, Tilly has no idea what she wants.
Oliver Clark knows exactly what he wants. His autism has often made it hard for him to form relationships with others, but his love of color theory and design allows him to feel deeply connected to the world around him. Plus, he has everything he needs: a best friend that gets him, placement into a prestigious design program, and a summer internship to build his resume. Everything is going as planned. That is, of course, until he suffers through the most disastrous international flight of his life, all turmoil stemming from lively and exasperating Tilly. Oliver is forced to spend the summer with a girl that couldn't be more his opposite—feeling things for her he can't quite name—and starts to wonder if maybe he doesn't have everything figured out after all.
As the duo's neurodiverse connection grows, they learn that some of the best parts of life can't be planned, and are forced to figure out what that means as their disastrously wonderful summer comes to an end.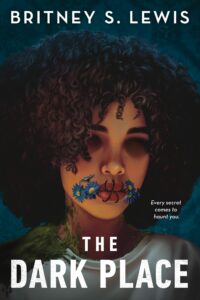 The Dark Place by Britney S. Lewis (August)
Seventeen-year-old Hylee Williams didn't ask to disappear. But she did disappear, and not only that, but when she vanished from our world, she materialized in a dark, twisted version of the night that changed her life forever: the night her older brother went missing.
Just as Hylee realizes this moment could be the key to unraveling the truth about her brother, she's yanked away from the dark place back to our world. Craving a sense of normalcy, she goes to a party with her best friend–where she meets Eilam Roads. Tall, handsome, and undeniably, inexplicably familiar, Hylee can't help the pull she feels towards him. It's a classic teen girl-meets-boy situation, until it happens again. She disappears, right in front of him.
Together, Hylee and Eilam investigate the truth about time, space, and reality, with Hylee increasingly convinced her time travel holds the key to saving her brother. But the more they learn, the more Hylee begins to see darkness lurking in her world–and in herself.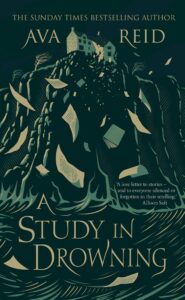 A Study in Drowning by Ava Reid (September)
Effy has always believed in fairy tales. She's had no choice. Since childhood, she's been haunted by visions of the Fairy King. She's found solace only in the pages of Angharad – a beloved epic about a mortal girl who falls in love with the Fairy King, and then destroys him.
Effy's tattered copy is all that's keeping her afloat through her stifling first term her prestigious architecture college. So when the late author's family announces a contest to design his house, Effy fells certain this is her destiny.
But Hiraeth Manor is an impossible a musty, decrepit estate on the brink of crumbling into a hungry sea. And when Effy arrives, she finds she isn't the only one who's made a temporary home there. Preston Héloury, a stodgy young literature scholar, is studying Myrddin's papers and is determined to prove her favourite author is a fraud.
As the two rival students investigate the reclusive author's legacy, piecing together clues through his letters, books, and diaries, they discover that the house's foundation isn't the only thing that can't be trusted. There are dark forces, both mortal and magical, conspiring against them – and the truth may bring them both to ruin.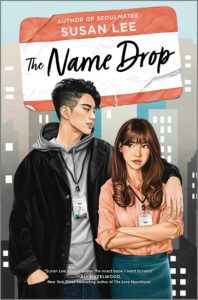 The Name Drop by Susan Lee (September)
When Elijah Ri arrives in New York City for an internship at his father's massive tech company, Haneul Corporation, he expects the royal treatment that comes with being the future CEO—even if that's the last thing he wants. But instead, he finds himself shuffled into a group of overworked, unpaid interns, all sharing a shoebox apartment for the summer.
When Jessica Lee arrives in New York City, she's eager to make the most of her internship at Haneul Corporation, even if she's at the bottom of the corporate ladder. But she's shocked to be introduced as the new executive-in-training intern with a gorgeous brownstone all to herself.
It doesn't take long for Elijah and Jessica to discover the source of the they share the same Korean name. But they decide to stay switched—so Elijah can have a relaxing summer away from his controlling dad while Jessica can make the connections she desperately needs for college recommendations.
As Elijah and Jessica work together to keep up the charade, a spark develops between them. Can they avoid discovery—and total disaster—with their feelings and futures on the line?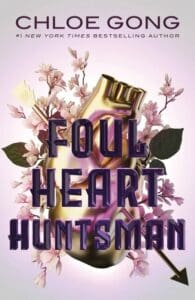 Foul Heart Huntsman by Chloe Gong (September)
Winter is drawing thick in 1932 Shanghai, as is the threat of a Japanese invasion.
Rosalind Lang's identity as a national spy has been exposed. With the media camped outside her apartment, she's barely left her bedroom in weeks, plotting her next course of action after Orion was taken and his memories wiped. Their marriage might have been a sham, but his absence hurts more than any physical wound. She won't rest until she gets him back.
But with her identity in the open, the task is near impossible. The only way to rescue Orion is under the guise of a national tour. It's easy to convince her superiors that the countryside needs unity more than ever, and who better than an immortal girl to stir pride and strength?
When the tour goes wrong, everything Rosalind once knew is thrown up in the air. Taking refuge outside Shanghai, old ghosts return and adversaries turn to allies. To save Orion, they must find a cure to his mother's invention and steal this dangerous weapon away from foreign invasion -but the clock is ticking, and if Rosalind fails, it's not only Orion she loses, but her nation itself . . .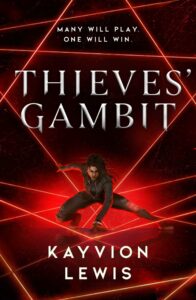 Thieves Gambit by Kayvion Lewis (September)
Winner takes all: a cutthroat competition for the world's best thief and the girl who must beat the odds to save her parents' lives.
Rosalyn Quest was raised by a legendary family of thieves with one rule: trust no one. Trapped in a glamorous world of riches and double-crosses, she is about to escape the family business when her parents are kidnapped. Her only chance to save them is to win the Thieves' Gambit – a deadly competition for the world's up-and-coming thieves, where the victor is granted one wish. To win, she must outwit all of her backstabbing competitors, including her archnemesis. But can she take victory from the handsome, charming boy who makes a play for her heart? The one who might be hiding the most dangerous secret of all?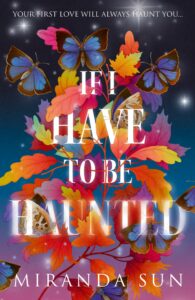 If I Have to Be Haunted by Miranda Sun (September)
Cara Tang doesn't want to be haunted.
Look, the dead have issues, and Cara has enough of her own. Her overbearing mother insists she be the "perfect" Chinese American daughter—which means suppressing her ghost-speaking powers—and she keeps getting into fights with Zacharias Coleson, the local golden boy whose smirk makes her want to set things on fire.
Then she stumbles across Zach's dead body in the woods. He's even more infuriating as a ghost, but Cara's the only one who can see him—and save him.
Agreeing to resurrect him puts her at odds with her mother, draws her into a dangerous liminal world of monsters and magic—and worse, leaves her stuck with Zach. Yet as she and Zach grow closer, forced to depend on each other to survive, Cara finds the most terrifying thing is that she might not hate him so much after all.
Maybe this is why her mother warned her about ghosts.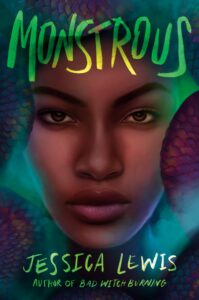 Monstrous by Jessica Lewis (September)
Don't go outside past dark. Come straight home after church. And above all–never, ever, go into Red Wood.
These are the rules Latavia's aunt gives her when Latavia arrives in Sanctum, Alabama for the summer. Though, weird as they are, living in Sanctum does have its pros. Mainly, the cute girl who works at the local ice cream shop.
But Sanctum is turning out to be as strange as the rules–and the longer Latavia's in town, the more suspicious she is that the people there are hiding something. And the more clear it is that she's an outsider. Everyone's nice enough, but they seem determined to prove everything is normal.
But it's not. Because there's something in Red Wood that the towns' people are hiding. And if Latavia doesn't follow her aunt's rules, she might not be able to leave Sanctum. Ever…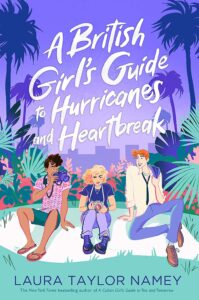 A British Girl's Guide to Hurricanes and Heartbreak by Laura Namey Taylor (September)
Winchester has always been home for Flora, but when her mother dies, Flora feels untethered. Her family expects her to apply to university and take a larger role in their tea-shop business, but Flora isn't so sure. More than ever, she's the chaotic 'hurricane' in her household, and she doesn't always know how to manage her stormy emotions. So she decides to escape to Miami without telling anyone – especially her longtime friend Gordon Wallace.
But Flora's tropical change of scenery doesn't cast away her self-doubt. When it comes to university, she has no idea which passions she should follow. That's also true in romance. Flora's summer abroad lands her in the flashbulb world of teen influencer Baz Marín, a Miami Cuban who shares her love for photography. But Flora's more conflicted than ever when she begins to see future architect Gordon in a new light.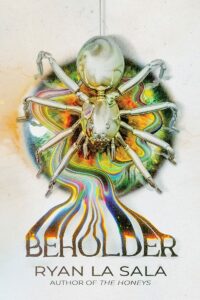 Beholder by Ryan La Sala (October)
Athanasios "Athan" Bakirtzis hasn't had an easy life. Orphaned by a fire at a young age, he's had to rely on his charm, his under-the-table job as an art handler, and the generosity of family friends to care for his ailing Yiayia, his grandmother.
But Athan also has a secret: a hereditary power that allows him to rewind the reflection in any mirror, peering into its recent past. Superstitious Yiayia calls the family ability a curse, and has long warned him never to use it. For Athan, who's survived this long by keeping to the realm of the real, this is a perfectly agreeable arrangement.
Until the night of the party. After being invited to a penthouse soiree for New York's art elite, Athan breaks his grandmother's rule during a trip to the bathroom, turning back his reflection for just a moment. Then he hears a slam against the bathroom door, followed by a scream. Athan peers outside, only to be pushed back in by a boy his age. The boy gravely tells him not to open the door, then closes Athan in.
Before Athan can process what's happening, more screams follow, and the party descends into chaos. When he finally emerges, he discovers a massacre where the victims appear to have arranged themselves into a disturbingly elegant sculpture—and Athan's mysterious savior is nowhere to be found.
Something evil is compelling people to destructive acts, a presence that's been hiding behind Athan's reflection his whole life, watching and biding its time. Soon, he's swept up in a supernatural conspiracy that spans New York, of occult high societies and deadly eldritch designs. If beauty really is in the eye of the beholder, what can it do to us once it's inside?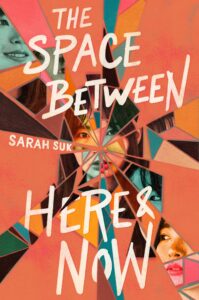 The Space Between Here and Now by Sarah Suk (October)
Seventeen-year-old Aimee Roh has Sensory Time Warp Syndrome, a rare condition that causes her to time travel to a moment in her life when she smells something linked to that memory. Her dad is convinced she'll simply grow out of it if she tries hard enough, but Aimee's fear of vanishing at random has kept her from living a normal life.
When Aimee disappears for nine hours into a memory of her estranged mom—a moment Aimee has never remembered before—she becomes distraught. Not only was this her longest disappearance yet, but the memory doesn't match up with the story of how her mom left—at least, not the version she's always heard from her dad.
Desperate for answers, Aimee travels to Korea, where she unravels the mystery of her memories, the truth about her mother, and the reason she keeps returning to certain moments in her life. Along the way, she realizes she'll need to reconcile her past in order to save her present.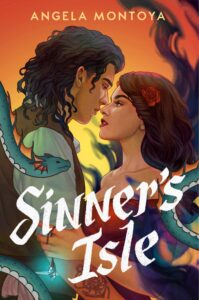 Sinner's Isle by Angela Montoya (October)
Rosalinda is trapped on Sinner's Isle under the watchful eye of a power-hungry headmistress. And thanks to her vicious phantoms, Rosa is the most favored at this year's Offering, where Majestics' powers will be on full display so the wealthy may choose one to serve them for life.
For years, she has been kept under the watchful, calculating eye of Doña Lucia. Now eighteen, Rosa will be the prized commodity at this year's Offering, a fiesta for the wealthy to engage in drink, damsels, and debauchery. That is why she must flee—before someone forces the vicious phantoms within her to destroy everything she touches.
Handsome, swashbuckling Mariano has long sailed the high seas as the Prince of Pirates. Then the king's fleet attacks his father's infamous ship, leaving him marooned on Sinner's Isle with only an enchanted chain meant to lead him to his heart's desire. Instead, he falls into the hands of a brazen (although) bewitching headache—Rosa.
Together they must outwit each other and their enemies before the Offering ends and it's too late to escape the perils of Sinner's Isle.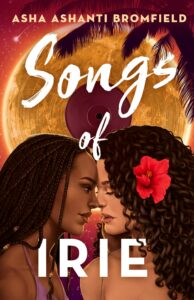 Songs of Irie by Asha Ashanti Bromfield (October)
It's 1976 and Jamaica is on fire. The country is on the eve of important elections and the warring political parties have made the divisions between the poor and the wealthy even wider. And Irie and Jilly come from very different backgrounds: Irie is from the heart of Kingston, where fighting in the streets is common. Jilly is from the hills, where mansions nestled within lush gardens remain safe behind gates. But the two bond through a shared love of Reggae music, spending time together at Irie's father's record store, listening to so-called rebel music that opens Jilly's mind to a sound and a way of thinking she's never heard before.
As tensions build in the streets, so do tensions between the two girls. A budding romance between them complicates things further as the push and pull between their two lives becomes impossible to bear. For Irie, fighting—with her words and her voice—is her only option. Blood is shed on the streets in front of her every day. She has no choice. But Jilly can always choose to escape.
Can their bond survive this impossible divide?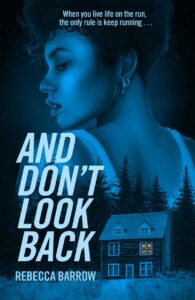 And Don't Look Back by Rebecca Barrow (October)
Harlow and her mum, Cora, have been on the run her entire life. She has no idea why or what they're running from, but in every place they stop, they create new names and stories, and they never stay for long.
Then, one night, while attempting to skip town, Cora is killed, leaving Harlow alone and with a million questions.
But her mum's secrets live on. And when a key to a hidden safety deposit box leads Harlow to Crescent Ridge – Cora's hometown – she discovers a trail of buried secrets and lies.
Harlow was hoping to find something that would help her understand her mum better. But what she finds instead will change everything she knows about her mum – and herself – forever.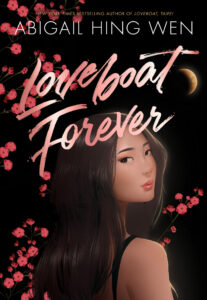 Loveboat, Forever by Abigail Hing Wen (November)
17-year-old music prodigy Pearl Wong had the summer of her dreams planned—until a fall from grace leaves her in need of new plans… and a new image.
Where better to revamp her "brand" at than Chien Tan, the Taipei summer program for elite students that rocketed her older sister, Ever, on a path to romance and self fulfilment years ago?
But as the alumni know, Chien Tan is actually Loveboat—the extravagant world where prodigies party till dawn—and there's more awaiting Pearl there than she could have ever imagined, like a scandalous party in the dark, a romantic entanglement with a mysterious suitor . . . and a summer that will change her forever.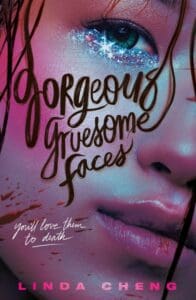 Gorgeous Gruesome Faces by Linda Cheng (November)
After a shocking scandal that abruptly ended her teen popstar career, eighteen-year-old Sunny Lee spends her days longing for her former life and cyberstalking her ex-BFF and groupmate, Candie. The two were once inseparable, but that was then—before the tragedy and heartache they left in their wake.
In the here and now, Sunny is surprised to discover that Candie is attending a new K-pop workshop in her hometown. Candie might be there chasing stardom, but Sunny can't resist the chance to join her and finally confront their traumatic history. Because she still can't figure out what happened that horrible night when Mina, the third in their tight-knit trio, jumped to her death. Or if the dark and otherworldly secrets she and Candie were keeping had something to do with it . . .
But the workshop doesn't bring the answers Sunny had hoped for, nor a happy reunion with Candie. Instead, Sunny finds herself haunted by ghostly visions while strange injuries start happening to her competitors—followed by even stranger mutilations to their bodies. In her race to survive, Sunny will have to expose just who is behind the carnage—and if Candie is out for blood once more—in Linda Cheng's spellbinding sapphic thriller that will have readers screaming and swooning for more.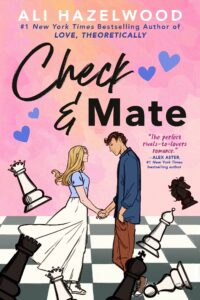 Check & Mate by Ali Hazelwood (November)
Mallory Greenleaf is done with chess. Every move counts nowadays; after the sport led to the destruction of her family four years earlier, Mallory's focus is on her mom, her sisters, and the dead-end job that keeps the lights on. That is, until she begrudgingly agrees to play in one last charity tournament and inadvertently wipes the board with notorious "Kingkiller" Nolan Sawyer: current world champion and reigning Bad Boy of chess.
Nolan's loss to an unknown rook-ie shocks everyone. What's even more confusing? His desire to cross pawns again. What kind of gambit is Nolan playing? The smart move would be to walk away. Resign. Game over. But Mallory's victory opens the door to sorely needed cash-prizes and despite everything, she can't help feeling drawn to the enigmatic strategist….
As she rockets up the ranks, Mallory struggles to keep her family safely separated from the game that wrecked it in the first place. And as her love for the sport she so desperately wanted to hate begins to rekindle, Mallory quickly realizes that the games aren't only on the board, the spotlight is brighter than she imagined, and the competition can be fierce (-ly attractive. And intelligent…and infuriating…)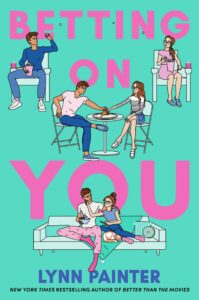 Betting On You by Lynn Painter (November)
When seventeen-year-old Bailey starts a new job at a hotel waterpark, she is less than thrilled to see an old acquaintance is one of her coworkers. Bailey met Charlie a year ago on the long flight to Omaha, where she moved after her parents' divorce. Charlie's cynicism didn't mix well with Bailey's carefully well-behaved temperament, and his endless commentary was the irritating cherry on top of an already emotionally fraught trip.
Now, Bailey and Charlie are still polar opposites, but instead of everything about him rubbing Bailey the wrong way, she starts to look forward to hanging out and gossiping about the waterpark guests and their coworkers—particularly two who keep flirting with each other. Bailey and Charlie make a bet on whether or not the cozy pair will actually get together. Charlie insists that members of the opposite sex can't just be friends, and Bailey is determined to prove him wrong.
Bailey and Charlie keep close track of the romantic progress of others while Charlie works to deflect the growing feelings he's developed for Bailey. Terrified to lose her if his crush becomes known, what doesn't help his agenda is Bailey and Charlie "fake dating" in order to disrupt the annoying pleasantries between Bailey's mom and her mom's new boyfriend. Soon, what Charlie was hoping to avoid becomes a reality as Bailey starts to see him as not only a friend she can rely on in the midst of family drama—but someone who makes her hands shake and heart race. But Charlie has a secret—a secret that involves Bailey and another bet Charlie may have made. Can the two make a real go of things…or has Charlie's secret doomed them before they could start?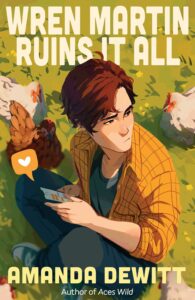 Wren Martin Ruins it All by Amanda Dewitt (November)
Now that Wren Martin is student council president (on a technicality, but hey, it counts) he's going to fix Rapture High. His first order of business: abolish the school's annual Valentine's Day Dance, a drain on the school's resources and general social nightmare—especially when you're asexual.
His greatest opponent: Leo Reyes, vice president and all-around annoyingly perfect student, who has a solution to Wren's budget problem. A sponsorship from Buddy, the anonymous "not a dating" app sweeping the nation. Now instead of a dance-less senior year, Wren is in charge of the biggest dance Rapture High has ever seen. He's even secretly signed up for the app. For research, of course.
But when Wren develops capital F-Feelings for his anonymous match, things spiral out of control. Wren decided a long time ago that dating while asexual wasn't worth the hassle. With the Dance rapidly approaching, he isn't sure what will kill him first: the dance, his relationship drama, or the growing realization that Leo's perfect life might not be so perfect after all.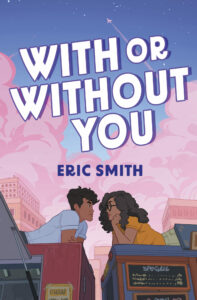 With or Without You by Eric Smith (November)
All's fair in love and (food truck) war.
Everyone knows Jordan Plazas and Cindy Ortiz hate each other.
According to many viral videos of their public shouting matches, the Plazas and Ortiz families have a well-known food truck rivalry. Jordan and Cindy have spent all of high school making cheesesteaks and slinging insults at each other across their shared Philadelphia street.
But the truth? They're in love, and it's all just an act for the tourists.
When the fake feud lands them a reality tv show pilot, Jordan and Cindy find themselves having to lie on a much bigger scale. Trapped between pursuing their dreams or their love, can they find a way to have their cheesesteak and eat it too?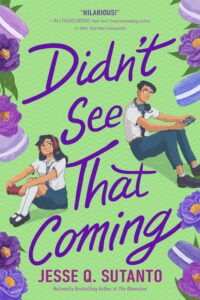 Didn't See That Coming by Jesse Q. Sutanto (November)
Seventeen-year-old Kiki Siregar is a fabulous gamer girl with confidence to boot. She can't help but be totally herself… except when she's online.
Her secret? She plays anonymously as a guy to avoid harassment from other male players. Even her online best friend–a cinnamon roll of a teen boy who plays under the username Sourdawg–doesn't know her true identity. Which is fine, because Kiki doesn't know his real name either, and it's not like they're ever going to cross paths IRL.
Until she transfers to an elite private school for her senior year and discovers that Sourdawg goes there, too.
But who is he? How will he react when he finds out Kiki's secret? And what happens when Kiki realizes she's falling for her online BFF?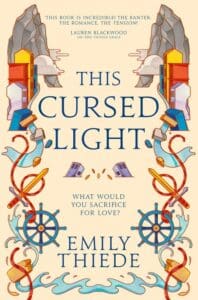 This Cursed Light by Emily Thiede (December)
Six months after Divorando, Alessa is returning from a diplomatic trip, eager to embrace her post-battle life and live happily ever after with Dante. But as the ship nears shore, a premonition of danger strikes. Little does she realise that the battle of wills between the gods is just beginning . . .
In their time apart, Dante has physically recovered from his brush with death, but he's still haunted by nightmarish visions of looming attack, suffocated by the adoration of those who once loathed him, and grappling with the loss of his ghiotte powers . . . without which, every painful kiss he steals from Alessa threatens death.
Desperate to regain them, he proposes the pair take a dangerous trip to find the long-banished ghiotte – but what they find at their destination could cost them each other – or the world.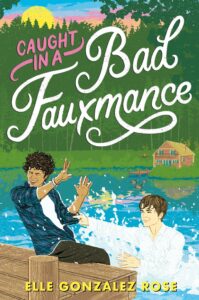 Caught in a Bad Fauxmance by Elle Gonzalez Rose (December)
Devin Baez is ready for a relaxing winter break at Lake Andreas. That is, until he runs into his obnoxious next-door neighbors the Seo-Cookes, undefeated champions of the lake's annual Winter Games. In the hope of finally taking down these long-time rivals, the Baezes offer up their beloved cabin in a bet. Reckless? Definitely.
So when annoyingly handsome Julian Seo-Cooke finds himself in need of a fake boyfriend, Devin sees an opportunity to get behind enemy lines and prove the family plays dirty.
As long as Devin and Julian's families are at war, there's only room for loathing between them. Which is a problem because, for Devin, this faux game of love is feeling very real.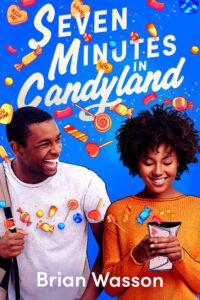 Seven Minutes in Candyland by Brian Wasson (December)
Sophomore Kalvin Shmelton has finally perfected his underground candy-selling hustle at school. He keeps his prices reasonable, his inventory fresh, and himself out of the drama. But when a heartbroken Sterling Glistern—Kal's longtime crush— barges into the storage closet where he keeps his candy supply, a new source of income unexpectedly presents itself: relationship therapist. He only meant to help Sterling realize she's dating a jerk—and maybe win her over—but news spreads fast that Kalvin's not just the master of sweets…but hearts, too! And as the son of two famous therapists, he leans into this newfound reputation and the money that comes with it.
The truth, however, is that Kalvin's parents' "perfect" marriage is crumbling. He was supposed to woo the girl of his dreams, fix his parents' relationship, and lend a listening ear to a school-full of heartbroken teens. But a jealous boyfriend, a vengeful competitor, and Kalvin's own growing ego threaten those plans, forcing Kal to rethink all he thought he knew about friendship, family, and love.