Emily Thiede on her debut rom-com YA fantasy, This Vicious Grace
"We writers like to joke about torturing our characters but creating the most compelling story often comes down to making a character's situation feel as untenable as possible."
Quick witted and action packed with a bodyguard romance that's equally as supportive and warm as it is angsty and fun, This Vicious Grace, the debut YA fantasy novel from Emily Thiede is about to become your newest YA fantasy obsession.
To celebrate its release (and to give us an opportunity to fangirl a little about this fabulous book) we sat down with Emily to chat all things This Vicious Grace.
---
Hi Emily! I'm beyond excited to have you on the site today to chat all things This Vicious Grace, your sensational debut novel and one of my favourite YA fantasy reads of the year so far! For readers new to its story, how would you best describe This Vicious Grace to them?
Thank you so much for having me! I like to describe This Vicious Grace as a romantic comedy smuggled inside a dark fantasy. Alessa was chosen by the gods to protect her island home, but instead of magnifying a partner's magic like she's supposed to, she kills everyone she touches, and even her most trusted advisors are beginning to wonder if assassinating her might be their best hope. Desperate to survive, she latches onto the first person who isn't scared of her—Dante, a grumpy outcast—who very reluctantly agrees to be her temporary bodyguard, but he has dark secrets of his own, and he might be the one person who can help her master her gift or the one who can destroy her once and for all. Aside from the looming apocalypse and tragic backstory, who wouldn't call that a perfect set up for a banter-filled romance?
This Vicious Grace is your YA debut, how does it feel knowing this book that's been solely yours is now being read by readers around the world?
It's a bit daunting to realize how many people will soon get to wander around in my imagination, but early readers have already been so enthusiastic and generous with their kind words that I'm much less nervous than I expected to be. I've waited a long time for this day and I'm so excited to finally share it with readers.
Can you tell us a little about what inspired you to write This Vicious Grace?
The seed of the idea probably started with the X-Men cartoons I grew up watching (and later, Hugh Jackman's masterful portrayal of my favourite grumpy reluctant hero!) but the story itself didn't come together until a few years ago when I was in a bit of a writing slump. All I wanted to do was read witty romcoms, re-watch 90s disaster movies with unlikely crews of misfits saving the world, and daydream about returning to the Amalfi coast. So, I let myself create a story that pulled elements from all the above, and it worked! I had so much fun that I finished a first draft in under two months, and now, three years later, I'm thrilled that the book I wrote to reclaim my joy is bringing joy to others as well.
View this post on Instagram
The lore, history, magic and politics of the islands were brilliantly crafted and instantly had me entirely convinced and enthralled by the story of This Vicious Grace. It must have been both incredibly fun and pretty challenging creating a whole new world and civilisation like this?
Thank you so much! It was both fun and challenging, but for me, everything starts with the characters, and I tried to grow a world around them that would accentuate their wants and needs in every way. We writers like to joke about torturing our characters but creating the most compelling story often comes down to making a character's situation feel as untenable as possible. Alessa is a girl who can't touch anyone, so I designed a society and a role for her where selflessness and community are prized to such extremes that as a revered figure, she's been isolated and stripped of her relationships, identity, and community, while giving her a mission entirely dependent on human connection. She simply cannot complete her goals or sate her emotional needs without taking dramatic action, which means readers know from page one that she absolutely must change her situation.
The romance featured in This Vicious Grace was *chefs kiss* perfection. Did you have any favourite scenes or moments to write?
Banter is my absolute favourite thing to write, and I love it when two very different characters really get under each other's skin, so I had the most fun writing scenes like the drinking game and Dante discovering Alessa's stash of romance novels. Those scenes are funny and entertaining but also emotionally significant because they mark a shift in the level of comfort and connection between the two characters, which made it a fun challenge to try and craft dialogue that could convey so many emotional layers.
In a similar vein, the This Vicious Grace's cast of characters are fabulous, and I can't wait to see more of them in book two. But which character do you think you'd get on best with and who do you think you'd most likely avoid?
Ooh, I think I'd have to say Kamaria. Alessa and I are probably too much alike, and Dante has his hands full with her already, but Kamaria always catches the double entendres, so I wouldn't be giggling alone, and she has the courage to say out loud whatever I'd be thinking, which is always fun! I'd probably spend the least time with Nina. Not out of malice, but because she wouldn't appreciate my sense of humour.
View this post on Instagram
2022 has already blessed our bookshelves with some incredible new YA fantasy titles (including This Vicious Grace, of course) and it's only going to continue to do so as the year continues. Do you have any YA fantasy reads you've loved lately or any you can't wait to get your hands on?
So many! I loved Lauren Blackwood's Within These Wicked Walls, I'm very excited about Ayana Gray's sequel, Beasts of Ruin, and I was lucky enough to get early copies of Sunya Mara's The Darkening, Tanvi Berwah's Monsters Born and Made, and Jamie Pacton's The Vermilion Emporium which are all so intriguing that I've been trying to read all three at once because I can't choose!
Finally, the ending of This Vicious Grace left me screaming for more (I'd have happily dived into book two straight away if possible). For readers like me who are craving more from Alessa's story, are there any non spoilery hints you can give us about book two to tide us over until its release?
Hmm. That's a tough one because I don't want to give away any potential spoilers, but I can say that it will have all the teasing, banter, adventure, and romance of This Vicious Grace plus fun new characters and at least one new romantic pairing that I think readers will really enjoy!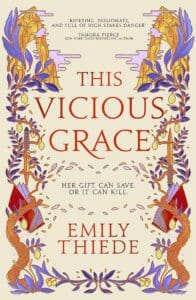 Get your copy of This Vicious Grace by Emily Thiede here.