Joya Goffney on music, writing challenges and her new YA novel, My Week with Him
"The way I planned it, this book consisted of two love stories"
Filled with moments that will both break and melt your heart in equal measures, Joya Goffney's newest release, My Week With Him is a beautiful exploration of love in its many complex forms. Having perfected the art of writing YA contemporaries with characters and relationships you can't help but root for, Joya is undoubtedly one of YA's most exciting contemporary authors and we're so excited to have had the opportunity to chat with her all about all things writing, music and My Week With him.
---
Hi Joya, I'm so excited to be able to chat to you again today, this time to celebrate the release of your excellent new YA novel, My Week With Him. For readers just hearing about it, how would you best describe it to them?
My Week With Him has been called gritty in comparison to my other works. But it still comes through with the Goffney Guarantee of deeply emotional character arcs, swoony romance and healing. If you like runaway stories, this is for you. Roadtrips and ultimatums? This is for you.
Can you tell us a little about the inspiration behind My Week With Him?
This book was inspired by my early experience living in a low-income, Christian, Black household. There was a lot of tension. My mom was a working single parent. My big sister was a headstrong artist, who I, quiet little Joya, clung to for dear life. This book is a very loose interpretation of what I saw my sister go through at home and is thus dedicated to her.
Since music plays a huge part in My Week With Him and we're pretty passionate about it ourselves here at United By Pop, I have to ask; if you had to describe Nikki and Malachai with a song, which would you choose for them both individually, as a couple and why?
Nikki: hope ur ok by Olivia Rodrigo because she's emotional and expresses herself solely through music. If she had a myspace page, she'd definitely have her emotions on full display through her profile music choice.
Malachai: New person, same old mistakes by Tame Impala because if Mal had a myspace page, he'd try his best to not seem basic. People would expect a hype song, a rap song–something football players blast in the hallways before a game. But Mal desperately wants to display his depth as a person.
As a couple: (i would have followed you) by Delaney Bailey. Listen to the lyrics–they both feel this way about each other.
All three of your novels star brilliantly strong, real and relatable heroines. If you were to attend a concert (maybe one of Nikki's?…) with the three of them, who do you think you'd best get along with?
I think I'd best get along with Nikki. Unless of course Olivia came along with Quinn. I think I'd have the most fun with Olivia, but could relate the most to Nikki and her humble upbringing. As far as Monique goes, I think I'd have too much fun corrupting her. Olivia would too *winky face*
View this post on Instagram
You mentioned in your authors note that My Week With Him was the most difficult of your now three books to write. How do you look after yourself when you're finding writing hard?
Being an author can be such an emotionally draining career—what with the fact that we pour our hearts out onto the page. With all that pouring, it can be hard to remember to refill the well. One of my recent tactics has been to watch old movies that I love—consume media and look for inspiration anywhere and everywhere.
During the writing process, was there anything you found particularly challenging and did you have a favourite scene to write?
The most challenging part of writing My Week with Him was balancing the relationship between Nikki and her mom and the relationship between Nikki and Malachai. The way I planned it, this book consisted of two love stories–one romance and the other familial. Nikki and Malachai were best friends to lovers, while Nikki and her mom were definitely enemies to loved ones. I tried juxtaposing these two relationships and playing them off each other–sounds simple, but the execution was quite challenging for me. That being said my favorite scene to write was definitely the truth or dare scene–iykyk.
Since we've officially hit the halfway point of 2023, do you have any recommendations for YA titles you've loved so far this year and any you're especially looking forward to?
Maya Ameyaw published her debut in June, and I was fortunate enough to get a chance to read it ahead of time. When It All Syncs Up was delightfully dark and beautifully written about a Black ballerina and the discrimination entrenched in the ballet world. I recommend this to anyone who loves poetic writing and a focus on mental health–my faves.
Finally, do you currently have any projects in the works and if so, is there anything you can share for those of us already desperate for our next Joya Goffney read?
I've been working on another YA title–my last for a while, as I'm eager to break into the adult market. All I can say about it at this point is that it's fun and poppy–think early 2000s teen movies. Mean Girls, meets John Tucker Must Die, meets The DUFF.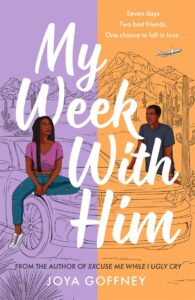 Get your copy of My Week with Him by Joya Goffney here.