Jade Ehlers
Internet star Madilyn Bailey chats hate comments, new music and more
From YouTube to the stage of America's Got Talent; Madilyn shows you can achieve anything!
30-year old Madilyn Bailey is a true internet sensation. With 9.5 million subscribers on YouTube, 3.5 million followers on TikTok and 1.6 million monthly listeners on Spotify, the star is making her way to success with her singles like 'Tattoos & Therapy' and 'Doomsday in LA'. On top of that, Madilyn will bring out her debut LP Hollywood Dead very soon. Madilyn's passion for music is huge, uploading covers but also original songs on her YouTube channel and participating in America's Got Talent where she was able to impress Simon Cowell – the world is now ready to welcome Madilyn with her debut LP. To celebrate Madilyn's new music and her other achievements, she had some time to chat with us!
Hi Madilyn, Congratulations on the release of your new music! How does it feel to bring your own songs out?
So good, but also really terrifying haha. I feel like my favourite part of the process is writing the album, creating it, and when it comes close to releasing it I start to feel a bit nervous. At this point I've released enough music that I recognise this behaviour, but then I just remind myself; 'You're gonna put it out anyways and you'll be proud of yourself and you'll be happy you did it!'
I can imagine that after so many years! You've been uploading your music on YouTube for a long time. How did that journey start for you? Where did your passion for music come from?
Well, I grew up with my dad playing guitar, I feel like I was always singing and that it was always a part of me. In 2009 when YouTube started to become a thing I was watching people posting videos, and I was like 'I think I can post some videos as well'. I think ignorances are the best tool that you can have when you're young because you don't know much work it's gonna take, like you don't know how unskilled you are haha. My first video got a pretty good response, and then I kinda fell in love with social media; the ability to create a dream and connect with your audience is amazing. When I started I was just 16 years old, but even then I recognised how powerful it can be and I fell in love with connecting with my audience and also more with music.
So you've been making music for a while, how do you keep getting inspiration? Since you've been doing this for so long!
I think it's about staying curious and listening to a lot of new music, I think that's the way how I keep inspired. I just LOVE social media as well, so I'm just also a fan of scrolling and watching other artists on there. I think it's really fun to see how many different evolutions social media had over the last years. I put things about my life in my songs, but also the things that my friends go through, it's just in general my personal growth which you also see as my songs progress.
In 2021 you also participated in America's Got Talent with your own written song. Simon Cowell was also really impressed by you (which is quite rare!). How do you look back on that experience?
I think it was really cool! I'm really glad on the way I did it, I established with my audience first before I participated, because I imagine when I was 16 years-old and would get negative feedback that I would be devastated on a young age like that. I took it for what it was, it's a reality TV show so I was just really excited to sing my songs and to have that experience and of course, Simon being super supportive was kind of a dream. I grow up watching American Idol and that was one of the reasons that I did want to go on the show because he's a judge want I thought it'd be fun to sing for him. So in the overall experience I'm really glad I did it.
You auditioned with a song that you wrote yourself from hate comments that you received. How did you use to deal with hate comments? Did they affect you or did you not care that much?
Really early on hate comments bothered me. But I think I just learned really quickly that there's some truth in some of those comments where someone has critiqued and could learn from it. Generally it's just garbage, and kids throwing or people that are jealous are having a hard time. I think as when I grew on the internet I got a really thick skin and those comments became more funny to me, like some people were like 'you're never gonna make it!' And I'm like: Hellooooo?! I made it.
And you really did! Do you have any advice for other artists that receive hate comments?
I'd say just stay very focused on your goals and what you're after and your sound. I feel like people really attack you when you do something really unique. So when you get attacked you probably do something great! Of course there might be in some of those comments that you can learn from it, but you can either learn from that or just take some of it. But mostly I'd say just stay focused on your goal and work hard!
You're doing really good for yourself and now you also released 'Tattoos & Therapy' what is it about?
The song 'Tattoos & Therapy' is just like… a panic attack in a form of a song. I wanted the song to make feel really manic and anxious, potentially self-destructive and on the edge of ruining everything. I woke up on the morning of that writing session very manic energy and I felt really anxious. I never cancel writing sessions, like never because sometimes I feel like when I go to a session on my worst am I writing my best songs. So I was like 'Guys I need to write a song about this feeling, acknowledging that it exists.' Because I feel like everyone sometimes has these kind of feelings and especially anxiety has a really bad reputation nowadays on being this super kind of negative thing. That energy is why I'm here – anxiety and excitement are kinda in the same category. It's about having good coping skills and feeling more productive ways to channel those feelings.
Now you have also your album Hollywood Dead coming out soon, how would this album differ from your previous work?
Hollywood Dead is kinda about everything I learned since moving to LA; the album has a really cool story. It starts with the excitement about the journey of getting here and then it's about confusion and delusion.. and then it's about 'dead' of self that you got to be in this industry. After that it's about grief and excitement, and after that it's about excitement because you're on the top of the cycle. I feel like that's my personal journey on coming to LA, but I feel like everyone has their own kind of 'Hollywood Dead' somewhere; you start college, your relationship or you get your dream job. I feel like the songs that I wrote about this journey could be for everyone.
I feel like that a lot of people romanticise LA and Hollywood a bit too much and then they're disappointed when they arrive. Did you have that feeling as well?
Um, yeah haha. I'm from Wisconsin which is a very small town. The first time I came to LA I kinda had that 'Love is blind' feeling, like i couldn't do anything wrong here. But when you start getting into it and meet new people you're going to be like: 'Wow this industry is really creepy and hard'. If you don't look after yourself.. yeah, everything can happen. I was fortunate to work with awesome people, but before that I also worked with really bad people. Just like with the internet where you have to grow a thick skin on the hate comments, do you have to get faith in yourself to be in LA, because everyone will have an opinion on you; whether it's good or bad, because they're the people that want to make you a star. But the only person that can make you a star is yourself! Hollywood can be helpful and there are talented and creative people, so just find those people.
That's another great advice! Which song on the album is your favourite?
My favourite song right now is the title track 'Hollywood Dead'. The song came out as a sort of joke because I was like 'Oh my god, I turn 30 this year… I'm basically Hollywood Dead!'. In the industry and especially as a female, age is so different than reality. Because 30 is really young, you have your whole life ahead of you. It's a bit different in Hollywood. I've been doing this for over a decade and then I turned 30… it was as a sort of joke. I get a lot of comments around me like: 'Why are you still doing this? I can't believe you're still doing this', and I'm like.. yeah me neither, haha. I think i'm ambitious. But it's just a funny take on aging in the industry as a female, but the main message is that you have to become Hollywood Dead, you have to be numb and careful if you want to make it here.
How do you hope that people will feel when they listen to your album?
I hope they feel a bit of everything. I really go deep and personal in a lot of songs, there's a song about my fertility journey, songs about heartbreak and happiness… and anger too. There's a whole revenge theme on the album which I'm very excited about. I just hope that wherever anybody is on their Hollywood Dead journey in life that they find a song on this album where they're like; 'This is exactly where I am in my journey!'. I hope by finding that song they can see where they are on that journey can help them.
What's next after your album release? Anything you can tell us about, a tour maybe?
Well… there won't be a tour this time because I'm actually pregnant! So at least no tour till after the baby. But after that I'd love to go on tour, so maybe.. next year.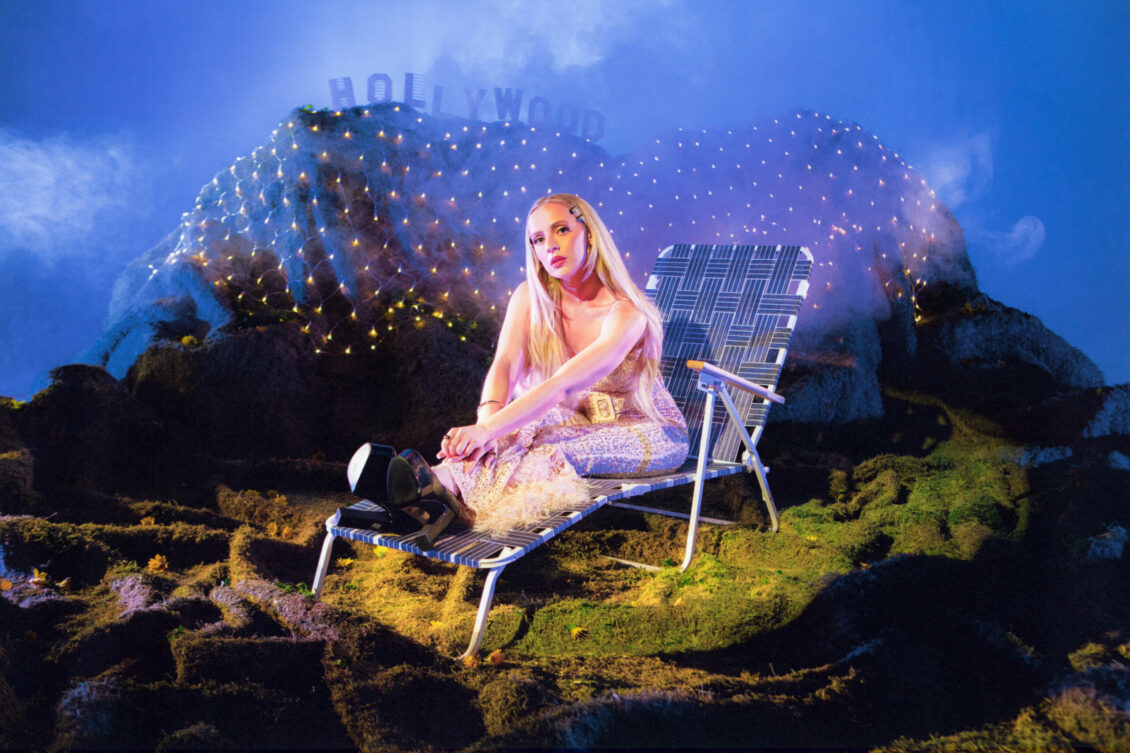 We want to thank Madilyn so much for her time and we wish her the best of luck with her pregnancy!