The 33rd Annual Pollstar Awards took place on 8th February at the Beverly Hilton Hotel in Los Angeles and saw our beloved Harry Styles win yet another award because he just can't help it, he has to!
Pollstar Awards recognize and honor the most successful artists, executives, venues, events and companies in the global live entertainment industry, and the ceremony returned to its traditional format this year after honoring artists of the decade in its 32nd edition due to the lack of touring activity during the pandemic.
The sold-out US leg of Harry's Love On Tour which saw him perform 5 times at Madison Square Garden in New York – two of them for the iconic Harryween – was crowned 'Major Tour Of The Year' as the most commercially and artistically successful tour of the year, and we couldn't agree more.
Harry wasn't there – artists usually never show up – but he made his acceptance speech on video thanking everyone for the award, especially his band, his crew and of course his loyal fans.
"Thank you to my band and my crew for everything they did during this tour. Given the circumstances, it was very difficult and very different touring environment than everyone was used to, but I just wanna thank them for the way they pulled together and managed to make this tour happen. And to all the fans who came and bought a ticket and made it happen, thank you so much. I couldn't have done it without you. Thank you again and I hope you have a good night."
Harry also won Major Tour of the Year pic.twitter.com/Ei0dH8IvwG

— shirleyhalperin (@shirleyhalperin) February 9, 2022
During the night Jeffrey Azoff, Harry's manager, was also named 'Personal Manager of the Year' and Harry feeling in his funny era sent a message to him as well, making everyone laugh: "It's been an absolute pleasure to watch from afar as you've achieved everything from the comfort of your own home while I've been touring. Congratulations, I'm very very happy for you, and you're welcome."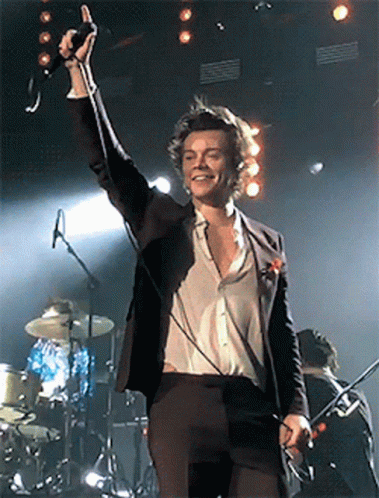 The rest of the Love On Tour will (hopefully) kick off in June in the UK – yeah apparently from time to time he remembers where he is from, SHOCK – featuring some stadiums, Wembley included for two nights in a row; it will then move to the rest of Europe in July and to Latin America in November.
LOVE ON TOUR 2022.

TICKETS ON SALE NOW. pic.twitter.com/7lMrVXaG4V

— Harry Styles. (@Harry_Styles) January 28, 2022
Harry himself has said that he's "loved being back out on the road" and that he is "very much looking forward to going back out again this year."
And we literally can't wait anymore!
Featured image source