William Hussey on LGBTQIA+ representation in romance
"Representation in romance says: whoever you are, wherever you are, you deserve to love and to be loved."
This post was written by William Hussey, author of The Outrage
WHAT'S LOVE GOT TO DO WITH IT? by William Hussey
When I was a kid growing up in the 1980s and 90s in a very traditional part of England, I simply did not see any positive representations of LGBTQ+ people. Not in books, not in film, not on TV or in advertising, and certainly not in romances. In those days, if a gay character was even included in such stories, then it would be as the 'comedy' best friend – a figure to be pitied and laughed at, certainly not worthy of love in their own right.
It was only years later that I discovered that there were rare examples of queer romances being written and filmed at this time (the 1996 movie BEAUTIFUL THING comes to mind, as well as a film I almost caught on TV late one night, 1985's MY BEAUTIFUL LAUNDRETTE), but they did not reach me and I doubt many gay teens of my generation had access to them.
The idea of a same-sex couple falling in love on the page or onscreen, of them holding hands or (just imagine!) kissing, would have seemed incredible to us. An impossible fairy tale, and a potentially frightening one in terms of its consequences.
This was the height not only of the AIDS pandemic but the infamous Section 28, a piece of legislation that forbade, among other things, 'the teaching of the acceptability of homosexuality as a pretended family relationship'. Thanks to Section 28, we had no sex education in school, and so our only knowledge of AIDS came from the harrowing 'tombstone' public health campaign, which painted it – and by extension, a gay existence – as a death sentence.
View this post on Instagram
Writers and filmmakers brave enough to include queer narratives in their work were met with howls of public protest and screaming tabloid headlines. Meanwhile, as a closeted gay kid, I was terrified of even my friends and family finding out I was gay, fearing bullying, a beating, or even worse.
And so what were we to do? Like most teenagers, we longed for romance. To imagine ourselves in that seat at the back of the class as the ridiculously cute new kid introduces themselves. To picture the scene in the school corridor where we would stumble over some bully's outstretched foot, dropping our books as we inevitably faceplanted, only to find the new kid helping to collect up our homework, their lips forming an adorable smile.
Imagination was our only way to enjoy the warm, fuzzy thrill of fictional romance. I've discussed this a lot with gay friends of my age and we all did the same thing: we sat back in the cinema, closed our eyes, and transported ourselves into the straight romcoms that populated our teens. In our heads, we had elbowed the female lead aside and it was us in the final, triumphant reel, under the starry glow of the mirror ball, dancing cheek-to-cheek with Ryan Phillipe while the defeated mean girls looked on.
Our generation had to use our imagination to find representation. It warms my heart that, for so many today, they do not. Because representation is important. As the main character says in my new LGBTQ love story/thriller THE OUTRAGE, 'To see yourself reflected as a human being, with worth and dignity? I really think that has the power to change minds. Even save lives.'
It does have this power, but it has a softer influence too. When I set out to write both THE OUTRAGE and HIDEOUS BEAUTY, I didn't just want them to be thrillers that tackled big, important subjects. I wanted to reach back to my teen years and write the kind of a heart-bursting, swoony romance I had longed for then. Same-sex love stories are just as worthy of being told as straight romances, in fact, they are crucial. If I had seen just one such representation when I was an unhappy teenager, projecting my hopeless fairy tales onto the big screen, it might have saved me many years of needless heartache.
Representation in romance says: whoever you are, wherever you are, you deserve to love and to be loved.
You, just as you are.
View this post on Instagram
Some favourite LGBTQ+ romances:
Simon and Blue in Becky Albertalli's SIMON Vs THE HOMO SAPIENS AGENDA: The modern classic. A beautiful, generous, life-affirming story of gay first love.
Mateo and Rufus in Adam Silvera's THEY BOTH DIE AT THE END: A stunningly original and accomplished piece of storytelling. We know the fate of Mateo and Rufus at the very beginning of the book, but Silvera teaches us that even doomed love is enriching and worthwhile.
Noah and Harry in Simon James Green NOAH novels: Side-splittingly funny, awkwardly romantic (in the best sense) as well as gorgeously observed. As hilarious as it is moving.
Rafe and Ben in Bill Konnigsberg's OPENLY STRAIGHT: an unconventional 'romance', and one that deals subtly with the idea of unrequited love and the responsibility we bear for the secrets we keep in the name of love. However much we might yearn for a conventionally happy ending, this story pitches its conclusion perfectly.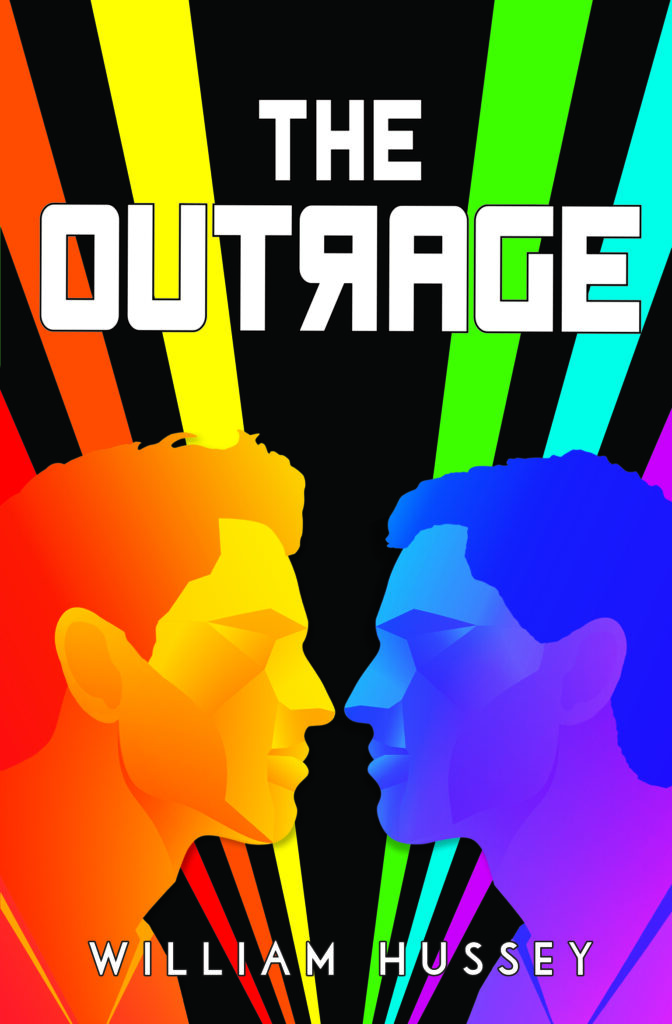 Get your copy of The Outrage by William Hussey here.