Samira Ahmed on her poignant new YA novel, Hollow Fires
"I may write fiction, but my stories tell a truth."
Powerful, moving and painfully relevant, Samira Ahmed's new YA novel, Hollow Fires, is an expertly crafted and truly unforgettable teen detective story you won't be able to put down. Hollow Fires is one of the most impactful and gripping YA thrillers we've read in a while and we're so grateful to have had the chance to talk to Samira all about it.
---
Hi Samira! I'm so incredibly excited to get to chat to you about your newest and utterly brilliant new YA novel, Hollow Fires. For readers just hearing about this fabulous book, how would you best describe it to them?
So happy to chat with you, too! Thanks for the opportunity. Hollow Fires is a dual POV thriller that follows the story of Safiya, a budding young journalist, and Jawad, the 14-year-old boy whose body she finds in a local park. The novel also incorporates found documents such as newspaper articles, blog posts, Reddit threads, Tweets, news transcripts, and interviews that shed light on the crime. Safiya is determined to find out the truth of what happened to Jawad even as it brings her closer and closer to danger.
Hollow Fires is an incredibly powerful and emotional story and mirrors countless current and devastatingly real life events in a way that will stay with its readers long after the first page. Can you tell us a little about how you came to write Safiya and Jawad's story and the inspiration behind the book?
Hollow Fires was, in part, inspired by three different true crimes—including an infamous murder from 1920s Chicago as well as more recent hate crimes. Like so many people, I'm fascinated by true crime podcasts. But I always find it disturbing that we learn so much about the murderers but very little about their victims, about the dreams they had and lives they lived that were cut short by hate. I wanted to speak to that in this story. Also, like Safiya, I was the editor of my high school newspaper and I wanted to address the myth of neutrality and the notion that any journalist can truly be "objective."
View this post on Instagram
Your books tackle what some would categorise as 'tough topics'. Why do you think it's so important to reflect the realities of topics such as racism, sexism, islamophobia, xenophobia in YA fiction today?
I don't really think of those themes as "tough topics." The sad truth is that for so many young people—for so many of us, period—living with racism, sexism, and all sorts of bigotry are threaded into our everyday lives. In writing young adult fiction, I believe it's my job to honor the lives and voices of the young people I write for. I may write fiction, but my stories tell a truth.
Hollow Fires is told through two perspectives, as well as interview transcripts, news articles and various other mediums. How did you go about stitching all of these different elements together to create such a beautifully cohesive and engrossing story?
Thank you for those kind words! I am always drawn to interesting (challenging?) novel structures. And because Hollow Fires is a book about how stories are told from different angles, about how truths can be obscured and disinformation spread, I wanted the reader to have multiple avenues into the stories of Safiya and Jawad. This novel was like a big puzzle. While writing, my greatest challenge was making sure every piece fit perfectly to paint the picture I wanted.
Reading Hollow Fires was an incredible moving and emotional experience, I can imagine the same could be said for writing it? What was your writing experience like?
I was writing, revising and editing Hollow Fires during a very trying time in America—politically and socially. The anger I felt at the overt racism, police brutality and attempted destruction of our democracy is definitely something I channelled into my work.
Globally, we were in the midst of the pandemic where so many had lost so much. And the weight of all that was definitely an emotion I carried into the novel. In so many ways, Hollow Fires was the most difficult novel I've ever written. But I also tried to infuse hope into this story. Especially in tough times, I lean into hope. To act with hope is a choice– a choice that is the cornerstone of change.
View this post on Instagram
Having officially reached the halfway point of 2022, are there any books you've read so far this year you'd love to recommend or any upcoming releases you're excited about?
So many! Sharing book recs is one of my favorite things!
I absolutely loved Sabaa Tahir's powerful All My Rage. As Long as the Lemon Trees Grow (out in September), the debut novel by Zoulfa Katouh totally wowed me. For a little swoony YA romance that's so darn cute, I recommend Once Upon a K-Prom by Kat Cho. For desi wedding shenanigans that will tug at your heartstrings, I suggest It All Comes Back to You by Farah Naz Rishi. And for a charming, romantic sequel, I am super excited about S.K. Ali's Love from Mecca to Medina.
I have to give a shout out to my favorite YA murder queen, Karen McManus whose next book Nothing More to Tell is out in August! Also, the Stephanie Garber's The Ballad of Never After and Kerri Maniscalco's Kingdom of the Feared are out this September and I can't wait!
And for everyone who enjoys middle grade, I adored Aisha Saeed's Omar Rising, Claribel Ortega's Witchlings, and I highly recommend the truly magical The Marvellers by Dhonielle Clayton—it is an absolute delight and the fantasy series starter I'm most excited about.
Finally, are you currently working on anything new and if so, are there any hints about what we might expect to read from you in the future?
The trade paperback (i.e. graphic novel) of my Ms. Marvel series Beyond the Limit just came out and I'm so excited about it. The second book in my middle grade fantasy duology—Amira & Hamza: The Quest for the Ring of Power—is out this September. And I'm co-editing an anthology of South Asian diaspora science fiction/fantasy stories with Sona Charapoitra that will be out in 2023. Finally, on the YA front, I have two secret projects I'm working on and both feature revolutionary girl protagonists who are fighting for their worlds and their truths.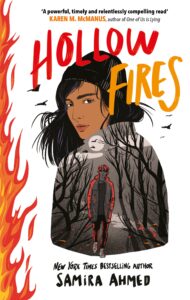 Get your copy of Hollow Fires by Samira Ahmed here.