Kat Cho talks K-Pop, dream casts and her gorgeous new YA contemporary, Once Upon a K-Prom
"Teens are resilient, and strong, and passionate, and I think the Korean mindset really intersects with that."
To all K-Pop, K-Drama and childhood-friends-to-lovers fans out there, consider this your warning that author, Kat Cho, is about to become your new best friend thanks to her swoon-worthy new YA contemporary novel, Once Upon a K-Prom.
Asking the question, 'What would you do if the world's biggest K-Pop star (who happens to be your childhood best friend) asked you to prom?'  Once Upon a K-Prom is a drama filled, romantic delight from beginning to end. It's funny, relevant, dramatic and totally heartwarming and we're so excited to have had the joy of asking Kat a few questions all about it.
---
Hi Kat, it's so lovely to have the chance to talk to you today about your fabulous new YA rom-com, Once Upon a K-Prom! For readers just hearing about it, how would you best entice them to pick up a copy?
The book is about estranged-childhood-friends-to-lovers and based on my life-long love of K-Pop. It explores the idea of childhood friendships and how they change as we grow up, and the reluctance we often have to let go of the familiar for fear we're losing a part of ourselves. It's also about two teens who both desperately want the world to see and love them for who they truly are, and worried that they might not achieve that goal. Elena and Robbie connected as kids because they both love exploring and discovering things, but as they've gotten older, they've both let anxieties and fears bury those parts of themselves in one way or another. Elena by trying to predict everything so she never gets hurt and Robbie by following the strict regimented rules of the K-Pop world. So, when they reconnect, they are both trying to rediscover that fearlessness they used to have in order to pursue what they really want. Also, there are a lot of K-Drama tropes in the book and K-Pop easter eggs!
Once Upon a K-Prom has to be one of my favourite YA contemporaries I've read so far this year! Can you tell us a little about the inspirations behind Elena's story?
I wanted to have a main character who wasn't just going to fall fawning at Robbie's feet, and I thought, "Who better than someone who knew Robbie when he was his messiest self?" I also really love second-chance romances, so I knew I was going to make them old childhood friends (which is actually a very common trope in K-Dramas—childhood friends reconnecting years later). I also wanted Elena to represent some of my anxieties when I was in high school that I used to think made me weird. Like the fact that I believed I had to find the "one thing" that made me special or stand out before I left for college or else I'd be failing at life (yup, I really believed that). I found out later that a lot of my friends went through this in high school, but we all just never knew we could talk about it.
View this post on Instagram
If you found yourself having switched places with Elena, how do you think the story of Once Upon a K-prom would have differed?
If teen me switched places with her, I don't think the story would've changed that much since Elena has many of my own personal anxieties. Actually, I might have never gotten together with Robbie because I was painfully shy when it came to relationships and never dated in high school. And I do think that I would have tried a lot harder to be friends with Robbie again, because I value my friendships so much. But I think it might have ended at just friendship (lol).
Once Upon a K-Prom would make the best movie or TV show (like, this needs to happen asap). If this were to happen, do you have a dream cast for any of the characters?
All of my dream casts would be Korean actors or K-Pop idols (so, that might not work for an American produced movie). But if I were to pick an actress for Elena I'd love to have someone with the spunk of Kim Sejeong. Moonster is based a little bit on BTS's J-Hope and Exo's Baekhyun. Robbie is visually based on a mix of BTS's maknae Jungkook and Stray Kids' maknae I.N. (but some of his personality is based on BtoB's maknae, Sungjae). JD is a little bit 2PM Taecyeon (who I would LOVE to see in a movie version, but he'd probably play a veteran K-Pop idol) and a little bit based on the visuals of The Boyz's Juyeon. Jun is a mix of Exo's and Astro's Moonbin. And Jaehyung is based a lot off of Exo's D.O.
If I were to just name K-Pop idols that I would want in a movie adaptation of K-Prom in general, I'd say Stray Kids' Bangchan, Felix, or Han. BlackPink's Lisa or Rosé. CL or Sandara Park (two of my first K-Pop faves!) BTS's RM or Suga, BtoB's Peniel, Astro's Eunwoo, Jessi, Ailee, AleXa, Eric Nam, or Rain.
View this post on Instagram
Excitingly, K-Pop has gradually found itself featured more heavily in YA over the past few years. Why do you think this is and why do you think K-Pop lends itself to YA so well
K-Pop has built a community around it of belonging. I personally don't think K-Pop is what it is merely because the songs are in Korean, but because of the culture that has risen up around it. How the fans are so involved in the careers of the idols. There's a mindset that "we're all in this together." K-Pop Idols acknowledge their fans every step of the way, and often call us their family instead of just their fans. And that's because there's a very deep connection and love between an idol's fans and themselves. It's why there's so much fan-service and extra entertainment content outside of just the music. K-Pop is a place you can come and connect with other people through a shared love of something. It's easy to feel like you belong as long as you're open with your love. This is true of Young Adult, too! Our community comes together through our love of stories and tropes and characters. We connect on our deepest nerd levels and find community within each other. In this way, K-Pop and Young Adult are deeply connected in how we function. That's why it's such an easy and organic fit to create YA stories out of K-Pop!
I also think that there's a mindset in Korea that focuses on achieving your dreams if you have a passion and work hard enough for it. Koreans have always had to work hard at retaining our culture and identity, and we are very proud of how hard we fought to stay true to who we are. When you really think about it, those ideals really relate well to a teen coming of age and finding out who their true self is and holding onto it (especially in a time when so many outside factors are threatening the most marginalized members of our society). Teens are resilient, and strong, and passionate, and I think the Korean mindset really intersects with that. K-Pop is an industry that rose up because of innovation and hard work. Back in the day, when K-Pop first became big in the late 80s/early 90s, K-pop was thought of as a low-class profession and scoffed at by others. But the K-Pop idols who paved the way really stood strong in their conviction and grew the industry into something that people adore, respect, and admire today.
Once Upon a K-Prom was truly a gift to all of us childhood-friends-lovers fans. Do you have any favourite upcoming or currently released YA contemporaries that play on this trope you'd like to recommend?
It's Kind of an Epic Love Story by Kacen Callender is an amazing friends-to-lovers contemporary romance. Right Where I Left You by Julian Winters is a very sweet friends-to-lovers with comic fandom vibes! Seoulmates by Susan Lee has such fun K-drama vibes! If you like a bit of magic in your romances, then check out The Drowning Summer by Christine Lynn Herman about ex-best-friends who fall for each other. Can I also recommend K-Dramas? Because Twenty Five Twenty One is the ultimate childhood-friends-to-lovers/will-they-won't-they romance!
Are you currently working on anything new and if so, is there anything you can tell us about it?
There's one story I'm working on that I can't say too much about, but I can say it's a return to contemporary fantasy based on Korean myths! I also have two short stories coming out with anthologies. The first is a paranormal romance anthology called Eternally Yours edited by Patrice Caldwell and my story has Korean vampires! The second is a magic school anthology with an inclusive and diverse magic school called The Grimoire of Grave Fates edited by Margaret Owens and Hanna Alkaf. I'm very excited about this one because it's the first time that my main character has my own queer identity (as opposed to side-characters).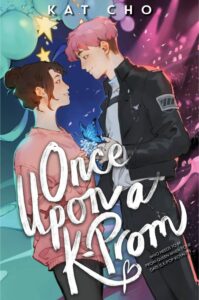 Get your copy of Once Upon a K-Prom by Kat Cho here.