Samantha Shannon on The Mask Falling and the stigmas of being a female fantasy author
"I've never got over the implication that if a female character is ever vulnerable, it means she is weak"
For fans of Samantha Shannon's The Bone Season series, the four year wait for the fourth instalment has been a long one but the wait is finally over. Readers can at last be reunited with Paige Mahoney once again inThe Mask Falling, book four in this epic dystopian fantasy series.
To celebrate its release, we not only have a copy of The Mask Falling to giveaway to one lucky reader, we were also lucky enough to get to chat to Samantha all about The Mask Falling, the stigmas female adult fantasy writers face. We also may have even managed to get a hint as to what we can expect from The Bone Season book five…
---
Firstly, a huge congratulations is in order for the release of The Mask Falling, the newest instalment in your incredible The Bone Season series! Without any spoilers, how would you persuade readers yet to start this frankly incredible fantasy series to do just that?
Thank you! It feels surreal that it's finally out, after eight years of chipping away at it – I've been working on this one almost since the beginning, with some of its scenes drafted in 2012, while I was editing The Bone Season.
The way I usually pitch the series is as a fusion of my two favourite genres: epic fantasy and dystopia. Dystopian fiction is often tightly focused on one city, country or community, but The Bone Season takes you across multiple large settings, allowing you to see the oppressive empire of Scion from many angles and perspectives. So far we've visited Oxford, London, Manchester, Edinburgh and Paris, with more to come.
The series is also a re-imagining of the myth of Prometheus and Pandora (although you won't see exactly how until the later three books), and an intimate examination of a relationship between a mortal and an immortal, asking whether they could ever find common ground and exploring the joys and difficulties of their relationship.
And for long-time fans of the series, in just one sentence, what can they expect from The Mask Falling, the series' fourth instalment?
The Mask Falling brings together all of my favourite elements of the first three books: the deep conversations and banter between Warden and Paige from The Bone Season, the urban exploration and syndicate politics of The Mime Order, and the high-stakes action of The Song Rising.
The Mask Falling is the fourth instalment in The Bone Season series, with book three having released in 2017. How does it feel knowing readers are returning to Paige's story again after these past few years break?
The long delay between The Song Rising and The Mask Falling has caused me a lot of worry over the past few years – every time another year rolled by, every time there was another delay, I was more concerned about whether readers were going to have the patience to wait. There were a few reasons for the hiatus – the main one being that my standalone novel The Priory of the Orange Tree, which I wrote while my editors had The Song Rising, took far longer than I anticipated to finish. I also had a difficult bereavement at the end of 2019, which caused me to miss a vital deadlines for a 2020 release.
Having said all that, I am very proud of this book and I'm glad The Mask Falling is the one that readers will return to, because I think it's the best instalment so far. I'm just so glad it's finally here, and that I can start drafting the fifth book soon.
View this post on Instagram
Paige is such a complex, nuanced and unique voice to follow. What has the journey been like for you creating her character and living in her mind for so many years?
I'm glad you like her. I care about Paige as much as I would if she were real, and I'm grateful that I get to explore one character in so much depth over a long series. She took me by surprise when I first came up with the idea for The Bone Season, because I'd never written in first person before. Always in limited third. But her voice came to me so clearly – 'I like to imagine there were more of us in the beginning' – and I had this immediate sense of who this young woman was, and who she could become. Now she has a life and will of her own. I love throwing her into new situations and working out how she'll react and adapt.
The Mask Falling is where Paige is at her most emotionally and physically fragile in the series. She's throwing herself into yet more life-threatening situations while wrestling with the consequences of her ordeal in The Song Rising. Throughout the series, it's been very important to me that everything that happens to Paige – and I do put her through the wringer – leaves a lasting impact on her, transfiguring her as the story unfolds. She is a resilient person, but she's also vulnerable and flawed, and she makes mistakes. I never wanted her to be a stone-cold badass – for me, that's rarely interesting or relatable. Even as the plot forges onward, I want to keep making time for Paige to reflect on everything she's experienced and how it's affecting her, and to allow her to experience fear, grief and anger. (I remember a journalist once asked me why she wasn't 'strong like Katniss Everdeen' and I've never got over the implication that if a female character is ever vulnerable, it means she is weak.)
There's often a huge amount of stigma when it comes to female authors writing adult fantasy, with their books being automatically labelled as YA and YA novels being wrongly looked down upon in many spaces. With Paige being nineteen in book one (older than the average YA protagonist starts a series at) and The Bone Season somewhat defying any typical age categorisation, having been labelled as both YA and adult, have you found that you've managed to avoid these conversations or is it something you have to contend with?
It is definitely something I've contended with. With The Bone Season, I've always felt the misclassification was understandable – the early books in the series, particularly, do blur the fine line between YA and Adult, even though the vast majority of characters are not in their teens. When I emailed the manuscript to my future agent, I was the first to admit I didn't know which age group would suit it best. Paige is 19 at the beginning, as I was when I wrote it – that's just a year older than the upper age range for YA (which is usually defined as 12-18) – but Bloomsbury was sure it belonged in Adult. I'm relieved they categorised it that way, because it means I don't have to constrain myself in terms of age-appropriate content, but it's also been published as Young Adult abroad and it has a significant YA readership.
I find it far more surprising when my standalone, The Priory of the Orange Tree, gets categorised as YA. To me, that one is firmly Adult, even if it has crossover appeal. The main characters are 19, 26, 30 and 64, and I've always been very clear about how I feel it should be categorised. It is a little frustrating when an author says their book is one thing and others decide otherwise, and it does seem to happen far more frequently to female authors. It's not that we have any issue with YA – we just want people to respect how we define our own work. And if you keep classifying women's work as YA when it isn't, it gives the misleading impression that Adult fantasy is a male-dominated domain.
From the characters to the world to the Voyant abilities to the relationships, The Bone Season series is filled with so many wonderful and unique elements but do you have a favourite aspect to create?
Although the worldbuilding is always great fun, my favourite aspect is the relationship between Warden and Paige. From the moment they met in The Bone Season, there was a chemistry between the two characters that's always made them such a joy to write, whether they were friends or enemies or lovers. They couldn't be more different in some ways: Warden is restrained and enigmatic, while Paige is far more blunt – but they also share a deep, mutual understanding, which allows them to transcend the barriers between them and work well as a team.
View this post on Instagram
You're pretty active on social media and often (rather cruelly, I might add) tease your readers with titbits about your work. What's it like being able to have that instant reaction and excitement from readers? I imagine it must be quite nice to have a community of people always ready to talk to about these characters who I assume take up a pretty big part of your thoughts?
It is lovely, yes – one of the advantages of social media is having such a warm, enthusiastic community on the other side of the screen, which has been especially uplifting for me in lockdown, as I live alone. The publishing industry is so switched-on and passionate, and I feel privileged to be a part of it. I will be going on social media a little bit less after the pandemic, though, as I find it does distract me from my work.
Fans of the series have been anxiously awaiting The Mask Falling since the release of The Song Rising in 2018 but is there a specific scene or moment you've been particularly anticipating them reading?
There's a scene that takes place in the Sainte-Chapelle that I think will cause some . . . consternation. It's the first part of the book I drafted, way back in 2012, after I visited the Sainte-Chapelle during my very first trip to Paris. Stepping into that chapel took my breath away; I knew immediately that I had to have a big setpiece take place there in Book 4. I remember scribbling the earliest incarnation of that scene in a notebook while sitting in the Café de Flore with a hot chocolate beside me. The Sainte-Chapelle is my favourite place in the world to this day, and I always go on a little 'pilgrimage' there when I visit Paris.
Book four may have only just come out but I have no doubt readers are already counting down the days until book five. Can you give us any hints as to what we might be able to expect from the next instalment in Paige's story?
As usual, I'm going to pull the carpet out from under you. Every book in the Bone Season series is meant to be very different from the last, and this one will be no exception. I never want you to be able to predict exactly what the next book will be like.
Book 5 marks the start of the second 'arc' of the series, with even higher stakes, an even bigger world, and a shift in focus towards the Rephaim and their history, and how it affects Paige. Throughout it all, you'll still be with her.
Want to jump into The Mask Falling by Samantha Shannon asap? Follow the instructions in the tweet below for your chance to win a copy:
https://twitter.com/unitedbybks/status/1354102707884351489?s=20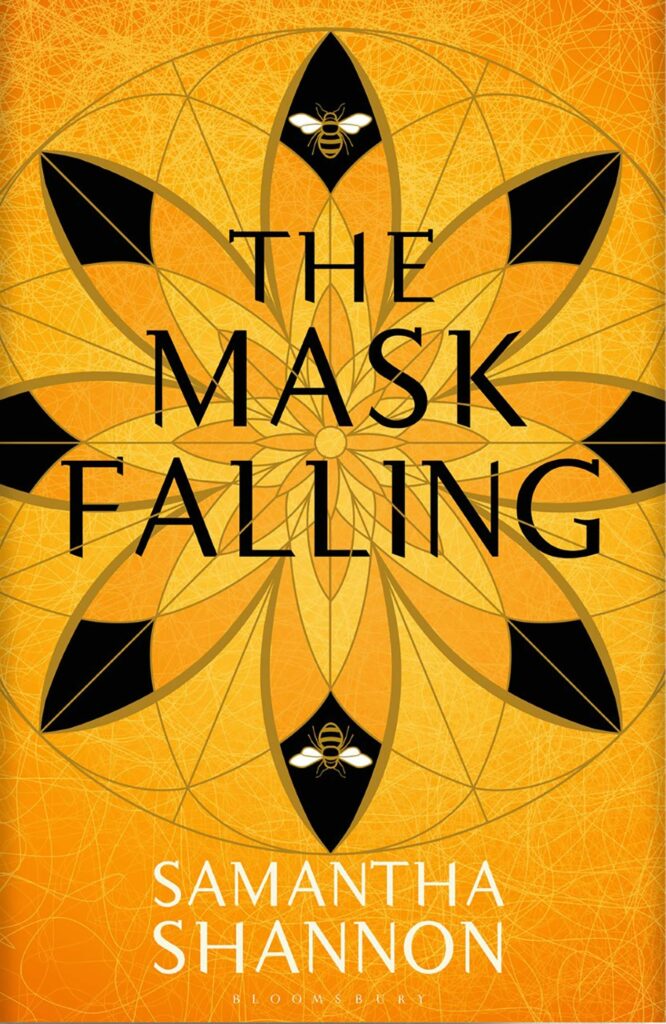 Get your copy of The Mask Falling by Samantha Shannon here.
Terms & Conditions
1. No purchase necessary. A purchase of any kind will not increase your chances of winning.
2. This giveaway opens at 4:00 PM GMT on Tuesday, January 26, 2021 and close at 21:00 PM GMT on Tuesday, February 9, 2021.
3. This giveaway is open to residents of the United Kingdom only.
4. One (1) winner will be selected at random from all applicable entries. The prize consists of one (1) copy of Samantha Shannons' 'The Mask Falling' (2021)
5. Winners will be contacted via Twitter direct message by @unitedbypop after the giveaway closes. Winners must provide United By Pop with their full name and mailing address to receive their prize. If a winner fails to do so within 24 hours of being contacted, the winner forfeits their prize and a new winner will be selected.
6. United By Pop are not responsible for prizes that are lost or damaged in the post. Prizes may take up to 6 weeks to arrive.
7. This giveaway is in no way affiliated with Twitter, Facebook, or Instagram.