Diana Urban, is back and this time she's bringing us aboard the luxurious Campus on Board ship for a around the world cruise, fully equipped with luxury, love, betrayal and a touch of murder, in her new YA thriller, Lying in the Deep.
If you can't wait until May to start reading this twisty new thriller, you're in luck, because we have an exclusive extract from chapter one for you to read right here and now.
---
LYING IN THE DEEP by Diana Urban
On sale May 2, 2023
Excerpt © Diana Urban, 2023. Courtesy of Razorbill, an imprint of Penguin Young Readers Group, Penguin Random House.
I jabbed my cheek with my tongue and narrowed my eyes. Wow. She really did get whatever the hell she wanted, didn't she? And she was beautiful, charismatic, heir to a freaking fortune.
So why'd she have to take Silas, too?
It wasn't right. It wasn't fair. I curled my hands into fists and wanted nothing more than to smash the glass barriers lining the dock and slice her with the shards—"If she bribes anyone for the YouTuber role," said Miguel, glaring, too, "I'll flip the hell out. You know, getting that could totally put me on the map as a travel influencer. Don't get me wrong, I love the skincare stuff, but free moisturizer isn't exactly on par with a free stay at a five-star hotel in Fiji, you know?"
I scoffed. "Meanwhile, she could afford any five-star hotel she wants."
"Exactly! So, wait, how do you know her?"
"She ruined my life."
Miguel's plucked eyebrows shot up, and he gaped at me. "Go on . . . ?"
Ugh, I didn't want to get into my whole depressing life story right now. "Let's just say, we used to be best friends, and now we're not."
"But why—"
"You know what?" I said, eager to change the subject. "If you want to beat her for that role, I bet CoB would love some board¬ing footage. All the past YouTubers boarded separately, but I bet so many people want to know what this process is like. And she's clearly not bothering."
Miguel's eyes lit up. "Oh my God," he muttered, like he couldn't believe he hadn't thought of it himself. He whipped out his phone again and started taking a panoramic shot of the pier as I stared at Silas, my chest filled with such an aching yearning, I thought it might pop.
He wore that lopsided grin of his, pointing out something about the Sea Voyager—the gleaming white vessel at the end of the pier that'd be our home for the next four months. He was finally free of his arm sling—the one he'd worn most of the sum¬mer as his Instagram feed filled with photos of him and Lainey, photos I'd pored over, sobbed over, wondering what went wrong. Lainey pressed a hand to his shoulder, leaning close, probably to tell him something without her father overhearing. Silas laughed, eyes glittering with amusement, and I swallowed hard as the breakfast sandwich I'd scarfed down on the plane threat¬ened to come back up.
Miguel tapped my shoulder. I turned, and his phone was in my face. "So, tell me your name, where you're from—"
"Gah, not me." I raised a hand, hiding my face. "I look like death right now."
He stopped recording and scanned my face, quirking a brow. "You're not wrong."
I snorted. "Thanks."
"When we're on board, remind me to introduce you to caffeine gel." He turned to the person behind him and made a coo¬ing sound, liking whatever he saw. "Hi, hi! I'm shooting footage for the CoB YouTube channel, mind if I ask you a few questions?"
Whoever it was grunted something that sort of resembled Yeah.
My attention slid back to the happy couple. I still wasn't sure what shocked me more—how the breakup came out of left field or the callousness of it, the unwillingness to talk, blocking me as though I'd done something wrong. Or maybe it was how both people I loved most in this world had betrayed me so epically.
"You're the best," said Miguel. "So, tell me your name, where you're from, and what your day has looked like so far—"
"I said, yeah, I do mind," someone said gruffly. I glanced over at the boy Miguel was harassing, instantly getting brooding vibes from his charcoal-gray army jacket over a black T-shirt and distressed black denim. His long black lashes hid his eyes as his thumbs roved over his phone screen, but when he finally glanced up, raking back his dark tousled hair, I saw his eyes were such a deep shade of brown, they were almost black. They flicked to mine for the briefest moment before focusing on his screen again.
"I promise this'll just take a sec," Miguel persisted.
The sound of Lainey's tinkling laughter floated over—apparently at something Silas had said. She flirtatiously whacked his arm before sneaking a peek at her phone. She never could stop checking her social media notifications, thriving on likes and attention, despite her claims that she hated it.
"I don't have a sec," said the brooding boy.
Lainey was scanning the crowd now, a hand on her hip as she took in the scene—
"Um, you literally have so many seconds right now," Miguel said, motioning to the line. This time, the boy ignored him.
Lainey shaded her eyes despite her huge sunglasses—
"Yeesh," Miguel bristled, back at my side. "This guy thinks he's the shit."
But I was too focused on Lainey to respond, or even care. Her line of sight was about to reach me—
And there it was.
Lainey stilled.
All I could see were those bug-eyed black lenses, but I knew she'd spotted me. She pursed her full lips, her whole body go¬ing stiff, and the air seemed to run out of oxygen despite the sea breeze ruffling my curls. There was no joy in seeing me—only dismay. Silas was staring ahead at the Sea Voyager again, seeming to say something to Lainey, something she was ignoring.
Finally, he glanced at her. I couldn't hear him from here, but I could read his lips—lips that used to roam all over me. What's wrong? After throwing one last bitter look my way, she said, loud and clear, "She came anyway. She's right over there."
Of course I came anyway.
I wasn't the one who stabbed my best friend in the back.
I wasn't the one who stole the love of her life.
I wasn't the one who stomped on her soul with no remorse.
And now that spoiled, selfish cow was going to ruin this trip—a trip I'd been looking forward to for years.
Little did I know how much chaos she'd sow.
---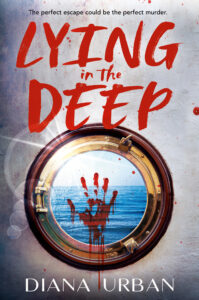 Get your copy of Lying in the Deep by Diana Urban here.