Ray Star on finding a climate-friendly way to publish her debut YA novel
"As much as I truly adore books, my love for trees, runs deep in my veins, pulsing with each heartbeat as if I were somehow connected to them."
This post was written by Ray Star, author of Earthlings
Have you played the 'This or That' game before? It's a great way to figure out what your favourite things are. Let's try a quick-fire round:
Tea or coffee?
Bath or Shower?
Autumn or Winter?
Trees or Books?
If you're anything like me, the last question I answered quickest, without hesitation.
Trees.
As much as I truly adore books, my love for trees, runs deep in my veins, pulsing with each heartbeat as if I were somehow connected to them.
They are one of nature's oldest wonders. Beautiful to behold, whether they be deciduous or coniferous, Oak, Ash, or Weeping Willow, and miraculously, they all hold an other-worldly ability to create and sustain life. They are the lungs of our planet. Yet, to our detriment, each year, we cut down billions of them.
To date, our species have decimated one third of the planet's natural forests – an area twice the size of the United States, and worryingly, now less than 4 billion hectares remain.
As an author, it pains me to reveal, that a huge contributor to this devastating loss of woodland, is the book industry. Many of the books that we know and love, I recently found out, are printed on virgin paper.
Trees that have lived on this earth longer than you or I are needlessly felled in the name of literature, and will continue to be so, unless something prompts the industry to change.
Thankfully, change is simple.
View this post on Instagram
Whilst the current industry standard is to print using FSC (Forest Stewardship Council) mixed paper, there is the other viable, widely available, cost effective and sustainable option, of transitioning to PCW (Post Consumer Waste) recycled paper printing.
My debut novel Earthlings – The Beginning, a YA Dystopian Fantasy novel with an environmental-friendly message to the narrative, launched this month on PCW recycled paper. My publisher, (Chronos Publishing) who shares my concerns, assured me this was easily attainable, without compromising on cost or print quality, except with one distributor.
Amazon KDP.
Unfortunately, unlike many other publishers in the industry, Amazon KDP do not offer a sustainable printing option.
To compensate any Amazon sales of my book, I found a climate solution in the company Ecologi, a climate-friendly service enabling individuals and businesses to offset negative carbon footprints, by planting trees.
I found this to be an innovative solution and have pledged to plant one tree per book sale for all my future projects, however, whilst planting tree's is a giant leap in the right direction, it's not an instant fix, and as an author of climate fiction, I want to do more.
The issue I face, is that alone, my concerns will not prompt the change that is drastically required within the industry, but, if my fellow book loving community were to make their voices heard on the issue too, together, we stand a fighting chance to incite real change – at a time when it is needed most.
It was with this in mind that I decided to petition Amazon KDP to transition to recycled paper printing book distribution and launched the #ReadGreen campaign via Change.org.
Imagine the difference it would make to our planet, if the millions of trees due to be felled for our love of books, were saved by a simple signature instead. When publishers hear from their patrons that we expect them to do better, by the planet and by us, they will listen. If Amazon see sense and make the switch, many more will follow. The positive effect this could have would be momentous.
With the Amazon rainforest currently emitting more carbon than it can absorb, and the horrifying estimate of four billion books being printed per year, the majority of these printed on virgin paper, we cannot afford to wait.
We need publishers to take crucial action and start the transition to sustainable printing now.
View this post on Instagram
Earlier this week the IPCC released a devastatingly accurate report, alerting that we are at a 'code red for humanity'. Put simply – our species will be adversely affected in a multitude of ways from heat waves, flooding, air pollution, rising sea levels, loss of habitat, food shortages and more if we do not allow nature to thrive as it once did.
During lockdown, the planet was given a chance to recover, so much so, that with the planet experiencing human inactivity worldwide, the largest hole in the ozone layer, healed itself – in a matter of weeks.
Imagine how much it would heal, if we left our earthling co-habitants to be at peace and continue to be the lungs of our planet, breathing fresh air cross the globe for us all. With the arduous mission of limiting the global warming temperate to 1.5 degrees Celsius, we need the trees in order for this to happen.
Without them – that task, is physically impossible.
For every book we've ever bought, borrowed, written or read, it is our responsibility to stop taking from our home planet and start giving back to it. We need the trees, and together – we can save millions of them.
Let's make books part of the solution, not the problem, for as quoted by Michael Swan;
''The greatest threat to our planet, is the belief, that someone else will save it."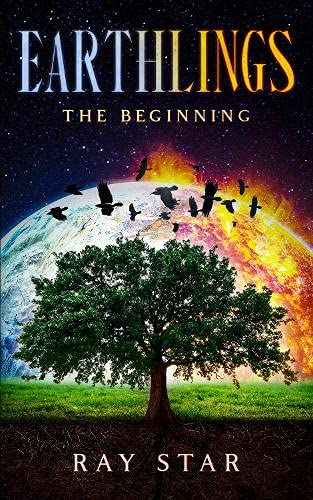 Get your copy of Earthlings by Ray Star here.