L.L. McKinney on Nubia: The Real One and writing for DC
"I'm a better writer for having done it."
Following Nubia as she balances with the reality of having superpowers whilst being a young Black teen in America,  L.L. McKinney's debut graphic novel, Nubia: The Real One, is a superbly written, painfully relevant and ultimately hopeful read. With its gorgeous art by Robyn Smith and page-turning story, Nubia: The Real One is a a new DC comic classic.
To celebrate its release, we caught up with L.L. McKinney to talk all things Nubia: The Real One, superpowers and how she came to write for DC comics.
---
I first want to say a huge congratulations on the release of your new graphic novel, Nubia: Real One. I'm so excited to have this opportunity to tell you that it's without a doubt one of the best graphic novels I've read in a long time. It's truly phenomenal. How does it feel knowing it'll finally be in the hands of readers across the world?
I am…beyond excited that people are going to be able to meet Nubia and her friends, read about them, look at Robyn's GORGEOUS ART! And learn a bit about the origins of DC's first Black superheroine.
How would you describe Nubia: Real One to a new reader wanting to pick up a copy?
Wonder Woman meets The Hate U Give. If you like either of those, you'll might like this. If you like both of those? You'll definitely like this.
Nubia: Real One is your first graphic novel. What was it like switching from novel writing to graphic novel writing? Were there any major differences that surprised you?
It was not what I expected, that's for sure. Though…if you were to ask me what it was I did expect, I couldn't really tell you. In prose, you're responsible for setting the tone of the scene, for conveying information through narrative, painting a picture with words. In a graphic novel, the art does the heavy lifting for sure, but you still have to be able to tell a story with your words. Only this time it's ALL dialogue, and you have limited page space. It definitely required flexing a different muscle, but I'm a better writer for having done it.
View this post on Instagram
What was it like seeing Nubia and the story you created come to life on the page through Robyn Smith's gorgeous artwork?
Amazing. Incredible. Breathtaking. I'm not exaggerating here. Whenever Robyn sent over pages, it was like being told my story even though I had written it. You know the feeling of reading or watching something for the first time that can't really be replicated? Well, authors don't get that with their own books. I did with Robyn's art, though.
Can you tell us a little more about the process of writing and creating a graphic novel?
Well, I can only speak for my experience, but we worked out a schedule where I wrote about 20 pages, where you describe each panel and what's happening in it, then write out the dialogue, including sound effects. Sometimes you might have to write out how something looks or the mood or maybe something written on a sign. There are so many details you don't really consider when writing prose, because you wouldn't describe a sign unless it was important to the plot, but here you have to put in things in the background that might not otherwise be mentioned. And even then, I missed stuff! Robyn really worked magic with what I gave her.
It must have been so exciting writing for DC! How did the opportunity to write a graphic novel with them come about?
Via Twitter! A few years ago, I tweeted out "I wanna write for Young Justice." To my shock someone from DC reached out to set up a meeting. I still don't believe it, sometimes. Anyway, we talked about what they were gonna be doing with the graphic novels and walked me through their pitch process. I wrote a pitch, snuck Nubia into it as a side character thinking I was being slick and making DC finally acknowledge her, and turned it in. Then, second shock, I get an email back that said they loved the pitch, but Nubia was a standout and they wanted to know if I could write one for her on her own. After the appropriate HELL YEAH! I got to work on that pitch and…yeah! Here we are.
Nubia has to deal with so much throughout the story, from the everyday teen antics like awkward crushes and sneaking out to parties to the harsher side of her reality as a young Black girl facing racial profiling, racism and gun violence to juggling her not so average superpowers. How did you find exploring all these sides of her character harder, given the relatively smaller amount of pages you had to do it in compared to a novel?
Ha! Smaller number of pages. The original scrip was about 50 pages longer, but that's how I write in general. I write thick and edit thin. For me, it's easier to shave something off than trying to finagle had to add something on. Once we had all the pieces on the board, it was easy enough to figure out how to fit them together in a way that made sense. As far as exploring the various sides of Nubia within those pages, that wasn't really the case here. Exploring can carry implications of delving through the newness of a thing, the unknown, and while I don't have superpowers, lots of things Nubia experienced weren't new to me. I'm a Black woman who used to be a Black girl, so this was…more processing those experiences.
View this post on Instagram
Nubia: Real One is brilliantly transparent and unafraid in its honest portrayal of Nubia and her friends' experience of racism, in particular the targeted violence towards the Black community. What was it like exploring this narrative through the lens of a coming-of-age teen hero?
Echoing what I said already, the exploration here was the hero part. What would it have been like to live these experiences while having superpowers. Would they have made things better? Would they have made things worse? How would an honest to goodness Black woman with powers be perceived? We're already seen as a thread simply for existing. Visibility is a double-edged sword, and it's sharper than people who don't have to wield it realize. There's a price paid for it, and that price is impacted by who and what Nubia is and what she can do.
Nubia as a story and a character are not only undeniably important and relevant but also have the power to positively impact so many readers. Can fans of Nubia: Real One look forward to reading more of this epic new hero in the future?
Unfortunately, that's not up to me, but I will say if the phone rings, I'm here to answer it.
Finally, I have three quick fire questions:
Who is your all-time favourite comic book hero? Spider-Man.
What do you consider to be your superpower? I never get lost. Even before GPS.
If you could have any superpower, what would it be? Shapeshifting.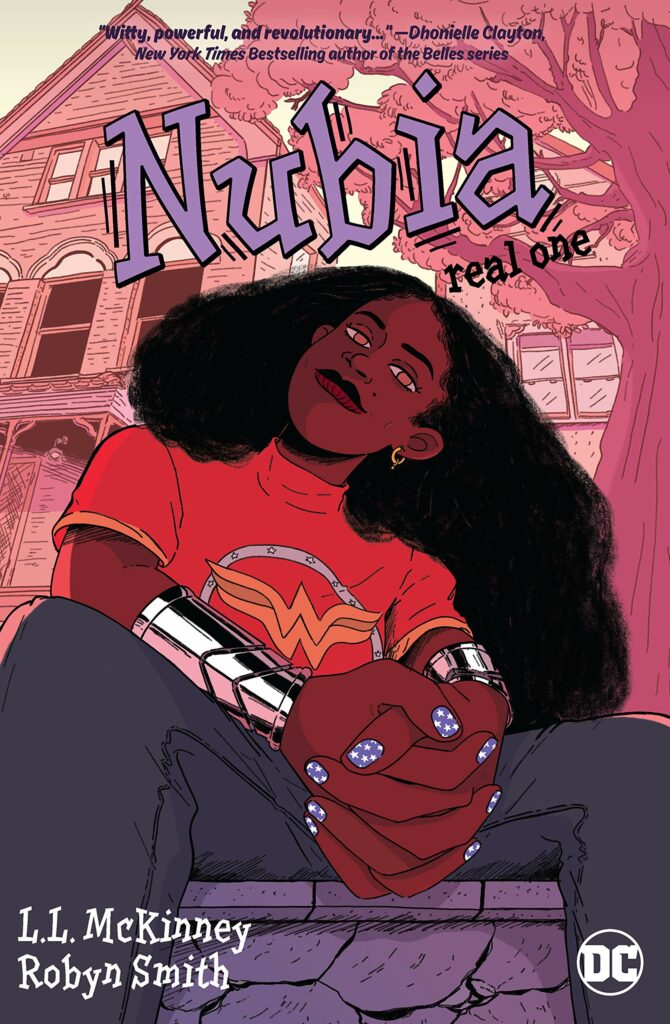 Get your copy of Nubia: The Real One by L.L. McKinney & Robyn Smith here