Kalynn Bayron on her incredible new YA fantasy novel, This Wicked Fate
"I'm so happy that my work can offer another mirror or window for readers"
If you loved Kalynn Bayron's YA debut, This Poison Heart as much as we did, prepare yourself to be totally blown away by its newly released sequel, This Wicked Fate. Following on from the events of book one, This Wicked Fate is filled with non-stop action, heartwarming queer representation, powerful Black women, mythology and secrets revealed. To celebrate the release of the conclusion to one of YA's most addictive fantasy duologys, we had the pleasure of chatting to Kalynn all about her excitingly magical new book.
---
Hey Kalynn, I'm so excited to get to chat to you again to celebrate the release of This Wicked Fate, the epic sequel, This Poison Heart. For readers just learning about this sensational duology, how would you best sum it up to them?
This series is The Secret Garden meets Little Shop Horrors with a Greek mythology twist! It's about secret family linage, poison plants, gods, and monsters. At its heart, it's really about an amazing young girl who is on a quest to save the people she loves most.
Having read and adored This Poison Heart, I didn't think it possible for its sequel to match up to its brilliance and yet, once again, you totally knocked it out of the park (and then some)! Can you tell us a little about your process going into book two? Did you know from the onset where Bri's story was going to go or did the events of This Wicked Fate come to you after having finished writing This Poison Heart?
I was about ¾ of the way through drafting This Poison Heart when I realized I would need a sequel to finish the story. I love how exploratory the writing process can be. I had an outline that would have wrapped this whole thing up in one book but the writing went in a different direction and changed the narrative arc completely. There's something so exciting about that.
Flora and Fauna plays a huge part in this duology, with your descriptions of individual plants consistently blowing me away. Is this a passion you share with Bri and her family?
I share Bri's passion but on a strictly book-smart basis. I don't have the practical skills to keep plants alive for very long! I love reading about plants, I love seeing them, but I can't grow them to save my life.
View this post on Instagram
With that in mind, if you found yourself with Bri's affinity for plants, how would you use your new found power?
I would absolutely create a hedge full of Devil's Pet around my house. I'd lean all the way into being a mysterious forest witch!
Most, if not every, character in This Wicked Fate is both Black and queer, which was both incredibly powerful and refreshing to read. How does it feel knowing your books are amongst some of the first YA titles which allow Black queer readers to see themselves in fully?
I'm incredibly honoured to have my work in conversation with other books centering marginalized intersectional identities. It's transformative to be able to see yourself in the pages of a book and I'm so happy that my work can offer another mirror or window for readers. We need as many stories as we can get our hands on!
Finally, are you currently working on anything new and if so, are there any hints about what we might expect to read from you in the future?
I have lots of things coming up! My middle grade debut comes out in September. It's called THE VANQUISHERS and it's a vampire story! I love vampires and I'm so excited to be able to tell this story that is equal parts Stranger Things, Watchmen, and Buffy. I also have a short story in the YA anthology, ETERNALLY YOURS also due out in September.
I also have another YA novel out early next year titled MY DEAR HENRY and it's a Dr. Jekyll and Mr. Hyde retelling of the classic story for the Remixed Classics series.
I'm happy to be so busy!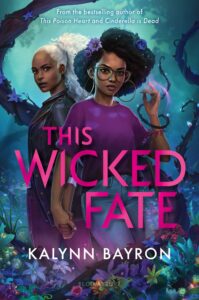 Get your copy of This Wicked Fate by Kalynn Bayron here.