20 exciting YA book releases for February
From Princesses and skating royalty to reality TV and social media stars to monsters and Sea Gods, February is delivering it all and more with these exciting new YA book releases.
---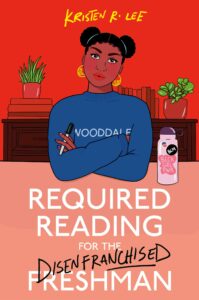 Required Reading for the Disenfranchised Freshman by Kristen R. Lee (1st February)
Savannah Howard sacrificed her high school social life to make sure she got into a top college. Her sites were set on an HBCU, but when she is accepted to the ivy-covered walls of Wooddale University on a full ride, how can she say no?
Wooddale is far from the perfectly manicured community it sells on its brochures, though. Savannah has barely unpacked before she comes face-to-face with microagressions stemming from racism and elitism. Then, Clive Wilmington's statue is vandalized with blackface. The prime suspect? Lucas Cunningham, Wooddale's most popular student and son to a local prominent family. Soon, Savannah is unearthing the hidden secrets of Wooddale's racist history. But what's the price for standing up for what is right? And will telling the truth about Wooddale's past cost Savannah her own future?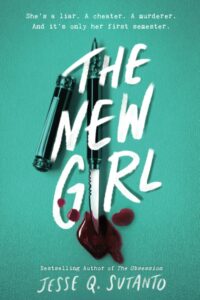 The New Girl by Jesse Q. Sutanto (1st February)
Lia Setiawan has never really fit in. When she wins a full ride to the prestigious Draycott Academy on a track scholarship, she's determined to make it work even though she's never felt more out of place. But on her first day there she witnesses a girl being forcefully carried away by campus security. Her new schoolmates and teachers seem unfazed, but it leaves her unsure of what she's gotten herself into. As she uncovers the secrets of Draycott, complete with a corrupt teacher, a golden boy who isn't what he seems, and a blackmailer determined to get her thrown out, she's not sure if she can trust anyone–especially when the threats against her take a deadly turn.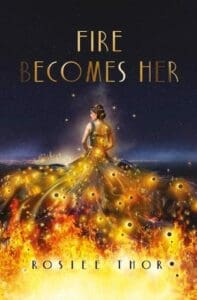 Fire Becomes Her by Rose Thor (1st February)
Flare is power.
With only a drop of flare, one can light the night sky with fireworks . . . or burn a building to the ground — and seventeen-year-old Ingrid Ellis wants her fair share.
Ingrid doesn't have a family fortune, monetary or magical, but at least she has a plan: Rise to the top on the arm of Linden Holt, heir to a hefty political legacy and the largest fortune of flare in all of Candesce. Her only obstacle is Linden's father who refuses to acknowledge her.
So when Senator Holt announces his run for president, Ingrid uses the situation to her advantage. She strikes a deal to spy on the senator's opposition in exchange for his approval and the status she so desperately craves. But the longer Ingrid wears two masks, the more she questions where her true allegiances lie.
Will she stand with the Holts, or will she forge her own path?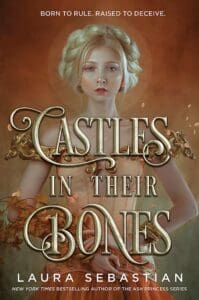 Castles in Their Bones by Laura Sebastian (1st February)
Empress Margaraux has had plans for her daughters since the day they were born. Princesses Sophronia, Daphne, and Beatriz will be queens. And now, age sixteen, they each must leave their homeland and marry their princes.
Beautiful, smart, and demure, the triplets appear to be the perfect brides—because Margaraux knows there is one common truth: everyone underestimates a girl. Which is a grave mistake. Sophronia, Daphne, and Beatriz are no innocents. They have been trained since birth in the arts of deception, seduction, and violence with a singular goal—to bring down monarchies— and their marriages are merely the first stage of their mother's grand vision: to one day reign over the entire continent of Vesteria.
The princesses have spent their lives preparing, and now they are ready, each with her own secret skill, and each with a single wish, pulled from the stars. Only, the stars have their own plans—and their mother hasn't told them all of hers.
Life abroad is a test. Will their loyalties stay true? Or will they learn that they can't trust anyone—not even each other?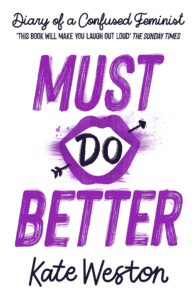 Must Do Better by Kate Weston (3rd February)
16-year-old Kat has suffered through mortifying incidents, muddling moments and Instagram hell – but her extreme teenage confusion isn't over yet.
It's a new term, and Kat is determined to spread the word about DOING GOOD FEMINISM to all her fellow students. But her new Feminist Society does not exactly go to plan (why is everyone more confused than she is?!) and she's left feeling more of a failure than ever. And with best friends Millie and Sam both going through difficult times, Kat knows she has to be there for them.
But there's a class trip to France to look forward to, and a reunion with Kat's former fling and TOTAL DREAMBOAT Sebastian. This is exactly what they all need … until all of Kat's plans begin to unravel.
If Kat is doing her best, why does she always feel as if she must do better?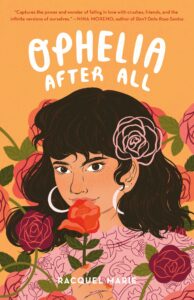 Ophelia After All by Racquel Marie (8th February)
Ophelia Rojas knows what she likes: her best friends, Cuban food, rose-gardening, and boys – way too many boys. Her friends and parents make fun of her endless stream of crushes, but Ophelia is a romantic at heart. She couldn't change, even if she wanted to.
So when she finds herself thinking more about cute, quiet Talia Sanchez than the loss of a perfect prom with her ex-boyfriend, seeds of doubt take root in Ophelia's firm image of herself. Add to that the impending end of high school and the fracturing of her once-solid friend group, and things are spiraling a little out of control. But the course of love–and sexuality–never did run smooth. As her secrets begin to unravel, Ophelia must make a choice between clinging to the fantasy version of herself she's always imagined or upending everyone's expectations to rediscover who she really is, after all.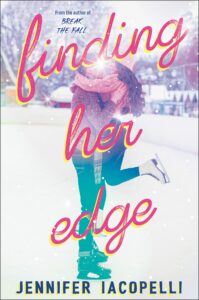 Finding Her Edge by Jennifer Iacopelli (8th February)
Adriana Russo is figure skating royalty.
With gold-medalist parents, and her older sister headed to the Olympics, all she wants is to live up to the family name and stand atop the ice dance podium at the Junior World Championships. But fame doesn't always mean fortune, and their legendary skating rink is struggling under the weight of her dad's lavish lifestyle. The only thing keeping it afloat is a deal to host the rest of the Junior Worlds team before they leave for France.
That means training on the same ice as her first crush, Freddie, the partner she left when her growth spurt outpaced his. For the past two years, he's barely acknowledged her existence, and she can't even blame him for it.
When the family's finances take another unexpected hit, losing the rink seems inevitable until her partner, Brayden, suggests they let the world believe what many have suspected: that their intense chemistry isn't contained to the ice. Fans and sponsors alike take the bait, but keeping up the charade is harder than she ever imagined. And training alongside Freddie makes it worse, especially when pretending with Brayden starts to feel very real.
As the biggest competition of her life draws closer and her family's legacy hangs in the balance, Adriana is caught between her past and present, between the golden future she's worked so hard for, and the one she gave up long ago.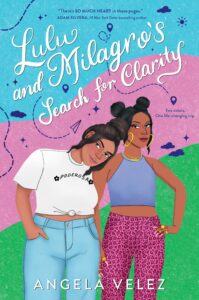 Lulu and Milagro's Search for Clarity by Angela Velez (8th February)
Overachiever Luz "Lulu" Zavala has straight As, perfect attendance, and a solid ten-year plan. First up: nail her interview for a dream internship at Stanford, the last stop on her school's cross-country college road trip. The only flaw in her plan is Clara, her oldest sister, who went off to college and sparked a massive fight with their overprotective Peruvian mom, who is now convinced that out-of-state-college will destroy their family. If Lulu can't fix whatever went wrong between them, the whole trip—and her future—will be a waste.
Middle sister Milagro wants nothing to do with college, or a nerdy class field trip. Then a spot opens up on the trip just as her own Spring Break plans (Operation: Lose Your Virginity) are thwarted, and she hops on the bus with her glittery lipsticks, more concerned about getting back at her ex than she is about schools or any family drama. But the trip opens her eyes about possibilities she'd never imagined for herself. Maybe she is more than the boy-crazy girl everyone seems to think she is.
On a journey from Baltimore all the way to San Francisco, Lulu and Milagro will become begrudging partners as they unpack weighty family expectations, uncover Clara's secrets, and maybe even discover the true meaning of sisterhood.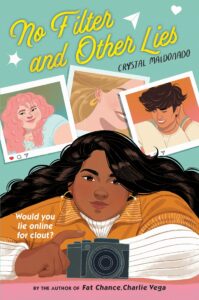 No Filter and Other Lies by Crystal Maldonado (8th February)
You should know, right now, that I'm a liar.
They're usually little lies. Tiny lies. Baby lies. Not so much lies as lie adjacent.
But they're still lies.
Twenty one-year-old Max Monroe has it all: beauty, friends, and a glittering life filled with adventure. With tons of followers on Instagram, her picture-perfect existence seems eminently enviable.
Except it's all fake.
Max is actually 16-year-old Kat Sanchez, a quiet and sarcastic teenager living in drab Bakersfield, California. Nothing glamorous in her existence–just sprawl, bad house parties, a crap school year, and the awkwardness of dealing with her best friend Hari's unrequited love. But while Kat's life is far from perfect, she thrives as Max: doling out advice, sharing beautiful photos, networking with famous influencers, even making a real friend in a follower named Elena. The closer Elena and "Max" get–texting, Snapping, and even calling–the more Kat feels she has to keep up the facade.
But when one of Max's posts goes ultra-viral and gets back to the very person she's been stealing photos from, her entire world – real and fake — comes crashing down around her. She has to figure out a way to get herself out of the huge web of lies she's created without hurting the people she loves. But it might already be too late.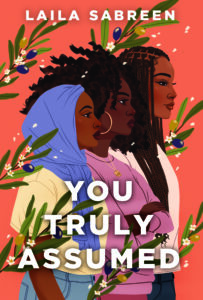 You Truly Assumed by Laila Sabreen (8th February)
Sabriya has her whole summer planned out in color-coded glory, but those plans go out the window after a terrorist attack near her home. When the terrorist is assumed to be Muslim and Islamophobia grows, Sabriya turns to her online journal for comfort. You Truly Assumed was never meant to be anything more than an outlet, but the blog goes viral as fellow Muslim teens around the country flock to it and find solace and a sense of community.
Soon two more teens, Zakat and Farah, join Bri to run You Truly Assumed and the three quickly form a strong friendship. But as the blog's popularity grows, so do the pushback and hateful comments. When one of them is threatened, the search to find out who is behind it all begins, and their friendship is put to the test when all three must decide whether to shut down the blog and lose what they've worked for…or take a stand and risk everything to make their voices heard.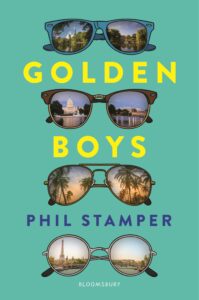 Golden Boys by Phil Stamper (8th February)
Gabriel, Reese, Sal, and Heath are best friends, bonded in their small rural town by their queerness, their good grades, and their big dreams. They are about to embark on the summer before senior year of high school, where each is going on a new, big adventure. Reese is attending a design school in Paris. Gabriel is going to Boston to volunteer with a environmental nonprofit. Sal is interning on Capitol Hill for a U.S. Senator. And Heath is stuck going to Daytona Beach to help out at his aunt's beachfront arcade.
What will this summer of new experiences and world-expanding travel mean for each of them—and for their friendship?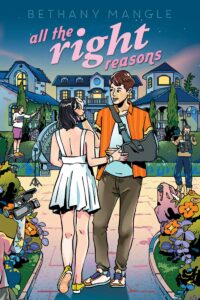 All the Right Reasons by Bethany Mangle (15th February)

Cara Hawn's life fell apart after her father cheated on her mother and got remarried to a woman Cara can't stand. When Cara accidentally posts a rant about her father online, it goes viral—and catches the attention of the TV producers behind a new reality dating show for single parent families.
The next thing Cara and her mother know, they've been cast as leads on the show and are whisked away to sunny Key West where they're asked to narrow a field of suitors and their kids down to one winning pair. All of this is outside of Cara's comfort zone, from the meddling producers to the camera-hungry contestants, especially as Cara and her mother begin to clash on which suitors are worth keeping around. And then comes Connor.
As the son of a contestant, Connor is decidedly off-limits. Except that he doesn't fit in with the cutthroat atmosphere in all the same ways as Cara, and she can't get him out of her head. Now Cara must juggle her growing feelings while dodging the cameras and helping her mom pick a bachelor they both love, or else risk fracturing their family even more for the sake of ratings. Maybe there's a reason most people don't date on TV.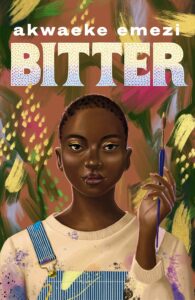 Bitter by Akwaeke Emezi (15th February)
Bitter is thrilled to have been chosen to attend Eucalyptus, a special school where she can focus on her painting surrounded by other creative teens. But outside this haven, the streets are filled with protests against the deep injustices that grip the town of Lucille. Bitter's instinct is to stay safe within the walls of Eucalyptus . . . but her friends aren't willing to settle for a world that the adults say is "just the way things are.
Pulled between old friendships, her creative passion, and a new romance, Bitter isn't sure where she belongs – in the art studio or in the streets. And if she does find a way to help the revolution while being true to who she is, she must also ask: at what cost?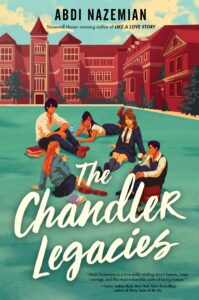 The Chandler Legacies by Abdi Nazemian (15th February)
Beth Kramer is a "townie" who returns to her sophomore year after having endured a year of judgment from her roommate, Sarah.
But Sarah Brunson knows there's more to that story.
Amanda Priya "Spence" Spencer is the privileged daughter of NYC elites, who is reeling from the realization that her family name shielded her from the same fate as Sarah.
Ramin Golafshar arrives at Chandler as a transfer student to escape the dangers of being gay in Iran, only to suffer brutal hazing under the guise of tradition in the boys' dorms.
And Freddy Bello is the senior who's no longer sure of his future but has fallen hard for Spence and knows he has to stand up to his friends after what happened to Ramin.
At Chandler, the elite boarding school, these five teens are brought together in the Circle, a coveted writing group where life-changing friendships are born—and secrets are revealed. Their professor tells them to write their truths. But is the truth enough to change the long-standing culture of abuse at Chandler? And can their friendship survive the fallout?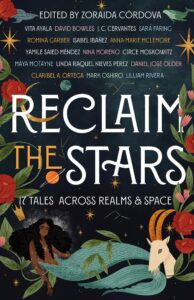 Reclaim the Stars: 17 Tales Across Realms & Space edited by Zoraida Córdova (15th February)
Reclaim the Stars is a collection of bestselling and acclaimed YA authors that take the Latin American diaspora to places fantastical and out of this world. From princesses warring in space, to the all too-near devastation of climate change, to haunting ghost stories in Argentina, and mermaids off the coast of the Caribbean. This is science fiction and fantasy that breaks borders and realms, and proves that stories are truly universal.
Authors include Daniel José Older, Yamile Saied Méndez, Anna-Marie McLemore, Mark Oshiro, Romina Garber, David Bowles, Lilliam Rivera, Claribel Ortega, Isabel Ibañez, Sara Faring, Maya Motayne, Nina Moreno, Vita Ayala, J.C. Cervantes, Circe Moskowitz, Linda Nieves Pérez, and Zoraida Córdova.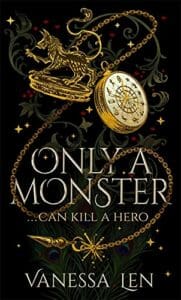 Only a Monster by Vanessa Len (17th February)
It should have been the perfect summer. Sent to stay with her late mother's eccentric family in London, sixteen-year-old Joan is determined to enjoy herself. She loves her nerdy job at the historic Holland House, and when her super cute co-worker Nick asks her on a date, it feels like everything is falling into place.
But she soon learns the truth. Her family aren't just eccentric: they're monsters, with terrifying, hidden powers. And Nick isn't just a cute boy: he's a legendary monster slayer, who will do anything to bring them down.
As she battles Nick, Joan is forced to work with the beautiful and ruthless Aaron Oliver, heir to a monster family that hates her own. She'll have to embrace her own monstrousness if she is to save herself, and her family. Because in this story. . . she is not the hero.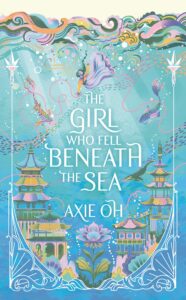 The Girl Who Fell Beneath the Sea by Axie Oh (22nd February)
Deadly storms have ravaged Mina's homeland for generations. Floods sweep away entire villages, while bloody wars are waged over the few remaining resources. Her people believe the Sea God, once their protector, now curses them with death and despair. In an attempt to appease him, each year a beautiful maiden is thrown into the sea to serve as the Sea God's bride, in the hopes that one day the "true bride" will be chosen and end the suffering.
Many believe that Shim Cheong, the most beautiful girl in the village—and the beloved of Mina's older brother Joon—may be the legendary true bride. But on the night Cheong is to be sacrificed, Joon follows Cheong out to sea, even knowing that to interfere is a death sentence. To save her brother, Mina throws herself into the water in Cheong's stead.
Swept away to the Spirit Realm, a magical city of lesser gods and mythical beasts, Mina seeks out the Sea God, only to find him caught in an enchanted sleep. With the help of a mysterious young man named Shin—as well as a motley crew of demons, gods and spirits—Mina sets out to wake the Sea God and bring an end to the killer storms once and for all.
But she doesn't have much time: A human cannot live long in the land of the spirits. And there are those who would do anything to keep the Sea God from waking…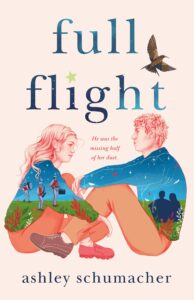 Full Flight by Ashley Schumacher (22nd February)
Everyone else in the tiny town of Enfield, Texas calls fall football season, but for the forty-three members of the Fighting Enfield Marching Band, it's contest season. And for new saxophonist Anna James, it's her first chance to prove herself as the great musician she's trying hard to be.
When she's assigned a duet with mellophone player Weston Ryan, the boy her small-minded town thinks of as nothing but trouble, she's equal parts thrilled and intimidated. But as he helps her with the duet, and she sees the smile he seems to save just for her, she can't help but feel like she's helping him with something too.
After her strict parents find out she's been secretly seeing him and keep them apart, together they learn what it truly means to fight for something they love. With the marching contest nearing, and the two falling hard for one another, the unthinkable happens, and Anna is left grappling for a way forward without Weston.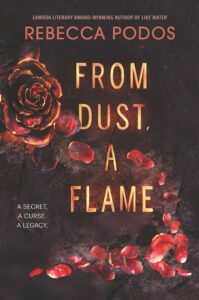 From Dust, a Flame by Rebecca Podos (22nd February)
Hannah's whole life has been spent in motion. Her mother has kept her and her brother, Gabe, on the road for as long as she can remember, leaving a trail of rental homes and faded relationships behind them. No roots, no family but one another, and no explanations.
All of that changes on Hannah's seventeenth birthday when she wakes up transformed, a pair of golden eyes with knife-slit pupils blinking back at her from the mirror—the first of many such impossible mutations. Promising that she knows someone who can help, her mother leaves Hannah and Gabe behind to find a cure. But as the days turn to weeks and their mother doesn't return, they realize it's up to them to find the truth.
What they discover is a family they never knew, and a history more tragic and fantastical than Hannah could have dreamed—one that stretches back to her grandmother's childhood in Prague under the Nazi occupation, and beyond, into the realm of Jewish mysticism and legend. As the past comes crashing into the present, Hannah must hurry to unearth their family's secrets—and confront her own hidden legacy in order to break the curse and save the people she loves most, as well as herself.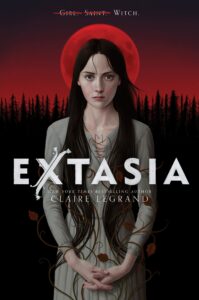 Extasia by Claire Legrand (22nd February)
Her name is unimportant.
All you must know is that today she will become one of the four saints of Haven. The elders will mark her and place the red hood on her head. With her sisters, she will stand against the evil power that lives beneath the black mountain—an evil which has already killed nine of her village's men.
She will tell no one of the white-eyed beasts that follow her. Or the faceless gray women tall as houses. Or the girls she saw kissing in the elm grove.
Today she will be a saint of Haven. She will rid her family of her mother's shame at last and save her people from destruction. She is not afraid. Are you?