Jennifer Iacopelli discusses her powerful new YA novel, Break the Fall
With the 2020 Olympic Games fast approaching, Jennifer Iacopelli's new YA novel, Break the Fall, couldn't have arrived at a more perfect time.
With the 2020 Olympic Games fast approaching, Jennifer Iacopelli's new YA novel, Break the Fall, couldn't have arrived at a more perfect time. Following the U.S. Olympic Gymnastics team, Break the Fall has everything from love and friendship to secrets and scandals to powerful explorations of sexual abuse in the sporting industry and what it means to follow your dreams. It's poignant, intense, heart warming and utterly additive.
We had the pleasure of chatting to Jennifer about Break the Fall, the Olympics and just how she created those vivid floor routines (*spoiler* it involved a lot of maths!)
---
How would you describe Break the Fall to readers not familiar with its premise
Break the Fall is the story of Audrey Lee, a gymnast on the comeback trail after a major injury kept her out for most of the year before. She makes the U.S. Olympic gymnastics team with her best friend and training partner, Emma. The girls are so thrilled to have the opportunity to fulfil their lifelong dream together, but just after the team is announced, their coach is arrested for sexually assaulting one of their teammates. Things become even more complicated when they're forced to train under a new coach whose methods are totally foreign to them, not to mention not everyone on the team believes the girl who accused their coach of abuse. The pressure intensifies as the Games draw closer and we follow Audrey and her teammates as they try desperately to hang on to their dreams of Olympic gold.
What was it like writing a story focused on gymnastics after years spent following and reporting on the sport?
I'd like to whine and complain about how hard it was, but honestly, it felt like coming home. While I was never a gymnast myself, the sport has always been fascinating to me both as a fan and when I was fortunate enough to have the opportunity to report on it, so creating a fictional gymnastics sandbox to play in was so exciting. I knew because of my experiences that I'd be able to create a world that felt real for the reader, gymnastics fan or not!
With the 2020 Olympic Games fast approaching, which gymnasts are you most looking forward to watching compete?
I'm a rabidly partisan fan in most sports, but in gymnastics, I really want all the athletes to go out there and do their best. There are so many that I admire. Obviously, Simone Biles is the greatest gymnast of all time and watching her compete in a final Olympics will be a true privilege. I also love to watch Sunsia Lee, especially on the uneven bars! I have a soft spot for several of their competitors too! I'm really looking forward to seeing Melanie de Jesus dos Santos of France, the Downies from Team GB and Angelina Melnikova of Russia! I also adore Morgan Hurd, not just for her gymnastics, but because she's a voracious reader.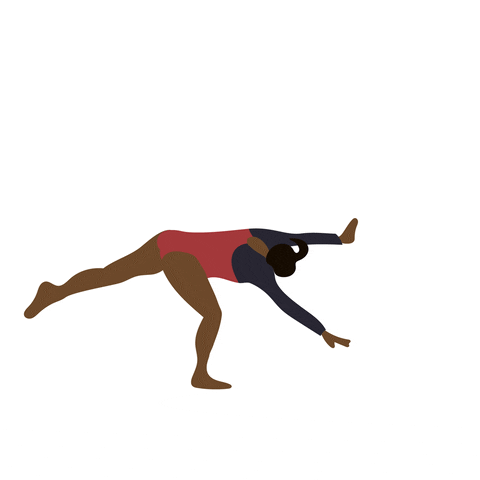 What is it about gymnastics that draws you to the sport, so much so that you decided to write an entire novel surrounding it?
I was an athlete growing up, but I was definitely born too tall to do gymnastics well. I saw the Magnificent 7 win gold for the U.S. in 1996 and it has fascinated me ever since. While I have very little practical experience in the sport, but I have a keen idea for detail and picked up the nuances of it pretty quickly. I've made some fantastic friendships and connections through following gymnastics and have had some incredible experiences from attending Olympic Trials twice to sitting with an Olympian's mother during a National Championships, to appearing on the famous podcast, Gymcastic. I consider myself a bit of a self-taught analyst of the sport and I was even able to cover the 2016 Rio Olympics for Fangirlish.com!
The routines the gymnasts perform throughout Break the Fall were wonderfully vivid in their description, how did you go about writing and piecing them together?
The first thing I had to do was decide how the strengths and weaknesses of the team would be divided up. Over the years there's been a pattern to how gymnasts are selected for the team and it's not always the best All-Around athletes that make the team, but the athletes whose strengths and weaknesses complement each other and add up to the best team score. From there, I had to figure out which characters would be taking on specific roles on the team and then decide about what their routines would be able to score to get the ultimate results I wanted. Then the routines themselves needed to reflect the gymnasts' capabilities and without going into the ins and outs of the elite gymnastics Code of Points where routine requirements are listed along with what each skill is worth. I'm just going to say there was A LOT of studying that document, plus watching A LOT of routine videos to make sure skills could fit together and then A LOT of math to make sure the routines were realistic and would create the scores that added up to the results that fit the narrative. So. Many. Spreadsheets. So. Much. Math.
Assault in the gymnastics community has been highly publicised in the past few years, is this something that helped inspire the girls story in Break the Fall?
Obviously, there's been a very high-profile abuse scandal in gymnastics, but there are also so many other sports (and horrifyingly, across everyday life) where abusers were in positions of power or, at the very least, those in authority were failing to protect those under their care. From gymnastics to swimming to wrestling, martial arts and figure skating, we saw it reported over and over again. That's when I thought to myself, how was this allowed to go on? How did people know about it and fail to act and in some cases, actively try to sweep it under the rug? Then I asked myself, what if just one person had stepped forward to protect those athletes? From there the words started to flow.
The last few chapters in Break the Fall were incredibly powerful, did you always know the story would end the way it did or was it something that came naturally during the writing process?
Those last few chapters were like running a marathon. I wrote them over the course of a weekend and then slept for twelve hours straight afterward! The end results were different when I first plotted out the story, but I was only about a quarter of the way through the first draft when I realized how it all had to play out to be the most effective, but also the most satisfying story. So, I had to go back into my spreadsheets and redo some of the math to make it all make sense. I really hope readers love those chapters because I poured my whole heart into them!
With gymnastics, friendship, rivalry, romance, criminal charges and more, Break the Fall superbly covers so many topics but was there a specific aspect you enjoyed writing the most?
Definitely the friendships between the girls, especially the constantly changing dynamics between Audrey and her best friend Emma. Those girls run the gamut of emotions through the entire book and by the end…well I won't spoil it, but I hope everyone loves their relationship as much as I do! I also really loved having some romance to bring some light to what could be a very dark book. Leo, Audrey's new coach's son, is a dreamy, sweet Hufflepuff and I adore him almost as much as he adores Audrey. I hope some readers come away with a new book boyfriend!
Are you currently working on anything and if so, can you give us a hint as to what we might expect from your future works?
I can't say much about it, but I do plan to continue to write about female athletes and my next project will likely focus on figure skating and might also be a retelling of my favorite book of all time, Jane Austen's Persuasion.
Get your copy of Break the Fall by Jennifer Iacopelli in the UK & US.