"It's going to feel like a celebration": The Vamps chat about their upcoming tour and celebrating 10 years together
The Vamps have announced a greatest hits album and tour to celebrate the band turning ten!
The Vamps are one of the most loved bands out there, it's hard to believe they've been around for ten years! Yet they have just announced a greatest hits tour and album to celebrate their incredible milestone.
The band announced a '10 Years of The Vamps – The Greatest Hits' arena tour around the UK and Ireland at the end of the year. The tour will see The Vamps take to the stage at London's O2 arena, Birmingham, Manchester, Cardiff as well as other major cities.
The arena tour will follow a 'Ten Years of The Vamps' fanzine which is an album with several of their greatest hits, their favourite The Vamps songs, live versions and also five unreleased songs. The fanzine is inspired by any form of a magazine with unreleased photos, notes and pictures sent in by fans.
The Vamps have also just completed their first-ever fan weekend in Barcelona which looked to have been a major success. The Vamps Weekender, in collaboration with Pollen, was a chance for the band to spend a whole weekend with their fans doing fun activities, performing and getting to spend time with fans in the sun.
I caught up with Brad, James, Connor and Tristan to see how they were feeling about their upcoming tour and what it's like to be celebrating ten years together.
Hi boys! First things first, you're going on tour! How do you feel about announcing that? You don't seem old enough to have a ten-year anniversary tour!
Brad [B] – I know! Inside though, we are haggard.
James [J] – I'm nearly 40!
B – We're very excited, it's going to be really, really fun. It's been nice to reminisce about the past ten years, to be honest. It's given us a nice reason to look back and celebrate some lovely moments. Also, for a band at our age, to be able to have the songs to warrant a greatest hits tour was really really cool. We're five albums deep so hopefully, we'll be doing another greatest hits in ten years' time.
What can your fans expect from the tour? Is it going to be different from your 'Cherry Blossom' tour last year or quite similar?
J – It's going to be very different because we're doing the greatest hits tour. We're going to try and pick the songs, over the past decade, that resonate most with the fanbase so I don't think it'll be like the 'Cherry Blossom' tour at all.
B – It's going to feel like a celebration, that's the aim.
You're going back to the O2 as well, you made history there by becoming the first band ever to perform there for five consecutive years! Are you excited to go back there?
B – Can't wait! We've got a lot of special memories at that place, it holds a very special place in our hearts as a band. I think every venue is going to be really emotional but there is just something about the O2, it brings it all back to everything we've achieved. To go back there ten years deep is pretty special, we can't wait.
You could put your own stamp on it like Drake did when he turned it into the O3!
B – We'll call it the OV!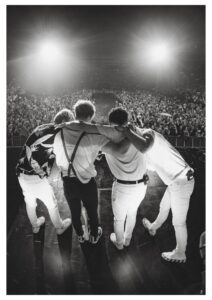 Are you excited to go back to arenas and do bigger shows after playing intimate gigs for a few years?
All – Yeah!
B – 100%. I think that the 'Cherry Blossom' tour was really fun because we got to do the theatres and academies, which are venues that, weirdly, we played on the first tour that we ever did. They were seated gigs because we were very young and the audience was very young at the time, then we got the chance to jump up to arenas after that. So the 'Cherry Blossom' tour was the first time we got the chance to really do academies, proper sweaty intimate gigs in that setting. But I think we absolutely love playing arenas! There's a bit more scope for you to do production elements, there's more room for us to run around. We've always done catwalks out so you can get close to the back of the arena and things like that so it'll be nice to cater the show to that setting again.
Is there any song, in particular, you are looking forward to performing on tour?
Tristan [T] – The new ones were fun to play on the 'Cherry Blossom' set but I think for this, we're going back to old school. It's going to be sick bringing those back and putting a new twist on them so they sound as if we wrote them now.
Whereabouts are you looking forward to performing the most? Out of all the dates on the tour?
B – Honestly, every place will be sick. I think the O2, like we were saying earlier, will be very emotional.
T – It's always good playing Birmingham as well because that's a hometown show. I think some shows that we haven't necessarily announced yet are really exciting.
You've got a greatest hits album coming out as well! Is there anything on there that the fans haven't heard before? Or is it just old songs?
Connor [C] – It's a collection of songs that mean a lot to us, in terms of our chapters in The Vamps. So songs from the first album, second album… Kind of cornerstones of us.
And there are live versions of songs on there too?
B – Yeah, there are a couple of live versions from the Hammersmith Apollo show in London (last year). They kind of feel like reimagined versions because we switch them up live.
The album has been described as not just an album but a fanzine, what exactly is a fanzine?
J – I think it's a take on a magazine but we're cool so we've dropped the mag. I don't know! Basically, it's going to be a good read.
What does it include in the fanzine?
J – There are loads of pictures that haven't been seen before but I think it kind of captures the last decade of The Vamps. I think if you're a fan of The Vamps, it'll be a nice thing to have.
#10yearsofthevamps we've been working on this the last few months, hope you love it 🔥 it's available internationally, pre-order your copy here: https://t.co/8lwHrwzRVz pic.twitter.com/1DQj1wNcge

— The Vamps (@TheVampsband) June 16, 2022
Did the fans get involved as well then?
B – They did! We got the fans to send in special moments that they've had because not only does it feel like our ten-year celebration, it's everyone's, it's the fans as well.
Was it important for you to make the fans feel included in the ten-year anniversary?
B – Absolutely! A huge part of why we've got to this point is because of the fans. It's a testament to our relationship as friends over the ten years, we love doing it, but we wouldn't have got to this point without the fans. They've been with us every step of the way so it's a unified celebration – the fans and us.
You also had the fan weekender in Barcelona recently! How was that?
B – Good!
T – Really fun! To interact with fans again after Corona(virus), it was the only way to do it. It has been a while since we'd done something like that and that was actually the first meet and greet big experience we've done that went over three days. We got our friends Matoma, Sigala, Mae Muller to come and do some sets, and they killed it! It was such a cool vibe doing different things. Con had a boat party, I had brunch with people, we had cocktails, and a treasure hunt.
Do you think you would ever do another fan weekend?
All – Yeah!
B – We'd love to. The company who we did it in collaboration with were saying how we'd had the best satisfaction rate of any band who's done it so far. That's exactly what we wanted to achieve from it. For us, we've been very lucky with the support the fans continue to give so we want to make sure that they get as much as possible for the support, the money and the time that they're taking out. It really did feel like that weekend was special.
If you had to pick one place to go and do it again, where would you do it?
B – Vegas!
C – Yeah, Vegas!
T – Japan would be cool!
That would be cool! Lastly, is there anything you'd like to say to your fans?
B – Obviously a big thank you and big love to all of the fans. Yeah, can't wait, ten year anniversary, greatest hits tour, we're really looking forward to it!
---
Another The Vamps Weekender sounds so fun! That could be another addition to the ten-year anniversary celebrations.
'10 Years of The Vamps – The Greatest Hits Tour' are on sale from 1 July. You can find out more about dates and venues here. You can also pre-order the brand new fanzine and album, 'Ten Years of The Vamps', here and this will be released on 14 October.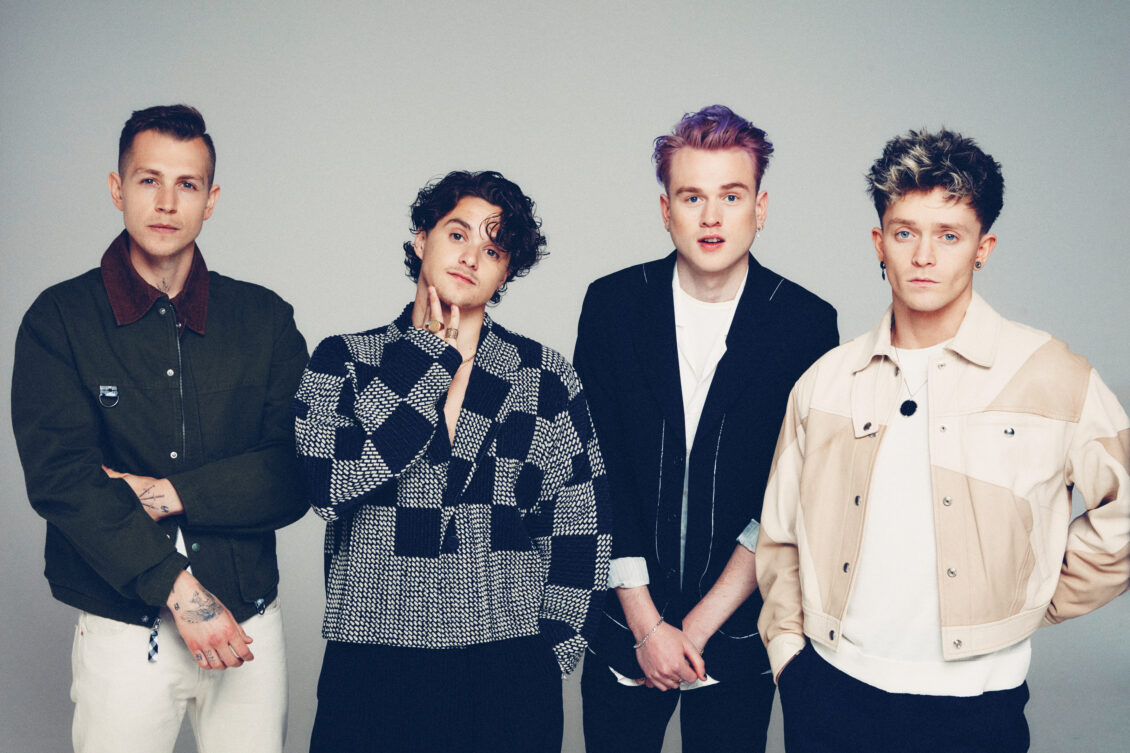 Are you planning on going to any of The Vamps tour dates to celebrate their ten-year anniversary? Let us know in the comments below!