Watch the My Policeman official teaser
This 1950s love triangle is an emotional drama.
The teaser for My Policeman has finally been released! The wildly popular novel by Bethan Roberts has been adapted into a feature-length film. This star-studded cast features Harry Styles as Tom Burgess, Emma Corrin as Styles' wife Marion Taylor, and David Dawson as Patrick Hazelwood, Styles' secret lover from his past.
This 1950s love triangle is an emotional drama. From the teaser alone, audiences can see the painful reality of being unable to be yourself and share your truth. Throughout the teaser, Styles, and Dawson tepidly gaze at one another while Corrin watches quizically. There are moments of joy and tenderness, as seen when all three are laughing and enjoying themselves in the car. But there is a looming heaviness, dramatic and heartbreaking, as seen when Styles and Dawson sit tensely next to one another or in an eerie shot of Styles' uniform burning amongst logs of wood.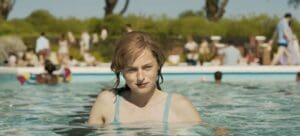 We're not the only ones who feel emotional, right? One thing is for sure we'll have to keep our tissues handy when watching this!
My Policeman will be released in select theaters on October 21 and will be streaming on Amazon Prime beginning November 4.