Facebook
Jin from BTS is turning 28 (29 according to Korea's age system) and we can think of many reasons why Jin is a precious gem to many of his fans: Jin is a caring hyung to his younger members, has a warm relationship with ARMY and has a beautiful voice that carries so much power that moves every person who listens to it.
I invited a few of Jin's stans to talk about what makes their bias so easy to love and how he made his way to their hearts. Here's what they had to say:
"One of the million reasons why I love Seokjin would be because he is beautiful inside and out. When we say he is beautiful we don't only talk about his outstanding golden-ratio visuals but we also pertain to his genuine heart. I admire him for his eloquent way of thinking and speaking and it's not a shock that everyone who gets to hear him speak falls in love with him too. He is introspective and knows how to cope with reality. He continuously reminds us of the most important things in life and encourages people to love who they are and to be their true selves. He is wise, authentic, and a big-hearted person. He is also a person who is full of talents and intelligence. He has an acting degree from one of the most prestigious universities in South Korea. His vocals have been praised by critics and is named as the Silver Voice Vocalist by the Grammy Panel. His song Moon is the 5th Greatest boyband song of all time by The Rolling Stones. I could go on but what I'm saying is he is a multi-talented man with tons of layers to him and being his fan is an amazing adventure. From his songs, his words, and his entire being he provides comfort and healing. Clearly, Kim Seokjin is the embodiment of love, wisdom, grace, and perfection."
Rachelle – @yeppeudataejin
"Why I love Seokjin? Seokjin was the first BTS member that caught my attention. At first, I thought he wasn't the eldest among the group. Until I got to the stage of getting to know each member. Seokjin really got into my heart and soul. While on the process of getting to know them better, I fell in love with Jin, not romantically, but you know the feeling when you see a man, almost perfect not only because of his looks but his personality too. He is one of a kind, I always tell myself that Jin is too good to be true. To be honest, until now, I still can't believe how a person like Jin exists. He has all the talent, he is a great vocalist, a good dancer, an actor (hoping to get an actor Jin soon), and a true born artist. He has this personality that is so rare which makes him even more unique. He has so many qualities that even men will fall in love with. He is a simple yet deep guy. You can see in the outside that he is a jolly, easygoing, and fun to be with guy but ARMYs themselves tell that Jin doesn't show his real self. (…) Others may say that he does a lot for his members because he is the hyung or the eldest, but for me, he does that because that makes him who he is, the Kim Seokjin. I really love his personality, he doesn't give up until he get what he wants silently, even the members have confessed that. He has the kindest soul and eyes. Talking about his visual– I have no words. Actually, me being a Jin biased, his visual is just a bonus point because he has this personality and talents that will make you automatically stan him. Describing how good, how talented, and how well-mannered Seokjin is will take me forever. Actually my standard for a man has been set so high because of him, maybe I'll be single forever and will just stan Seokjin. Kidding aside, he really set the standard so high, not only as an artist but as a person. Jin is selfless, kind, humble, respectful, and the greatest person ever."
Bea – @seokJlNius
"A versatile artist who can act, dance, model, excel in every sport, be an eloquent speaker & MC, can sing a sustained G5 to Bb5 high notes effortlessly, has been critically acclaimed by the Grammy Panel for his Silver Voice, born with the World's Most Perfect Sculpted Face, and even extraordinarily gifted in all aspects, that's the Kim Seokjin we all know. He has got it all. On top of all these, he's a man with a golden heart — full of love, good manners, charms, intellect and willingness to help everyone in need, which make him truly one of a kind. His solo songs have always been about self love and healing; while his speeches have always been a source of comfort & inspiration that we can all resonate with. This is why I admire and respect him so much. It's so comforting to know that someone who's incredibly talented, selfless, hardworking, charming, genuinely kind, empathetic, highly flexible, creative, witty and remarkably intelligent, like Kim Seokjin, exists in real life. I'm forever grateful that exist in Kim Seokjin's era — he's a rare gem."
Kara – @jinoverdose
"First thing I noticed in him were his jokes because I had started watching videos on Youtube but my perception was that he is incredibly smart in a way that I cherish – he can think out of the box, abstractly, which gives him an ability to create word plays and metaphors in a second, (…)
Second thing was his voice. I listened to "Awake" accidentally the first time when I was outside and I didn't know what the song was about but his raw emotional voice was enough to make me cry in the middle of the street. I checked the lyrics afterwards and I just knew he was my person. I learned vocal theory only because of him, his abilities made me interested in it, I wanted to understand and learn more about what he could do, (…) he is truly one of the greatest vocalists in Korea and one of the most emotional vocalists I know. Really no one can convey every emotion for every song as he does.
Every time I think about all the inhuman things he did to build himself..I just can't believe he is a real person. He is like a movie character for me, a fiction, when I try to fit it all inside my head at once. (…) I would love him even if he wasn't as skilled in all the things that he is, I just love that such a person exists, so genuine and pure, with a beautiful mind. i usually look the most in people for intelligence, uniqueness, creativity and he has it all in him. I care about him achieving every dream that he has because he is such a good and such a talented person he deserves everything and the main thing I want is for him to think of himself the way I and many people who love him think about him, to see himself with our eyes, every detail of his own amazing self."
Lia – @prodkore
"I've always wanted a friend who would always bring a smile on my face even in the worst of times, someone who would always make me feel loved no matter what. Well, after seeing Jin, I think I found that person. Because of Jin, I've laughed without any particular reason, let me tell you that – when he comes live, I just smile looking at his face and his existence. I don't know Korean, I don't understand what he says until the subtitles come up. But somehow, I can feel what he says. That's the thing about Jin!! Whenever he is given an opportunity to wish something, he wishes for ARMY's happiness. Every time Jin is on the stage and he goes, "Aaaammmiiiiiii" I literally feel like a someone called my name from the heart. So World Wide Handsome, Jin, I want to wish you the best in life, you deserve every bit of love and happiness out there and never ever consider yourself unworthy cause to us you are our eternal Moon. A very happy birthday to my dearest Moon.
~Lots of love."
Ziva – @taetaesmoonchid
So many beautiful emotions caused by Kim Seokjin! I won't lie, I got a little emotional reading the impact he has on his fans.
As a gift for his fans, Jin released a new song called "Abbys" that speaks about his insecurities and self-doubts he has had recently.
Let's appreciate Jin even more and make his birthday a very special day to keep in his memories.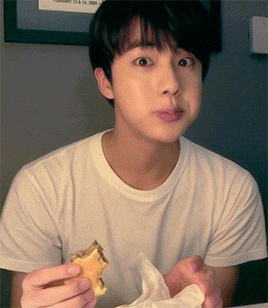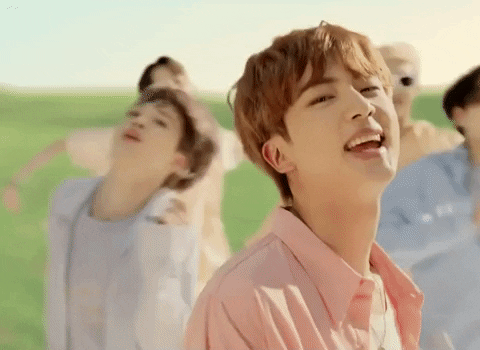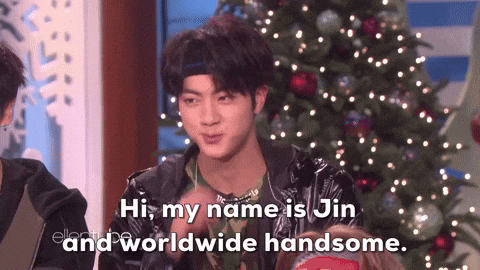 Happy Birthday, Jin! Hope the moon shines brighter tonight for you.