Susan Lee on her gorgeous K-Drama YA romance, Seoulmates
"I've never loved myself more than in these past few years since I've grown to love ALL parts that make up the whole of who I am."
Friends-to-lovers fans, it's time to meet your new favourite book. Relatable, swoon worthy, emotional and beyond adorable, Susan Lee's debut YA rom-com, Seoulmates, is a gorgeous story of love, friendship, family and cultural identity and both the good and bad sides of Idol culture. Perfect for anyone looking for a romance that'll warm your heart, Seoulmates is a multilayered rom-com you'll fall in love with and to celebrate its release, we had the pleasure of chatting with Susan all about this gorgeous debut.
---
Hi Susan, we're so happy to get to chat to you today all about your fabulous debut YA romance, Seoulmates! For readers who may be hearing about Seoulmate for the first time, how would you best describe it to them?
Thanks for having me! This is gonna be fun. 🙂 Seoulmates is a childhood-friends-to-enemies-lovers story about 2 Korean American teens who were BFF's as kids, have a falling out, and reunite a few years later to complete an epic summer bucket list!
Hannah's and Jacob's story had me totally hooked from the first page until the last. Can you tell us a little about the inspiration behind it?
I've always known I wanted to write a romance featuring Korean American MC's. The opening scene (no spoilers! :)) featuring Hannah and her boyfriend, Nate, came to me fully formed and that was the genesis of it all…what happens when everyone around you suddenly loves all things Korean, but you, a Korean, actually doesn't?
Seoulmates superbly explores identity and the different, complex ways in which both Hannah and Jacob feel connected to their Korean heritage. What was it like for you have to write their differing perspective surrounding this element of the book?
This may sound odd, but in the past few years, I've been going through my own identity journey…in my 40's! ha! So it felt very intimate, this exploration of my "Koreanness". I grew up feeling oftentimes embarrassed of my heritage, my family's culture and it's been…a TRIP…coming to love and embrace and honor this part of myself. But truly, I've never loved myself more than in these past few years since I've grown to love ALL parts that make up the whole of who I am.
View this post on Instagram
Seoulmates features one of the best childhood best friends-to-lovers romances I've come across in a long time. I couldn't get enough! Do you have a favourite classic romance trope and is there one you hope to explore in future works?
I'm gonna be honest…childhood-friends-to-lovers is my personal favorite trope. I know enemies-to-lovers is usually everyone's beloved. But I'm a sucker for the idea of shared history, inside jokes, memories, the meant-to-be nature of it all. If I could, I'd write this trope in every book! 🙂 I do hope I'll get a chance to write more of it.
I typically am not a love-triangle person. I hate the fact that someone (usually) is left out of the HEA. And, I always seem to find myself rooting for the wrong person who ends up alone! HA! THAT SAID, a classic K-drama trope is the "Second Lead Syndrome"…this exact notion of people (the audience) falling in love with the 2nd lead, the one who doesn't get chosen in the end. I'm playing with an idea in my head of exploring this Second Lead Syndrome…and what if…what IF…the 2nd lead DOES get the girl? 🙂
I loved the way Seoulmates explored the good and bad of K-drama, K-pop, Idol culture and the surrounding industries. Did you do a lot of research into this world whilst writing?
It's impossible to go deep into these fandoms without being exposed to some of what it was like for the idols/talent as trainees, debuting, becoming stars within the machine that is the Korean entertainment industry. The idea for Jacob's character kinda came about from an interview I saw with Park Bogum, the actor. He mentioned how he had been a trainee for K-pop first, before becoming an actor. And that was interesting to me. So I dug a little deeper, asked some friends who've worked at some of the companies and some former trainees what it was like. I also watched a lot of YouTube videos of these types of testimonials.
Finally, are you currently working on anything new and if so, is there anything you can share with us?
I'm working on my next book which should be coming out late 2023. It's a YA contemporary romance…but I think that's all I can say right now? 🙂 You'll find, once again, two Korean teens…but from VERY different backgrounds. I think it's going to be a lot of fun! Hopefully we'll get to share more details soon!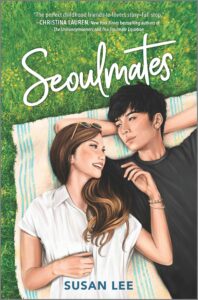 Get your copy of Seoulmates by Susan Lee here.