Sam Maggs on how to start writing books, comics and video games
"we need your unique voice more than ever"
The post below was kindly written by Sam Maggs, author of The Unstoppable Wasp: Built on Hope
It used to be the case that, should you want to be a writer, you were stymied by gatekeepers. Wanted to make a comic book? Out of luck unless you knew someone at the Big Two! Want to make a video game? Better hope you like broey party nights at Bay Area bars!
But that couldn't be further from the truth these days. There's never been a better time to jump into the writing medium of your choice. The Internet and social media have brought the tools necessary to creating and disseminating art to the masses, and the masses are hungry for content that speaks to them.
And, frankly, we need your unique voice more than ever. 51% of Comic-Con attendees are women or non-binary and 54% of gamers are women, but only 16-21% of comic book creators and game developers are women. See the discrepancy? Time for reinforcements.
So if you're thinking about giving writing a shot, I hope you do. Here's my advice on how to get started.
Books!
The first thing to know is there's two kinds of writing you could be interested in: fiction and non-fiction. Let me break down the process for each.
Fiction:
Here's the wild thing nobody tells you about writing novels: you just do it for kicks and hope someone likes the book enough to buy it one day. Bananas, but true! The great thing about that is there's nothing stopping you from starting your own novel right now, this very minute. You don't have to have a Master's in Creative Writing or a special connection to the muse or unlimited time; you just have to put down a few hundred words every day, and before you know it you'll have 60,000 of them all in one spot. You can do it!
View this post on Instagram
Once you've put together something you're reasonably happy with as a first draft in Microsoft Word or Scrivener any other word processor, it's a great idea to find some beta readers. These can be IRL or online friends who are willing to read your draft and give you notes (possibly in exchange for you being a beta reader on their work, too). There are many excellent online communities (like CP Matchmaking or the Goodreads Beta Reader Group) where you can find folks willing to provide constructive criticism.
Then you're ready to send that baby out into the world! You can submit to smaller publishers who accept unagented submissions, but I always recommend finding an agent – you'll be better protected that way. Search the Manuscript Wishlist (#MSWL) to find agents who are looking for what your book has to offer. Then check their websites for how to send them a query letter, a one-page email that gives a brief description of your book to try and hook them. The website Query Shark and my own agent's website, MariaVicente.com, have many tips on how to write the best possible query.
Don't forget, there's no special magic to being a writer. You can do it. I promise you can!
Non-Fiction:
Non-fiction requires a little less unpaid work upfront. What you want to put together for an agent or publisher is a pitch package or proposal. This should include: a one- or two-page overview of your potential book; your bio; a table of contents; summaries of what you'd include in each chapter; and finally about three fully-written sample chapters. This gives your reader a full overhead view of the book. Once you have that together, you can use it to query agents or send to publishers who accept unagented submissions.
Comic Books!
Comic book writing is my absolute favorite medium! Every comic begins as an outline, and then a script. Here's a small snipped of one of my Captain Marvel scripts, so you can get an idea of formatting: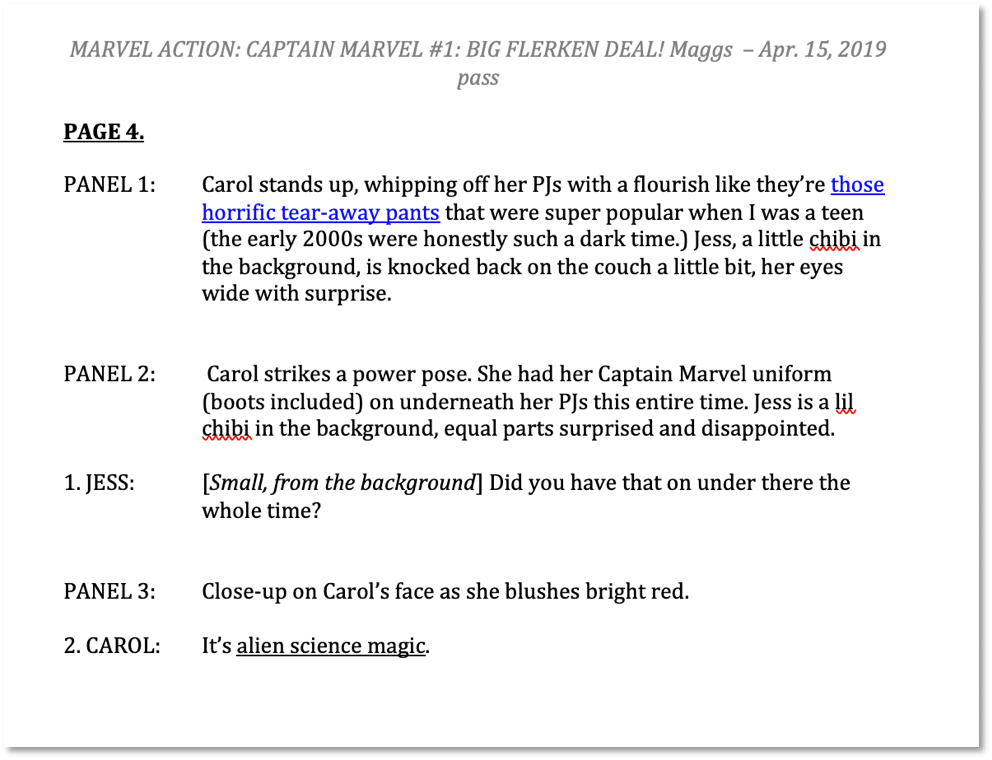 Pretty simple, right? Page number, panel number, a description of the action, and the dialogue in order. With comics, you want to remember that only one action can happen per panel. If you ever have an "and" (eg. "Carol walks in AND sits down") you're having the character do too many things.
If, like me, you can't draw to save your own life, that's okay! You have a couple of options. You can either find a collaborator – an artist who wants to work with a writer – or you can make a comic that takes minimal fine art skill (like Ryan North's Dinosaur Comics, which largely rely on text.)
Once you have something you're happy with, make a dedicated Instagram, Tumblr, Twitter, or Patreon for it and start uploading it online. You'll have an audience in no time!
Video Games!
This one seems the most complicated, but it's actually entirely doable from the comfort of your own home! While big, AAA video games can have thousands of people working on them, you can make your very own text-based choose-your-own-adventure style game all on your own. Head to Twine (twinery.org) and fire up the program in your browser. It's completely free and quick to learn, with tons of tutorials online. Once you're in, you can make your very own branching narrative game with dialogue choices leading to different endings and consequences for player actions! The back end of Twine looks a little like this: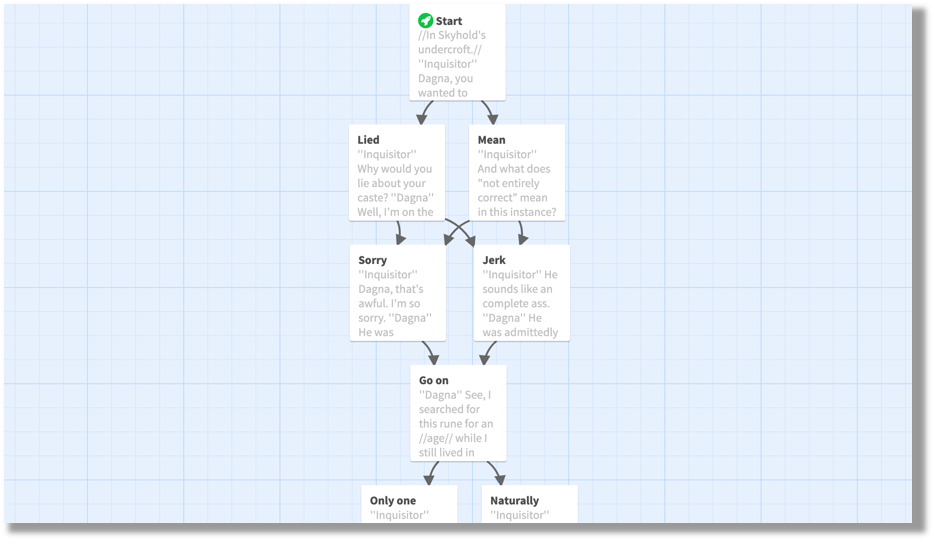 Not so daunting, right? But once you get comfortable with it, you can get really wild: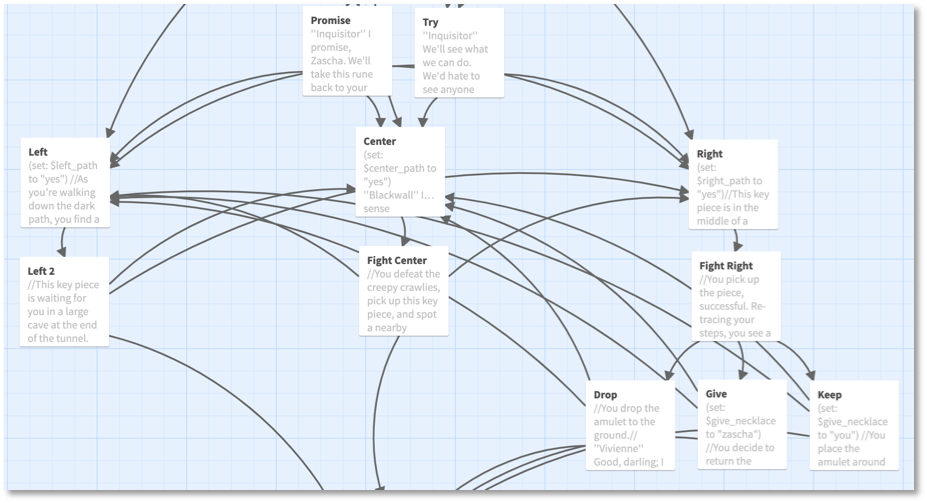 And the best part is, once your Twine game is complete, you can publish it on their platform. It'll be completely free to play for anyone with the link. You'll have a finished game ready for your portfolio!
So that's the down-low on how to get started. I can't wait to see what you make!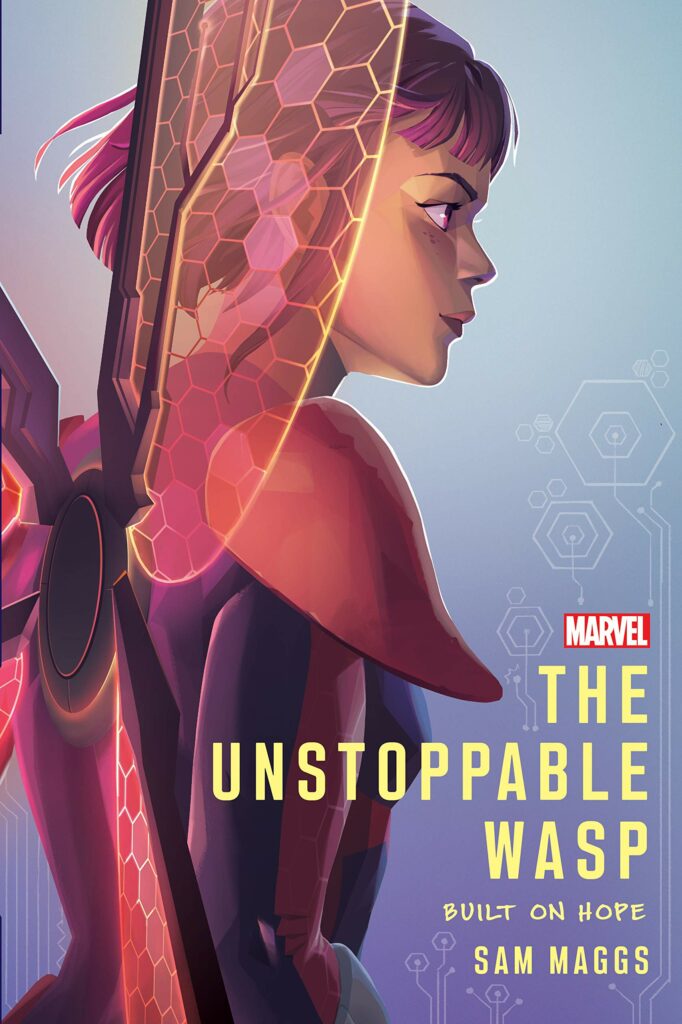 Get your copy of Unstoppable Wasp: Built on Hope by Sam Maggs in the UK & US