Five ways to inject some Harry Styles into your closet
Harry Styles has had a huge impact upon the fashion we find in pop music.
To say Harry Styles has had a great impact on mainstream celebrity fashion is an understatement. From the turning point of his 'grandma's couch' suit at the 2015 AMA's, Styles continuously pushes the boundaries of both red carpet and everyday fashion. Over the last decade, we have seen a wide increase in the experimentation of celebrity male wardrobes, challenging gender stereotypes, and whilst we can admire from afar, what is better than injecting some of Style's wardrobe into our clothing and outfits at home? So here are five ways you can inject a piece of Harry Styles into your own wardrobe.
The Sweater Vest
This is definitely a new item that has arrived within Styles' wardrobe but has instantly worked with his seventies inspired looks. Often seen with a bold print, such as some sheep, or paired with a classic pair of trousers, Styles creates an effortless vintage look as he brings life into a trend that previously thought of as being only for the Grandpas! A knitted sweater vest is an easy item to bring into your own wardrobe. Pair with a t-shirt or oversized shirt and some jeans or checked trousers to really emulate those vintage aesthetics.
A Pearl Necklace
An accessory that marks the start of the Fine Line era is the iconic pearl necklace. Typically worn by women in the 19th and 20th century, the pearl necklace was a classic mark of femininity. It is no secret that Styles has adopted traditionally feminine fashion trends into his own wardrobe, alongside other stars such as Ezra Miller, especially as the runways adopted some androgynous and feminine styles into the male looks showcased. The pearl necklace can be seen at the centre of this in Styles' wardrobe. Whilst pearl necklaces can be very expensive, buying a cheaper replica on Amazon, or looking at choker necklaces that incorporate pearls on online sites is a great way to hint towards this aspect of Harry's style. Of course, shopping for a vintage pearl necklace is well worth the time too as a way to update your wardrobe as well as help the environment. An item like this is a great way to carry a part of Harry's style in your wardrobe all year round, pairing with t-shirts or jumpers, weather dependent!
Statement Retro Sunglasses
Along with the pearl necklace, Styles has more recently be seen with statement sunglasses, with large white frames or clear blue lenses like in the Watermelon Sugar music video. Of course, we all know about the statement rings that are always seen adorning Styles' hands, and adopting accessories is a great way to nod to a style you completely love. Whilst sunglasses can be expensive, shopping vintage or in charity shops is a great way to get some original vintage statement sunglasses. With the summer months approaching, even teaming them with a plain t-shirt and shorts is a great way to lift a seemingly basic outfit.
Bold Blouse
Something that we have seen in Styles' wardrobe since his later years in One Direction, a bold statement blouse works well even with just a simple pair of jeans for a look that is on-trend but still fashionable. Statement sleeves and ruffles are a great way to make it seem like you have put more effort into your outfit than you actually have. A versatile item, a bold blouse can also be paired with smart trousers, and is a great idea for an effortless look at the Love on Tour shows!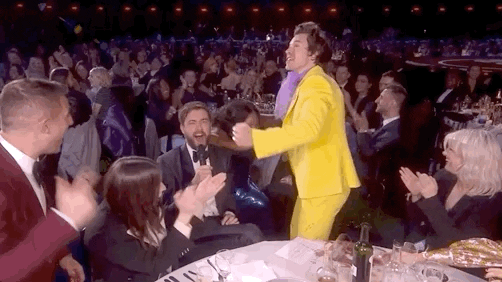 Pattern Mixing
A more general style tip, but one that can take any of your favourite Harry trends and bring them into your wardrobe all at once! Simply mixing spots and stripes is just the start. Think checks, florals, different textures, animal print and even the types of prints your grandma would knit. Nothing is off-limits, just make sure to have a cohesive colour story if you want your outfit to turn heads for the right reasons. Pattern mixing can be tricky to get right, but practice makes perfect. Blending a dainty pattern with a more striking print is a great way to start!