We don't need any more proof of Harry's influence in the fashion world. He's leading the way with pearls and peter pan collars but you have probably noticed by now, that the majority of his wardrobe is way over our budget so we were super excited to see that J.W. Anderson have released the pattern to Harry's Colourblock Cardigan.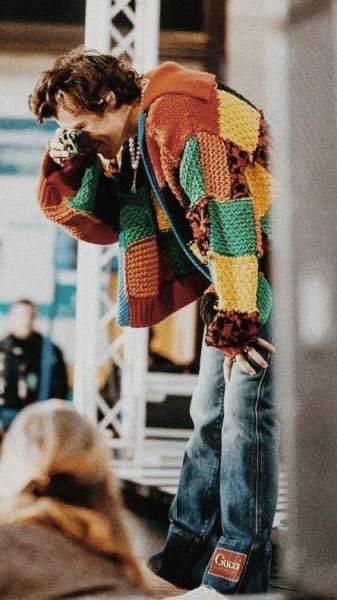 Lined up to be the most comforting cardigan you'll need this Autumn, the cardigan was first caught at the rehearsals of Harry's performance at the Today Show in February. Let's take a moment here to emphasise this. Not even his stage outfit, a really cute baby pink blazer, but the cardigan that was never televised, is now being recreated across the globe by creative fans.
Originally a fan-led movement, with a significant presence on TikTok, J.W. Anderson noticed the ambition of fans and has made things a lot easier by releasing the pattern. Jonathan of J.W. Anderson showed that Harry's kindness is infectious by releasing the pattern to help fans recreate it themselves. He said: "I am so impressed and incredibly humbled by this trend and everyone knitting the cardigan. I really wanted to show our appreciation so we are sharing the pattern with everyone. Keep it up!".
tips to help u knit the harry cardigan- a thread (!!!) pic.twitter.com/hVwXLiGNJ8

— harry's dimple (@onIykiwi) July 13, 2020
Recreating a favourite outfit is such a fun way to show respect to your favourite artist, and we know Harry would love to see everyone getting involved and learning something new. The pattern itself is perfect for a beginner with a little bit of patience. Take it one stitch, and one colour block at a time, and before you know it, you'll be ready to insert the sleeves, and pick out the perfect set of buttons. Once you've got the hang of it, you can even relax listening to Harry's Calm Sleep Story and let yourself melt away into the creative energy.
We have a feeling there will be a lot of knitted cardigans out on tour next year, and that it'll be a popular choice for Harryween. Let us know how you get on and which of Harry's other iconic outfits you'd want the designers to release the pattern for. His super fluffy radio interview purple robe for example?