June has just begun and that means Pride Month! This year might be a bit different since basically all the pride parades, that usually take place in so many countries during this month, got canceled in order not to jeopardize people's health and safety due to the pandemic.
Also, with everything going on right now all over the world – needless to say, we support the cause, as everyone should! Please check blacklivesmatters.carrd.com to learn more and find out how you can help – people, understandably, are not even in the mood to celebrate.
But, since both topics seem to be very close to Harry's heart, maybe remembering all the times he's openly supported the LGBTQ+ community through the years could make his fans at least smile. And show to the few people who don't stan him yet another reason why they definitely should.
Despite the media speculation constantly surrounding him, Harry has said multiple times that he has never felt the need to label his sexuality; and neither should anyone else.
"It's not like I'm sitting on an answer, and protecting it, and holding it back. It's not a case of: I'm not telling you 'cause I don't want to tell you, it's not: Ooh this is mine and it's not yours. It's: Who cares? Does that make sense? It's just: Who cares?"
For real, WHO CARES???
Besides, if that allows us to go from 'Medicine' to 'Watermelon Sugar', winning is really our only option…and no, we are not talking about the benefits of medication and fruit. And neither is Harold.
Anyways, Styles has always been vocal about his support, finding ways to show it since his One Direction days.
During one of their shows in Kansas City in 2013, the Westboro Baptist Church demonstrated against the band outside the venue but, instead of reacting harshly to the hate, he chose to speak out on behalf of equal rights.
Despite the company outside, I believe in equal rights for everyone. I think God loves all. Thanks for coming to the show though.

— Harry Styles. (@Harry_Styles) July 20, 2013
In 2014, during another 1D concert in St. Louis, H was sporting Michael Sam's St. Louis Rams jersey (number 96), showing his support to the first openly gay player in the NFL.

It even earned him a proper thank you from the player himself!
@Harry_Styles thank you for your support!!! #RamNation

— Michael Sam (@MichaelSam52) August 28, 2014
Iconic is also the speech he gave on stage sometime later: "Here at One Direction we like to celebrate love, in all forms. Love is love. And we believe that love is something that should be celebrated with open arms."
After the Orlando nightclub shooting in 2016, Harry paid his respects on Instagram: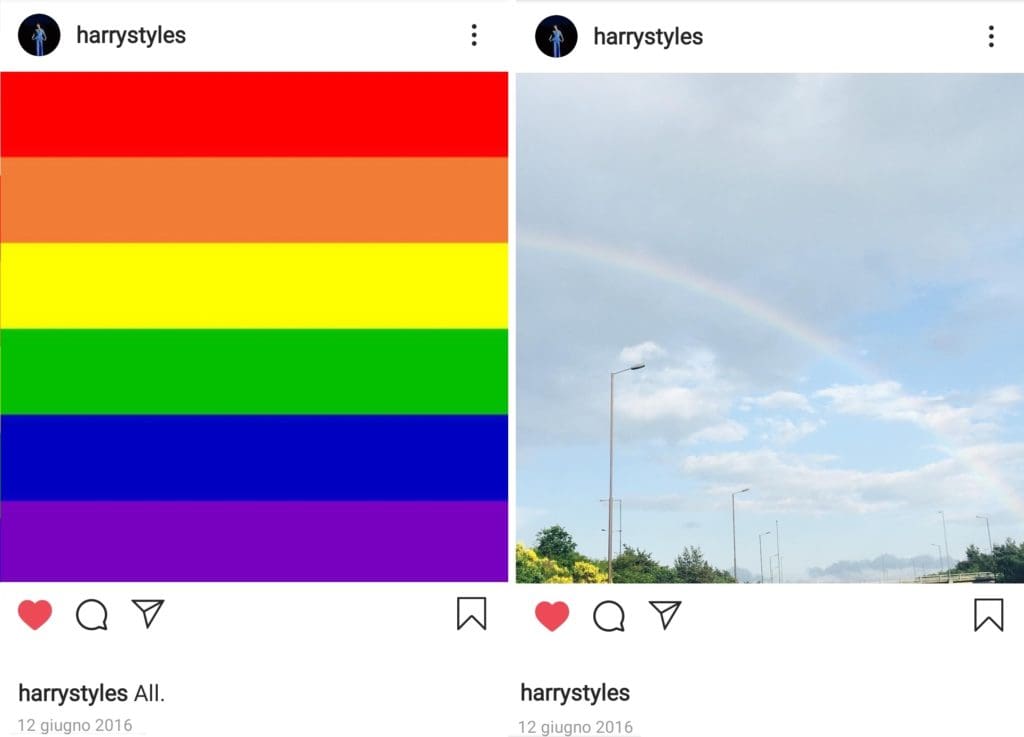 With time, he's started to be even more open about the topic whether it is in interviews or on social media or through the stickers he put on his guitar (together with some about other important issues).

At the ARIA (Australian Recording Industry Association) Music Awards in 2017, after accepting his award, he congratulated Australia for its "recent political decision", i.e. legalizing same-sex marriage. In 2015 he had already done the same thing on Twitter when it finally became legal in all 50 states of America.
Huge day for America.. Happy to see the news. All the love

— Harry Styles. (@Harry_Styles) June 26, 2015
Styles has always actively supported many LGBT charities over the years; in June 2018 he dropped a special rainbow edition of his Treat People With Kindness tees, donating all proceeds to an organization benefitting LGBTQ youth.
In celebration of Pride, two special Treat People With Kindness T-Shirts have been added to the online store for the month of June. All proceeds will go to support @GLSEN's work ensuring safe & inclusive schools for LGBTQ youth. https://t.co/CtzBuWwh4T pic.twitter.com/0YiJz1LmZo

— HSHQ (@HSHQ) June 5, 2018
He's also donated his pair of rainbow Gucci loafers – he used to wear often during the Dunkirk promo era – to the UK's oldest LGBTQ and mental health charity, London Friend, which promotes health and wellbeing.
Throughout the years, he's worn many rainbow-themed clothes, items, pins; he wore for a long time, not only when on stage, the "I study rainbows" bracelet a fan gave to him. I guess he didn't lie when he stated:
I study rainbows.

— Harry Styles. (@Harry_Styles) January 14, 2015
He's supported a lot of queer designers – even emerging, as Harris Reed was when Harry let them design some of the outfits for his tour – and brands.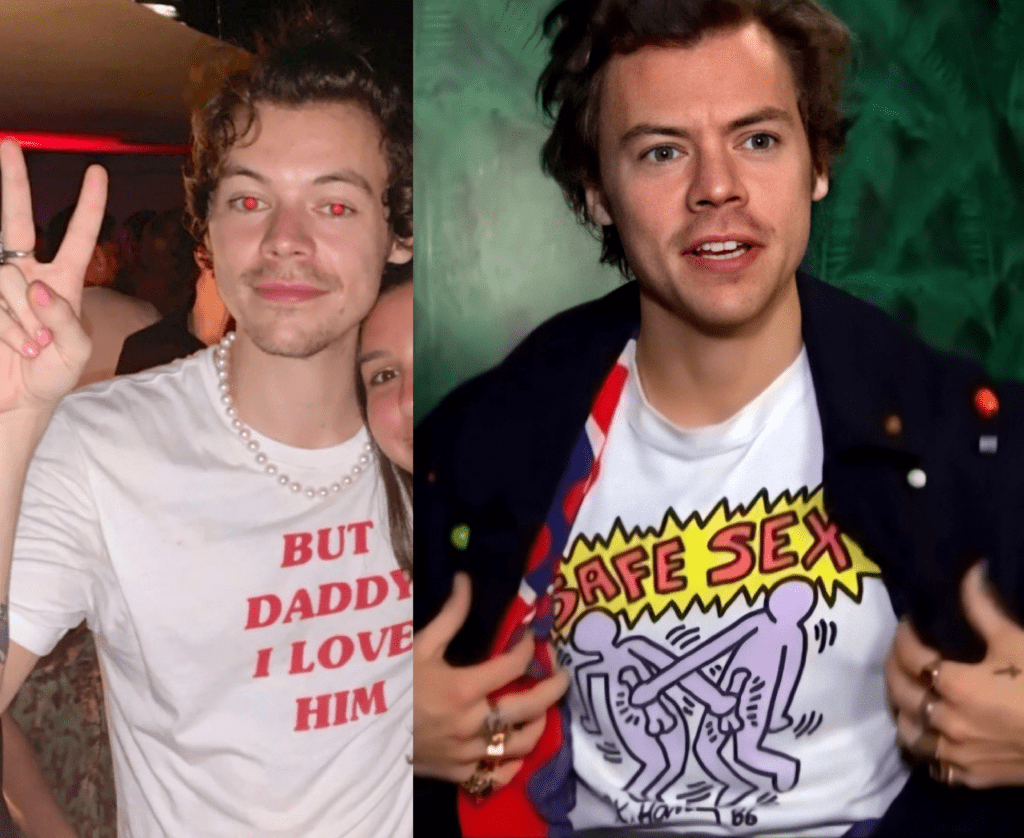 Finally, rainbow flags deserve a separate mention. Harry has always waved them on stage since  1D days but, after going solo, it just became kind of his signature. At every single show, he has picked Pride flags from the crowd, held them while performing and waved them while running and dancing across the stage.
In Nashville, during the first leg of his tour, a fan's rainbow flag was confiscated by security before she entered the auditorium; Harry somehow found out and brought it on stage saying "I was told that this was removed somewhere and I would like to put it back in its rightful place. Right there."
In Singapore, where laws are strictly anti-LGBTQIA+, H waved the Pride flag despite being advised by security not to; he could have faced consequences for doing so but he didn't care.
What happened in Philadelphia is too iconic to even need a caption.

He's helped some of his fans to come out reading their signs, always after asking for their permission; he's congratulated a couple in the crowd "on their potential boy or girl, whatever it decides… It's 2018 do you know what I mean? Be who you want."
Taking his own words "Pick someone who's supportive" to another level, Harry's goal is to make us all feel included and seen, to let us know that his shows are a safe space for everyone, that we are not alone and are free to be whoever we want to be.
"If you are black, if you are white, if you are gay, if you are straight, if you are transgender. Whoever you are, whoever you want to be; I support you, I love every single one of you."
And we couldn't be happier!