Fans of Wicked Fox by Kat Cho can breathe a sigh of relief as its highly anticipated companion sequel, Vicious Spirits, has officially arrived. With magic, drama, a hate-to-love romance and the return of some of your favourite Wicked Fox characters, the latest addition to Kat Cho's brilliant Gumiho series is an absolute must read.
"As Vicious Spirits begins, Miyoung and Jihoon are picking up the pieces of their broken lives following the deaths of Miyoung's mother, Yena, and Jihoon's grandmother. With the support of their friend Somin, and their frenemy, Junu, they might just have a shot at normalcy. But Miyoung is getting sicker and sicker by the day and her friends don't know how to save her. With few options remaining, Junu has an idea but it might require the ultimate sacrifice and, let's be honest, Junu isn't known for his "generosity." Meanwhile, the events at the end of Wicked Fox have upended the forces that govern life and death and there are supernatural entities lurking in the background that will stop at nothing to right their world."
Want more? Of course you do. Luckily, we have an exclusive excerpt for you to read right here, right now.
---
Chapter Nine
"THE SMELL OF antiseptic and the vinegary tinge of cleanser filled Miyoung's nostrils as she woke. So, before she even opened her eyes, she guessed she must be in the hospital. She hated the hospital. The only times she'd ever been here were when Jihoon was hurt and when his halmeoni had been dying. To Miyoung, the hospital was not a place people came to heal.
When she opened her eyes, she saw Jihoon pacing the room, his hands clenched into tight fists.
"You didn't have to stay," she croaked out.
"Miyoung-ah." Jihoon was by her side in two quick strides. "You scared me," he said, sitting on the edge of the bed. His body heat felt good against her side.
She looped her arms around his waist. Now she could smell him, the last vestiges of laundry detergent that clung to his shirt, and beneath that, his skin smelled almost sweet, like cream. Jihoon stroked Miyoung's hair, his fingers working through her strands. It felt good, like a gentle massage of her scalp.
She wanted to stay like this forever. Just feeling him close to her. The silence sitting comfortably between them. She tasted his gi, sweet and effervescent like cider, but underneath it was a bitter anxiousness.
"You're tired and worried," Miyoung said. "I can taste it on you."
"Hey, didn't we make a deal that you don't use your residual fox powers on me, and I won't force you to listen to me talk about L-o-L anymore?" Jihoon said.
Miyoung scooted back. "Here, lie down with me."
Jihoon smiled. "Well, if you wanted to get me into bed, you just needed to ask."
She tried to hold back her smile, but it didn't work. Jihoon knew how to make her laugh despite herself.
"Did the doctors say anything?" she asked as they lay face-to-face on the small hospital bed.
"They think you're just overtired and dehydrated."
"When can I leave?" she asked.
"Are you uncomfortable?" Jihoon frowned.
Miyoung remembered what he'd told her about the three months he was in and out of the hospital. How much he'd hated it. How the feeling of being sick had weighed on his heart as much as his body.
"No, I'm fine. I'm just sorry if I scared you," Miyoung said, running her hands down his cheek. She felt a bit of stubble, scratchy against her palm.
"I love you," Jihoon whispered.
And Miyoung's heart squeezed, but she couldn't say it back. For some reason she could never say those words. Instead she leaned forward and kissed him. He let out a sound of surprise and appreciation. She felt a warmth move over her skin. And suddenly she wasn't as tired anymore. Miyoung started to scoot closer, but he pulled back.
"Why don't you try to get some sleep?" Jihoon said, clearing his throat, obviously affected by the kiss.
"I can't," Miyoung said.
"I can tell you about the latest RPG I bought. That always puts you to sleep quickly," Jihoon said with a grin.
Miyoung rolled her eyes and punched him lightly. "No, it's not that. I just . . . I don't want to sleep. I don't want to dream."
"Why not?" Jihoon asked, and she could taste his concern growing, like the acidity of citrus in his energy.
"It's not safe in my dreams." The idea of going to that dark place with Yena made her heart hammer. Not because she feared Yena, but because she worried the yearning to be with her mother would cause her to linger in her dreams until she forsook the waking world.
"But if you don't sleep, you can't get better. I'm no doctor, but that's pretty commonsense."
Miyoung's laugh was interrupted by a yawn. She felt her eyes weighing down, exhaustion coming over her. And with Jihoon there, she was the most relaxed she'd felt in a week.
"I'm afraid to see her again," Miyoung admitted.
"Who?" She felt Jihoon brush her hair back gently.
"My mother," Miyoung murmured as she started to drift off. She tried to keep her eyes open, but they refused to obey. And despite herself, she fell asleep."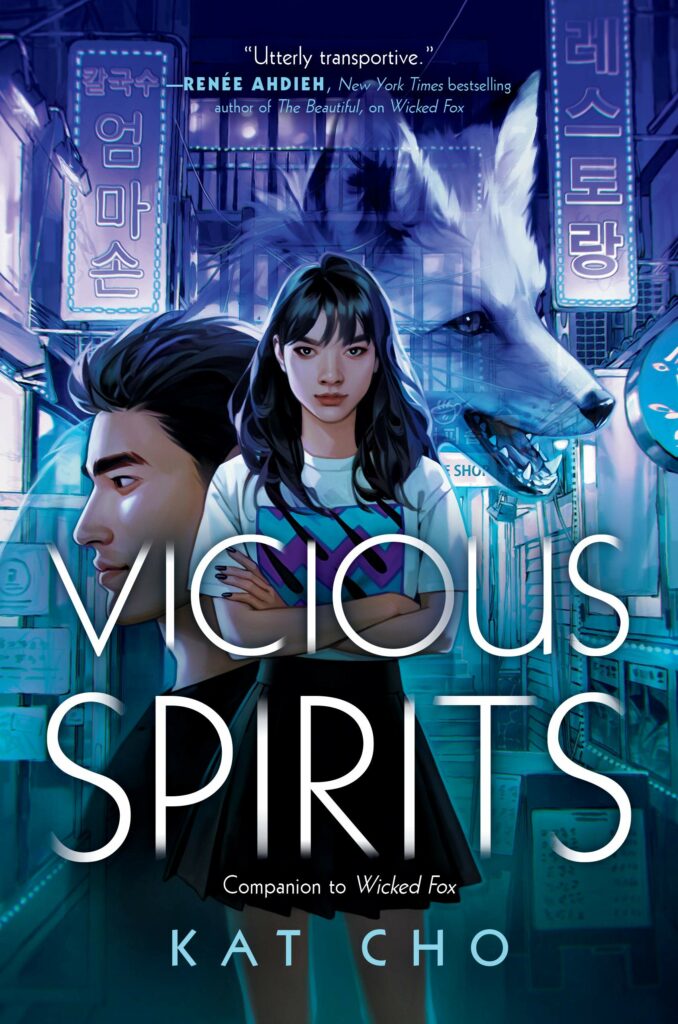 Grab your copy of Vicious Spirits by Kat Cho in the UK & US to continue reading this fantastic new YA fantasy.