25+ highly anticipated august 2020 YA book releases
Thanks to these new releases, a socially distanced summer is looking a little brighter
This post contains affiliate links, which means United By Pop receives a percentage if you make a purchase using these links. Thank you for supporting the brands that support this blog.
Although necessary, socially distancing in lockdown probably isn't how you expected your summer to look. However, with the help of these fantastic August YA releases, you can still fill your summer with all the adventure, love, excitement and travel you'd hoped for.
---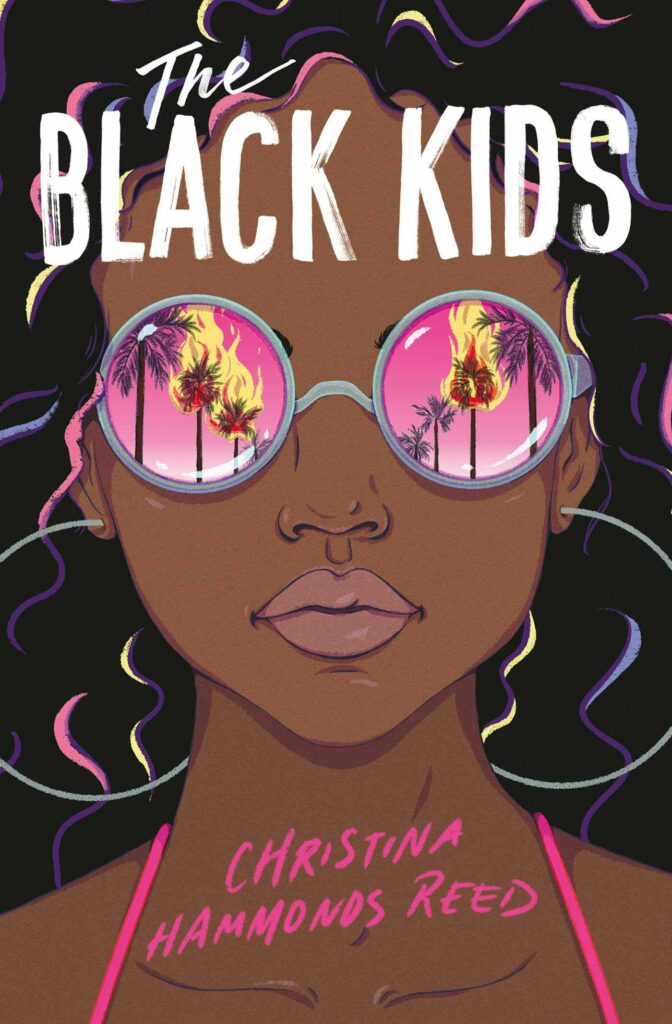 The Black Kids by Christina Hammonds Reed (4th August)
Los Angeles, 1992
Ashley Bennett and her friends are living the charmed life. It's the end of senior year and they're spending more time at the beach than in the classroom. They can already feel the sunny days and endless possibilities of summer.
Everything changes one afternoon in April, when four LAPD officers are acquitted after beating a black man named Rodney King half to death. Suddenly, Ashley's not just one of the girls. She's one of the black kids.
As violent protests engulf LA and the city burns, Ashley tries to continue on as if life were normal. Even as her self-destructive sister gets dangerously involved in the riots. Even as the model black family façade her wealthy and prominent parents have built starts to crumble. Even as her best friends help spread a rumor that could completely derail the future of her classmate and fellow black kid, LaShawn Johnson.
With her world splintering around her, Ashley, along with the rest of LA, is left to question who is the us? And who is the them?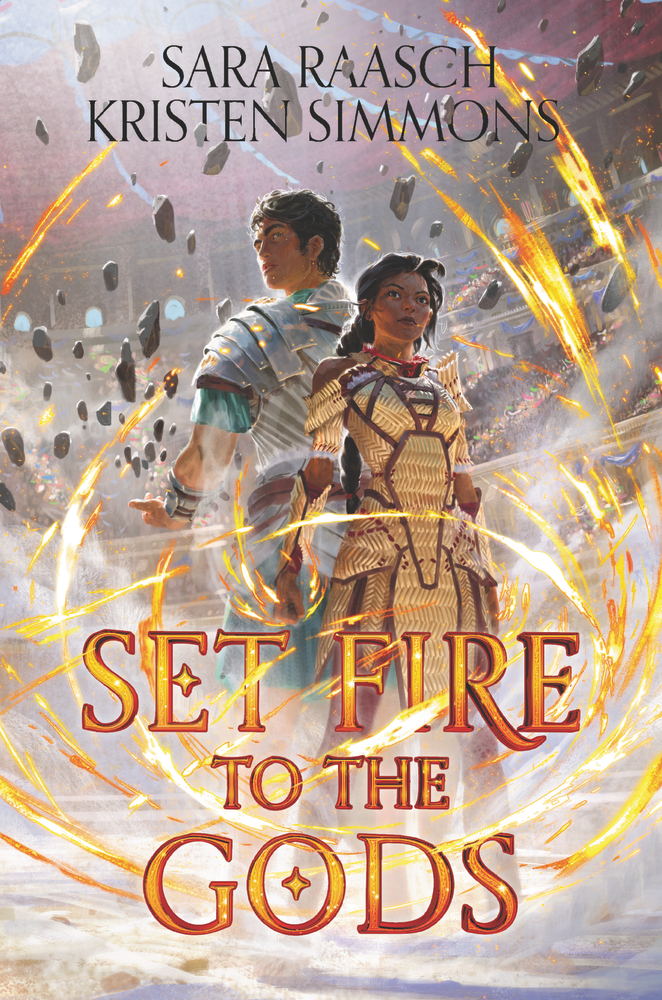 Set Fire to the Gods by Sara Raasch & Kristen Simmons (4th August)
Ash is descended from a long line of gladiators, and she knows the brutal nature of war firsthand. But after her mother dies in an arena, she vows to avenge her by overthrowing her fire god, whose temper has stripped her country of its resources.
Madoc grew up fighting on the streets to pay his family's taxes. But he hides a dangerous secret: he doesn't have the earth god's powers like his opponents. His elemental gift is something else—something that hasn't been seen in centuries.
When an attempted revenge plot goes dangerously wrong, Ash inadvertently throws the fire and earth gods into a conflict that can only be settled by deadly, lavish gladiator games. The fights put Madoc in Ash's path, and she realizes that his powers are the weapon her rebellion needs—but Madoc won't jeopardize his family, regardless of how intrigued he is by the beautiful warrior.
But when the gods force Madoc's hand, he and Ash uncover an ancient war that will threaten more than one immortal—it will unravel the world.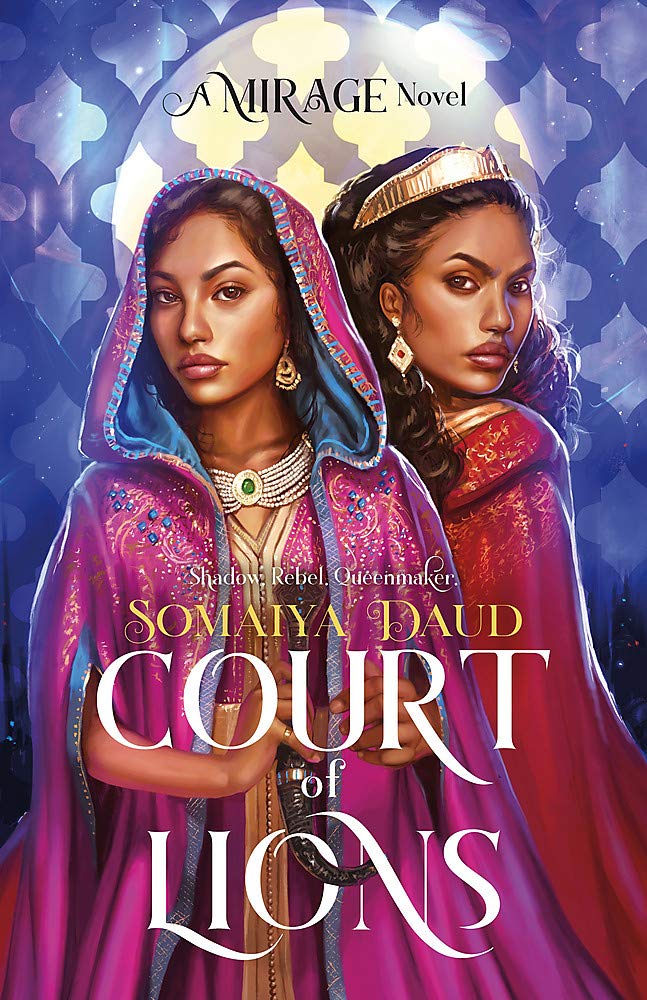 Court of Lions by Somaiya Daud (4th August)
After being swept up into the brutal Vathek court, Amani, the ordinary girl forced to serve as the half-Vathek princess's body double, has been forced into complete isolation. The cruel but complex princess, Maram, with whom Amani had cultivated a tenuous friendship, discovered Amani's connection to the rebellion and has forced her into silence, and if Amani crosses Maram once more, her identity – and her betrayal – will be revealed to everyone in the court.
Amani is desperate to continue helping the rebellion, to fight for her people's freedom. But she must make a devastating decision: will she step aside, and watch her people suffer, or continue to aid them, and put herself and her family in mortal danger? And whatever she chooses, can she bear to remain separated, forever, from Maram's fiancé, Idris?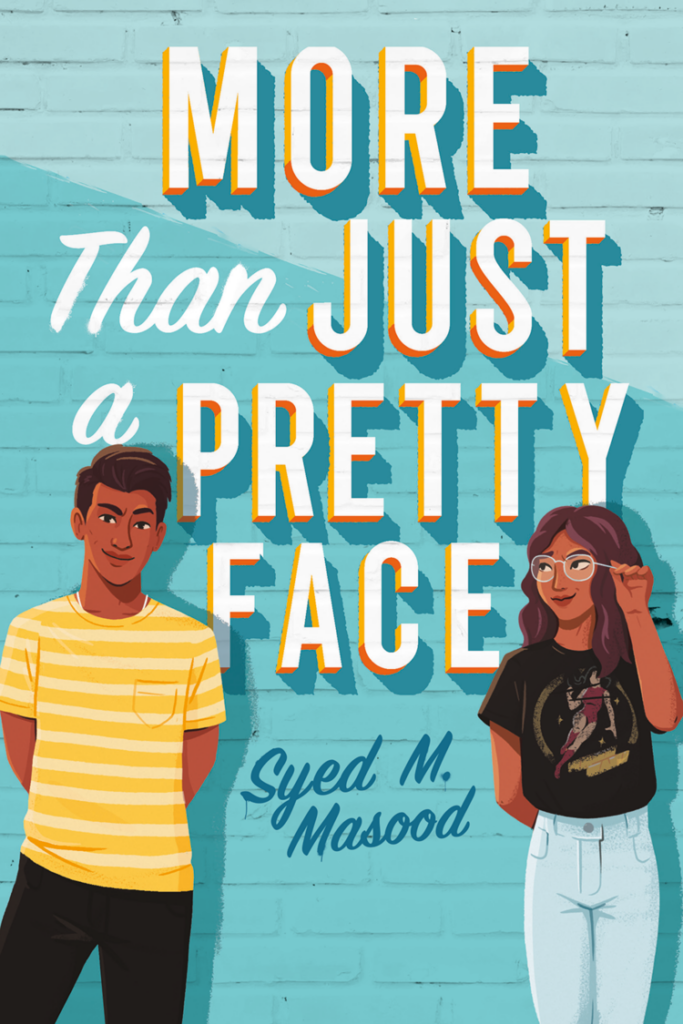 More Than Just a Pretty Face by Syed M. Masood (4th August)
Danyal Jilani doesn't lack confidence. He may not be the smartest guy in the room, but he's funny, gorgeous, and going to make a great chef one day. His father doesn't approve of his career choice, but that hardly matters. What does matter is the opinion of Danyal's longtime crush, the perfect-in-all-ways Kaval, and her family, who consider him a less than ideal arranged marriage prospect.
When Danyal gets selected for Renaissance Man–a school-wide academic championship–it's the perfect opportunity to show everyone he's smarter than they think. He recruits the brilliant, totally-uninterested-in-him Bisma to help with the competition, but the more time Danyal spends with her…the more he learns from her…the more he cooks for her…the more he realizes that happiness may be staring him right in his pretty face.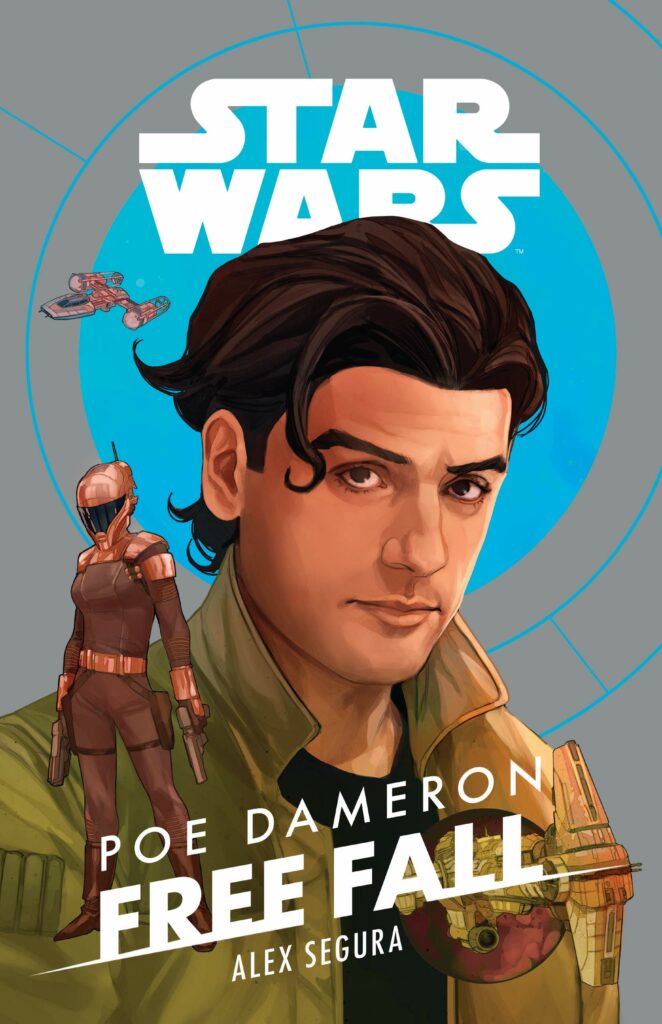 Star Wars Poe Dameron: Free Fall by Alex Segura (4th August)
It's been a few years since Poe's mother passed away, and Poe and his father, who was a pilot for the Rebellion, have had more and more trouble connecting. Not sure what he wants to do with his life, teenage Poe runs away from home to find adventure, and to figure out what kind of man he is meant to be. Buy now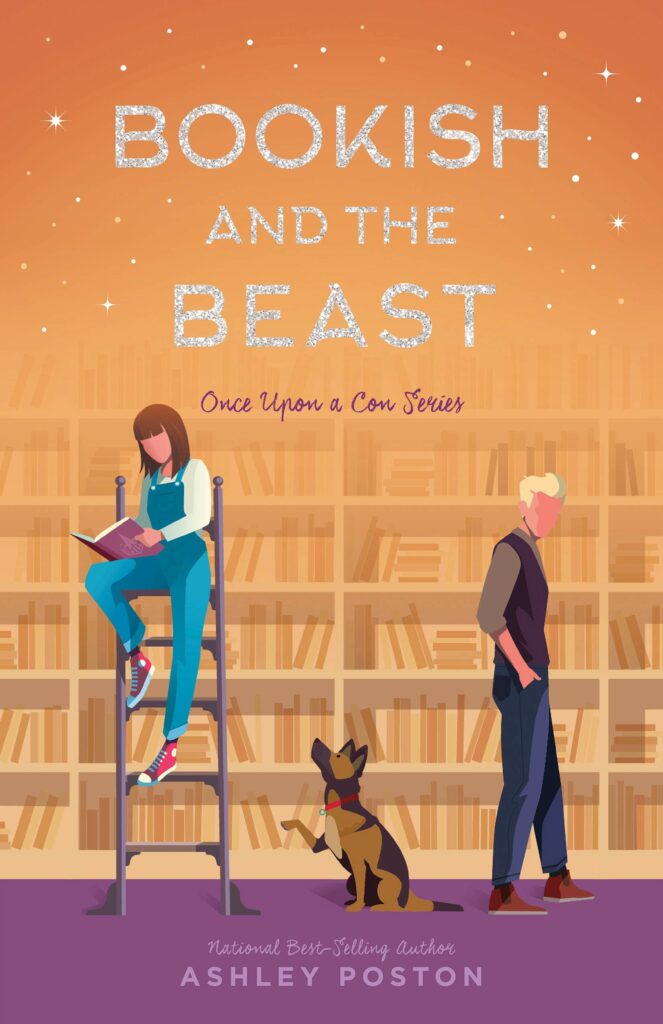 Bookish and the Beast by Ashley Poston (4th August)
Rosie Thorne is feeling stuck—on her college application essays, in her small town, and on that mysterious General Sond cosplayer she met at ExcelsiCon. Most of all, she's stuck in her grief over her mother's death. Her only solace was her late mother's library of rare Starfield novels, but even that disappeared when they sold it to pay off hospital bills.
On the other hand, Vance Reigns has been Hollywood royalty for as long as he can remember—with all the privilege and scrutiny that entails. When a tabloid scandal catches up to him, he's forced to hide out somewhere the paparazzi would never expect to find him: Small Town USA. At least there's a library in the house. Too bad he doesn't read.
When Rosie and Vance's paths collide and a rare book is accidentally destroyed, Rosie finds herself working to repay the debt. And while most Starfield superfans would jump at the chance to work in close proximity to the Vance Reigns, Rosie has discovered something about Vance: he's a jerk, and she can't stand him. The feeling is mutual.
But as Vance and Rosie begrudgingly get to know each other, their careful masks come off—and they may just find that there's more risk in shutting each other out than in opening their hearts.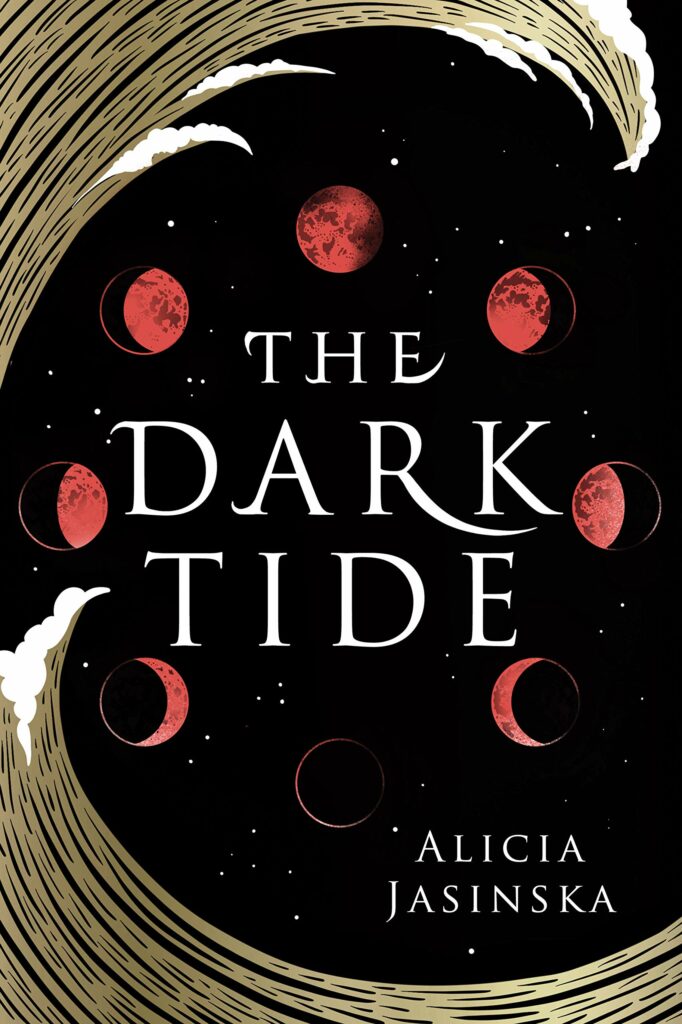 The Dark Tide by Alicia Jasinska (4th August)
Every year on St. Walpurga's Eve, Caldella's Witch Queen lures a boy back to her palace. An innocent life to be sacrificed on the full moon to keep the island city from sinking.
Lina Kirk is convinced her brother is going to be taken this year. To save him, she enlists the help of Thomas Lin, the boy she secretly loves, and the only person to ever escape from the palace. But they draw the queen's attention, and Thomas is chosen as the sacrifice.
Queen Eva watched her sister die to save the boy she loved. Now as queen, she won't make the same mistake. She's willing to sacrifice anyone if it means saving herself and her city.
When Lina offers herself to the queen in exchange for Thomas's freedom, the two girls await the full moon together. But Lina is not at all what Eva expected, and the queen is nothing like Lina envisioned. Against their will, they find themselves falling for each other. As water floods Caldella's streets and the dark tide demands its sacrifice, they must choose who to save: themselves, each other, or the island city relying on them both.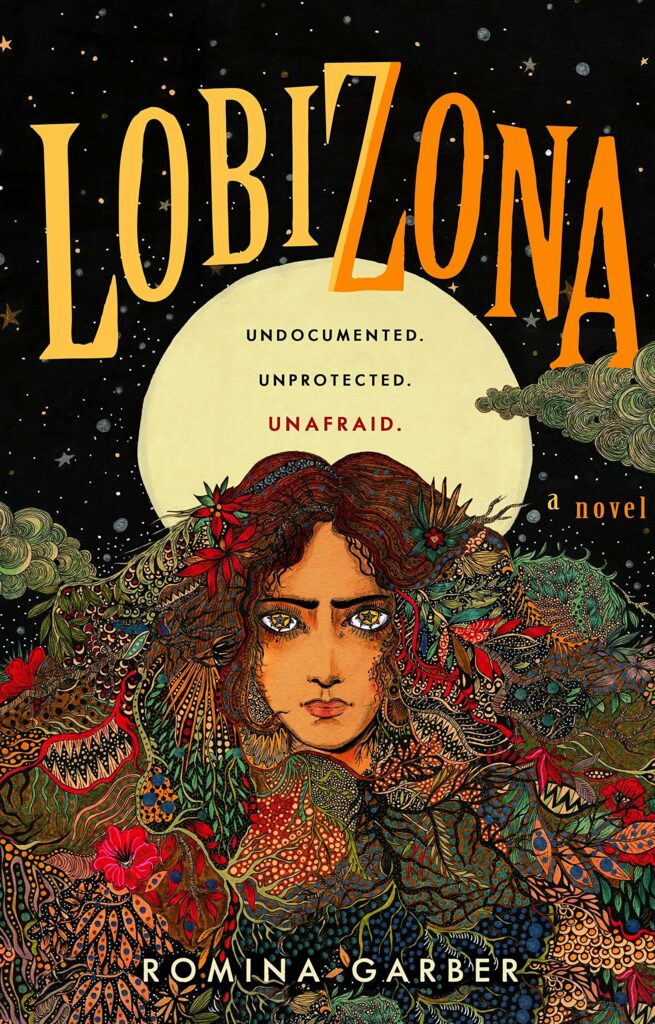 Lobizona by Romina Garber (4th August)
Some people ARE illegal. 
Lobizonas do NOT exist. 
Both of these statements are false.
Manuela Azul has been crammed into an existence that feels too small for her. As an undocumented immigrant who's on the run from her father's Argentine crime-family, Manu is confined to a small apartment and a small life in Miami, Florida. Until Manu's protective bubble is shattered.
Her surrogate grandmother is attacked, lifelong lies are exposed, and her mother is arrested by ICE. Without a home, without answers, and finally without shackles, Manu investigates the only clue she has about her past–a mysterious "Z" emblem—which leads her to a secret world buried within our own. A world connected to her dead father and his criminal past. A world straight out of Argentine folklore, where the seventh consecutive daughter is born a bruja and the seventh consecutive son is a lobizón, a werewolf. A world where her unusual eyes allow her to belong.
As Manu uncovers her own story and traces her real heritage all the way back to a cursed city in Argentina, she learns it's not just her U.S. residency that's illegal….it's her entire existence.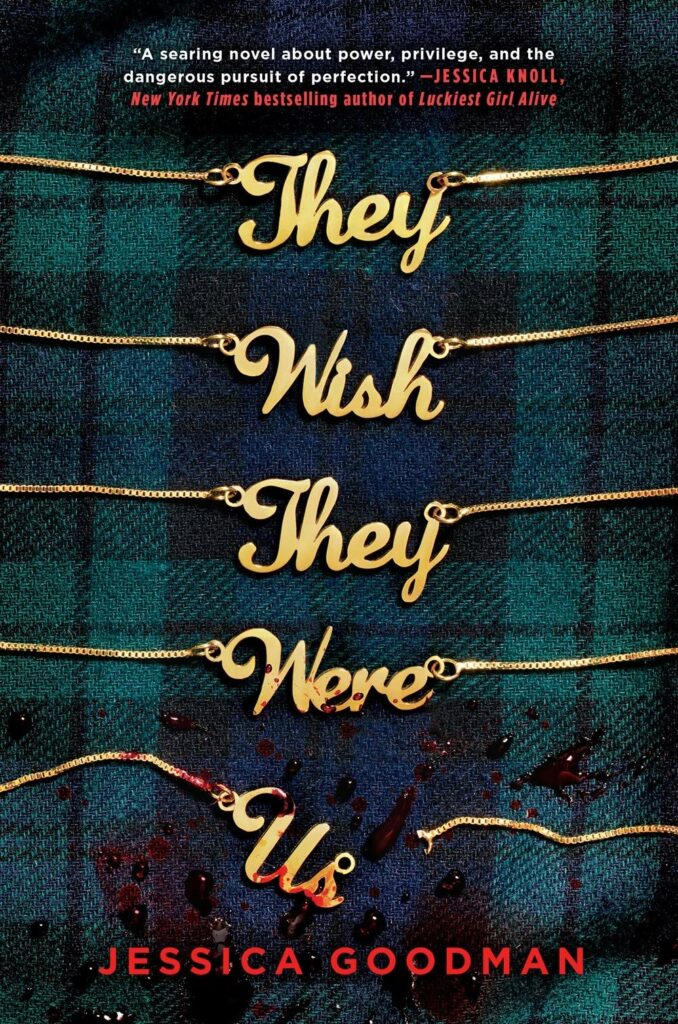 They Wish They Were Us by Jessica Goodman (4th August)
In Gold Coast, Long Island, everything from the expensive downtown shops to the manicured beaches, to the pressed uniforms of Jill Newman and her friends, looks perfect. But as Jill found out three years ago, nothing is as it seems.
Freshman year Jill's best friend, the brilliant, dazzling Shaila Arnold, was killed by her boyfriend. After that dark night on the beach, Graham confessed, the case was closed, and Jill tried to move on.
Now, it's Jill's senior year and she's determined to make it her best yet. After all, she's a senior and a Player–a member of Gold Coast Prep's exclusive, not-so-secret secret society. Senior Players have the best parties, highest grades and the admiration of the entire school. This is going to be Jill's year. She's sure of it.
But when Jill starts getting texts proclaiming Graham's innocence, her dreams of the perfect senior year start to crumble. If Graham didn't kill Shaila, who did? Jill is vows to find out, but digging deeper could mean putting her friendships, and her future, in jeopardy.
Heartbreak Boys by Simon James Green (6th August)
At the start of summer, Jack and Nate find themselves dumped as their respective exes, Dylan and Tariq, start up a new relationship together. Not only that, their exes start posting pics on social media, showing the whole world how fabulous their new life together is!
Jack and Nate are reeling. Not to be outdone, they decide to create their own 'highlights reel' and show their exes that they're having an even better time.
But between the depressing motorway service station motels, damp campsites, and an ultimate showdown with the exes, something epic really is happening: Jack and Nate are learning to get over their heartache and open themselves up to new possibilities for love.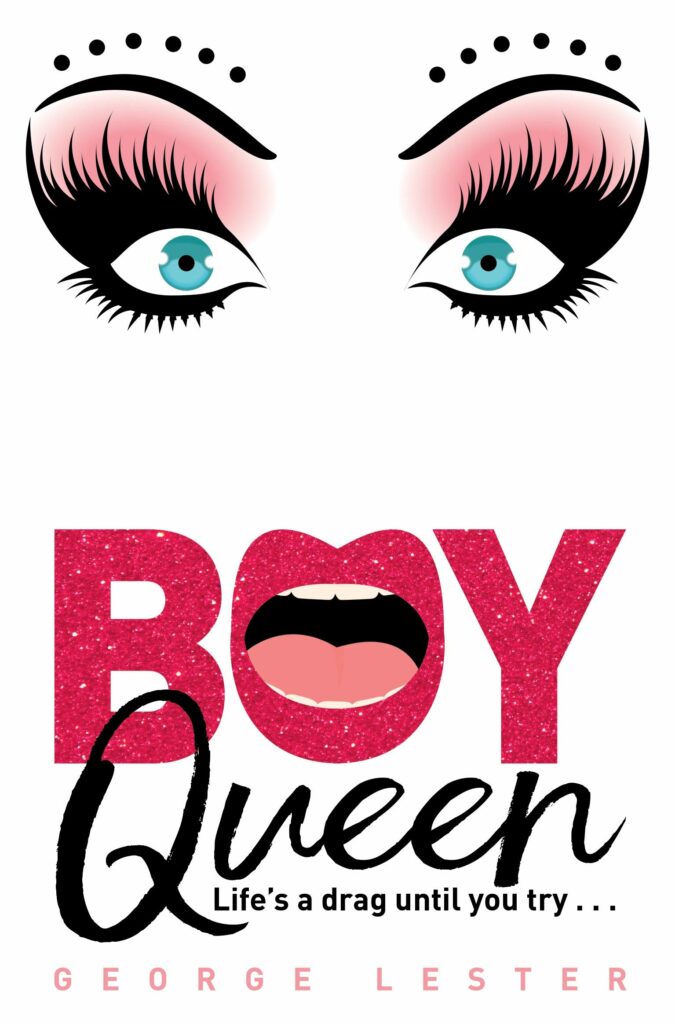 Boy Queen by George Lester (6th August)
Robin Cooper's life is falling apart. While his friends prepare to head off to university, Robin is looking at a pile of rejection letters from drama schools up and down the country, and facing a future without the people he loves the most. Everything seems like it's ending, and Robin is scrabbling to find his feet.
Unsure about what to do next and whether he has the talent to follow his dreams, he and his best friends go and drown their sorrows at a local drag show, where Robin realises there might be a different, more sequinned path for him . . .
With a mother who won't stop talking, a boyfriend who won't acknowledge him and a best friend who is dying to cover him in glitter make up, there's only one thing for Robin to do: bring it to the runway.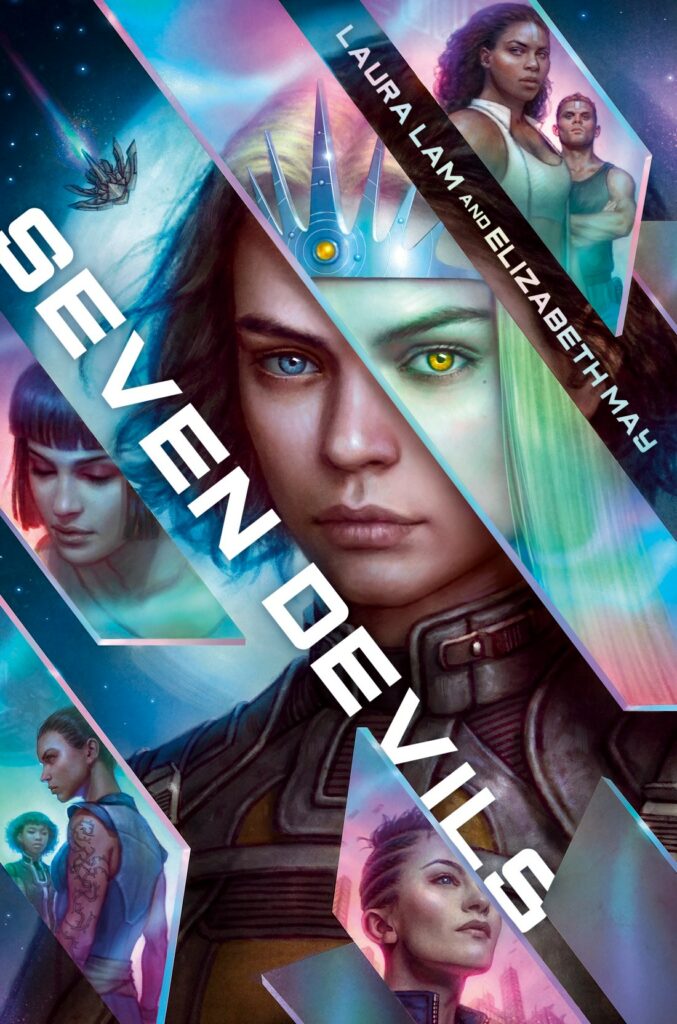 Seven Devils by Laura Lam & Elizabeth May (6th August)
When Eris faked her death, she thought she had left her old life as the heir to the galaxy's most ruthless empire behind. But her recruitment by the Novantaen Resistance, an organization opposed to the empire's voracious expansion, throws her right back into the fray.
Eris has been assigned a new mission: to infiltrate a spaceship ferrying deadly cargo and return the intelligence gathered to the Resistance. But her partner for the mission, mechanic and hotshot pilot Cloelia, bears an old grudge against Eris, making an already difficult infiltration even more complicated.
When they find the ship, they discover more than they bargained for: three fugitives with firsthand knowledge of the corrupt empire's inner workings.
Together, these women possess the knowledge and capabilities to bring the empire to its knees. But the clock is ticking: the new heir to the empire plans to disrupt a peace summit with the only remaining alien empire, ensuring the empire's continued expansion. If they can find a way to stop him, they will save the galaxy. If they can't, millions may die.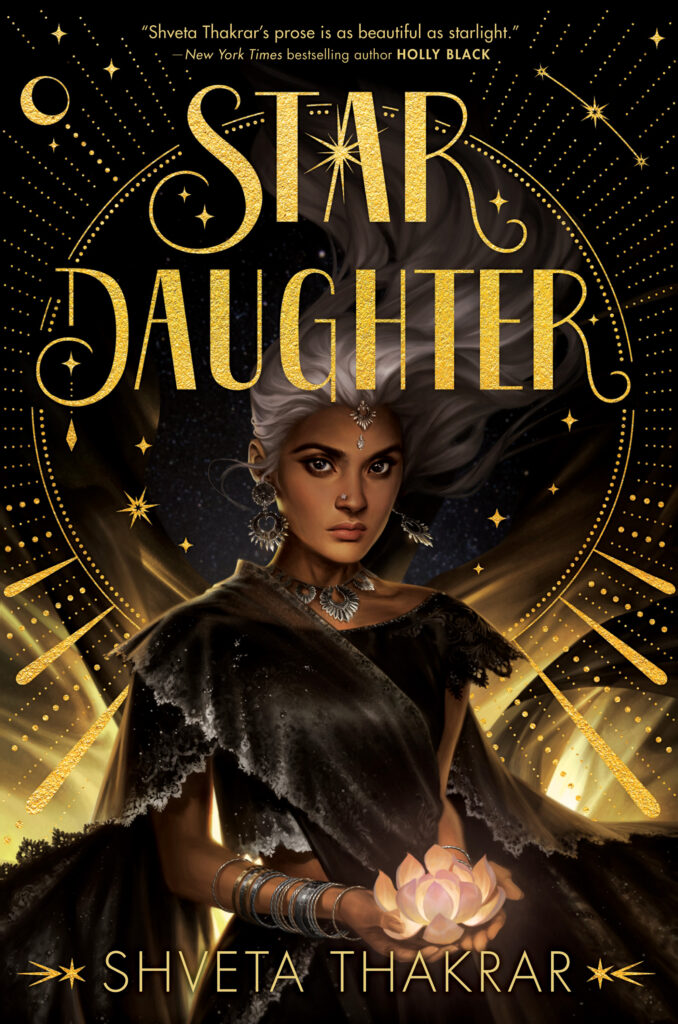 Star Daughter by Shveta Thakrar (11th August)
The daughter of a star and a mortal, Sheetal is used to keeping secrets. Pretending to be "normal." But when an accidental flare of her starfire puts her human father in the hospital, Sheetal needs a full star's help to heal him. A star like her mother, who returned to the sky long ago.
Sheetal's quest to save her father will take her to a celestial court of shining wonders and dark shadows, where she must take the stage as her family's champion in a competition to decide the next ruling house of the heavens–and win, or risk never returning to Earth at all.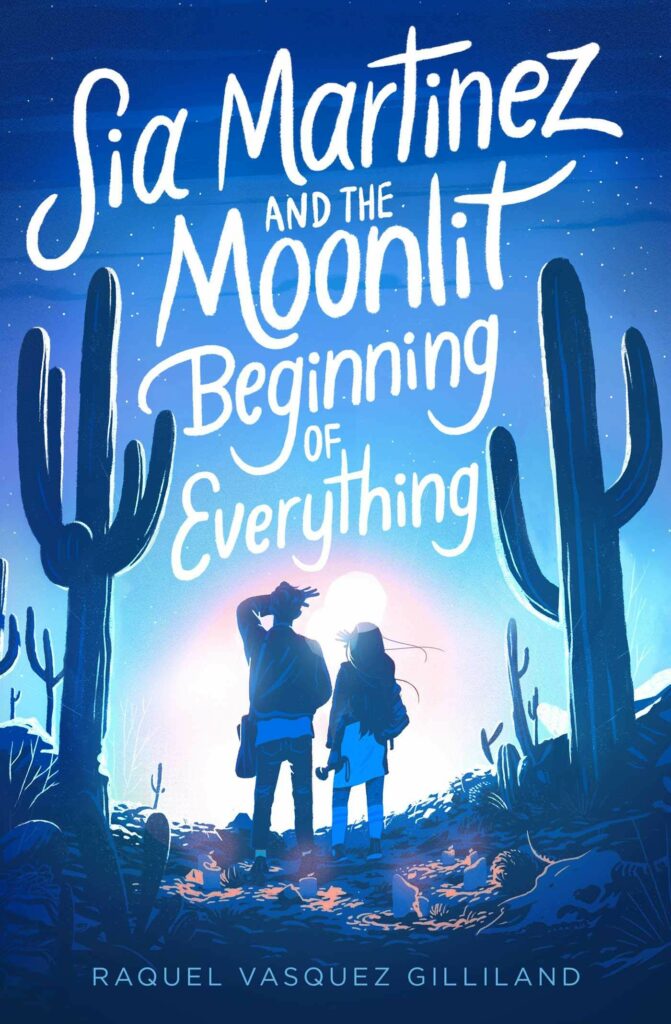 Sia Martinez and the Moonlit Beginning of Everything by Raquel Vasquez Gilliand (11th August)
It's been three years since ICE raids and phone calls from Mexico and an ill-fated walk across the Sonoran. Three years since Sia Martinez's mom disappeared. Sia wants to move on, but it's hard in her tiny Arizona town where people refer to her mom's deportation as "an unfortunate incident."
Sia knows that her mom must be dead, but every new moon Sia drives into the desert and lights San Anthony and la Guadalupe candles to guide her mom home.
Then one night, under a million stars, Sia's life and the world as we know it cracks wide open. Because a blue-lit spacecraft crashes in front of Sia's car…and it's carrying her mom, who's very much alive.
As Sia races to save her mom from armed-quite-possibly-alien soldiers, she uncovers secrets as profound as they are dangerous in this stunning and inventive exploration of first love, family, immigration, and our vast, limitless universe.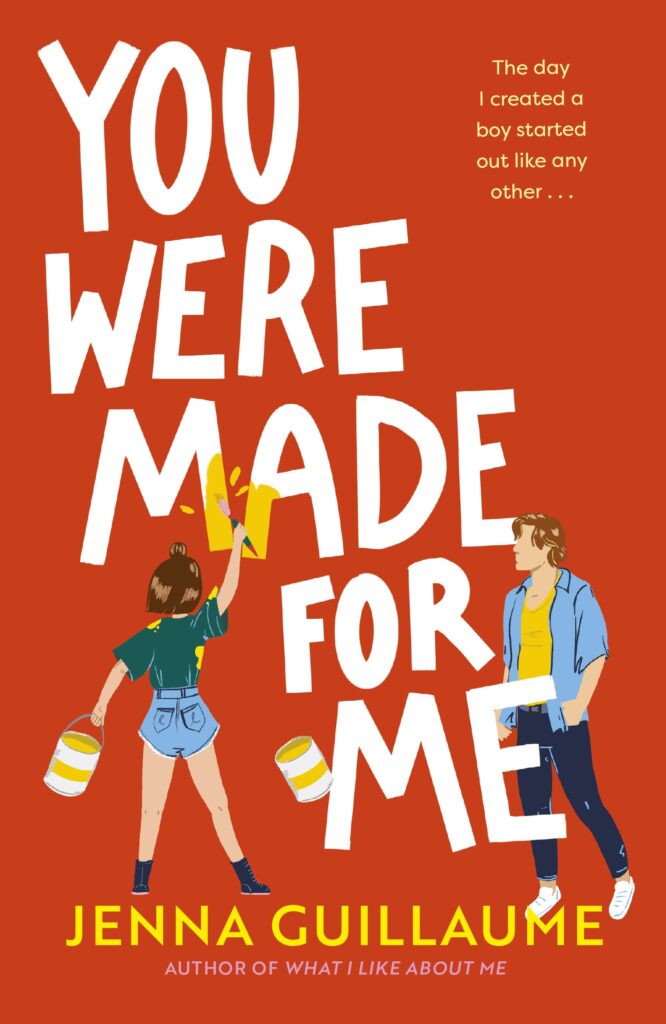 You Were Made For Me by Jenna Guillaume (11th August)
Katie didn't mean to create a boy. A boy like a long-lost Hemsworth brother: six-foot tall with floppy hair and eyes like the sky on a clear summer's day; whose lips taste like cookie-dough and whose skin smells like springtime.
A boy who is completely devoted to Katie.
He was meant to be perfect. But he was never meant to exist.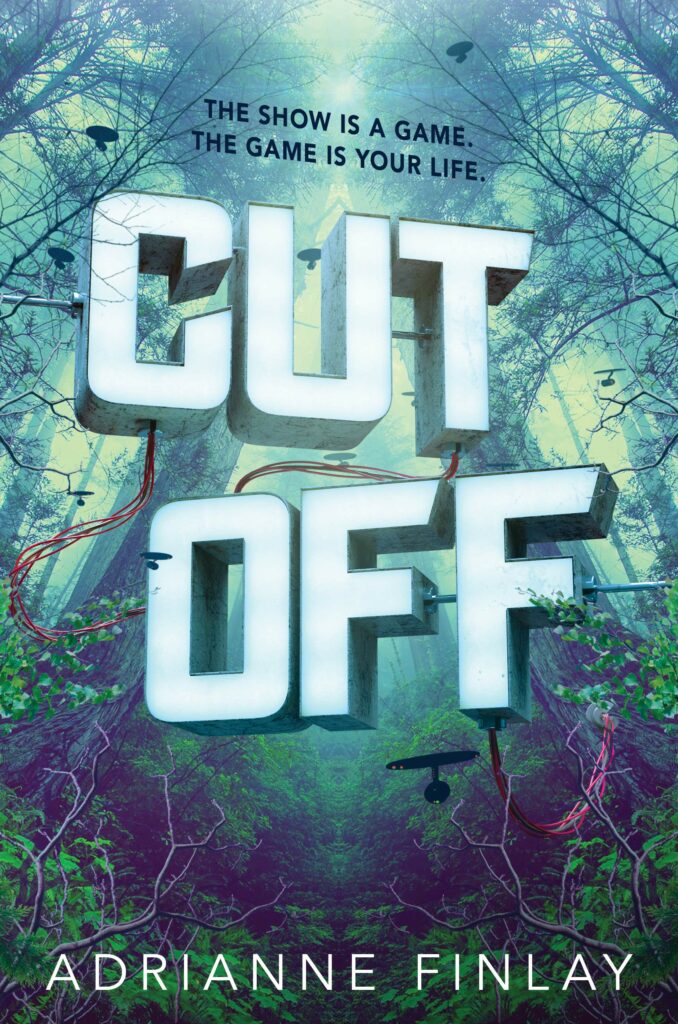 Cut Off by Adrianne Finlay (11th August)
Each contestant has their own reasons—and their own secrets—for joining the new virtual reality show CUT/OFF that places a group of teenagers alone in the wilderness. It's a simple premise: whoever lasts the longest without "tapping out" wins a cash prize. Not only that, new software creates a totally unprecedented television experience, allowing viewers to touch, see, and live everything along with the contestants. But what happens when "tapping out" doesn't work and no one comes to save you? What happens when the whole world seemingly disappears while you're stranded in the wild? Four teenagers must confront their greatest fears, their deepest secrets, and one another when they discover they are truly cut off from reality.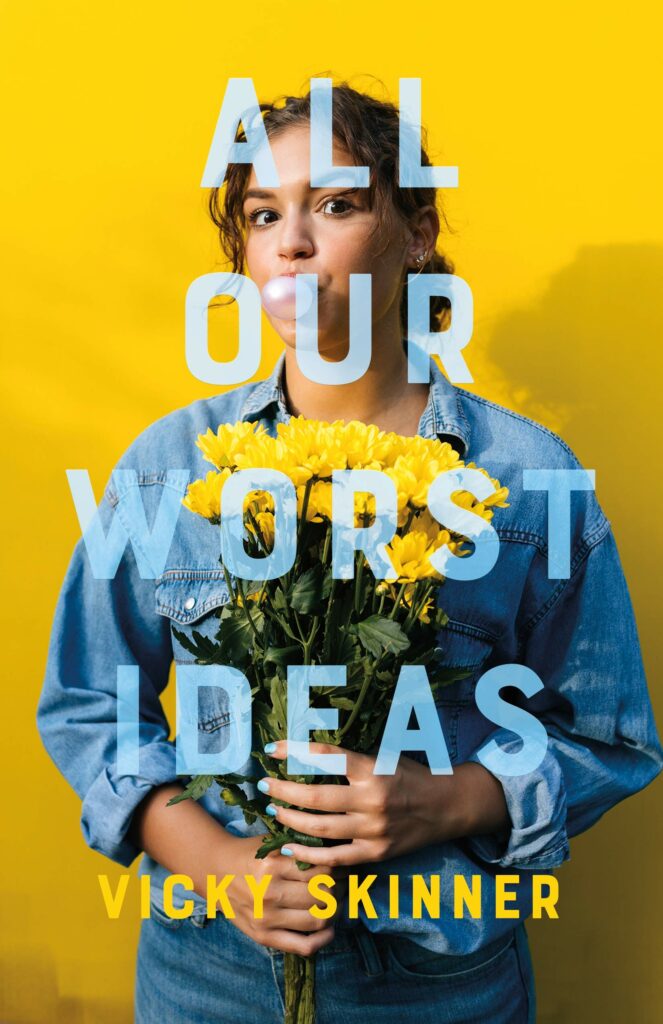 All Our Worst Ideas by Vicky Skinner (11th August)
When Amy, on her way to becoming valedictorian of her graduating class and getting accepted to her dream school, gets dumped by her long-term boyfriend, she takes a job at a record store to ease the pain. She needs a distraction, badly.
Oliver, Amy's record store co-worker, isn't so sure about Amy—his complete opposite—but what he is sure of is his decision not to go to college. He just can't figure out how to tell his mother.
As they work late-night shifts at the record store, Amy and Oliver become friends and then confidantes and then something more, but when Amy has a hard time letting go of what she thought was her perfect future with her ex, she risks losing the future she didn't even know she wanted with Oliver.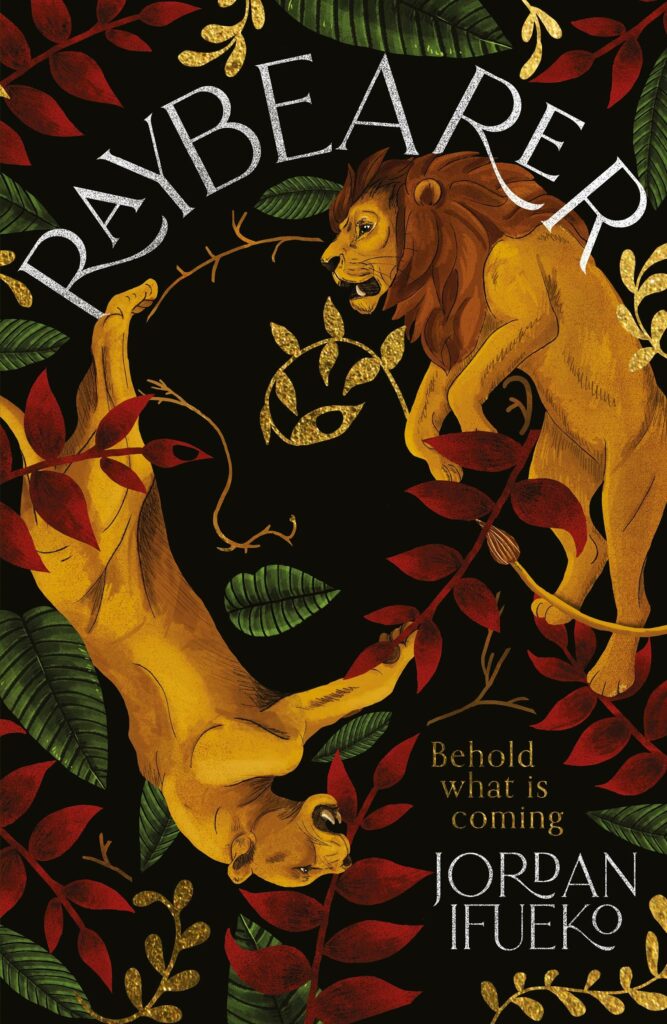 Raybarer by Jordan Ifueko (18th August)
Tarisai has always longed for the warmth of a family. She was raised in isolation by a mysterious, often absent mother known only as The Lady. The Lady sends her to the capital of the global empire of Aritsar to compete with other children to be chosen as one of the Crown Prince's Council of 11. If she's picked, she'll be joined with the other Council members through the Ray, a bond deeper than blood. That closeness is irresistible to Tarisai, who has always wanted to belong somewhere. But The Lady has other ideas, including a magical wish that Tarisai is compelled to obey: Kill the Crown Prince once she gains his trust. Tarisai won't stand by and become someone's pawn—but is she strong enough to choose a different path for herself? With extraordinary world-building and breathtaking prose, Raybearer is the story of loyalty, fate, and the lengths we're willing to go for the ones we love.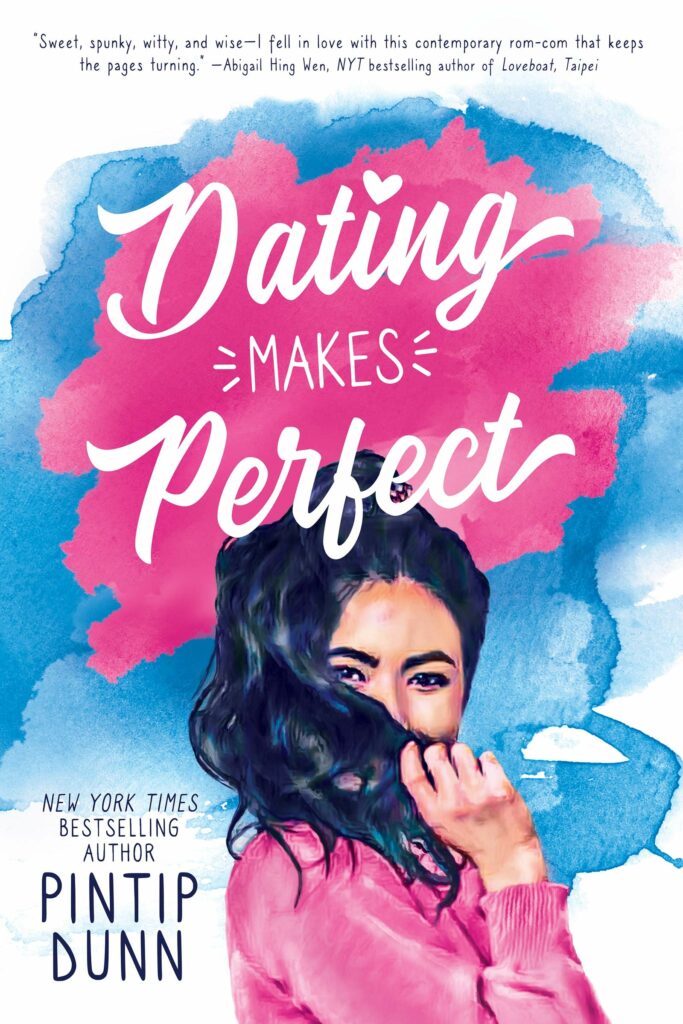 Dating Makes Perfect by Pintip Dunn (18th August)
The Tech sisters don't date in high school. Not because they're not asked. Not because they're not interested. Not even because no one can pronounce their long, Thai last name—hence the shortened, awkward moniker. But simply because they're not allowed. Until now.
In a move that other Asian American girls know all too well, six months after the older Tech twins got to college, their parents asked, "Why aren't you engaged yet?" The sisters retaliated by vowing that they won't marry for ten (maybe even twenty!) years, not until they've had lots of the dating practice that they didn't get in high school.
In a shocking war on the status quo, her parents now insist that their youngest daughter, Orrawin (aka "Winnie"), must practice fake dating in high school. Under their watchful eyes, of course—and organized based on their favorite rom-coms. 'Cause that won't end in disaster.
The first candidate? The son of their longtime friends, Mat Songsomboon—arrogant, infuriating, and way too good-looking. Winnie's known him since they were toddlers throwing sticky rice balls at each other. And her parents love him. If only he weren't her sworn enemy.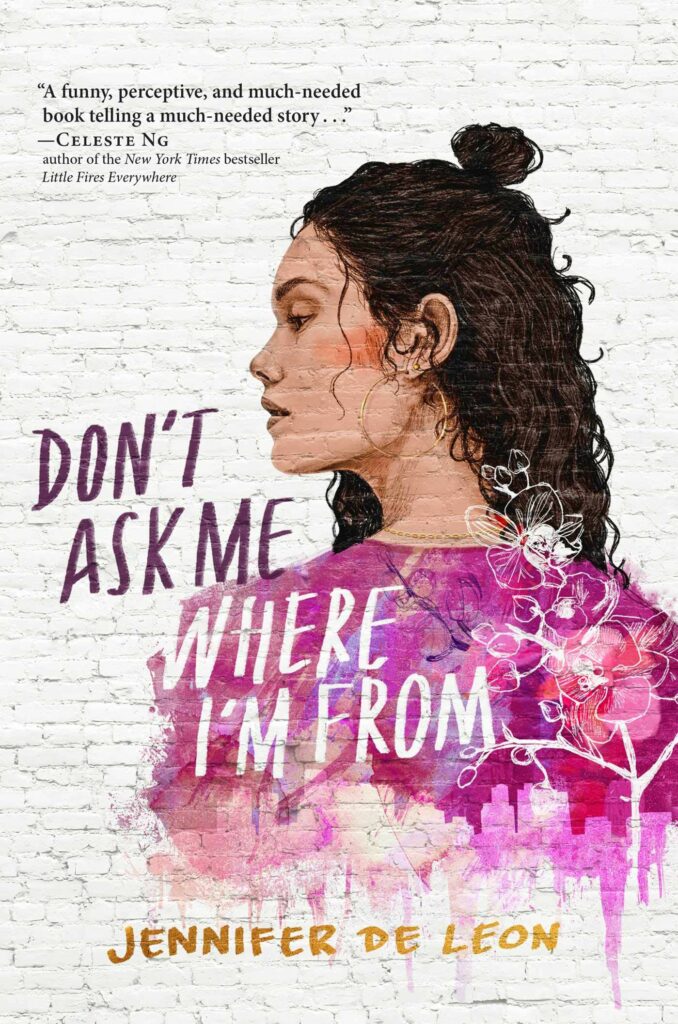 Don't Ask Me Where I'm From by Jennifer De Leon (18th August)
Liliana Cruz is a hitting a wall—or rather, walls.
There's the wall her mom has put up ever since Liliana's dad left—again.
There's the wall that delineates Liliana's diverse inner-city Boston neighborhood from Westburg, the wealthy—and white—suburban high school she's just been accepted into.
And there's the wall Liliana creates within herself, because to survive at Westburg, she can't just lighten up, she has to whiten up.
So what if she changes her name? So what if she changes the way she talks? So what if she's seeing her neighborhood in a different way? But then light is shed on some hard truths: It isn't that her father doesn't want to come home—he can't…and her whole family is in jeopardy. And when racial tensions at school reach a fever pitch, the walls that divide feel insurmountable.
But a wall isn't always a barrier. It can be a foundation for something better. And Liliana must choose: Use this foundation as a platform to speak her truth, or risk crumbling under its weight.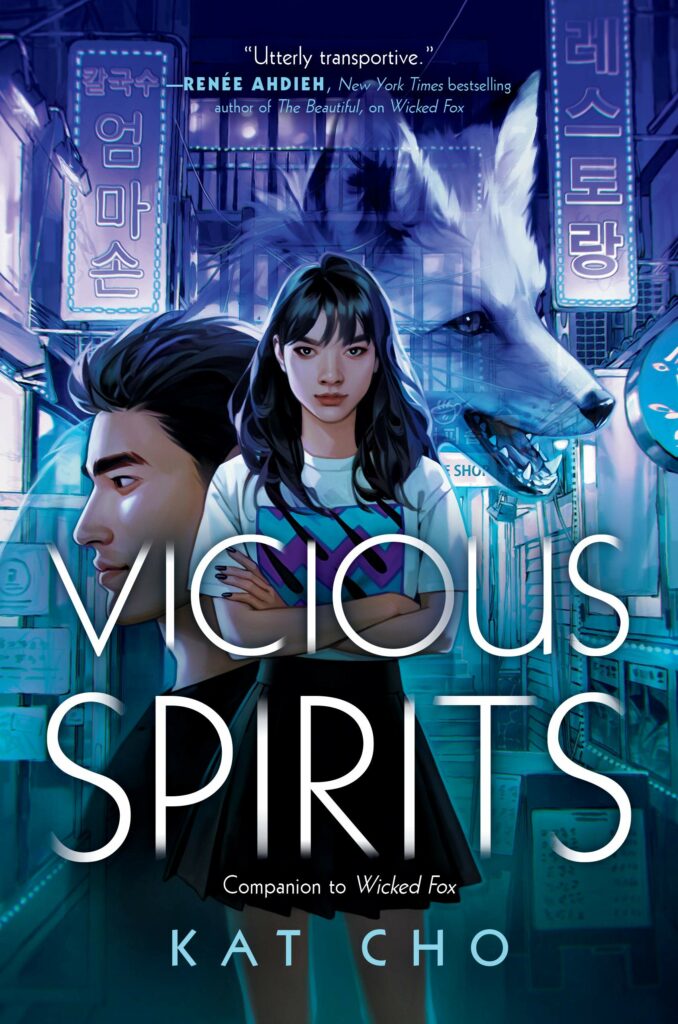 Vicious Spirits by Kat Cho (18th August)
As Vicious Spirits begins, Miyoung and Jihoon are picking up the pieces of their broken lives following the deaths of Miyoung's mother, Yena, and Jihoon's grandmother. With the support of their friend Somin, and their frenemy, Junu, they might just have a shot at normalcy. But Miyoung is getting sicker and sicker by the day and her friends don't know how to save her. With few options remaining, Junu has an idea but it might require the ultimate sacrifice and, let's be honest, Junu isn't known for his "generosity." Meanwhile, the events at the end of Wicked Fox have upended the forces that govern life and death and there are supernatural entities lurking in the background that will stop at nothing to right their world.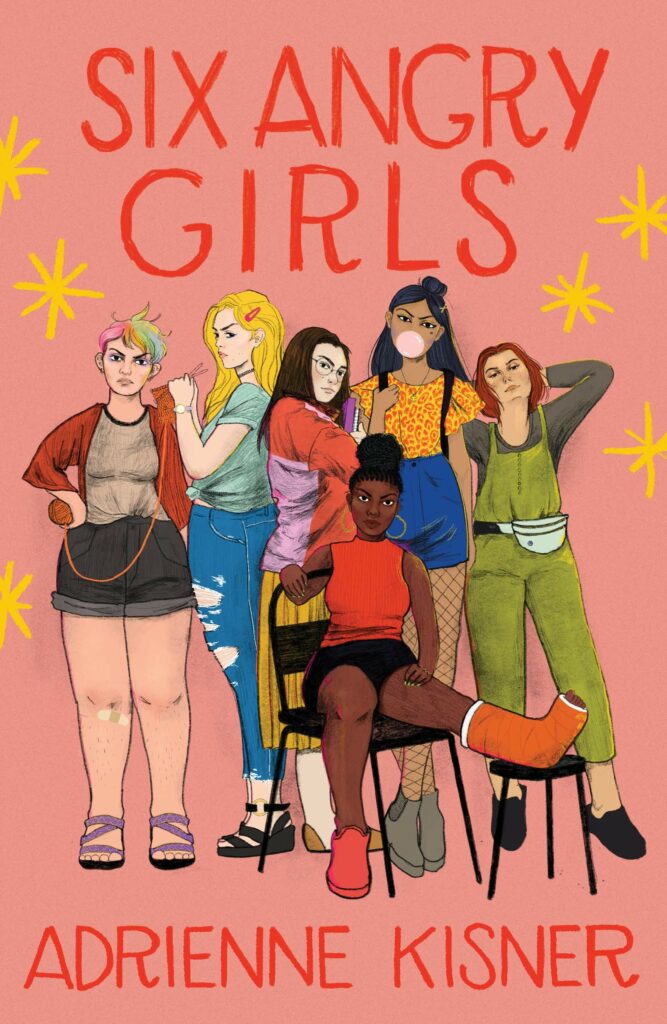 Six Angry Girls by Adrienne Kisner (18th August)
Raina Petree is crushing her senior year, until her boyfriend dumps her, the drama club (basically) dumps her, the college of her dreams slips away, and her arch-nemesis triumphs.
Things aren't much better for Millie Goodwin. Her father treats her like a servant, and the all-boy Mock Trial team votes her out, even after she spent the last three years helping to build its success.
But then, an advice columnist unexpectedly helps Raina find new purpose in a pair of knitting needles and a politically active local yarn store. This leads to an unlikely meeting in the girls' bathroom, where Raina inspires Millie to start a rival team. The two join together and recruit four other angry girls to not only take on Mock Trial, but to smash the patriarchy in the process.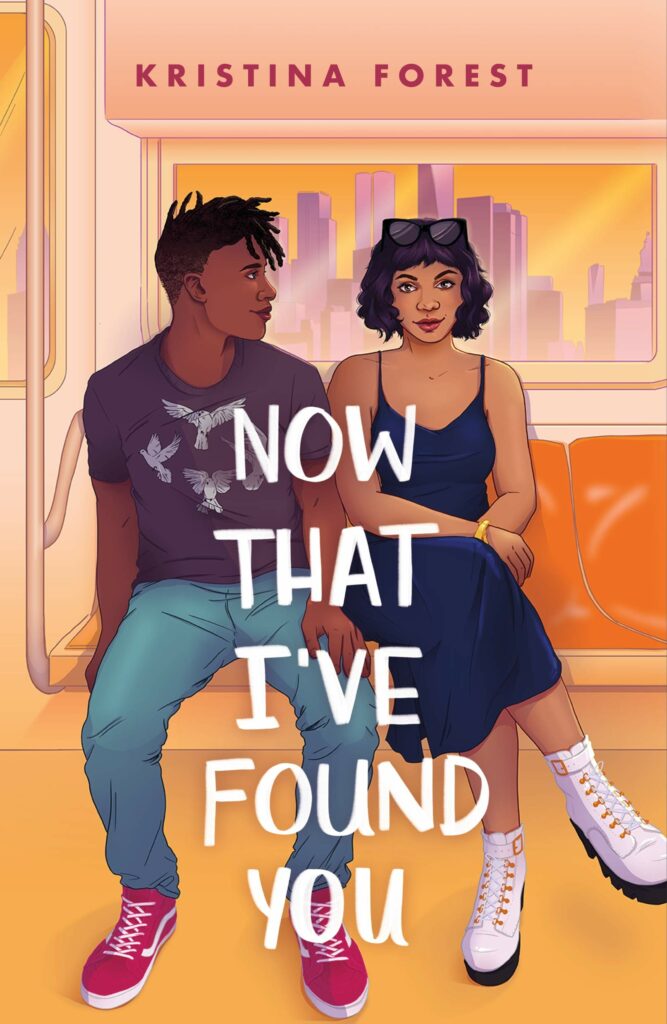 Now That I've Found You by Kristina Forest (25th August)
Following in the footsteps of her überfamous grandma, eighteen-year-old Evie Jones is poised to be Hollywood's next big star. That is until a close friend's betrayal leads to her being blacklisted . . .
Fortunately, Evie knows just the thing to save her floundering career: a public appearance with America's most beloved actress—her grandma Gigi, aka the Evelyn Conaway. The only problem? Gigi is a recluse who's been out of the limelight for almost twenty years. Days before Evie plans to present her grandma with an honorary award in front of Hollywood's elite, Gigi does the unthinkable: she disappears.
With time running out and her comeback on the line, Evie reluctantly enlists the help of the last person to see Gigi before she vanished: Milo Williams, a cute musician Evie isn't sure she can trust. As Evie and Milo conduct a wild manhunt across New York City, romance and adventure abound while Evie makes some surprising discoveries about her grandma—and herself.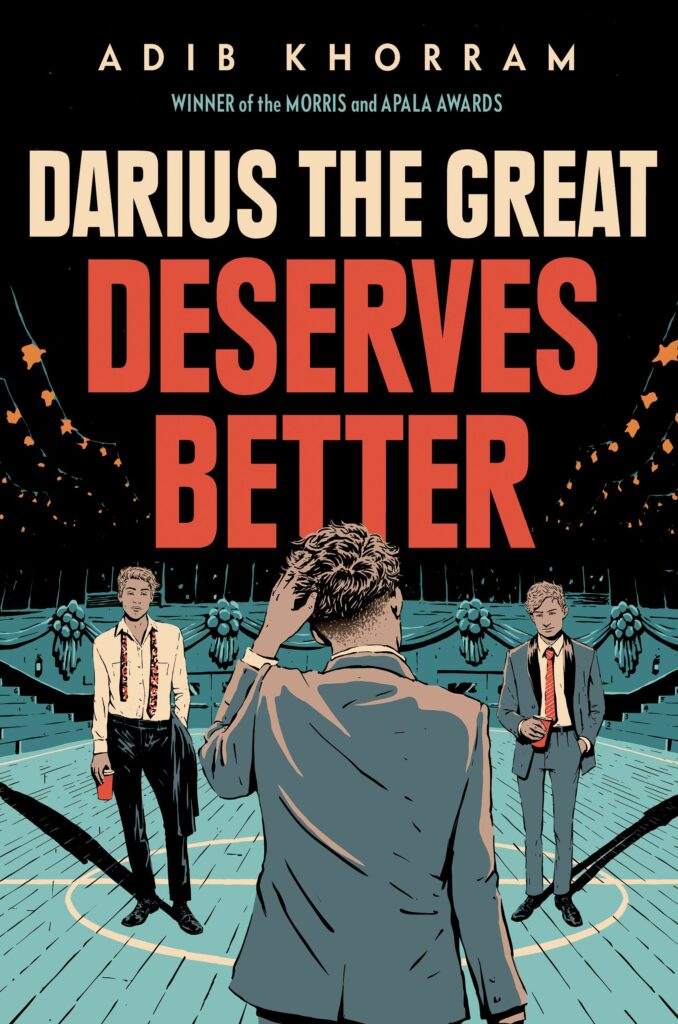 Darius the Great Deserves Better by Adib Khorram (25th August)
Darius Kellner is having a bit of a year. Since his trip to Iran this past spring, a lot has changed. He's getting along with his dad, and his best friend Sohrab is only a Skype call away. Between his first boyfriend, Landon, his varsity soccer practices, and his internship at his favorite tea shop, Darius is feeling pretty okay. Like he finally knows what it means to be Darius Kellner.
Then, of course, everything changes. Darius's grandmothers are in town for a long visit while his dad is gone on business, and Darius isn't sure whether they even like him. The internship isn't what Darius thought it would be, and now he doesn't know about turning tea into his career. He was sure he liked Landon, but when he starts hanging out with Chip–soccer teammate and best friend of Trent Bolger, epic bully–well, he's just not so sure about Landon anymore, either.
Darius thought he knew exactly who he was and what he wanted, but maybe he was wrong. Maybe he deserves better.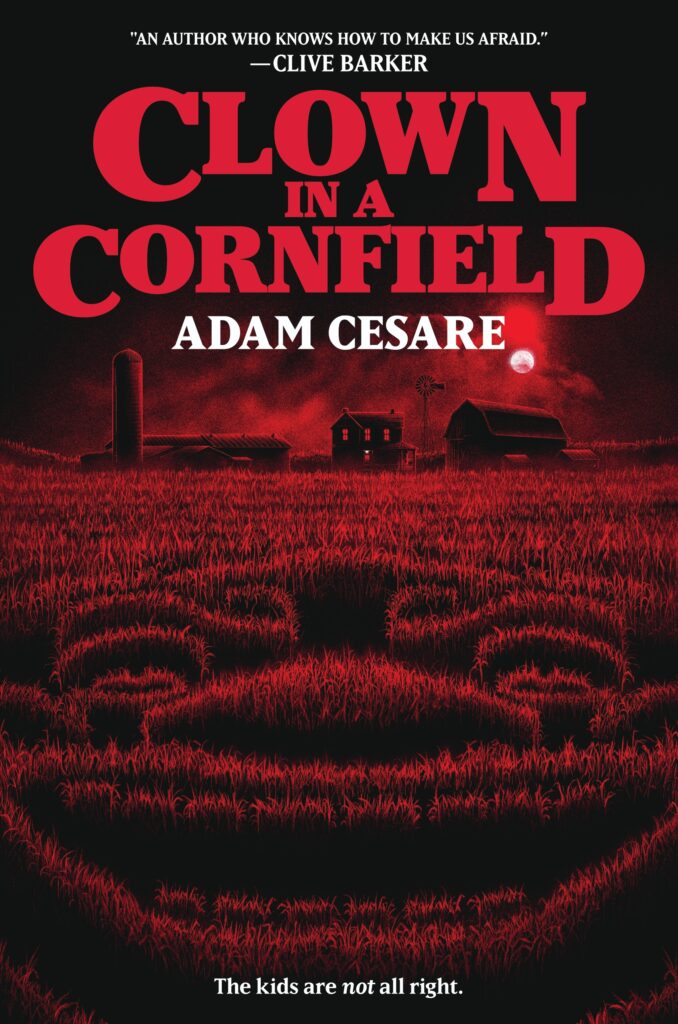 Clown in a Cornfield by Adam Cesare (25th August)
Quinn Maybrook just wants to make it until graduation. She might not make it to morning.
Quinn and her father moved to tiny, boring Kettle Springs to find a fresh start. But ever since the Baypen Corn Syrup Factory shut down, Kettle Springs has cracked in half. On one side are the adults, who are desperate to make Kettle Springs great again, and on the other are the kids, who want to have fun, make prank videos, and get out of Kettle Springs as quick as they can.
Kettle Springs is caught in a battle between old and new, tradition and progress. It's a fight that looks like it will destroy the town. Until Frendo, the Baypen mascot, a creepy clown in a pork-pie hat, goes homicidal and decides that the only way for Kettle Springs to grow back is to cull the rotten crop of kids who live there now.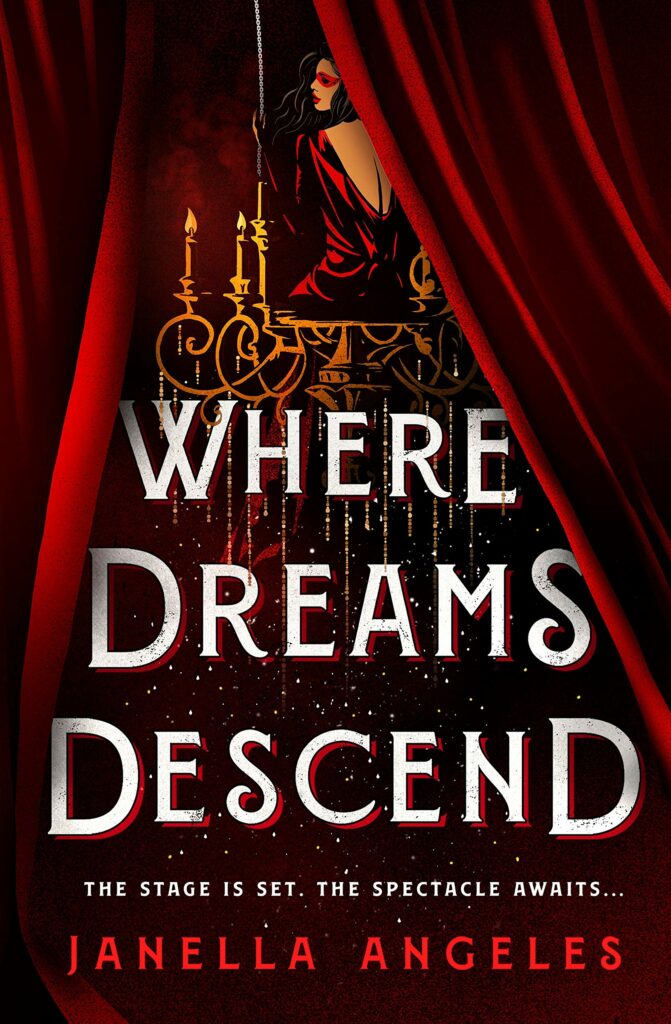 Where Dreams Descend by Janella Angeles (25th August)
In a city covered in ice and ruin, a group of magicians face off in a daring game of magical feats to find the next headliner of the Conquering Circus, only to find themselves under the threat of an unseen danger striking behind the scenes.
As each act becomes more and more risky and the number of missing magicians piles up, three are forced to reckon with their secrets before the darkness comes for them next.
The Star: Kallia, a powerful showgirl out to prove she's the best no matter the cost
The Master: Jack, the enigmatic keeper of the club, and more than one lie told
The Magician: Demarco, the brooding judge with a dark past he can no longer hide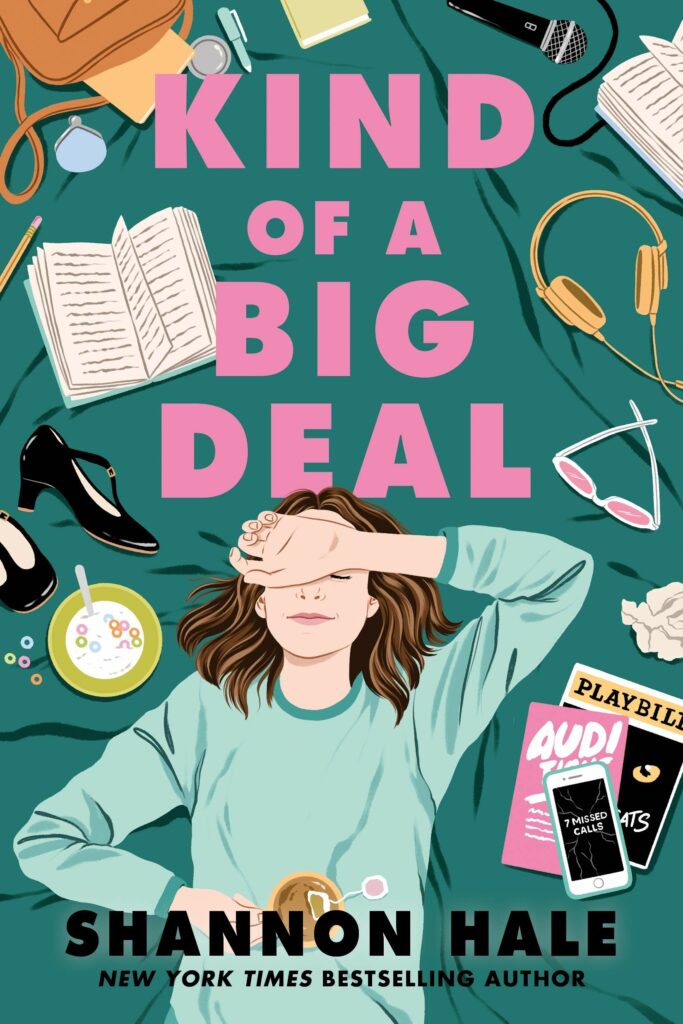 Kind of a Big Deal by Shannon Hale (25th August)
There's nothing worse than peaking in high school. Nobody knows that better than Josie Pie. She was kind of a big deal—she dropped out of high school to be a star! But the bigger you are, the harder you fall. And Josie fell. Hard. Ouch. Broadway dream: dead.
Meanwhile, her life keeps imploding. Best friend: distant. Boyfriend: busy. Mom: not playing with a full deck? Desperate to escape, Josie gets into reading.
Literally. She reads a book and suddenly she's inside it. And with each book, she's a different character: a post-apocalyptic heroine, the lead in a YA rom-com, a 17th century wench in a corset. It's alarming. But also . . . kind of amazing?
It's the perfect way to live out her fantasies. Book after book, Josie the failed star finds a new way to shine. But the longer she stays in a story, the harder it becomes to escape. Will Josie find a story so good that she just stays forever?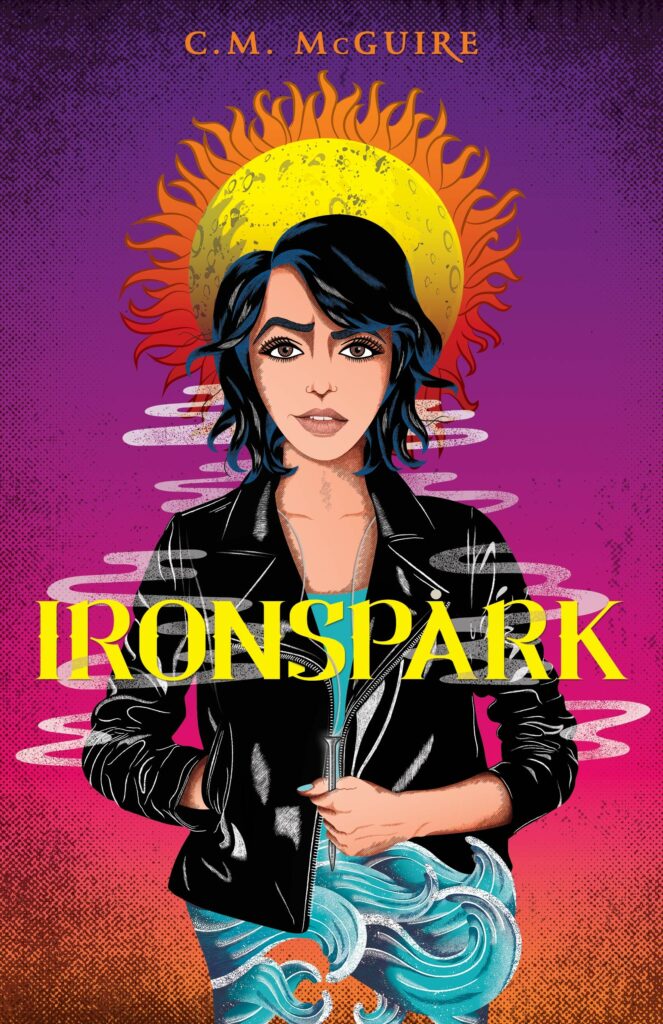 Ironspark by C.M. McGuire (25th August)
For the past nine years, ever since a bunch of those evil Tinkerbells abducted her mother, cursed her father, and forced her family into hiding, Bryn has devoted herself to learning everything she can about killing the Fae. Now it's time to put those lessons to use.
Then the Court Fae finally show up, and Bryn realizes she can't handle this on her own. Thankfully, three friends offer to help: Gwen, a kindhearted water witch; Dom, a new foster kid pulled into her world; and Jasika, a schoolmate with her own grudge against the Fae.
But trust is hard-won, and what little Bryn has gained is put to the test when she uncovers a book of Fae magic that belonged to her mother. With the Fae threat mounting every day, Bryn must choose between faith in her friends and power from a magic that could threaten her very humanity.