An introduction to Drag by George Lester
"I'd always thought about doing drag when watching drag race but after seeing it in the flesh, I was changed."
The post below was kindly written by George Lester, author of Boy Queen
Like many others, including my main character Robin, my first introduction to drag was via RuPaul's Drag Race. I had been told by a friend for years that I needed to watch this show that was America's Next Top Model meets Project Runway with Drag Queens. (And if that's not the perfect pitch I don't know what is?) Eventually, I climbed aboard the hype train and I don't think I've gotten off since. I'm a huge fan of RPDR but, while it is a wonderful show for shining a light on drag, it still needs to be criticised for all of the things that it doesn't do. RPDR was my first introduction to drag but my experience as a queen was shaped by my MA advisor (Dr. Joe Parslow) and his incredible guidance when it came to understanding the world beyond the race.
View this post on Instagram
While I was on my MA, we had to put on a solo show on a subject of our choosing, backing it up with theory and theatrical practices. I knew from quite early on that I wanted to do drag. What exactly I was going to do, I had no idea, but my advisor knew his stuff. His husband is a drag queen. And it was through our conversations and the recommended reading and viewing that I had my eyes opened to the wonderful, glittering, broad world of drag performance that went beyond RPDR. I could experiment with different make up looks all I wanted, learning how to lip-sync and create numbers of my own to craft into a 45-minute show but what I needed to do, above all else, was experience it right in front of my eyes!
A quick trip to The Apple Tree in Clerkenwell to watch Apples & Pears (a bi-weekly cabaret put on by a drag queen called Me, formerly Meth) blew my mind in ways I never thought possible. So much so that I return there as often as I can to see what is on show. Drag acts from Mahatma Khandi to Cheryl Hole (you might have heard of her), Ophelia Love to Ruby Wednesday, Lolo Brow to Asia Thorne, Adam All, Herr, Tayce, and more besides all performing their drag, all of which is different in its own way, lip-sync, singing, burlesque, and more! I wanted to show Robin experiencing those things in the same way that I did, being stood in an audience of (mostly) queers and soaking up the power of the live performance. There's nothing quite like the emotional whiplash of watching a six-foot drag queen performing As If We Never Said Goodbye from Sunset Boulevard and then jumping to another queen performing a Beyonce medley as if they were Beyonce herself. It's an experience unlike any other.
In writing this book, I didn't want to write a story about someone who loves drag race and decides to become a queen. I wanted to write a story about someone who loves drag race but is then experiencing drag culture right in front of their face and that's what sparks the idea. It was watching these performances at The Apple Tree (mostly through tears, I won't lie) where it was cemented in my brain that I wanted to be a drag queen. The power and magic of the live performance hooked me in such a specific way, I'd always thought about doing drag when watching drag race but after seeing it in the flesh, I was changed.
View this post on Instagram
I think it's essential that, if you are a fan of drag, you look beyond what you are being shown on drag race. If you can, get yourself out to a local show. If you can't or there isn't anything near you, jump on Instagram or YouTube and watch their performances, they will open your mind to so many new things. Drag Race is, as far as I'm concerned, the tip of the iceberg and is a gateway drug to more drag because there is only so much the show presents, only so much that fits into its format. There are no Drag Kings, there are no AFAB queens or trans queens (unless they are using them for story!), so you have to go and look for it. And I urge you to do that. If you're anything like me (or Robin) you'll come out of it starry-eyed and changed forever!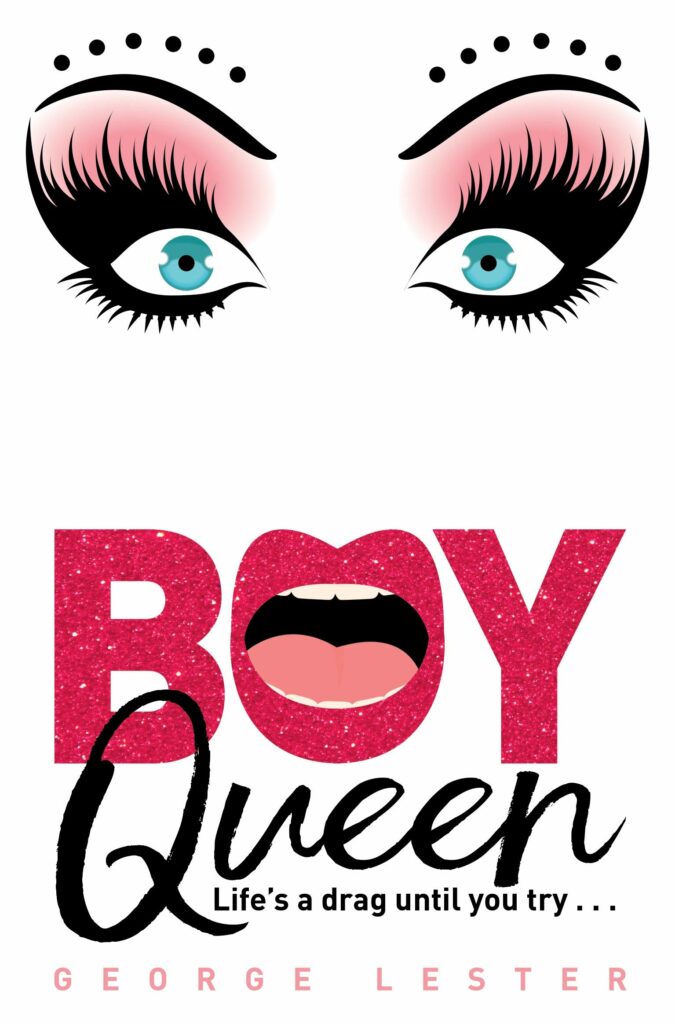 George's new book Boy Queen is out from 6th August 2020, £7.99 and is available from all good bookshops. Get your copy here.
You can follow George/That Gurrrl on Twitter and Instagram: @TheGeorgeLester and @thatgurrrlqueen