Kacen Callender on their groundbreaking new YA novel, Lark & Kasim Start a Revolution
"We're often not afforded the same space to make mistakes, grow and learn as people with more privilege are, before we're deemed unlikeable."
This post is sponsored by Faber & Faber
Kacen Callender is nothing but a pro at writing novels that make you think, swoon and keep you glued to their pages and Kacen's newest YA title, Lark & Kasim Start a Revolution, is no exception to this rule. Fresh and necessary, Lark & Kasim Start a Revolution is a story that'll leave you empowered to consider the importance of the love you give, not only to others, but also yourself and we're so excited to have had the honour to chat to Kacen all about their fantastic new title.
---
Hi Kacen, we're so happy to have the chance to talk to you today in celebration of the release of your heart-warming new YA novel, Lark & Kasim Start a Revolution! For readers just learning about the book, how would you best describe it to them?
Thanks for having me! Lark & Kasim is about 17-year-old nonbinary, neurodivergent Lark, who very badly wants to be a published author and thinks that the only way to accomplish their goal is to gain 50K followers on Twitter. They're well on their way until their former best friend and now number one enemy, Kasim, accidentally posts on Lark's Twitter page about Kasim's unrequired love. The post goes viral, and Lark feels pulled into a lie that spirals out of control. They have to learn accountability and authenticity on a road to self-love.
Can you tell us a little about what inspired you to write the book and tell Lark and Kasim's story?
The story was originally inspired by the double standard that marginalized characters and real marginalized people face. We're often not afforded the same space to make mistakes, grow and learn as people with more privilege are, before we're deemed unlikeable. Lark is well-aware of this and, as a people pleaser who really only wants to be safe in a world that does not accept them as it should, they try to morph into what others want, creating conflict after conflict until they learn to begin to accept themselves.
Being one of the first (if not the first) Black, non-binary, queer and neurodivergent main characters portrayed in traditionally published YA, Lark is giving a voice to many readers who may never have seen all of their identities portrayed in one character before. I imagine that must feel both incredibly exciting and also pretty emotional?
It's definitely very exciting, yes! I think that as more marginalized, historically underrepresented people continue to write, we'll see more characters like Lark taking center stage—and when I see hundreds (maybe thousands?) of books with characters who share my identity, I'll feel more emotional, too.
View this post on Instagram
If the main characters and their entourages from your three YA novels found themselves at a party together, who do you think would get on the best and do you think there would be any clashes?
I LOVE this question! First, Lark would genuinely love everyone, but they would probably connect the most with Ollie and Florence from Epic Love Story. Nate (ELS) and Felix (from Felix Ever After) would probably get along pretty well in their introvert, grumpy ways, and find a quiet corner to not talk in together. Ezra (FEA) would similarly get along with almost everyone, but I think the one person who wouldn't be able to stand him would be Kasim, sadly. Ezra would be a little too… boisterous for him. But, Kasim would probably especially get along with Florence! It'd definitely be fun to watch that scene play out.
Being an author of a number of fabulous and award-winning books means you must find yourself doing many interviews. Is there a question you always find yourself hoping to be asked and if so, what is it and what is the answer?
Yes, I wish more people would ask if there's a Spotify playlist for the book—and there is. It should come up if you search for "Lark & Kasim Start a Revolution"!
As with all your books, Lark & Kasim feels incredibly personal. How do you think young Kacen would review Lark & Kasim Start a Revolution?
Honestly, I think that young Kacen wouldn't be completely ready for this book yet. I would hope that Lark & Kasim Start a Revolution could seed some thoughts into young-Kacen that they'd be able to carry with them, such as healing from a traumatic world by learning authenticity and self-love, but it can be difficult to really hear messages like this when you're still deep in it, and don't have the space to heal yet. Still, I think they'd love the characters and the romance and the fun drama (and they'd probably have a huge wake-up call on their gender identity, too!)
Finally, do you currently have any projects in the pipeline and if so, is there anything you can share with us about it?
Yes, I'm working on a fantasy I'm very excited about, but I can't give any more info just yet!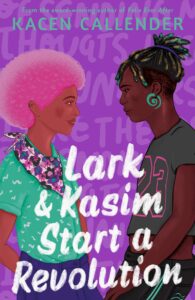 Get you copy of Lark & Kasim Start a Revolution by Kacen Callender here.